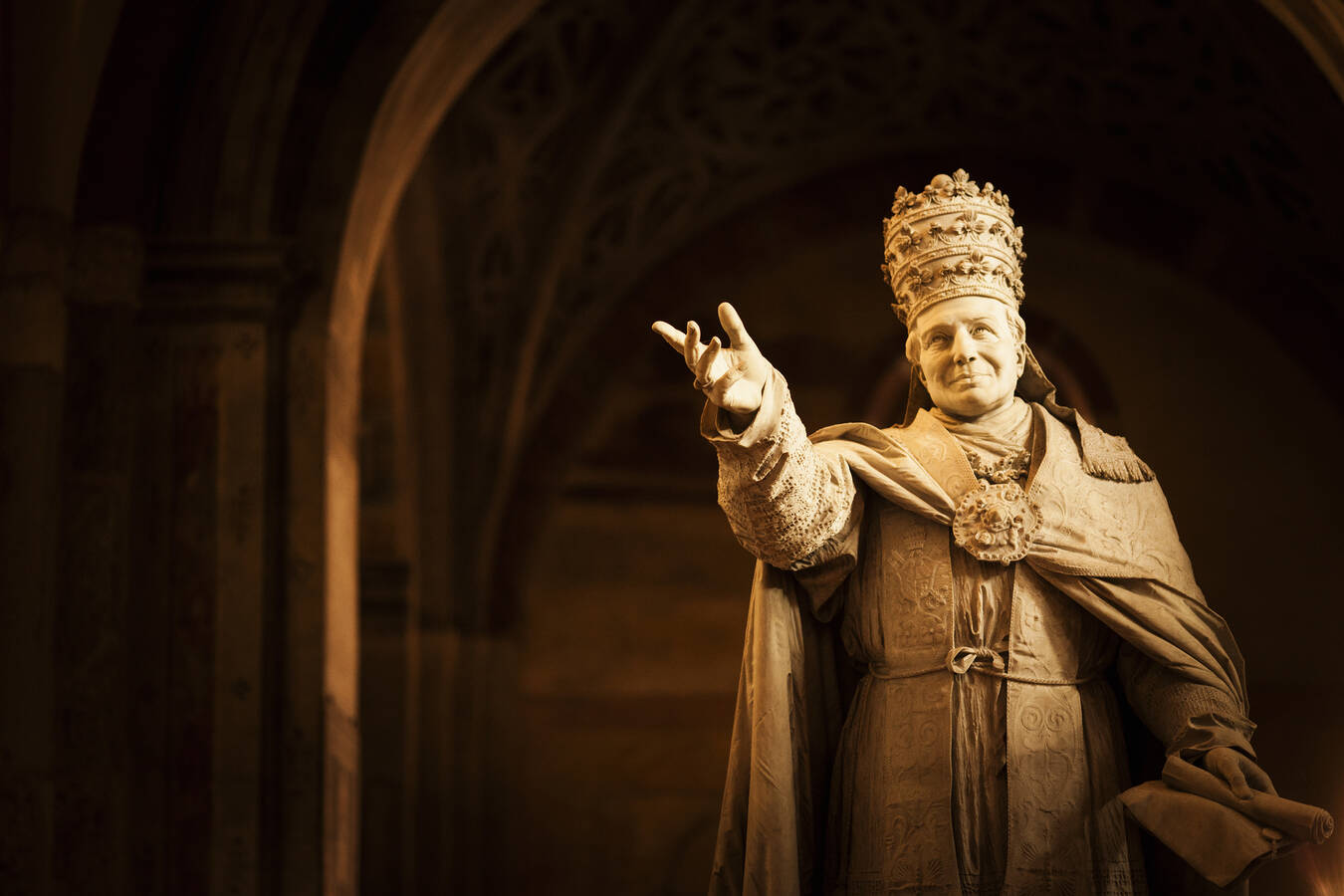 Popes in fiction: What do they say about us?
Every novel has an agenda, novels about popes perhaps more than most. It is said that Anthony Burgess's papal novel, Earthly Powers (1980), was designed to make fun of Somerset Maugham. Frederick Rolfe's Hadrian VII (1904), similarly, was written to settle old scores. Self-indulgent to the core, written by Rolfe after he was kicked out of the seminary, Hadrian VII is brilliant, autobiographical wish-fulfillment. If you know a bit of the author's biography, the combination of personal bitterness and comedy will make you laugh out loud. Repentant bishops and cardinals appear one day on his doorstep in London, admitting their mistakes, begging the still-young man to accept not only holy orders but the Holy Pontiff's chair.
Most writers have higher aspirations. Morris West wanted The Shoes of the Fisherman to be taken seriously. He could only have dreamed how that might happen. In what must be the most propitious instance in history of real events rocketing a book to best-seller status, Shoes was published the day John XXIII died, June 3, 1963. "The Pope was dead," reads the opening sentence of the novel, just as the news reported that evening. The Australian author was even in New York City for publicity purposes that day, and his book shot to the top of The New York Times bestseller list.
In what must be the most propitious instance in history of real events rocketing a book to best-seller status, Shoes of the Fisherman was published the day John XXIII died, June 3, 1963.
West's fictional pope begins as Kiril Pavlovich Lakota, the Metropolitan Archbishop of Lviv, political prisoner #103592 in a Siberian camp. West may have based Kiril on two Ukrainian Catholic bishops who were prisoners in the Soviet Gulag: Hryhorij Lakota and Josyf Slipyj, each of whom spent decades in Siberia refusing to convert to Russian Orthodoxy. They were heroes to Catholics. Slipyj even had prison writings smuggled to the West in the late 1950s, resulting in additional years added to his prison sentence. In another remarkable bit of luck for Shoes, Slipyj was released by Nikita Khrushchev in February 1963, just as the novel was about to be published. Slipyj flew straight to Rome to receive medical care and participate in the Second Vatican Council.
In The Shoes of the Fisherman, the atheist Russians tied up seven of Kiril's fellow priests and insisted the archbishop deny Christ or the priests would be shot. They were shot one by one. This story escapes to the West and is repeated back to Kiril by the pope, as the pontiff attempts to give him a cardinal's hat. Kiril asks not to receive it, to be assigned instead a job with "ordinary men." When that elderly pope dies a few months later, Cardinal Kiril is elected in the conclave. He doesn't change his name, another indication of his humility.
When the film adaptation was made in 1968, it starred Anthony Quinn as Pope Kiril, Laurence Olivier as the Soviet premier and John Gielgud as the pope who dies. At his coronation, while addressing the crowd in St. Peter's Square, Kiril removes his papal tiara. As the "custodian of the wealth of the Church," he tells 100,000 people, and millions of others watching on television, he pledges all the church's land, buildings and works of art for the relief of those in need around the world. Pope Kiril is a messianic figure. He saves the world from catastrophe, negotiates with Chinese and Russian leaders to prevent a world war, a nuclear holocaust and a famine in China that has been brought on by U.S. trade sanctions.
No one but Graham Greene, in 1988, could have imagined a feeble papacy without influence upon the world.
There were other charmed qualities about Shoes. West's novel seems to have anticipated the first Eastern European and anti-Soviet pope: John Paul II, who helped break the Soviet Union's hold on Eastern Europe. A greater writer than West, Graham Greene wrote during that same pontificate a short story that is now easily forgotten, "The Last Word" (1988). It is a futuristic tale of the last pope, in fact, the last Christian, living under house arrest, growing feeble-minded, in a new world order with a general as its despot. By story's end, the general shoots the last pope in the head. Greene concludes: "[A] strange and frightening doubt crossed [the general's] mind: is it possible that what this man believed may be true?" This, too, is autobiography influencing papal fiction. No one but Greene, in 1988, could have imagined a feeble papacy without influence upon the world.
Few could imagine a powerless papacy today, as well, unless they point to the office's relinquishing of power. Pope Francis has disarmed the chair of St. Peter of pretense, bluster and certainty—in contrast to another fictional pope—the one played recently by Jude Law in the often obnoxious and mercifully limited series, "The Young Pope," on HBO. Paolo Sorrentino, who writes and directs the series, made his reputation creating films about loan sharks, mafia bosses and rock stars. It is ironic—though no less ironic than Catholic support for the current U.S. president—that the antireligious, antifaith vision of Sorrentino appeals to some neoconservatives in the church today. They enjoy the fictional Pope Pius XIII's refusal to speak to the modern world. We imagine the popes we want.
The last novel for your consideration is the most obscure. Thomas Klise was a Chicagoan, the author of only one book, The Last Western, published by a small Catholic publisher in Chicago, Argus Communications. (Argus was run by Richard Leach, a Loyola Chicago graduate who later moved to Texas and helped develop the children's shows "Barney & Friends" and "Wishbone" for public television. The Argus list in the '70s included Thomas Merton, John Powell, S.J., John Shea and Martin Marty; but it, too, is mostly forgotten today.) If it is ever mentioned at all, The Last Western is described as a baseball novel. Still, America's reviewer praised it at that time, saying, "For me, The Last Western, unsophisticated as it is, ranks as one of the most important religious books of the decade." I used to think the book had a cult following. Perhaps it did, briefly, when David Foster Wallace talked about it in the '90s. Now, I believe The Last Western has simply been forgotten.
In The Last Western, the protagonist joins a religious order called "Silent Servants of the Used, Abused and Utterly Screwed Up."
Klise begins by mythmaking, and his novel is science fiction. Willie, the boy who grows up to become pope, "was born in the town of Sandstorm, New Mexico in the times that are now forgotten." This is a futuristic, dystopian tale. Willie goes to Mass with his parents in a church that lies "half-buried in the sand...like a ship about to go under." A pond plague is leaving birds dead on sidewalks, and soon mechanical birds take their place in the skies.
Willie is of mixed ethnicity and race. He is a Spanish speaker and most often identifies with African-Americans. Stories of his actions while a boy can be hagiographical, as when he props a ladder up to the tall crucifix in church to climb up and offer the poor man a drink. "Slowly he poured the water into the cracked plaster lips." Thus ends Chapter One. There are 57 chapters in all in this nearly 600-page book.
Much in The Last Western seems prescient. Willie identifies with the African-American children at school, and many have older brothers and fathers in prison. His best friend, Clio, "spoke bitterly of the way things were arranged in the country." A new alliance of nations has formed, uniting Japan, Europe, Russia, China and the United States (Jercus) in conflict against all others. Klise was writing at the height of the Cold War, before the fall of the Soviet Union and long before the formation of the European Union. Klise also has children receiving "tele-lessons." He even locates a Richard M. Nixon Park in Houston, where Willie attends high school. Willie is a terrible student because he won't repeat what he doesn't understand, but he's a great baseball player, a pitching phenom. He becomes a star and moves out of his tenement in Houston, leaving behind his girlfriend and handing his signing bonus check to his mother.
Willie writes letters home that show he is barely literate. His coach gives him a paraphrased Bible—the Vest Pocket Ezee Bible. The name is surely a bit of sarcasm from Klise, a Catholic, who was writing when such paraphrases were on best-seller lists. The sports industry has replaced religion in both private and public life. Throughout Willie's playing career, the United States, through Jercus, is at war in several places around the globe. The president has taken away freedom of the press. The country is run by a military presence. Sports are used to pacify the people. The largest arena, more beautiful than any cathedral, is "a many-sided affair of glass and steel and alumibronze," standing 294 stories tall in New York's Central Park. Foreign governments have moved their embassies there, and the United Nations occupies "a part of the 126th floor."
Willie leaves baseball after a dispute with ownership over issues of morality. One of the owners calls Willie a n—— among other things. Willie's journeys over the next decades are many. He stays mostly among the poor, for instance joining a religious order called "Silent Servants of the Used, Abused and Utterly Screwed Up," where members speak only at Mass, otherwise using sign language. Eventually Willie is sent to seminary and at 28 is ordained a priest. He becomes a peacemaker in cities throughout the country where there are riots between blacks and whites, sometimes caused by white cops shooting black suspects. My, how Thomas Klise foretold the future!
Soon, this now-famous priest is appointed bishop. "The thought of it appalled him, then made him laugh," the narrator says. "How could he talk to people as a bishop?" This is not even the midpoint of the book. There is not enough space here to lay out the rest of the plot in any detail. As bishop, Willie fights to end wars, marshals support for countries in famine and plays a part in miraculous healings. When the pope in Rome dies, one of the cardinals in the conclave nominates Willie by acclamation (spoken aloud, seeking verbal assent). Willie keeps his name, just as the fictional Kiril had done, and Pope Willie is introduced to the crowd in St. Peter's Square. His only word spoken that day from the balcony was "uuuv?" Some heard it as "love." "No one heard the question mark," the narrator tells us.
Willie begins as a very uncertain pope. "They dressed him," "They explained to him," "They showed him," "They took him," the paragraphs begin. Willie is in conflict with the Curia. Willie wants the rich to give to the poor. He thinks that justice is easily pursued, conflicts are resolvable without war, the world's problems can be fixed by Christians. He tells people, "I have the pope's job." In a televised address, Pope Willie says to all people that he doesn't want to be pope only for Catholics:
This is not a day for word prayer, not a day for going to church. Rather this is the day for the true prayer of deed and action....This is the day when everybody will make up....On this day no nationalities exist, all the barriers crumble, all the divisions cease to be.
The Curia was furious, of course. The narrator then refers to them as "trappers and custodians and museumkeepers and cage attendants." Willie tells them he is leaving Rome; he can't accomplish what needs doing from his seat in the Vatican. There is a sense of rage and desperation in The Last Western. For Klise, the message is ultimately that the pure in heart are blessed, shall see God, and the rest of the planet might simply perish.
There is no end to the genre of the papal novel. There are many, many others. To mention briefly two others: Dan Brown's Angels and Demons (2000) isn't bad for suspense and murder, even in its depiction of the papal office. It too seems to search for a savior. Then there is Kingsley Amis's The Alteration (1976), in which Amis imagines that the Reformation never made England Protestant, and we have a Yorkshireman pope—another example of wish-fulfillment, and one many British Catholics could share.
We read all these books, I suppose, because they entertain us. They also say something about who we are and what we want. I stand more with West and Klise, rather than with Sorrentino.
This article also appeared in print, under the headline "Novels about Popes and what they say about us," in the Spring Literary Review 2019, issue.