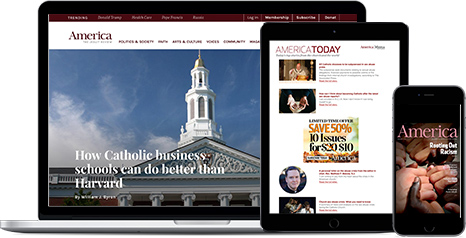 Advertise
With in-depth news and analysis and spiritual resources, America Media leads the conversation with fearless reporting, challenging perspectives and nourishing news. We bring 111 years of history that is both empowering and inspiring by continuously producing content that says something different, offers a different opinion or perspective and showcases a voice that asks the unconsidered, better question.
Our voice is inspirational, accessible and unique, bringing consumers what they need now more than ever across digital, audio, video and events, and in our flagship magazine, America, published since 1909.
Influential, affluent and educated, our subscribers are a dual community of engaged influencers. They are the decision-makers and opinion leaders in the contemporary American church.
We are more than a media resource. We are a partner every step of the way.
MEDIA PLATFORMS
America Magazine (view)

AmericaMagazine.org

1,100,000 monthly unique users** 

Social Media

Sources: Google Analytics, 2019 Subscriber Studies, Megaphone Data
** Six-month average

E-Newsletters (view)

Podcasts (view)

250,000 downloads per month** 

Video  (view)

52,000 subscribers on YouTube
PARTNER PROGRAMS
America Media offers integrated marketing solutions to promote and engage your brand with our community of responsive consumers.
High-impact ad units
Content sponsorships
Targeted display ads
Direct mail and custom publishing
Audio, video and event sponsorships
Private events
AV studio production
For more information and deadlines, contact Ken Arko at karko@americamedia.org
America Media reserves the right to accept, reject or edit any display or classified advertisement to conform to our standards.
Click here to download America Media's Multi-Media Platform Overview.