Podcast: How Pope Francis is rethinking the role of his personal secretary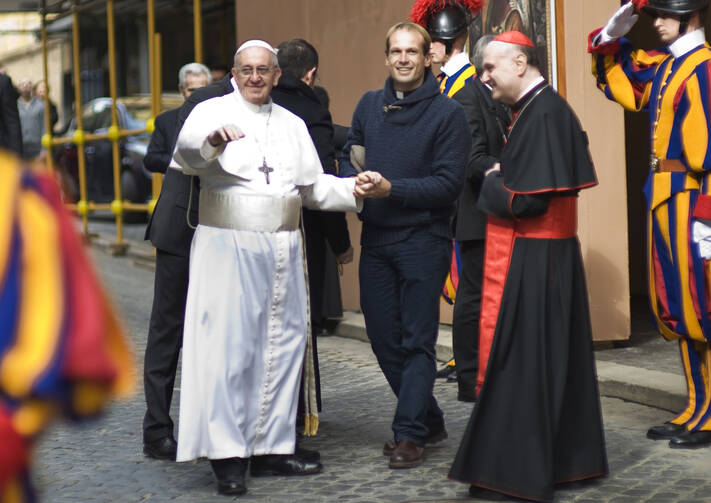 In this Sunday, March 17, 2013 filer, Pope Francis is flanked by Gonzalo Aemilius as he greets faithful at the Vatican. Pope Francis has chosen a Uruguayan priest who has worked with street children to be one of his two personal secretaries. The Vatican said on Sunday that Francis has known the Rev. Gonzalo Aemilius since 2006 when the pontiff was then archbishop of Buenos Aires. (AP Photo/Antonello Nusca, File)
On a recent episode of "Inside the Vatican," in the midst of Cardinal Robert Sarah's book controversy, Gerry and I discussed how Archbishop Georg Ganswein's role as Pope Emeritus Benedict XVI's personal secretary—and often, by default, his gatekeeper and spokesman—has been called into question. Since the start of his papacy, Pope Francis has expressed a desire to keep his personal secretaries out of the spotlight. This week on "Inside the Vatican," we look at how Francis has changed the role and discuss Father Gonzalo Aemilius, the pope's new personal secretary, who is known for his work with street children and drug addicts in his native Uruguay.
Listen on Spotify and Apple Podcasts.
This week, we also give updates on the pope's recent meetings with U.S. Vice President Mike Pence and Iraqi President Barham Salih. Since the Holy See has good relations with the U.S., Iran, and Iraq, could it be stepping in as a mediator?
We also explain the election of Cardinal Giovanni Battista Re as dean of the College of Cardinals and Cardinal Leonardo Sandri as vice dean. The election followed the traditional line, electing the former vice-dean as dean and the former chief of staff as vice-dean. We discuss what it means for both roles to go to Vatican insiders, for better and for worse.
Links from the show: