Podcast: Inside Pope Francis' appointment of a woman to a top diplomatic role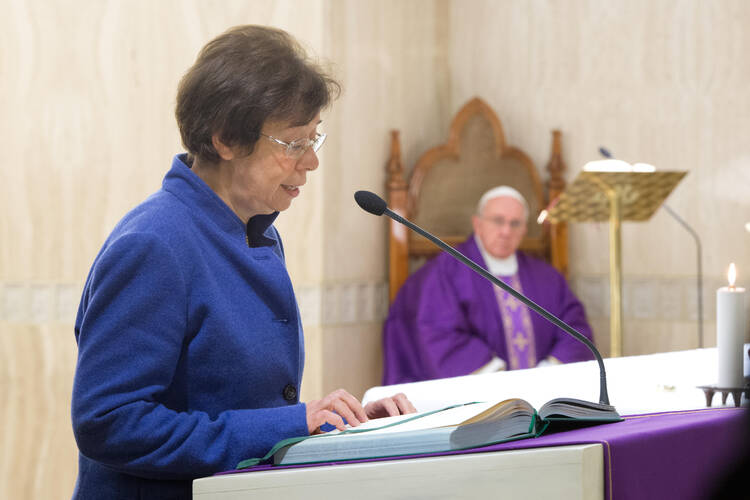 Pope Francis named Francesca Di Giovanni, a longtime Vatican official, as an undersecretary in the Vatican's foreign ministry office, making her the first woman to hold a managerial position at the Vatican Secretariat of State. She is pictured in an undated photo with Pope Francis. (CNS photo/Vatican Media)
Last week, Pope Francis appointed a woman to a top role in the Vatican's Secretariat of State for the first time, while also upgrading that role from the department head level to the undersecretary level. This week on "Inside the Vatican," Gerry and I take a look at these two decisions and what they reveal about Francis' international priorities as well as his desire to include more women in leadership roles in the Vatican.
Listen on Spotify and Apple Podcasts.
Then, we look forward to the upcoming election of a new dean of the College of Cardinals. When Cardinal Angelo Sodano's resignation was accepted in December, Pope Francis announced that he hoped to make a few changes to the role, including imposing term limits and making the job a full-time position. Gerry and I examine the reasons behind these changes.
We also give updates on several stories including last week's controversy surrounding "From the Depths of Our Hearts," Cardinal Robert Sarah's book on priestly celibacy; U.S. Vice President Mike Pence's upcoming meeting with Pope Francis; and when to expect Pope Francis' follow-up document to the Amazon synod.
Links from the show: