Pope Francis names new secretary: a priest who worked with street children and drug addicts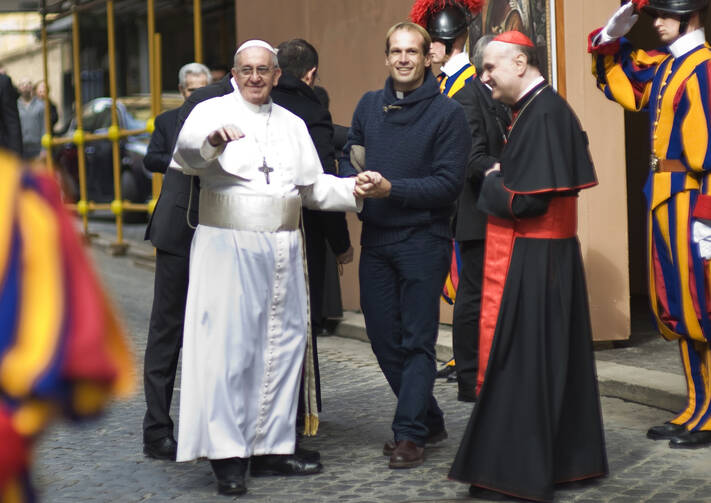 In this Sunday, March 17, 2013 filer, Pope Francis is flanked by Gonzalo Aemilius as he greets faithful at the Vatican. Pope Francis has chosen a Uruguayan priest who has worked with street children to be one of his two personal secretaries. The Vatican said on Sunday that Francis has known the Rev. Gonzalo Aemilius since 2006 when the pontiff was then archbishop of Buenos Aires. (AP Photo/Antonello Nusca, File)
Pope Francis has chosen as his new private secretary the Rev. Gonzalo Aemilius, a 40-year-old Uruguayan priest who worked with street children and drug addicts, whom he has known for many years, the Vatican announced today.
He succeeds the Rev. Fabian Pedacchio, the Argentine priest from Buenos Aires, who served as his personal secretary, with great loyalty and discretion, ever since the day after Francis' election as pope in March 2013 until last December.
To understand this change, it is important to know that right from the beginning of his pontificate, Pope Francis made clear that he did not want the kind of personal secretaries like those who worked for St. Paul VI, St. John Paul II and Pope Benedict XVI. He did not want a personal secretary who would be "the gatekeeper" to the pope, one who would consequently accumulate or exercise considerable influence or power during the pontificate.
As the Vatican spokesman, Matteo Bruni, explained last December, Pope Francis believes in the "rotation" of his secretaries and considers the role of secretary as "a temporary service." Hence his decision to replace Father Pedacchio after almost seven years with a new secretary, this time from Uruguay not Argentina.
Padre Gonzalo, as he is popularly known, was born in Montevideo, the capital of Uruguay, on Sept. 18, 1979. His parents were not believers; his grandmother was Jewish. He converted to the faith during secondary school, inspired by the example of some priests who worked with street children, even in the face of death threats.
He felt the call to the priesthood and was ordained for the archdiocese of Montevideo in 2006 and, after studying in Rome, received a doctorate in Theology. Francis has known him since 2006, when as archbishop of Buenos Aires he heard about his work with street children and drug addicts and contacted him.
Padre Gonzalo founded a school for street children in that city called Liceo Jubilar Juan Pablo II and served as its principal for nine years before he was reassigned to parish work.
Pope Francis suddenly cast him into the media spotlight on March 17, 2013, as he celebrated his first public Mass as pope in the Vatican parish church of Sant'Anna. Before entering the church, Francis heard the priest calling him from the midst of the crowd, gathered at the gate of Sant'Anna and invited to join him at the Mass. Then, at the end of the celebration, he introduced "Padre Gonzalo" to the congregation in the small church and told them of his great work with street children and drug addicts, "and [how he] helped them to know Jesus," asking that they pray for this priest.
Francis added that he did not know how Padre Gonzalo happened to be in Rome at this time. Later the priest explained that his family, aware of his close friendship with Cardinal Bergoglio, now Pope Francis, bought him an airline ticket and sent him to the eternal city after the election to be present at the inauguration. Later Francis told him that he had tried to call him by phone the previous day, but Padre Gonzalo said he could not make contact because he had the phone switched-off.
After that Mass in Sant' Anna, Padre Gonzalo told the Uruguayan media, "I felt great emotion and so very small" when Pope Francis invited him into the church.
Later, interviewed by L'Osservatore Romano, the Vatican daily, Padre Gonzalo revealed how Cardinal Bergoglio, as archbishop of Buenos Aires, had such a "decisive" impact on his life from then on: "He taught me to take the best that is in each individual, however different he or she may be from others, and to put it to good use for the good of all."
After the pope's inauguration, the priest returned to his home diocese to continue his parish work, and the media lost track of him until today when the Vatican broke the news that Francis had called him to be his personal secretary.
Padre Conzalo now joins the pope's other personal secretary, Father Yoannis Lahzi Gaid, an Egyptian Coptic priest, who has worked as the pope's second personal secretary alongside Father Pedacchio since April 2014 but is also part of the Secretariat of State's Arabic section.
Father Gaid took over as the pope's second secretary from Msgr. Alfred Xuareb, the Maltese priest who had served as Benedict XVI's second secretary and then as Francis' secretary in the first year of his pontificate, and is now nuncio to South Korea and Mongolia.
For his part, Father Pedacchio has returned to work full time in the Congregation of Bishops, where he had been working in March 2013 when Francis called him to be his secretary. But even then as secretary, Father Fabian still continued to work part-time in that congregation.