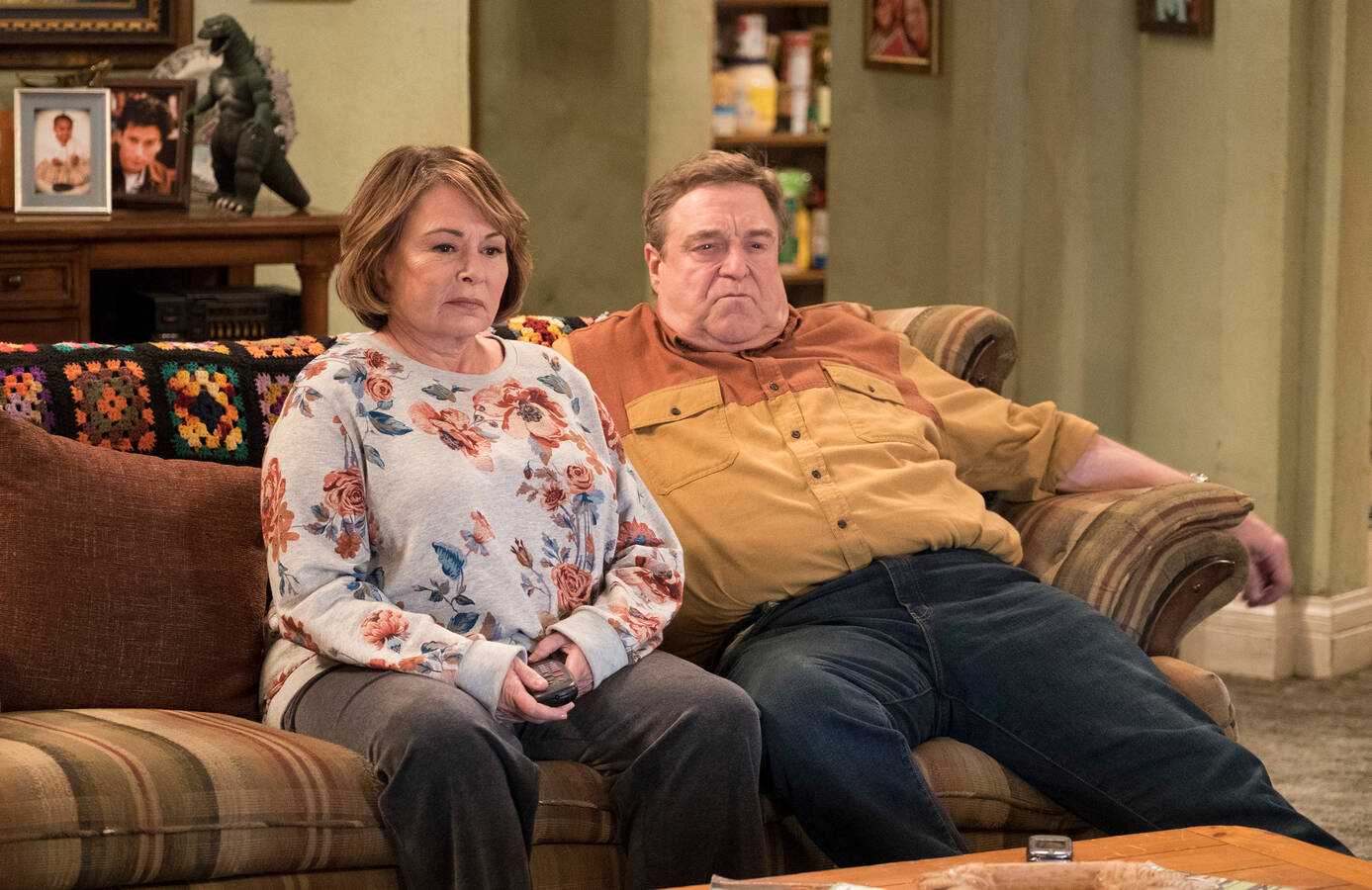 The rise and fall of the socially conscious sitcom, from "All in the Family" to "Roseanne"
Fifty years ago, it seemed that the United States was about to come apart over political differences. The civil rights movement, the sexual revolution and the Vietnam War were cleaving neighborhoods and families, and violence was thick in the air. At the same time, Americans were getting used to a pervasive form of technology. It was only in 1954 that most homes had television sets, and by the late 1960s, television was still seen as a gadget offering an escape from reality rather than enlightenment. "The Andy Griffith Show" and "The Lucy Show" were the most-watched programs of 1967-68, both gentle comedies that avoided references to current affairs.
Things changed quickly. The top-ranked show in 1968-69 was "Rowan and Martin's Laugh-In," a variety hour that machine-gunned jokes about sex, politics and religion. "Laugh-In" led the way, a few years later, to a show that transformed TV. That was "All in the Family," a socially conscious and enormously popular sitcom in which the central characters argued about presidential politics, the racial integration of their neighborhood in the New York City borough of Queens, and just about any other topic mentioned on the evening news.
The kind of national catharsis delivered by "All in the Family" seems elusive now. In 2018 we are still getting used to the internet, which encourages short-attention-span solitariness rather than family discussions and the chance for reflection that can follow a 30-minute television program. (Imagine saying that in 1968.) Social media has replaced TV, and it figured in the furor over what briefly seemed to be this year's answer to "All in the Family," ABC's reboot of "Roseanne."
Social media has replaced TV, and it figured in the furor over what briefly seemed to be this year's answer to "All in the Family," ABC's reboot of "Roseanne."
"All in the Family" was widely praised by critics and won 22 Emmy awards during its 1971-79 run, though some objected that verisimilitude was no excuse for the racial slurs and other vulgarities uttered by the main character, a loading-dock worker named Archie Bunker. As a Richard Nixon supporter in Queens in 1972, Archie probably would have been Catholic in real life, but Norman Lear, the producer, made him a Protestant who made negative generalizations about every almost racial, ethnic and religious group one could imagine—invariably having to eat his words when encountering actual members of these groups. When Archie called for the arming of all airline passengers to prevent hijackings, or claimed that God wanted different races to live separately ("I ain't no bigot," he protested in one episode, "I'm the first guy to say, 'It ain't your fault that youse are colored"), it was an opportunity for viewers to confront, or at least discuss, their own narrow thinking.
Brilliantly portrayed by Carroll O'Connor, Archie was a complicated character, someone whose racism stemmed from his determination to use any advantage he could to help his family, including white privilege—"motivated not by hatred but by fear," as Lear once wrote.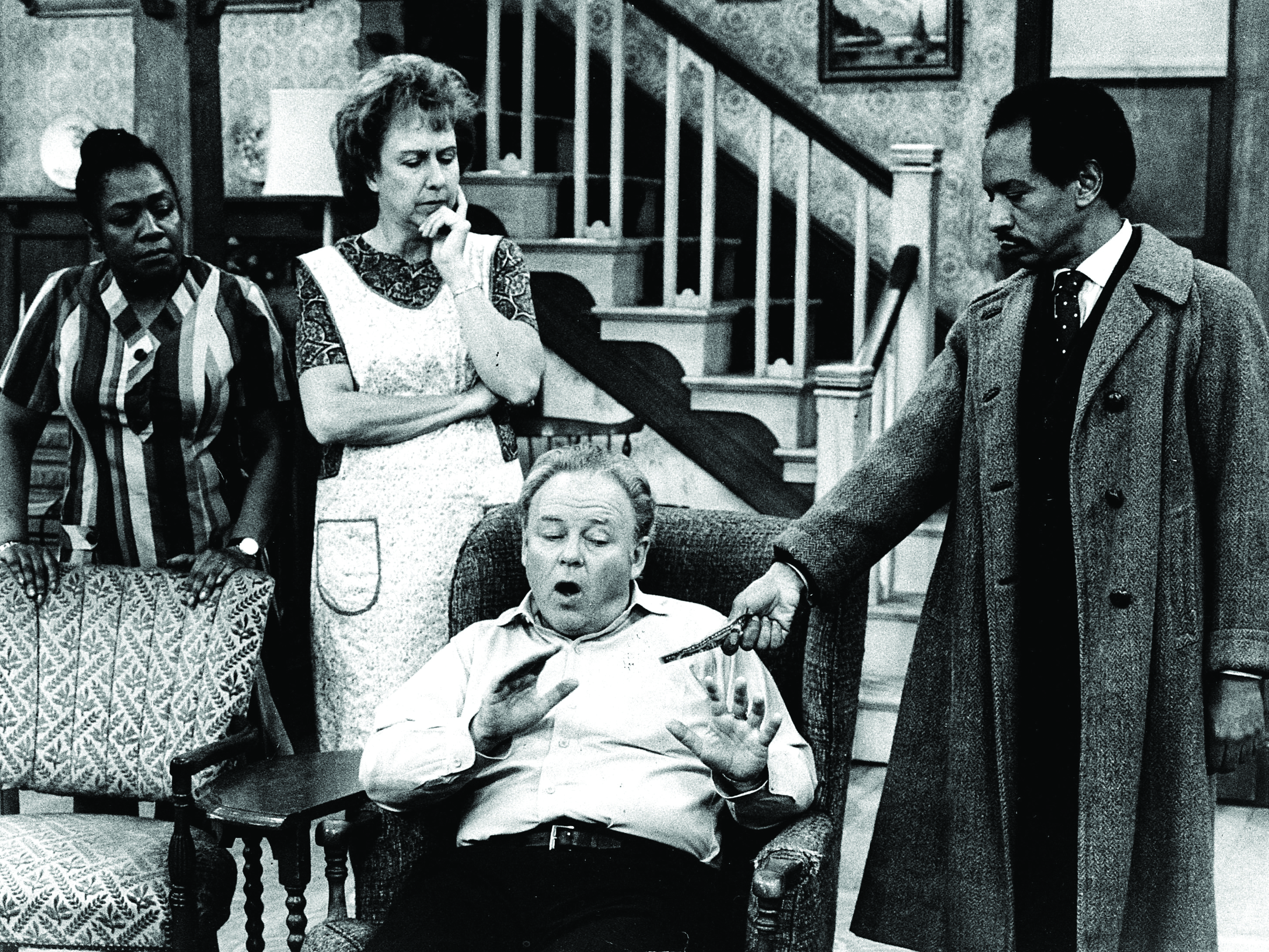 Lear and O'Connor were interested not just in ridiculing their character's racism but in trying to examine its causes. "How could any man that loves you tell you anything that's wrong?" Archie asks in one episode, explaining how he inherited his racist attitudes from his father. He was a living ethics exam problem for viewers.
One foe of the series was Laura Z. Hobson, who had written Gentlemen's Agreement, the classic novel about anti-Semitism. She wrote in The New York Times that "All in the Family" "cleaned up" bigotry (by avoiding, for example, the most offensive racial slur) and argued, "I don't think you can be a black-baiter and lovable, or an anti-Semite and lovable. And I don't think the millions who watch this show should be conned into thinking you can be." Lear responded with a caustic essay in which he asked, "In what vacuum did you grow up? Not a father, brother, uncle, aunt, friend or neighbor who was both lovable and bigoted?"
In 2014, The New Yorker's Emily Nussbaum gave "All in the Family" credit for waking up a "Brady Bunch"-numbed TV audience but was also wary of viewers who praised Archie, writing that the show created the problem of the "bad fan" who unironically embraces an anti-hero. Four years later, with Donald Trump in the White House, critics would become even more uncomfortable with flawed sitcom protagonists.
The Political Sitcom Strikes Back
Socially conscious sitcoms thrived throughout the '70s, including Lear's "Maude" and "Good Times" and less shouty offerings like "Barney Miller" and, occasionally, "WKRP in Cincinnati." But they fell out of fashion after "The Cosby Show" revived feel-good family sitcoms, and then "Seinfeld" popularized the "hangout" sitcom, on which adult friends argued about social etiquette but rather proudly displayed a lack of interest in politics.
But few art forms disappear forever, and the socially conscious sitcom has enjoyed a mini-revival recently, befitting an era when the country once again feels besieged by political differences. Netflix's perfectly executed "One Day at a Time" (a loose remake of another '70s sitcom produced by Lear) has looked at immigration and veterans' issues, gender identity and even the trend toward secularism in the U.S. Latino community. And this fall, CBS is bringing back the '80s sitcom "Murphy Brown," though the political content in its original run mostly consisted of jokey references to public figures rather than any real exploration of political differences.
"Seinfeld" popularized the "hangout" sitcom, on which adult friends argued about social etiquette but rather proudly displayed a lack of interest in politics.
So far, one of the shows that have come the closest to recapturing the frisson of "All in the Family" was NBC's "The Carmichael Show," which ran from 2015 to 2017. It featured a black family in Charlotte, N.C., and explored racial and intergenerational issues (including the rise of Donald Trump), but positive reviews never translated to a big audience.
And then there's "Roseanne." This spring ABC revived the late '80s sitcom about a working-class family in Illinois and drew huge audiences (by current standards) but had to yank the show off the air after two months because of racist tweets by its leading actress, Roseanne Barr.
The original show's politics were subdued, but its characters' complaints about health care bureaucracy and their eventual embrace of gay rights were among the signals that the Conner Family leaned left. When ABC brought back the show this year, however, it was with an eye toward attracting supporters of President Trump; Barr had conveniently declared herself a Trump backer, though she did not appear to be joined by the rest of the cast or the writing staff.
There may have been another reason to pitch the new "Roseanne" to more conservative audiences. The performed-before-a-live-studio-audience sitcom has become déclassé, with many critics and upscale viewers preferring slick, movie-like comedies like the "Seinfeld" follow-up "Curb Your Enthusiasm." Though still popular overall, live-audience sitcoms are almost entirely absent from this year's Emmy nominations.
This is another unfortunate result of our widening cultural divisions. There have been many single-camera sitcoms that have dealt with social issues and won plenty of Emmys, from the hugely popular "M*A*S*H" in the 1970s to "Black-ish" today (as well as political satires, like "Veep," whose central joke is that elected officials have no ideology other than staying in power). But as the TV critic Todd VanDerWerff wrote in Vox last year, "Sitcoms filmed before a live studio audience are one of the few places where we can all still get together and argue about what would otherwise pull us apart." He continues, "The leavening agent of the live studio audience...reminds viewers that we can talk about this kind of serious, personal stuff and still find it funny."
The best live-audience sitcoms encourage empathy and openness, approximating the raucous experience of live theater and shared emotional responses—as opposed to the sealed-off feeling of many contemporary sitcoms, often viewed in solitude by viewers who closely identify with the protagonists. They illustrate the Christian admonition to welcome the stranger, and, for comedy's sake, to welcome the strange. The New York Times columnist Ross Douthat, writing during the brief "Roseanne" revival, noted that cultural liberalism is more effectively advanced by "the subtle nudge" of a sitcom than the "hectoring" of more overtly political figures. (See John Oliver.)
Too Close to Trump
The new "Roseanne" was funny and well-written. ABC plans to bring it back again without the problematic Barr, but the fictional Roseanne Conner was by far the most interesting character on screen, not only for her embrace of Trump but for the not-coincidental theme of her coming to terms with her aging body in an old house (reluctantly accepting a stairway lift, for example). She was the rare sitcom protagonist who was neither an aspirational model nor a cartoonish jerk but a deeply flawed human being. She was also very much like Archie Bunker, taking any advantage that helps her family.
Unfortunately, Roseanne Barr was not exactly like Carroll O'Connor, who was able to keep a wide distance between his fictional character and his real-life actions in the pre-internet age. Instead, she has exhibited bizarre behavior that includes racist and anti-Semitic tweets at odds with her earlier political views and has raised concerns about her mental health. The noted black writer Roxanne Gay admitted in the Times, "My first reaction was that the show was excellent. But I could not set aside what I know of Roseanne Barr and how toxic and dangerous her current public persona is."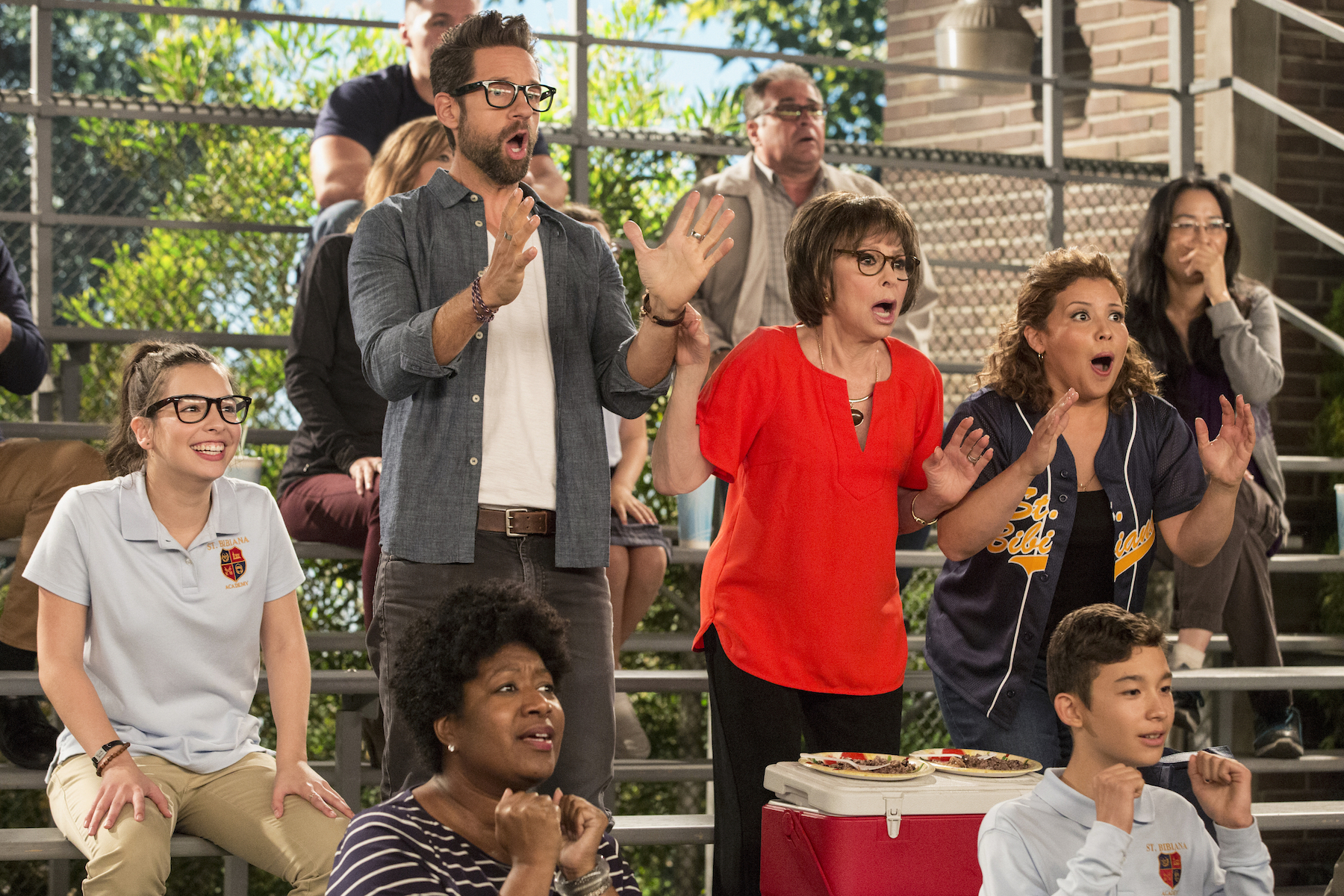 That persona may have influenced how critics viewed the show. In one episode, Roseanne's husband, Dan, notes that they have slept through the sitcoms "about black and Asian families," and Roseanne dryly responds, "They're just like us. There, now you're all caught up." The reference was clearly to other ABC sitcoms that aired on the same night as "Roseanne": "Black-ish," about an African-American family, and "Fresh Off the Boat," about Taiwanese immigrants in the United States.
The Taiwanese-American actor Kelvin Yu wrote in The New York Times that the joke was "objectifying and demeaning people of color," adding, "it's so galling that a show celebrating ostensibly marginalized Americans would consider shows about even more marginalized Americans a punch line." The New Yorker's Nussbaum called it a "dog whistle" for "white resentment," and echoing Hobson's criticism of "All in the Family," wrote that the show would be more truthful if it used uglier and more direct language—that is, if it ensured that Roseanne Conner were not seen as a lovable Trump supporter but were flattened out into a member of the Ku Klux Klan.
ABC plans to bring the series back without the problematic Barr, but the fictional Roseanne Conner was by far the most interesting character on screen.
But the "just like us" line was true to the character: more sarcastic and jaded than hateful. And it is fair game to note the glossiness of a show like "Black-ish." While people of color are certainly marginalized in the United States, it can be debated whether the advertising executive Andre Johnson and his upper-middle-class family are more marginalized in every way than the hand-to-mouth Conners. ("Good Times" and the early '90s sitcom "Roc" were unflinching looks at families marginalized by both race and economic class.)
"Race is not the only social hierarchy," argued Joan C. Williams in The Guardian, even as she agreed that ABC had no choice but to cut ties with Barr. "Disrespectful images of the working-class whites [on TV] are part and parcel of the cultural disrespect that paved the path for a demagogue like Trump."
Ken Levine, a veteran writer of such sitcoms as "M*A*S*H" and "Frasier," wrote on his blog that he had no desire to defend Barr, but added, "I'm trying to imagine myself in a current writers room, now having to walk on eggshells and analyze every line super carefully to make sure I don't offend anyone even inadvertently. ….characters need to have flaws, there has to be some edge."
Certainly, many of today's single-camera sitcoms examine important social issues, but they tend to be affirming rather than cathartic. "The Middle," which concluded a nine-year run on ABC this year, did take place in the heartland and concerned an economically struggling family, but it was mostly whimsical and studiously avoided politics. In the sphere of streaming TV series, Amazon's Emmy-winning "Transparent" and Netflix's "Grace and Frankie" explore gender roles and society's treatment of older citizens (especially women), but their characters occupy that infamous "bubble" of well-educated, coastal suburbanites with almost identical value systems. However well regarded these shows are by critics, they have tiny audiences and are not likely to prompt intergenerational discussions.
"Black-ish" may be the most successful single-camera sitcom that addresses current events, including police shootings of unarmed black men and other forms of racial injustice. But its central characters, particularly the familiar character of the ever-reasonable wife and mother, Bow, are figures of inspiration rather than moral puzzles. (The same applies to "One Day at a Time." Who wouldn't want to be as vibrant as Lydia, as played by 86-year-old Rita Moreno?) Both are good shows that seem perfectly suited to the forward-marching Barack Obama era.
Certainly, many of today's single-camera sitcoms examine important social issues, but they tend to be affirming rather than cathartic.
"Roseanne," on the other hand, may have been too much of a fit for the Donald Trump era. Archie Bunker may have idolized the buttoned-down and knowledgeable Richard Nixon, whom he called "my president," but no one at the time thought a malapropism factory like Archie (who bragged that the United States had the "highest standard of living" and "the grossest national product") could actually occupy the Oval Office. Trump's qualifications, on the other hand, don't seem so different from that of Roseanne Barr, who did run for president as the nominee of the Peace and Freedom Party in 2012.
Especially in the wake of the #MeToo movement and revelations about sexual harassment in Hollywood, the line between art and artist has become not just blurred but obliterated. "Roseanne" was irreparably damaged by the offstage reputation of its star, but it is also easy to imagine that an actor would be reluctant to damage his or her reputation by playing a character like Archie Bunker or the Trump-supporting version of Roseanne Conner.
We have not returned to a television landscape dominated by the likes of "The Andy Griffith Show" and "The Beverly Hillbillies," but something like "All in the Family" may now just be too much for us to handle.
---
Essential Social Sitcoms

Here are 10 sitcoms that, at least occasionally, addressed political or social issues in a funny and organic way, from racism and economic mobility to L.G.B.T. rights and environmentalism. The list is limited to "theater-style" comedies.

"All in the Family" (CBS, 1971-79; available on Crackle and iTunes)
"Barney Miller" (ABC, 1975-82; Amazon Prime and iTunes)
"The Carmichael Show" (NBC, 2015-17; Hulu, Amazon Prime and iTunes)
"Designing Women" (CBS, 1986-93; Logo)
"Maude" (CBS, 1972-78; Amazon Prime and iTunes)
"One Day at a Time" (CBS, 2017- ; Netflix)
"Roc" (Fox, 1991-94; YouTube)
"Roseanne" (ABC, 1988-97; Amazon Prime and iTunes)
"Sanford and Son" (NBC, 1972-77; Starz and YouTube)
"WKRP in Cincinnati" (CBS, 1978-82; Hulu, Amazon Prime and iTunes)