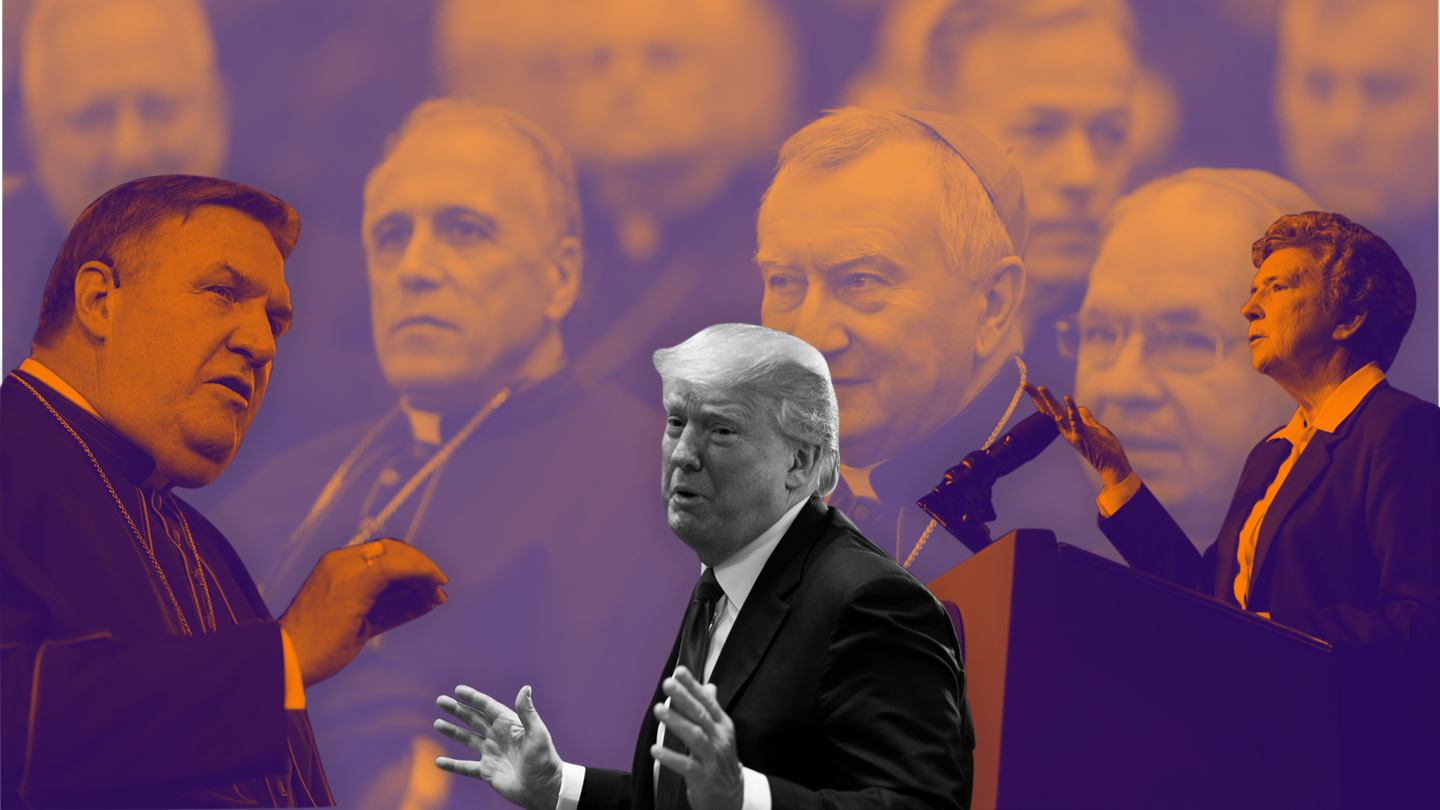 In Trump's first year, Catholic leaders made strong condemnations along with calls to do more
This week, President Trump wraps up his first year in office, his policy victories overshadowed by questions about his demeanor and his continued advocacy for hard-line immigration proposals, both of which are prompting continued condemnations from Catholic leaders in the United States.
The blizzard of statements issued by the U.S. Conference of Catholic Bishops during the president's first year has been extraordinary, touching on perennial challenges such as immigration and abortion but also expanding into debates about net neutrality, climate change, international mining and health care. Groups of Catholic sisters have also vocally expressed their opposition to Mr. Trump's proposals, beginning with some expressing support for last year's Women's March. And major Catholic nonprofit groups have urged church members to call, write to and visit lawmakers, asking them to resist the Trump administration's efforts to remake major parts of American society.
Bishop Gerald Kicanas, a former vice president of the bishops conference, suggested during the group's fall meeting that they hold a high-profile action, akin to this weekend's March for Life, on other issues important to Catholics, such as immigration and racism. But so far, church leaders have stuck largely to protocol, issuing statements of both condemnation and praise, but seem to be hesitant to take on the administration too forcefully as they continue to seek advances in the areas of life and religious liberty.
In an interview during the November gathering, Cardinal Joseph Tobin, who heads the archdiocese of Newark, told me that he thinks the bishops conference "could be stronger" in how it deals with controversial public policy questions in the Trump era, especially on immigration.
"I would say certainly on migration and refugee policy, I think we have to be more clear in our insistence that caricatures are not acceptable," he said. "Not only are they not acceptable in the faith community, [they are] not in the best traditions of our country."
Cardinal Tobin: The bishops conference "could be stronger" on controversial public policy questions, especially immigration.
A year ago Saturday, Mr. Trump took an oath to uphold the U.S. Constitution, and Cardinal Timothy Dolan was on hand to read a selection from the Book of Wisdom. The New York cardinal, who had met privately with Mr. Trump and his wife Melania during the heated 2016 campaign, wrote in a blog post at the time that while he had some reservations about the new president, inaugurations are times of hope.
"As with all previous [presidents], some welcome him, some are worried about him, most a little bit of both," the cardinal wrote last Jan. 17. "Whatever our reservations—and as with most other inauguration days, I have some too—it is classically a time of prayer, renewal, hope and unity."
The first few weeks of the Trump presidency showed the whiplash bishops and other church leaders would experience over the next several months, with statements of support for the president's executive order to prohibit federal funds from paying for abortions overseas quickly being drowned out by calls from bishops and other Catholic leaders opposing Mr. Trump's so-called travel ban on people from several mostly Muslim nations.
Since then, Catholic bishops have expressed their opinions, positive and negative, dozens of times. According to a December analysis by Catholic News Service, the U.S. bishops conference released "an estimated 115 public statements and letters addressing public policy concerns" in 2017, more than double the amount issued in 2016. And though many of those statements were strong condemnations about specific policies championed by the White House, few were able to break through the noise and encourage the sort of mass response that church leaders have been capable of leading on other issues, such as abortion.
The U.S. bishops conference released about 115 public statements and letters addressing public policy concerns in 2017, more than double the amount issued in 2016.
While the bishops have been critical of many of Mr. Trump's ideas, there has been some praise as well—especially in areas of religious liberty and life.
Cardinal Dolan, as head of the bishops' pro-life committee, has praised the administration several times, including for reinstating the so-called Mexico City Policy, which prohibits U.S. international aid from being used to pay for abortions. And last May, Cardinal Daniel DiNardo, head of the U.S. bishops conference, joined Cardinal Donald Wuerl of Washington at a Rose Garden ceremony during which Mr. Trump signed an executive order dealing with religious liberty. This week, the administration announced new conscience protection rules for medical workers opposed to abortion, long a policy goal of the bishops conference. It is a big win for bishops, who see the public square as increasingly hostile to actions based on individual religious beliefs.
The White House also announced this week that Mr. Trump will address via video the March for Life in Washington, the large annual gathering of pro-life activists. He will become the first sitting president to speak live via satellite to the gathering, which is being headlined by one of Mr. Trump's allies, Speaker of the House Paul Ryan. (Presidents Ronald Reagan and George W. Bush spoke to marchers by phone.)
I asked Cardinal Tobin if he thought the progress in these areas, which seemed hard to come by during the Obama administration, made the bishops as a body reluctant to speak out too forcefully about areas where they disagree with the president, such as immigration.
"I think that we maybe have pulled a few punches," said the cardinal, who himself made headlines earlier this year when he led a rally in support of a grandfather of four facing deportation to Mexico.
Cardinal Tobin: "I think that we maybe have pulled a few punches."
"In an administration that stresses its ability to make deals, you just have to look at the full cost. And there's just some things that we can't deal on," he continued, saying it would be "unacceptable" for lawmakers to capitulate on building a border wall in exchange for protections for so-called Dreamers. "We've made that clear in other areas of the church's engagement with American culture," he said, pointing to the church's clear stance on abortion and other life issues.
"I think we have to be very, very careful" when speaking about immigration, he said, adding that "you don't trade off" by bargaining with people's lives when it comes to immigration.
The response from Catholic sisters
When it comes to Mr. Trump's job approval at the end of his first year, Catholics in the United States tend to mirror the overall population. A poll released last week by Gallup found that 38 percent of Catholics approve of Mr. Trump's job performance, just one point below the national average. Dig a bit deeper, however, and there is a stark divide between white Catholics, 51 percent of whom approve of Mr. Trump, and Hispanic Catholics, just 17 percent of whom approve of the president.
Part of that low approval rate from Hispanic Catholics is undoubtedly due to Mr. Trump's hard-line immigration views. This week, lawmakers continue to negotiate a way for nearly 800,000 young adults living in the United States, who were brought here as children illegally, to remain protected from deportation. It was during a bipartisan meeting about immigration earlier this month when the president reportedly used the phrase "shithole countries" to describe nations in Africa and voiced objections to accepting immigrants from Haiti and El Salvador. While the U.S. bishops conference released a statement condemning such language, it did not mention Mr. Trump specifically; and instead of a bishop signing it, as is custom, a communications official attached his name to it. Other Catholic leaders were more direct, including a group representing 2,900 Catholic sisters, the Sisters of Mercy.
While the U.S. bishops conference released a statement condemning vulgar language to describe nations in Africa, it did not mention Mr. Trump specifically.
In their statement, one of many they released about political issues during Mr. Trump's first year, the sisters were direct and did not shy away from using the vulgar language the president reportedly employed.
"Sisters of Mercy are present in many of the countries President Trump categorized as 'shitholes,'" they wrote. "We welcome immigrants and refugees from these countries in our schools, churches, healthcare institutions and other ministries.
"
The head of the group, Patricia McDermott, R.S.M., told me during a recent conversation that she agreed with my assessment that, statements aside, Catholic leaders have not been able to cut through the noise with a grand gesture, such as the 2014 Mass along the U.S.-Mexico border celebrated by Cardinal Sean O'Malley of Boston and several other bishops. This event showed that bishops were willing to travel to the border in order to bring attention to families separated because of immigration status, even by an administration that more or less agreed with the church's position on immigration reform.
"I think all of us could be doing more," she said about the church as a whole. "Our responses have not been robust, they haven't been consistent, and they haven't been clear and intentional enough to address sufficiently what I see as a tremendous gap in leadership."
She pointed to the 2017 Women's March, in which millions of Americans marched, in part, to protest Mr. Trump's views, as a model of effective demonstrations that capture people's imaginations.
"Pastorally, our priests and Catholic ministers are accompanying people and providing resources on a daily basis," she continued. "But from a leadership perspective, we can do more. We can do better."
The health care debate
One area where the church—including bishops, Catholic sisters and groups led by laypeople—appeared largely united and energized was during last summer's unsuccessful effort, backed by Mr. Trump, to repeal the Affordable Care Act. Though initially opposed to the legislation when it was introduced in 2009, the U.S. bishops conference repeatedly urged Congress not to repeal it last year, a campaign they undertook beginning in the weeks just after Mr. Trump's victory.
Carol Keehan, D.C., head of the Catholic Health Association, praised the bishops' "wonderful job of speaking up" on health care. Sister Keehan said her organization, which represents hundreds of Catholic hospitals, decided its role during the debate would be to counter the "misinformation" spreading about the health of the A.C.A.'s insurance marketplaces.
"We made a commitment to respond with facts and with respect, to try to be a piece of changing the tone of conversation," she told America. "We wanted to showcase people who had really benefited" from the legislation, she said, and highlight the "clear studies that showed if it was totally destroyed, the people who would be hurt most, the largest percentage of them, were the people that had voted for Trump."
To that end, the organization used social media to encourage Americans to reach out to their representatives to express support for the law. These and similar efforts by a range of advocacy groups paid off, as Republican leaders in Congress were unable to gather the votes necessary to repeal the law.
But, Sister Keehan warned, the administration appears intent on trying "to kill [the A.C.A.] by a thousand cuts," such as stripping the law's mandate for individuals to purchase insurance as part of the recently enacted tax overhaul. U.S. bishops strongly opposed the tax measure, saying it would harm the poor and lead to reductions in the social safety net.
Racial justice
Last summer, a group of white supremacists gathered for a rally in Charlottesville, Va., protesting the removal of statues honoring Confederate heroes. A number of clergy held a counterprotest, though there were no reports of Catholic priests participating. The day turned violent when a man rammed his car into a crowd of people, killing one young woman who was among the counterprotesters. Mr. Trump then appeared to defend some of the white supremacists, saying in a press conference that the group included "some very fine people."
The Catholic response to the protests was, at first, uneven.
Initial statements from many bishops, as well as the bishops conference, called for unity and prayers. It took some time for clear condemnations of racism to emerge. Some bishops said at the time that the events were unfolding quickly and they wanted to learn what had happened before weighing in. But a couple of weeks after the protest, the bishops approved a committee to work on racial justice—a sign that a long-anticipated pastoral letter on racism, the first to address the topic so thoroughly in decades, might be near completion. (For his part, Cardinal Wuerl published his own pastoral letter on the evils of racism late last year.)
The bishops approved a committee to work on racial justice—a sign that a long-anticipated pastoral letter on racism might be near completion.
Bishop Kicanas, the recently retired bishop of Tucson who participated in the 2014 border Mass, told me that bishops had been used to certain political conditions during the Obama years. Church leaders opposed that administration on many health care items, but shared goals in the areas of immigration and some safety net programs. He said it is common to expect some hiccups as other issues take center stage.
"I think it takes time, but I think there are good signs that the conference now has a new agenda," Bishop Kicanas said. He added that "it's important for [Catholics] to see that the church is not a political body, and the conference is not a political body."
"We speak out of a tradition of values, of moral teaching that has to address these significant issues regardless of which party is for or against those issues," he said.
Recent meetings of bishops have included sustained discussions about immigration, a debate about how strongly to pursue religious liberty and overall questions about which priorities the bishops should adopt. While it would be tempting to claim that this kind of conversation, which has been absent in previous years, is in direct response to new political challenges, that might be too easy. Credit should also be given to continued calls from Pope Francis for the church to broaden its social justice advocacy agenda.
Cardinal Wuerl, who at 77 is the oldest active bishop leading a U.S. diocese, told me last August that bishops have long advocated for the poor and marginalized. But he conceded that under Francis, a certain recalibration has been necessary.
"We have a long history of being greatly involved in questions of social justice, questions of care for the poor, the whole idea of charitable efforts," the archbishop of Washington, D.C., told me. He said the church's "intensity" on "very important" life issues, such as abortion, may have hindered "a clear a vision of all of the church's efforts to respond to people in need."
Still, during last November's bishops meeting, Bishop Kicanas told other bishops during a plenary sessions that words were not enough during fraught political times. During our conversation, he recalled the border Mass and suggested that social challenges, such as immigration and racism, could benefit from new action.
"Those actions, while they're not going to solve the problem, they speak so much more powerfully than words can ever speak," he said. "For example, we have the March for Life. Maybe there should be a march against racism where we walk with our people as we do in Washington, to say as a people of faith we stand in opposition to hatred and to bitter rhetoric. Those visual things mean so much."
Sister Keehan is unsure if such actions could do much to persuade skeptics, at least in terms of the Republican Party's repeated efforts to repeal the Affordable Care Act.
"If you can look at little children, unborn children, infants, who in your state or in your district have health insurance and will lose it completely if this goes through—if you can look at that and it doesn't bother you, it doesn't make you say, 'No, no, no, no. We may have to make a lot of important changes, but we cannot lose the gains.'... If you can look at that and not be moved, what good is marching in the street going to do?" she asked.
"You look at the thousands of calls, the thousands of emails, the thousands of visits, and people," she said of last year's efforts to preserve health care. "It didn't seem to move some people."
Trump's toughest Catholic critic
While the U.S. church has been vocal if inconsistent in its condemnations of some of Mr. Trump's more controversial policies, the only global figure who can command a platform nearly as large as the president's has been his toughest Catholic critic.
Though he rarely mentions Mr. Trump by name, Pope Francis has been unrelenting during the past year in his mission to highlight the plight of migrants, call for more robust environmental protections and bring up the dangers of war. In a speech just days before the U.S. election, the pope gave a speech warning that "fear...weakens and destabilizes us," calling attention to the global refugee crisis and reiterating his opposition to border walls, one of Mr. Trump's signature campaign promises. Though the pair met at the Vatican in May, Francis has continued to denounce anti-migrant sentiments. A month after their meeting, U.S. bishops expressed their distress that Mr. Trump rolled back Obama-era policies that thawed relations between the United States and Cuba, a deal that Pope Francis himself had encouraged. And earlier this month, the Vatican newspaper ran a front-page story condemning Mr. Trump's "harsh" and "offensive" language about Haiti, El Salvador and Africa.
The Vatican newspaper ran a front-page story condemning Mr. Trump's "harsh" and "offensive" language about Haiti, El Salvador and Africa.
Just this week, during his flight from Rome to Chile, Francis was asked about the threat of nuclear war, a question that comes at a time when tensions between the United States and North Korea appear to be escalating. (Oddly enough, the threat of nuclear annihilation is one topic U.S. bishops have, more or less, left alone in recent months.)
"I think we are at the very limit. I am really afraid of this," the pope said. "One accident is enough to precipitate things."
As for whether the United States under Mr. Trump is "at the very limit" on a range of domestic issues, only time will tell. In the meantime, Catholic leaders now have had a year of adjusting to our new political reality and understanding which methods of organizing and persuasion work.