Alongside Catholic leaders, President Trump signs executive order on religious liberty, health care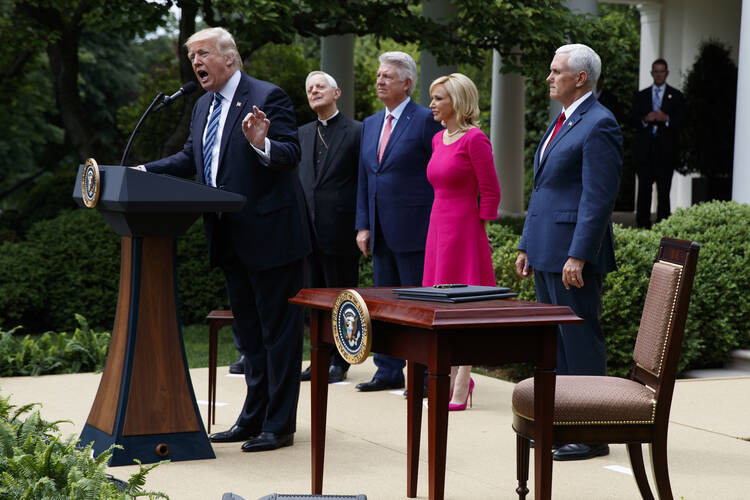 President Donald Trump speaks in the Rose Garden of the White House in Washington, Thursday, May 4, 2017, before signing an executive order aimed at easing an IRS rule limiting political activity for churches. From second from left are, Cardinal Donald Wuerl is the Archbishop of Washington, Pastor Jack Graham, Paula White, senior pastor of New Destiny Christian Center in Apopka, Fla. and Vice President Mike Pence. (AP Photo/Evan Vucci)
President Trump signed an executive order on Thursday that instructs the Internal Revenue Service not to enforce a rule that bars churches from engaging in partisan politics and addresses concerns from some Catholic organizations about rules in the Affordable Care Act regarding contraception coverage.
Before the signing ceremony at the White House rose garden, Mr. Trump was scheduled to meet in the Oval Office with Cardinal Daniel DiNardo, head of the U.S. Conference of Catholic Bishops, and Cardinal Donald Wuerl, archbishop of Washington, D.C. They were also at the signing ceremony, along with other Catholic leaders, including Joe Cella, head of the National Catholic Prayer Breakfast and an early supporter of Mr. Trump, and members of the Little Sisters of the Poor. The meeting and signing ceremony marked the National Day of Prayer.
Mr. Trump offered remarks during the ceremony, thanking religious leaders for joining him in the Rose Garden.
"It is a beautiful thing to see these three faith leaders from three very different faith traditions come together and lift up our nation in prayer," Mr. Trump said. "Not only are we a nation of faith, we are a nation of tolerance."
Mr. Trump said his executive order was meant to "defend the freedom of religion and speech in America."
"No Americans should be forced to choose between the dictates of the federal government and the tenets of their faith," he said.
Mr. Trump said his executive order was meant to "defend the freedom of religion and speech in America."
The president said he was directing the Justice Department "to develop new rules to ensure these religious protections are afforded to all Americans," noting dozens of lawsuits brought against the Obama administration by various religious entities. He specifically called out "the attacks against the Little Sisters of the Poor," whom he described as "incredible nuns who care for the sick, the elderly and the forgotten."
He invited members of the religious order to join him at the podium. "I want you to know that your long ordeal will soon be over," he said.
"With this executive order we are ending attacks on your religious liberty," he said.
The White House said the executive order addresses concern from some Catholic organizations over certain provisions of the Affordable Care Act that they say compel them to violate their religious beliefs.
For years, the Little Sisters of the Poor and other Catholic groups have battled the federal government over a provision of the health care law that requires employers to provide insurance plans that cover contraception.
"With this executive order we are ending attacks on your religious liberty," he said.
In May 2016, the Supreme Court sent combined cases against the contraceptive mandate back to the lower courts, which cleared the slate from their previous court rulings when five appeals courts had ruled in favor of the contraceptive mandate and one ruled against it.
The Supreme Court justices, at the time, expressed hope that both sides might be able to work out a compromise, which has not happened.
But on Thursday, the head of the religious order thanked the president.
"Nearly one year ago today the Supreme Court protected our ability to serve the elderly poor while remaining true to our faith," Mother Loraine Marie Maguire, Mother Provincial of the Little Sisters of the Poor, said in a statement released by Becket, the law firm representing the Little Sisters. "Today we are grateful for the President's order and look forward to the agencies giving us an exemption so that we can continue caring for the elderly poor and dying as if they were Christ himself without the fear of government punishment."
The exact content of the executive orders remains a mystery. A Becket spokesperson told America after the signing ceremony that the organization had not yet received the final version of the orders.
Richard Garnett, a law professor at the University of Notre Dame who follows religious liberty cases closely, said it appears doubtful that the executive orders will change much, at least in terms of the law.
"Americans who embrace our constitutional tradition of respecting religious liberty and the role of religious believers in public life will welcome, naturally, the Executive Order's declaration that the Administration is committed to protecting religious liberty," Mr. Garnett wrote in an email to America. "In terms of specifics, however, the Order does very little and does not address a number of pressing and important questions."
"And while it is a good thing—and long overdue—that the Administration apparently intends to craft a more reasonable and inclusive religious exemption from the contraception-coverage mandate, such regulatory relief was already probably on its way, as a result of the Supreme Court's decisions," he continued.
Mr. Trump's executive order also directs the I.R.S. not to investigate churches and other houses of worship that endorse candidates or engage in partisan political activity, which under current rules puts in jeopardy their tax-exempt status.
"We will not allow people of faith to be targeted, bullied or silenced anymore. We will never, ever stand for religious discrimination," Mr. Trump said. "This financial threat against the faith community is over."
Since 1954, only one church has lost its tax-exempt status under the Johnson Amendment, The New York Times reported.
"With respect to the enforcement of the Johnson Amendment, it is already the case that the relevant agencies and officials are highly deferential to churches and religious leaders, especially when it comes to what's said in the context of sermons and homilies," Mr. Garnett said.
The ceremony included three prayers, including one from Cardinal Wuerl. "Grant us to persevere in works of your mercy, conduct ourselves always in the way of salvation always free to walk in your light," he said, touching on the theme of religious freedom. "We ask you now on this National Day of Prayer, bless us, bless us in our vigilance for the gift of religious liberty." He also prayed for the Trump administration, asking God that it have "respect for virtue and morality."
Later in the ceremony, in a somewhat awkward juxtaposition, Cardinal Wuerl stood next to Mr. Trump as the president announced optimism that the House of Representatives would pass a new healthcare bill later today. The U.S. Conference of Catholic Bishops has expressed opposition to current proposals that could strip millions of Americans of health insurance.
Mr. Trump campaigned on overturning the rule known as the Johnson Amendment, a promise endorsed by several high-profile evangelical leaders. Catholic leaders have not issued a strong statement either way.
The U.S. Conference of Catholic Bishops regularly reminds Catholic parishes, dioceses and nonprofits that they are barred from endorsing candidates or engaging in overt political activity, including earlier this month, when it published the 44-page document, "Political Activity and Lobbying Guidelines for Catholic Organizations."
While the document is driven primarily by concerns about the I.R.S., canon law forbids priests from holding public office, a rule dating back to a time when a Catholic priest served as a U.S. representative from Massachusetts. Some canon lawyers interpret church law to be even broader, preventing clergy from engaging in politics altogether.
Meanwhile, some legal scholars say they are unsure if the executive order will survive court challenges.
Earlier this year, The Nation reported on a leaked draft of a proposed religious liberty executive order that was far more sweeping, which would have allowed individuals and businesses to cite religious objections as reason not to serve L.G.B.T. people. Thursday's executive order is far less reaching, leading to disappointment from some religious liberty advocates.
Some legal scholars say they are unsure if the executive order will survive court challenges.
"Grateful for Executive Order's affirmation of the need to protect religious freedom. Much, much more needed, especially from Congress," Russell Moore, head of the Ethics & Religious Liberty Commission of the Southern Baptist Convention, said in a tweet on Thursday.
But the L.G.B.T.-rights group GLAD said it remains concerned about the scope of the executive order.
"We are far too familiar with attempts to use 'religious liberty' to justify circumventing nondiscrimination protections," the group tweeted Thursday. "Trump's order today promises to broaden church political power, and allow further restrictions on access to contraceptive care. Be vigilant."
"We strongly encourage the president to see his campaign promise through to completion and to ensure that all Americans—no matter where they live or what their occupation is—enjoy the freedom to peacefully live and work consistent with their convictions without fear of government punishment," Gregory Baylor, a lawyer for the Alliance Defending Freedom, said in a statement released Wednesday night.
Last night, Mr. Trump dined with several high-profile evangelical leaders in the White House. The president also announced that his first foreign trip would include stops in Saudi Arabia, Israel and "then to a place that my cardinals love very much, Rome." Mr. Trump is expected to meet Pope Francis on May 24.
Material from the Catholic News Service was used in this report. This article has been updated.
CORRECTION, May 4, 2 p.m.: The original version of this story stated that President Trump signed two executive orders. He signed one, addressing two different areas of law related to religious liberty.