Review: How a family's faith becomes their downfall
Poetry spills out almost everywhere in The Discomfort of Evening, the debut novel by 29-year-old Marieke Lucas Rijneveld. Translated by Michele Hutchison, it won the 2020 International Booker Prize. The chairperson of the judges, Ted Hodgkinson, called the novel "a tender and visceral evocation of a childhood caught between shame and salvation, and a deeply deserving winner."
I largely agree with his assessment, although the novel's tender moments are few.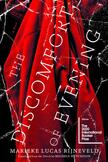 One such moment occurs as the novel opens, when Jas, the story's child protagonist and narrator, and her family are preparing for Christmas. The mother is bathing the children when someone comes to the door to tell her that her oldest son, Mattheis, has fallen through thin ice while skating and has died. The developing story concerns the effect his death has on the family and how they cope with their loss for close to three years.
At first, the mother is confused and believes her son is still alive. Jas and her sister, Hanna, think their brother is playing a game and will return home shortly, since Christmas is only two days away. When their parents throw out the Christmas tree and give away the presents and the food, they realize Mattheis will not return. That, says Jas, "was when the emptiness began." Everyone changes for the worse during that emptiness.
The Discomfort of Evening follows Rijneveld's first collection of poetry, Calfskin, (2015) which won several prestigious awards.
Jas tries to understand why God would punish her and her family by letting her brother drown. Worse, she thinks his death might be her fault. Believing that her pet rabbit is destined for the stew pot, she tries to make a deal with God, asking him to take her brother instead of the rabbit. But when he does so, she is devastated. As this novel tells a story about Jas's feelings of guilt, it also focuses on her fear of death and her obsession with it. In that sense, it is reminiscent of Fyodor Dostoyevsky's Crime and Punishment—although from the point of view of a 10-year-old.
Jas lives on a farm in the Netherlands across the river from a city where vice supposedly thrives. Her family takes the Bible literally and sees God not as a loving father but as a punitive master. They do not pray to God as much as they hear his words reproaching them.
As devout members of the Dutch Orthodox Reformed Church, the parents strictly monitor their children and do not allow them access to the internet except for school projects. They study the Bible and have most of it memorized. Biblical passages rumble through Jas's head in a stream-of-consciousness fashion. She believes that her father is close friends with God, while she is not. She considers herself a sinner and a pedophile even though she does not know the meaning of the term.
According to Rijneveld, this is not the novel that she wanted to write but the one she had to write. Rijneveld says she needed to retell the story of the death of her own older brother but seen through the eyes of Jas—with whom she shares several traits. Rijneveld's brother died after being hit by a bus on his way to school when she was 3 years old. This personal tragedy gives her writing an air of authenticity.
This book follows Rijneveld's first collection of poetry, Calfskin, (2015) which won several prestigious awards, including the C. Buddingh Prize for a best poetry debut. This novel is as much poetry as it is prose, and it is not surprising that Rijneveld wrote both books simultaneously. Some of the poems in the novel seem to work better than the prose, mostly because the poems are presented in tight little individual knots of feeling while the prose is looser and covers much more territory. It also drags at times.
One poem, "Hollow Enough to Hide an Echo," is a microcosm of the novel, which expands upon several of the poem's images. One of the most powerful shows the narrator's hands falling upon "the glass pane of my brother's coffin like two/ damp starfish." Another powerful image concerns the sounds of night with "the dead brother, constantly in our hearts, being driven up [from the sea] again."
That image suggests the discomfort pointed to by the title and Jas's tendency to obsess over her brother's death at night, when she is unable to sleep. Both situations appear in the novel and seem to haunt Jas, who imagines her brother's face as it appeared in his coffin.
Jas is, in some ways, a typical middle child. Resenting the privileges of her older brother, Obbe, she wonders why she is not treated with the same deference. But she is also left out of the warmth (what little there is) given to her younger sister, Hanna.
Obbe has a sadistic nature and is given to acts of cruelty toward animals. On one gruesome occasion, he drowns his hamster in a glass of water, mimicking the death of their brother. He also performs sexually explicit acts in front of his two younger sisters.
Rijneveld blends thoughts of murder and suicide into the plot along with quotes from the Old and New Testaments.
On the verge of puberty, Jas is caught between her sexual curiosity and the God-talk she hears in her head. The God voice condemns such curiosity, as it does Obbe's cruelty and Jas picking her nose.
Hanna, the youngest child, is to some extent a vessel of grace in this story of adolescence gone awry. She loves and forgives her parents and siblings even when they mistreat her, as Jas does twice. Once she inexplicably tries to smother Hanna with a pillow. Later she pushes Hanna into the river and then saves her from drowning. Hanna says she will tell their parents that she slipped, and she willingly forgives her older sister. Jas, though, cannot forgive herself, a circumstance that makes this dark novel even darker.
When the cows develop hoof-and-mouth disease and must be destroyed, the parents fear they will lose their farm. Jas worries that her father will hang himself on the rope that dangles from the barn ceiling or that her mother will starve herself to death.
The novel is unsettling from the first sentence, when Jas notes that she has stopped taking off her red coat (which appears on the novel's cover). The red coat is suggestive of the story "Little Red Riding Hood" and of the dangers that Jas faces. Making the sentence more interesting is that the word jas means coat, according to a comment by the translator, Michelle Hutchinson.
As readers wonder why Jas won't remove her coat, the storyline implies that she wants to hide the fact that she's developing. She also holds keepsakes in her pockets, believing that these items will keep her family safe. At the novel's end, readers learn the real and shocking reason for wearing the coat.
Rijneveld blends thoughts of murder and suicide into the plot along with quotes from the Old and New Testaments. The juxtaposition adds a certain irony to the narrative, as scenes of violence and the voice of God sit uneasily on the page.
This article also appeared in print, under the headline "A Christ-haunted family," in the February 2021, issue.