C.R.S. gears up for global response to coronavirus pandemic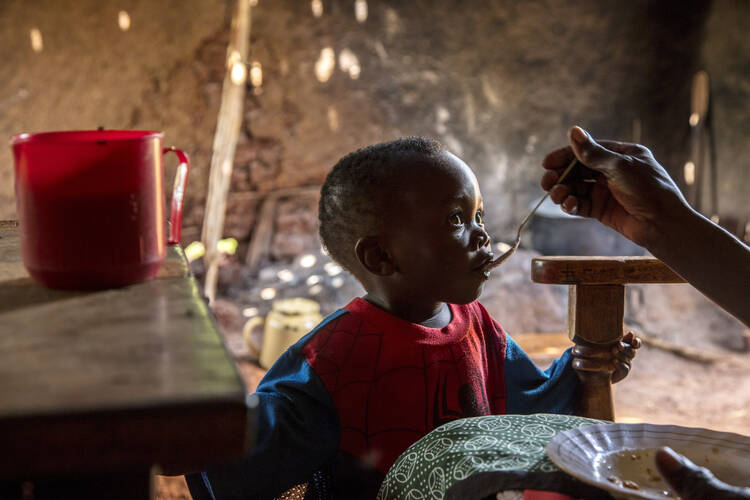 A grandmother who has been part of a Catholic Relief Services' program for family nutrition shares her lunch with her youngest of seven grandchildren in the kitchen of the family home in Konjiko, Kenya, in May 2019. Lenten alms donated through the CRS Rice Bowl program support the agency's work in roughly 45 different countries. (CNS photo/Georgina Goodwin for Catholic Relief Services) 
A lockdown of more than 4 billion people across the world has been ordered in an effort to slow the transmission of the new coronavirus and to prevent national health services from becoming overwhelmed by Covid-19 patients. Unesco reports that more than 1.5 billion children in 188 nations are being kept out of school because of the coronavirus. Public figures like Pope Francis and U.N. Secretary-General António Guterres have appealed for a global cease-fire to free up resources to respond to the crisis.
But while the pandemic provokes this series of unprecedented measures, other ongoing challenges to human life and dignity—drought, famine, armed conflict and poverty among them—are not offering a time-out from the suffering they inflict. They will have to be addressed at the same time as humanitarian agencies retool for Covid-19.
Sean Callahan, president and C.E.O. of Catholic Relief Services, insists that the U.S. church's relief and development agency will continue its work—with local adaptations and precautions as required. He said that everything possible will be done to protect C.R.S. staff, from the dispersal of personal protective equipment like gowns, gloves and masks to the complete relocation of staff and their families to more secure locations. But its day-to-day operations will continue despite the threat from the coronavirus.
While the Covid-19 pandemic provokes unprecedented measures, other challenges to human life and dignity—drought, famine, armed conflict and poverty—are not offering a time-out from the suffering they inflict.
Sadly, this is not the first viral outbreak that regional C.R.S. teams have been forced to adapt to. C.R.S. staff in the recent past have confronted SARS, H1N1 and Ebola outbreaks, and protocols based on those previous, at times harrowing, experiences have been established.
As the coronavirus hit, "right away we kicked in the hand washing, the temperature checking, the physical spacing and things like that in all of our program areas," Mr. Callahan said. Critical C.R.S. food distributions, health services and more are continuing but will have to be modified to adjust to the social distancing demanded by the crisis.
"They're providing services to people around the world that are life-saving services on a daily basis," Mr. Callahan said. Those operations, he added, cannot be interrupted. The communities served by C.R.S. he said, "are in very, very difficult conditions." If those programs have to shut down, Mr. Callahan worries, the people assisted by C.R.S. will become more susceptible to coronavirus and to other concurrent health threats.
There are any number of potential hotspots around the world to keep an eye on, according to Mr. Callahan. Any place where high numbers of people are forced to live together in close quarters faces acute vulnerability, he said. "Where we're very concerned is if the virus spreads to high-density areas, refugee camps, some of the slums in which we work, where physical spacing is virtually impossible [and] where food distributions are necessary just to keep people going."
CRS's Sean Callahan: "Where we're very concerned is if the virus spreads to high-density areas, refugee camps, where physical spacing is virtually impossible and where food distributions are necessary just to keep people going."
These are places like the vast camp in Bangladesh where Rohingya Muslims driven out of Myanmar by ethnic cleansing have taken refuge. "You have 250,000 refugees in a camp, and you're trying to provide services to them and it's very tight quarters," Mr. Callahan said. "We're fortunate that we were able to renovate some of the housing in there and put people in good housing locations. So there's some spacing there." Likewise of concern are camps in northern Uganda for refugees from South Sudan and programs in slums and camps in Kenya, Sierra Leone and other sites in Africa. "Those will be very difficult," Mr. Callahan said.
"Gaza is another place with a very high density of people across multiple age groups and people needing to go out on a daily basis to bring in food because they just don't have the storage facilities or they just don't have the access to food or the income" to stock up, he said.
Regarding personal protective equipment, a spokesperson for C.R.S. said that so far the agency has been able to acquire supplies where needed through its local sources but added: "As the pandemic grows in our locations, we are very concerned about the potential rupture in supplies of P.P.E., especially for health workers in faith based and government health facilities and at the community level. We are hopeful that donors and governments will help to ensure a regular supply."
Access to the people who depend on C.R.S. may be cut off as governments impose curfews and quarantines. Mr. Callahan said he hopes, with the approval of big donors like the U.S. Agency for International Development, to juggle programmatic resources to allow C.R.S. to respond immediately to the critical demands of this new global crisis. So far, those donors have been accommodating, he said. U.S.A.I.D. and the U.S. State Department have so far made $274 million available to combat COVID-19.
While Covid-19 has already hit Asia, Europe and the United States, its impact in Africa has been comparatively light. That could all change in a manner of days, of course. But for now, "we've got a little bit of prep time as we move out into those areas" in Africa. "But we're imagining that with weak health systems it's going to come crashing down soon."
Noting the $2 trillion emergency economic package put together by the U.S. government last week, Mr. Callahan argued it would be a huge moral and tactical mistake for foreign assistance budgets to be left out of any expanded response to the crisis.
The Covid-19 pandemic may be creating a new awareness of the kinds of serious health threats that regularly land on people in states on the periphery of the industrialized West. "I think this is being seen a lot more because it's affecting the United States and Europe," said Mr. Callahan.
"We've had many of these, you know—Zika, SARS and ebola—that have affected many of the countries in which we work." Almost half a million people a year die of malaria, he pointed out. A capacity to respond to those continuing crises and prepare for new ones will have to continue as the agency gears up to address the Covid-19 menace.
Sadly, this "won't be the last threat." 
If it is possible to glean anything positive from the pandemic, Mr. Callahan suggested that it could be a growing awareness that across the borders of the world, "we are one human family."
"We are all together on this," Mr. Callahan said, "and we need to make sure that our brothers and sisters have the same benefits that we have. I think there can be a blessing in this if the coronavirus unites us, and if it allows us to start seeing the daily strife that people have to face in many of these countries."
If people in the so-called developing world continue to be denied access to adequate health services and food and economic security, he said, "These different pandemics and problems are going to spread."
"We're going to have to deal with them one way or the other. It's much better that we invest upfront and assist them in preventing [outbreaks] in their areas from spreading to other areas than to lock down our borders and build more walls. I think what we need to do is reach out to people and unite our efforts much more."