Canadian elections up for grabs as Trudeau deals with blackface controversy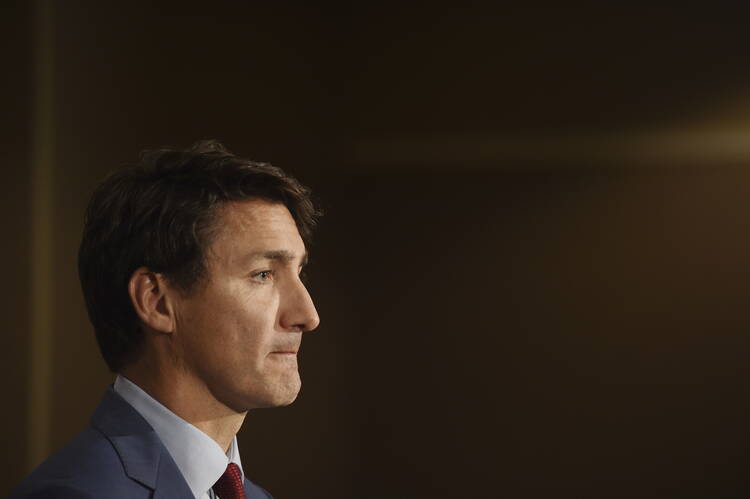 Liberal Leader and Canadian Prime Minister Justin Trudeau makes a policy announcement promising to ban all military-style assault rifles as part of a broader gun-control plan that will also take steps towards restricting and banning handguns in Toronto on Friday, Sept. 20, 2019. (Sean Kilpatrick/The Canadian Press via AP)
On Sept. 11, Prime Minister Justin Trudeau announced the official start of Canada's 2019 federal election campaign, beginning a 40-day countdown until Canadians get to cast their votes on Oct. 21. The short campaign season offers a brief opportunity for protests and scandal-mongering as the incumbent Liberal Party attempts to hold its federal seats in Parliament.
Only a week into Canada's election season, Mr. Trudeau has been on the defensive after three photos and a video surfaced, each capturing a more youthful Trudeau in makeup and costumes that many have denounced as racist. Mr. Trudeau has apologized for the brownface and blackface makeup and costumes, acknowledging their racist origins and history. He was unable to recall how many times he may have worn such makeup in the past.
Mr. Trudeau's recent public scrutiny is not the only controversy that has trailed the Liberal Party this year, however. Jody Wilson-Raybould resigned from her post as attorney general in Mr. Trudeau's cabinet in early February, accusing federal officials, including Mr. Trudeau, of pressuring her to go easy on a corruption and fraud case involving SNC-Lavalin, an engineering firm based in Quebec.
As election day draws near, the 2019 race appears up for grabs.
The Liberal Party swept the 2015 election with a significant majority, ousting longtime Prime Minister Stephen Harper and his Conservative government. But as election day draws near, the 2019 race appears up for grabs.
Polls suggest a fickle electorate, with the Conservative Party of Canada enjoying a lead earlier this year following the SNC-Lavalin scandal that has evened out to a much closer race with the Liberal Party in recent months.On Sept. 23, the Conservative Party had a tiny edge over the Liberal Party in a CBC poll, at 34.4 to 33.6 percent. The New Democratic Party appears to be closing the gap for third, followed by the Green Party.
Although the Conservative Party has seized on the scandals surrounding Mr. Trudeau, the C.P.C. has had to answer for its own alleged ties to racism and far-right activists, and critics have raised concerns about the rightward drift of the Conservatives and their base. Fractures within the Conservative Party led to the establishment of the further-right People's Party of Canada in 2018, led by Maxime Bernier, who resigned from the C.P.C. in 2017 after losing a leadership race to Mr. Scheer that also involved questions about the party's future direction.
Though some of the People's Party's founding signatories have ties to white supremacist groups, and despite the P.P.C.'s miniscule share in polling numbers, Mr. Bernier was invited to participate in official debates organized by the Canadian government alongside the C.P.C., the Liberal Party, the N.D.P., the Green Party and the Bloc Québécois. The invitation was criticized by N.D.P. leader Jagmeet Singh, C.P.C. press secretary Daniel Schow and Bloc Québécois leader Yves-François Blanchet, while the Liberals and Elizabeth May, leader of the Green Party, said the inclusion was fair.
The various parties have been rolling out platforms and policies as the campaign season gets underway. Climate change and fossil fuels provide areas of distinction. The C.P.C. and P.P.C. want to eliminate current carbon tax regulations, while the other four major parties want to continue or expand them.
All parties except the P.P.C. intend to meet or exceed the conditions of the 2015 Paris Agreement, although they differ on precise details. Mr. Bernier alone has said he does not believe climate change is caused by humans. That position has created problems for environmental groups trying to get their message out during the election period. According to Canadian election law, since Mr. Bernier stands alone in climate change denialism, groups that speak on the issue could be perceived as partisan actors that must officially register as third parties with Elections Canada.
Oil and gas pipelines, a hot button issue throughout the Liberals' tenure in government, remain divisive, with most parties supporting certain pipelines and opposing others, although the C.P.C. and P.P.C. both want to expand Canada's oil and gas industries much further.
Immigration is also a significant issue of contention. The Liberal Party increased immigration rates but has come under scrutiny for its policies around family separation, indefinite detention and its support for the Safe Third Country Act, which advocates say has led to dangerous border crossings. The N.D.P. wants to scrap the Safe Third Country Act and reunify families.
But while immigration has been a talking point for party platforms, it ranks lower for voters than other issues, according to a recent Ipsos poll, which ranks health care, climate change, the cost of living and the economy much higher.
Canada's relationship with indigenous people also remains a major electoral issue. In 2015, Mr. Trudeau had promised a "nation to nation" dialogue, but his first year was marked by legal battles and frustrations over the federal government's response to Canada's Truth and Reconciliation Commission. Other promises have failed to materialize. Despite ambitious commitments by the Liberal Party to end a potable water crisis in indigenous communities, for example, a 2019 report by the Globe and Mail suggested little progress has really been made.
Confrontations with indigenous protesters over expanding oil pipelines that run through or affect indigenous territories have also been a feature of the Liberal Party's government. Recently, in January 2019, the Royal Canadian Mounted Police, Canada's federal police force, arrested several protesters at a camp set up by members of the Wet'suwet'en Nation to stop a pipeline project, prompting protests around the country.
Parties only have a few weeks left to convince voters that they can tackle these issues. In contrast to the United States, where campaign seasons can seem never ending, Canada's elections are incredibly short.
While Christian beliefs do not constitute a political platform, they can be seen as a prism through which to analyze and evaluate government policies, laws, and programs.
The last federal election, in 2015, was one of the longest in the country's history, at a whopping 78 days. There are no limits to how long a campaign can last in either countries, technically, but Canada's elections only occur when Parliament is dissolved. U.S. president Donald Trump, by contrast, has arguably never stopped campaigning since taking office in 2017.
Canada's short electoral period means citizens do not have long to consider the official platforms of the parties. In its 2019 federal election guide, the Canadian Conference of Catholic Bishops advised, "While Christian beliefs do not constitute a political platform, they can be seen as a prism through which to analyze and evaluate government policies, laws, and programs." Though the bishops suggest several moral points to consider, they encourage citizens to consider justice and peace, and "to defend the rights of those who are most vulnerable."