Pope Francis implores global community to do more on climate change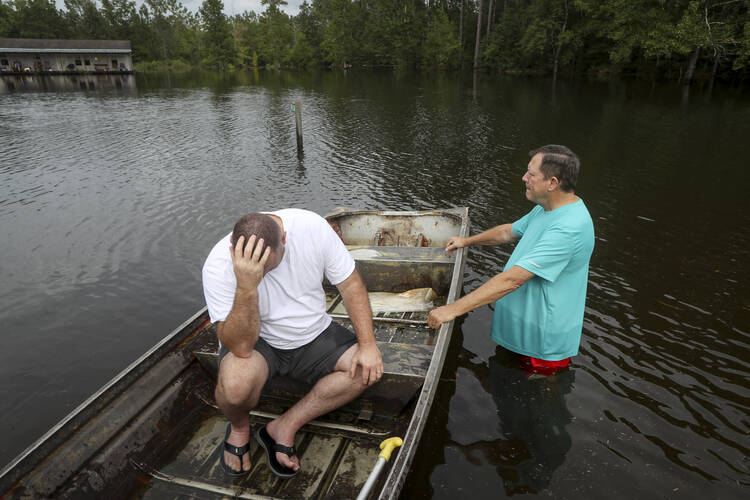 Stephen Gilbert, left, and his father-in-law sit in front of their flooded property on Sept. 20 in the Mauriceville, Texas, area. Floodwaters are starting to recede in most of the Houston area after the remnants of Tropical Storm Imelda flooded parts of Texas. Imelda will likely be Southeast Texas' fifth 500-year flood event in as many years. ( Jon Shapley/Houston Chronicle via AP)
In a video message sent on Sept. 23 to participants at the U.N. Climate Action Summit in New York, Pope Francis called climate change "one of the most serious and worrying phenomena of our time." The pope said that the nations of the world have a duty to fight against climate change, adding that despite a weak response so far, a "window of opportunity is still open."
"We are still in time. Let us not let it close. Let us open it with our determination to cultivate integral human development, to ensure a better life for future generations. It is their future, not ours," the pope said.
"It is necessary," he said, "to ask whether there is a real political will to allocate greater human, financial and technological resources to mitigate the negative effects of climate change and to help the poorest and most vulnerable populations, who suffer the most."
The climate crisis is not just an environmental issue, Pope Francis said, but a "challenge of civilization in favor of the common good."
Climate change, he added, is "related to issues of ethics, equity and social justice" and connected to an evident human, ethical and social degradation, which "forces us to think about the meaning of our models of consumption and production."
The climate crisis is not just an environmental issue, he said, but a "challenge of civilization in favor of the common good."
"And this is clear, just as it is clear that we have a multiplicity of solutions that are within everyone's reach if we adopt on a personal and social level a lifestyle that embodies honesty, courage and responsibility," the pope said.
According to its website, the goal of the U.N. Climate Action Summit is to "ensure the global focus on climate gains momentum" as well as to make sure that "there is scrutiny on the investments countries are making in fossil fuels vs. renewables."
President Trump also addressed a conference of world leaders at the United Nations on Sept. 23 but not about climate change. Instead, after briefly looking in on during the climate change discussion, he attended a summit focused on religious persecution.
No one from the United States addressed the climate conference, in fact. Secretary General Antonio Guterres had told countries they could not be on the agenda without making bold new proposals. Sixty-six countries have promised to have more ambitious climate goals, said Chilean President Sebastian Pinera Echenique, who is hosting the next round of climate negotiations later this year.
Heads of nations such as Finland and Germany promised to ban coal within a decade. Several also mentioned their hopes of achieving climate neutrality—when a country is not adding more heat-trapping carbon to the atmosphere than is being removed by plants and perhaps technology—by 2050.
Mr. Trump dropped in long enough to hear German Chancellor Angela Merkel make detailed pledges, including going coal-free. He said, "I'm a big believer in clean air and clean water and all countries should get together and do that, and they should do it for themselves. Very, very important."
But his attention at the United Nations today was officially reserved for a meeting on religious persecution. Mr. Trump said it was an "urgent moral duty" for world leaders to stop crimes against faith, release prisoners of conscience and repeal laws restricting religious liberty.
"Approximately 80 percent of the world's population live in countries where religious liberty is threatened, restricted or even banned," Mr. Trump said, adding that when he first heard the statistic, he did not believe it and asked for it to be double-checked.
Before world leaders made their carbon commitments in three-minute speeches, the 16-year-old climate activist Greta Thunberg offered an emotional appeal in which she chided the leaders with the repeated phrase, "How dare you."
"This is all wrong. I shouldn't be up here," said Ms. Thunberg, who began a lone protest outside the Swedish Parliament more than a year ago that evolved into student climate strikes around the world on Sept. 20. "I should be back in school on the other side of the ocean. Yet you have come to us young people for hope. How dare you. You have stolen my dreams and my childhood with your empty words."
She told leaders at the U.N. that even the strictest emission cuts being talked about only give the world a 50 percent chance of limiting future warming to another 0.4 degrees Celsius (0.72 degrees Fahrenheit) from now, which is a global goal. Those odds are not good enough, she said.
"We will not let you get away with this," Ms. Thunberg said. "Right now is where we draw the line."