U.S. bishops urge Trump administration to extend protected status for Central Americans
When he was 5, Mario Miranda's family were forced to leave their rural village in El Salvador. It was 1980, and a civil war had broken out between a military-led government and coalition of guerrilla groups in his country. They had to find a safer place to live. Two decades later, desperate to provide for his family, Mr. Miranda was forced to move again and came to the United States.
Despite his lack of documentation, he was granted Temporary Protected Status and allowed to remain in the United States after a 7.6 magnitude earthquake rocked El Salvador. Established by Congress through the Immigration Act of 1990, T.P.S. is granted by the Department of Homeland Security to accept those whose home countries are suffering from ongoing conflict, environmental disasters or other unsafe conditions and protect them from deportation.
Around 200,000 Salvadorans and 57,000 Hondurans have been residing in the United States for more than 15 years under T.P.S. But that protected status is set to expire for immigrants from both countries in 2018.
D.H.S. has until Jan. 8 to extend the T.P.S. designation for Salvadorans. D.H.S. has delayed a decision on T.P.S. for Hondurans until July 5.
Catholic leaders—including the U.S. Conference of Catholic Bishops, the Catholic Legal Immigration Network, Inc., Catholic Relief Services, Catholic Charities USA, and the Scalabrini International Network—sent a letter Dec. 20 urging Homeland Security Secretary Kristjen Nielsen to extend T.P.S. for El Salvador for 18 months.
"I am not ready to return to my country," says Mr. Miranda, who explained that $10 a day is a typical wage in El Salvador. "We're hoping this man opens his heart," he says of President Trump. In September the Trump administration extended T.P.S. for immigrants from South Sudan but also announced it would terminate the program for immigrants from its neighbor Sudan on Nov. 2, 2018.
Around 200,000 Salvadorans and 57,000 Hondurans have been residing in the United States for more than 15 years under Temporary Protected Status. But that status is set to expire in early 2018.
A report released by the U.S. Conference of Catholic Bishops on Oct. 17 suggests that it is still not safe for Salvadorans and Hondurans to return to their native country. It notes ongoing forced displacement due to violence and other factors. The bishops say these countries are not ready to receive an influx of returning expatriates.
"There is ample evidence to suggest that current T.P.S. recipients from Honduras and El Salvador cannot return safely to their home country at this time," Bishop Joe Vásquez of Austin, Texas, chair of the U.S. bishops' migration committee, writes in a letter introducing the report. The conference sent a delegation to El Salvador and Honduras in August.
Auxiliary Bishop David O'Connell of Los Angeles, who made the Central American trip, says there are 500,000 people living in barrios in El Salvador completely under the control of gangs.
"All family life has broken down. There's a terrible amount of suffering going on," he says.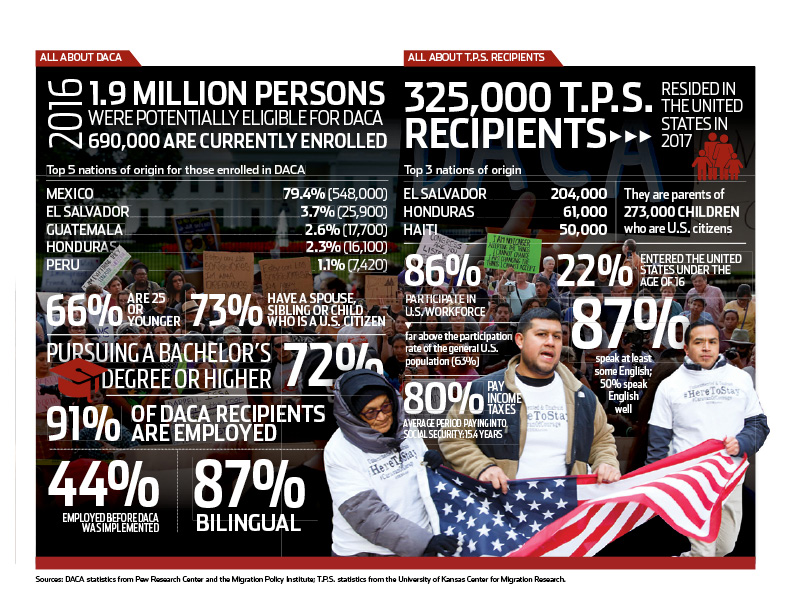 Bishop O'Connell, who as a priest served parishes in South Los Angeles, pointed out that some prominent Central American gangs, like 18th Street and Mara Salvatrucha, began in Los Angeles. "They are the ones who have taken over in these neighborhoods, cities and towns."
Undocumented children who arrived unaccompanied report being threatened and tortured by gangs, Bishop O'Connell says. Their family members also were tortured, kidnapped and some were murdered by the gangs seeking ransom money or violently recruiting new members.
"If T.P.S. is not renewed, they are going to be in danger. These countries cannot handle the current population, much less people coming back," Bishop O'Connell says. Those who come back will be gang "targets," he says. Having been in the United States, gangs will assume they have money or the gangs will kidnap them and extort money from their friends and family in the United States.
The U.S. bishops are urging Congress to extend T.P.S. for both Hondurans and Salvadorans for an additional 18 months. The report also asks Congress to adjust the law to the reality of T.P.S. recipients who have been in the United States for well over a decade, arguing that their presence in the United States should be formalized. Many have had children in the United States and established their own businesses. The U.S.C.C.B. reports that Hondurans and Salvadorans are parents of more than 270,000 children born in the United States.
"These are our community members. They are here, following the law," says Ashley Feasley, director of migration policy and public affairs at the U.S. Conference of Catholic Bishops. "There will be family and community consequences if we don't find a solution. It will affect a lot of people, a lot of businesses."
D.H.S. canceled T.P.S. for more than 50,000 Haitians living in the United States in November, giving recipients until July 22, 2019, to leave the country.
"I have been surrounded by good people in the United States," says Mr. Miranda, whose status is scheduled to expire on March 9, 2018. "We are farmers. It's ridiculous to say we're all delinquents," as some native-born Americans who have been critical of migrants from Central America have said.
"You have to work in this country," says the Salvadoran. Mr. Miranda works as a custodian at a school in Maryland and sends money to his wife and child in El Salvador every 15 days.
About his chances to stay in the United States and to continue to support his family back home, "I am hopeful," Mr. Miranda says. "Hope is always the last thing you lose."
Update: Dec. 26, 2017; this article has been updated to reflect recent developments.