Podcast: Pope Francis' Kazakhstan visit was overshadowed by one bishop's criticism—but it shouldn't have been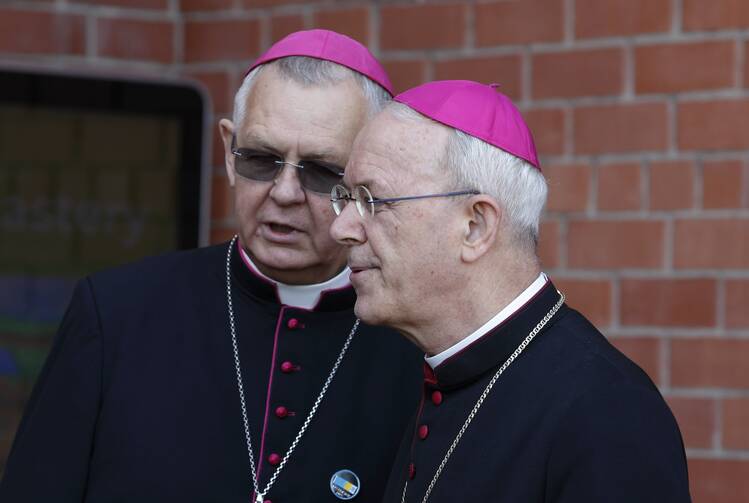 Archbishop Tomasz Peta of the Archdiocese of Maria Santissima in Astana, Kazakhstan, talks with Auxiliary Bishop Athanasius Schneider of the same archdiocese, before Pope Francis' meeting with bishops, priests, deacons, consecrated persons, seminarians and pastoral workers at the cathedral of Our Lady of Perpetual Help in Astana, Kazakhstan, Sept. 15, 2022. (CNS photo/Paul Haring)
Pope Francis was in Kazakhstan last week for a major Congress of Leaders of World and Traditional Religions—although his visit was overshadowed in the press by criticism from a Kazakh bishop, Athanasius Schneider, who said the meeting was "dangerous" and could come off as the pope supporting "a supermarket of religions," "undermin[ing] the uniqueness and absoluteness of Jesus Christ as savior."
Meanwhile, the Kazakh government rolled out the red carpet for the pope, who was the first to attend the international congress, although John Paul II and Benedict XVI had been invited in past years. The nation's foreign minister also signed an agreement with his Vatican counterpart to make it easier for Catholic missionaries to enter the country.
On "Inside the Vatican" this week, veteran Vatican correspondent Gerard O'Connell and host Colleen Dulle give an update on what happened at the meeting, and why Bishop Schneider disapproved of it.
In the second part of the show, the hosts turn to Ukraine, where Pope Francis' almoner, or almsgiver, Cardinal Konrad Krajewski, came under fire while delivering aid in a war zone near Zaporizhzhia. He emerged unscathed and was able to bring food, other aid, and rosaries blessed by the pope to the soldiers and civilians there.
Colleen and Gerry discuss the aid the Vatican has provided to Ukraine and examine how Pope Francis parsed the morality of delivering arms to Ukraine when speaking with a German journalist over the weekend. How do his comments advocating self-defense square with his past denunciations of the arms trade?
Links from the show:
Pope Francis in Kazakhstan: 'How many deaths will it take' for peace to prevail in Ukraine?
'There is only one true religion': Kazakh bishop says his criticisms of Pope Francis' interfaith outreach are a sign of collegiality
Pope Francis, asked about Ukraine, says nations can buy weapons for self-defense under right moral conditions
Review: When popes play peacemaker