President Trump tweeted about Archbishop Viganò. So, who is he?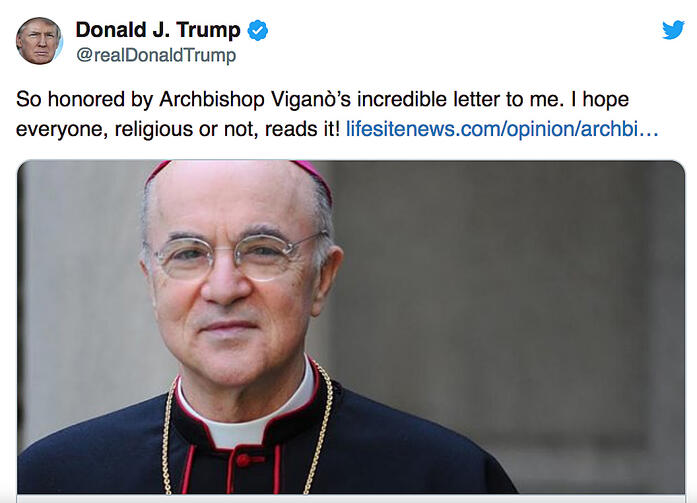 U.S. President Donald Trump tweeted June 11 that he was "honored" by an open letter written by Archbishop Carlo Maria Vigano, who served as nuncio to the United States from 2011 to 2016. In the letter, the former nuncio claimed that lockdown restrictions and unrest in the United States were part of a plot to establish a new world order. (CNS photo/Twitter) 
President Trump posted a tweet on June 10 saying he was "so honored" by a letter written by Archbishop Carlo Maria Viganò, a former Vatican ambassador to the United States who, in a series of missives in recent years, has blamed the church's sexual abuse crisis on gay priests, accused Pope Francis of championing schism and called for the pope to resign because of his alleged mishandling of abuse allegations against former Cardinal Thedore McCarrick.
What did Archbishop Viganò say in his letter to President Trump?
On June 6, LifeSiteNews, a Catholic website that covers "culture, life, and family," posted a public letter that Archbishop Viganò wrote to President Trump. In the three-page letter, dated June 7, the archbishop expresses his belief in a number of conspiracy theories, including the existence of a "deep state" opposing Mr. Trump from within the U.S. federal government and a "deep church" comprised of "children of darkness"; a belief that the Covid-19 pandemic response represents "a colossal operation of social engineering"; and the notion that recent anti-racism protests in the United States evoke "the Masonic ideals of those who want to dominate the world by driving God out of the courts, out of schools, out of families, and perhaps even out of churches."
The views put forth by Archbishop Viganò in his letter to the president are far outside the mainstream of U.S. and global Catholicism.
Archbishop Viganò also accuses unnamed bishops of being "subservient" to the deep state and advocating "globalism," a term that some say carries anti-Semitic history. He praises Mr. Trump by writing that the president "courageously defends the right to life." The archbishop writes that he and the president "are on the same side in this battle, albeit with different weapons."
LifeSiteNews reported on June 10 that the letter had been viewed on its site more than 2.5 million times.
The letter echoes claims made in a manifesto released last month, signed by several Catholics and led by Archbishop Viganò, that claims the coronavirus pandemic is part of an attempt to create "a world government beyond all control."
Masonic plots and "deep state" conspiracies? Does he have any credibility?
The views put forth by Archbishop Viganò in his letter to the president are far outside the mainstream of U.S. and global Catholicism. But because of his past service in the Vatican's diplomatic corps, Archbishop Viganò's words carry some institutional heft.
He served as the papal ambassador to the United States from 2011 to 2016. Archbishop Viganò was reportedly reluctant to take the appointment, preferring to stay in Italy, but some church analysts say his appointment to the United States was a form of exile after he spoke out against corruption he saw present in Pope Benedict XVI's inner circle, concerns made public in the so-called Vatileaks scandal. The archbishop, viewed then by some as a "centrist diplomat," had helped reform the Vatican's finances. But complaints about how he managed his office and charges of nepotism led to superiors sending him to the United States, The New York Times reported in 2018. The archbishop had argued that he needed to remain in Italy to care for an ill brother, but Italian courts later determined that he had been stealing millions of dollars from his brother. A judge ruled last year that he must repay the money.
The archbishop's tenure in the United States was largely uncontroversial, but a new book by the Vatican reporter Christopher Lamb about Pope Francis, The Outsider, claims that during his time in Washington, Archbishop Viganò "aligned himself with culture warriors and anti-Francis supporters." Later, Archbishop Viganò was accused of trying to quash a sex-abuse investigation into a prominent U.S. archbishop who shared a goal of fighting same-sex marriage.
Archbishop Viganò made global headlines in September 2015 when he orchestrated a meeting between Pope Francis and Kim Davis, the former Kentucky county clerk who was briefly jailed for refusing to sign marriage licenses for same-sex couples. News of the meeting came at the end of the pope's visit to the United States and created a storm in both the church and secular media, given the pope's relatively positive views of outreach to L.G.B.T. Catholics. The Vatican later revealed that Pope Francis had been blindsided by the encounter, saying the pope was unaware of Ms. Davis's background. In 2018, Archbishop Viganò disputed the assertion that he had deceived the pope, though Vatican spokesmen pushed back against that claim.
A 2018 story in The New York Times quotes Juan Carlos-Cruz, a clerical sexual abuse survivor who has become friendly with Pope Francis, as saying the pope told him that he "fired" Archbishop Viganò because of his role in arranging the meeting.
In accordance with church procedures, Archbishop Viganò submitted his resignation on his 75th birthday, in January 2016. The pope accepted the resignation three months later.
What was that about quashing a sex abuse investigation?
When Archbishop John Nienstedt, the former head of the Archdiocese of Minneapolis-St. Paul who was a vocal opponent of same-sex marriage, was accused of mishandling sexual abuse claims, Archbishop Viganò, who was then the pope's representative to the United States, used his office to quash an inquiry into the allegations, according to a priest in the archdiocese. According to a memo from the Rev. Dan Griffith, once investigators discovered charges of sexual misconduct against Archbishop Nienstedt, Archbishop Vigano ordered the investigation to be closed and related documents destroyed. Father Griffith described the actions as "a good old fashioned cover-up to preserve power and avoid scandal."
What has he been up to since retirement?
Beginning in summer 2018, Archbishop Viganò began releasing monthly letters accusing Pope Francis and U.S. bishops of mismanagement when it comes to sexual abuse in the church. He claimed that the Vatican had mishandled allegations of abuse leveled at former Cardinal Theodore McCarrick, who was a powerful archbishop of Washington, D.C., and a prolific fundraiser for the Vatican.
In August of that year, he wrote an 11-page letter accusing Pope Francis and a number of U.S. bishops of mishandling sexual abuse allegations related to Mr. McCarrick. In that letter, Archbishop Viganò says that sexual abuse was mishandled in the Vatican by advisers to the last three popes, and he called on Pope Francis to resign.
The archbishop, who went into hiding and refused to meet with the press before he released his first letter (saying that he had received threats he would not specify), published a letter the following month complaining that Pope Francis had not replied to his accusations. In that letter, he again blamed the abuse crisis on gay priests, accusing Pope Francis of defending "homosexual clergy who committed serious sexual abuses against minors or adults."
In October, he released a third letter, backtracking some claims he had made about Mr. McCarrick and the Vatican and doubling down on his unfounded assertion that homosexuality is the root cause of the church's sexual abuse problem.
Pope Francis has remained mostly silent about Archbishop Viganò's assertions. When asked about the first letter in August 2018, the pope said to reporters, "Read that statement attentively and make your own judgment." He added, "I think the statement speaks for itself, and you have a sufficient journalistic ability to make a conclusion."
Pope Francis removed then-Cardinal McCarrick from the College of Cardinals in July 2018, the month before Archbishop Viganò released his first letter. In February 2019, the pope removed then-Archbishop McCarrick from the priesthood. The Vatican launched an investigation into Mr. McCarrick's alleged abuse; last November, Cardinal Sean O'Malley told other U.S. bishops that the investigation was ongoing.
Some church observers said in 2018 that Archbishop Vigano's letter was taking advantage of the sexual abuse crisis to settle old scores and that his concern for victims was secondary.
"It's a political and media maneuver of ecclesiastical power," veteran Vatican reporter Andrea Tornielli told The Atlantic.
That was all in 2018. What has he said since then?
The whereabouts of Archbishop Viganò remain unknown to the public, but he has sporadically weighed in on current events through letters and interviews with sympathetic journalists. Last year, he wrote that Masons and the Jesuits were working to "infiltrate" the church, and in another letter he called Pope Franics "divisive and destructive."
In 2019, The Washington Post published an interview with Archbishop Viganò in which he reiterated his claims against Pope Francis and said that a "gay mafia" comprised of bishops was "sabotaging all efforts at reform."
Do U.S. bishops support him?
Over the past few years, at least a couple of dozen U.S. bishops have expressed support for Archbishop Viganò, including retired Philadelphia Archbishop Charles Chaput and Bishop Joseph Strickland, who heads the Diocese of Tyler, Tex., and who signed Archbishop Viganò's "world government" manifesto. Bishop Strickland called Archbishop Viganò's original claims against Pope Francis "credible," and he instructed priests in his diocese to circulate news of the letter.
Other U.S. bishops have supported the investigation into Mr. McCarrick but have cast doubts on Archbishop Viganò's motivations.
Cardinal Joseph Tobin, who leads the Archdiocese of Newark, said in an August 2018 statement that Archbishop Viganò's letter against the pope is filled with "factual errors, innuendo and fearful ideology." Cardinal Blase Cupich of Chicago also took issue at the time with errors in the letter, calling it "astonishing."
Why is President Trump encouraging his 82 million Twitter followers to read Archbishop Viaganò's letter?
Mr. Trump needs a majority of white, non-Hispanic Catholics on his side if he is going to win re-election. In recent months, the president and his allies have courted Catholic voters by announcing a Catholics for Trump advocacy group, hosting a conference call with the president for Catholic education leaders and arranging a visit to the St. John Paul II Shrine in Washington.
Each of those events have been marked by controversy, but Mr. Trump's visit to the shrine generated perhaps the most vocal pushback from a U.S. archbishop in recent months.
On June 2, Mr. Trump and his wife, Melania, visited the shrine, originally planned as an opportunity for the president to sign an executive order about international religious liberty. (The signing took place at the White House later in the day.) The visit came a day after Mr. Trump held a Bible and posed for photographers in front of an Episcopal church located near the White House. A peaceful protest gathered in the same spot minutes before the photo-op was cleared by military and local police using tear gas and rubber bullets.
Archbishop Wilton Gregory condemned Mr. Trump's visit to the shrine in a statement released just before the president arrived.
"I find it baffling and reprehensible that any Catholic facility would allow itself to be so egregiously misused and manipulated in a fashion that violates our religious principles, which call us to defend the rights of all people even those with whom we might disagree," the nation's only African-American archbishop said.
A recent poll found that support among white Catholics for the president is slipping, and with his tweet, Mr. Trump amplified what is essentially an endorsement from a Catholic archbishop—albeit one who shares his penchant for sharing conspiracy theories. Yet while Archbishop Vigano continues to assail Pope Francis, polls show that U.S. Catholics overall hold him in high esteem, leaving the impact of the Italian archbishop's presidential endorsement an open question.
Colleen Dulle contributed to this report.