Survey: Support for Trump dips among white Catholics amid pandemic and protests
While 41 percent of Americans hold a favorable view of President Donald Trump, according to a new poll, his support among white Catholics, a demographic he won in 2016 and one that his re-election campaign is courting in key battleground states, appears to be slipping.
About 37 percent of white Catholics now hold favorable views of Mr. Trump, according to P.R.R.I., down from 48 percent in April.
About 37 percent of white Catholics now hold favorable views of Mr. Trump, according to a report published June 4 by P.R.R.I., down from the 49 percent of white Catholics who held that view in an average of P.R.R.I. polls taken throughout 2019. The report suggests that the president's approval among white Catholics is on "a substantial downward trend," peaking at 60 percent in March and then falling to 48 percent in April.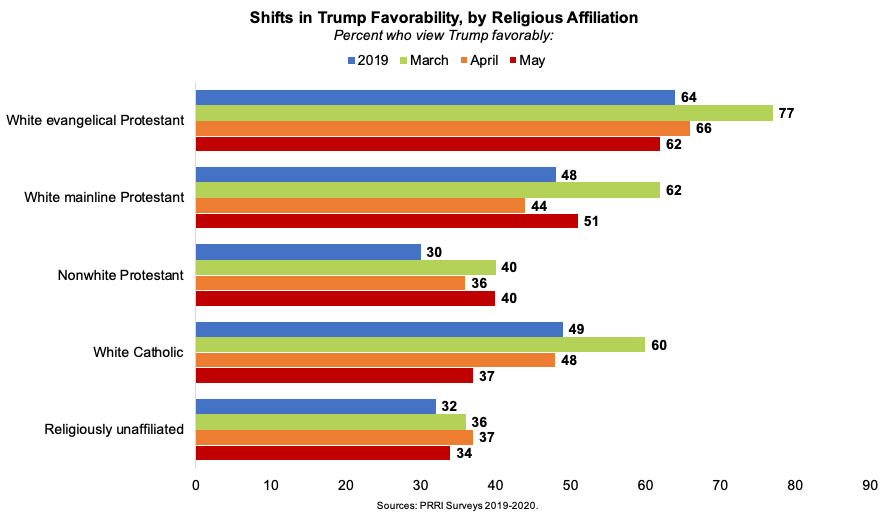 Because the survey was conducted during the last days of May, it does not reflect opinions Americans may hold of Mr. Trump's visit to Saint John's Church on June 1 or his visit to the Saint John Paul II Shrine on June 2, both in Washington, D.C. The results are based on 1,003 telephone surveys of American adults conducted between May 26 and May 31. The survey has a margin of error of 3.5 percentage points.
A separate report released this week from the Pew Research Center found that the religious makeup of the Democratic Party has changed significantly since 2008. Today, the percentage of Democrats who identify as Christian is 52 percent, down from 73 percent in 2008. Over the same time period, the share of Democrats who identify as religiously unaffiliated has grown, up to 38 percent today from 18 percent in 2008.
The share of Republican Party members who identify as Christian fell slightly, with 79 percent identifying as Christian today compared with 87 percent in 2008.
When it comes to Catholics, the share of the total electorate that identify as white Catholics has fallen from 17 percent in 2008 to 12 percent today. Among voters who are Democrats or lean Democratic, the percentage of voters identifying as white and Catholic fell from 16 percent in 2008 to 9 percent in 2019. Among Republicans and those who lean Republican, the share of white Catholics fell from 22 percent to 16 percent over the same time period.
Overall, the share of U.S. adults who identify as Christian has fallen in recent years, with 65 percent saying they are Christian in 2018-2019 compared with 77 percent a decade earlier. At the same time, the number of religiously unaffiliated Americans increased from 17 percent to 26 percent.
Mr. Trump's support among Catholic voters was uneven in 2016. According to one analysis, Mr. Trump won 56 percent of the vote among white Catholics while Hillary Clinton attracted 74 percent of the votes of Hispanic Catholics.