Catholic parish life (as we knew it) is not coming back anytime soon.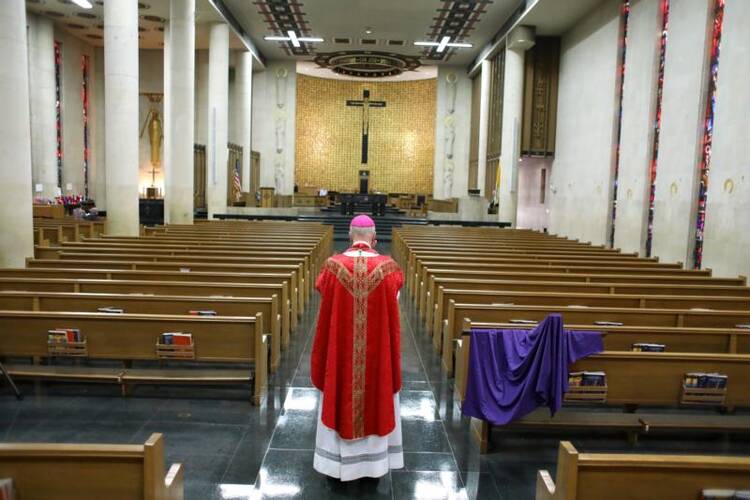 Bishop Gerald L. Vincke of Salina, Kan., begins a Good Friday service April 10, 2020, at Sacred Heart Cathedral in Salina. The service was livestreamed on the Diocese of Salina's social media networks and had no public attendance because of the COVID-19 pandemic. (CNS photo/Karen Bonar, The Register)
While public health officials continue to promote social distancing and stay-at-home orders, discussions about what life will look like once restrictions are eased are taking place in every sector of society, the church included.
In many places, public Masses have been suspended for weeks. But at least two dioceses have begun gradual reopenings and others are in the planning phases. They are figuring out how to protect worshippers while offering Catholics access to the sacraments and a return to the parish community.
There are still many unanswered questions, but interviews with physicians, public health experts, priests and diocesan leaders all elicited at least one common refrain: Even when public Masses resume, parish life will not feel normal for a while.
Chicago is a coronavirus hotspot, and as of April 22, the city reported 627 deaths and more than 14,000 cases—though a lack of testing supplies means the true number is likely far greater. The city's lakefront bike path and beaches remain closed, and a statewide stay-at-home order has been extended through the end of May.
For Catholics here in the nation's third largest archdiocese who want to return to church, the wait could continue for a while. Auxiliary Bishop Ron Hicks, the archdiocese's vicar general, said a task force is considering ways parishes may reopen when state restrictions are eased, but said that public health comes first.
"Reopening will be gradual," Bishop Hicks told America. "It's not going to be that one day we're saying everything is closed and tomorrow it's open."
For now, churches here will remain closed, including for private prayer. He understands the sadness Catholics feel at not being able to gather for Mass, but says staying at home is essential when it comes to protecting vulnerable populations. When churches do open, parishes will implement a number of measures aimed at reducing the spread of the virus.
Dr. Renuga Vivekandan teaches infectious disease and epidemiology at the Creighton University School of Medicine. She said that it would be "unwise" to host large gatherings too quickly, especially in places where testing is limited and the true scope of infection remains unknown. But when churches decide to open to the public, parishes should implement "a multi-prong system" to protect worshippers.
"Reopening will be gradual," Auxiliary Bishop Ron Hicks of Chicago told America. "It's not going to be that one day we're saying everything is closed and tomorrow it's open."
First, Dr. Vivekandan said, the elderly and other vulnerable populations should continue to stay home until a vaccine or effective treatments are widely available. "This virus is not going to go away; it's going to be here for awhile," she said.
As states ease stay-at-home orders, some churches will begin to offer Masses that are open to the public. Dr. Vivekandan says pre-screening, social distancing and hand hygiene will be vital to keeping people safe.
"When somebody's entering the church, get their temperature and screen them for their symptoms," she said. Ask if they have a cough, sore throat or shortness of breath. If they say yes, or if they have temperatures above 99.9, ask them to refrain from entering the church.
For those who are not sick, access to a hand-washing station or hand-sanitizing gel near the entrance is essential, she said. Everyone should wear a cloth mask and social distancing guidelines should be followed, with worshippers sitting six to eight feet apart. In addition, gatherings should start small, with fewer than 10 people. As the infection rate comes down and testing capability increases, which Dr. Vivekandan said will vary from place to place, the size of the congregation could increase.
"I do realize that things slowly need to reopen," Dr. Vivekandan said. "We have to get to the general population and let them know that if you're sick, don't come to work and other places where people can be infected."
The U.S. Conference of Catholic Bishops said in a statement to America that each bishop will decide when and how to reopen churches, "based on the circumstances of his diocese, and taking into account the guidelines set by their local officials." 
"Each geographic area is different and the situations vary across the country in how communities have been dealing with the Covid-19 virus, and it is too early to make generalizations but we are working to facilitate the sharing of responses to this unique and emerging situation," the statement reads. Still, some dioceses have already begun to reopen, at least partially.
In Idaho, which is currently under a statewide stay-at-home order, the Diocese of Boise is opening churches for private prayer. Parishes in the Diocese of Helena can begin hosting Masses with fewer than 10 people gathered. And in Las Cruces, N.M., Bishop Peter Baldacchino sent a letter to priests saying he "strongly disagree[s]" with the state's decision not to exempt churches from its ban on large gatherings and said that public Masses could continue "while maintaining all current health precautions set forth by the state and federal government."
The U.S. Conference of Catholic Bishops said in a statement to America that each bishop will decide when and how to reopen churches, "based on the circumstances of his diocese, and taking into account the guidelines set by their local officials." 
That means celebrating Masses in parking lots, with parishioners remaining in their cars, or in outdoor spaces such as cemeteries, with worshippers staying six feet apart. The new rules issued by the diocese also allow priests to hold Masses inside churches, with fewer than five people gathered, to be in compliance with state restrictions on large gatherings, and to offer other sacraments such as confession, anointing of the sick and weddings.
Christopher Velasquez, a spokesman for the Diocese of Las Cruces, told America that the diocese understands that offering public Masses while statewide stay-at-home order remains in place might send mixed messages to the faithful.
"We knew that in terms of our messaging we had to be clear to our parishioners that we were not telling them to leave their homes if they are in an at-risk category," he said. "We are taking every precaution possible."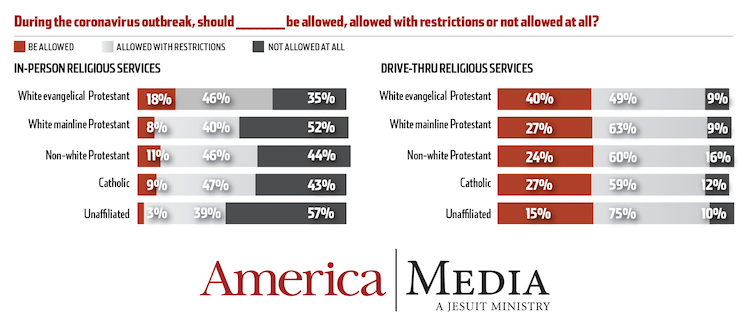 A poll from PRRI found that most Americans, 77 percent, oppose exemptions from stay-at-home orders for religious groups and that even when exemptions are granted, most Americans are staying home anyway.
In other places, such as Georgia, political leaders are rushing to reopen their states, even as public health experts say such moves will backfire, resulting in an increase in new cases of Covid-19, due in part to the lack of testing supplies. But even if stay-at-home orders are lifted, that does not mean Masses will immediately resume.
Maureen Smith, a spokeswoman for the Archdiocese of Atlanta, told America, "We did not expect it to happen this soon."
A letter from Georgia's Catholic bishops dated April 23 announced that Masses would continue to be suspended through the end of May, citing public health guidelines that suggest "waiting until June to shift social distancing strategies would be the best course of action" for the state.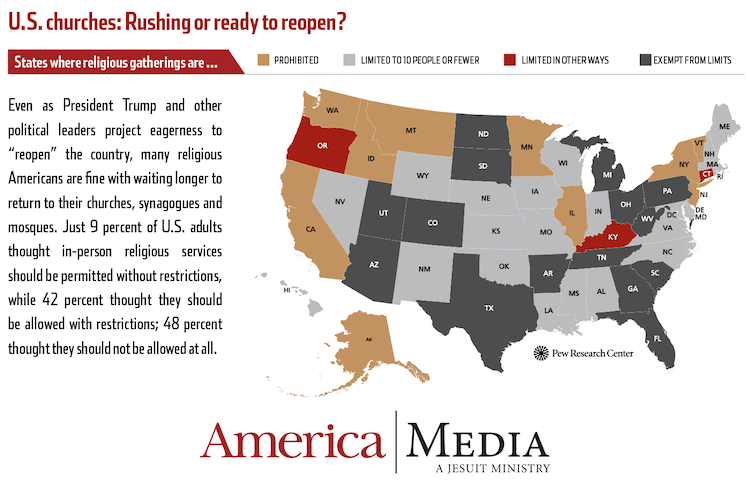 "This is an unprecedented time in history, and we hardly imagined a time when we would have to weigh our Church's spiritual progress against the brute necessities of general health and survival," the letter says.
For dioceses considering when to allow Catholics back to churches to pray or to attend Mass, Michael Rozier, S.J., who teaches Health Management and Policy at St. Louis University, said "it would be a major mistake" to make decisions based on artificial deadlines.
He noted that even if governors choose to re-open their states against the advice of public health professionals, church leaders are under no obligation to follow along. Decisions about when to relax restrictions "need to be based on conditions" on the ground, he said, such as infection rate and the ability of hospitals to treat large numbers of sick patients.
But once a decision is made to allow public Masses, Father Rozier said the behavior unique to worship should be evaluated for safety. Whatever elements of Mass are deemed not essential and which could pose a health risk should be eliminated.
That includes the shaking of hands at the sign of peace and sharing a common cup at Communion. But he said even things that do not seem obviously dangerous at first, such as singing, which expels droplets in a more powerful way than simply speaking, may have to be reevaluated.
Other changes might feel new and uncomfortable at first, but will be necessary to protect the health of worshippers, he said, such as ministers of hospitality asking people who appear sick to consider going home.
As to when churches will reopen, that remains anyone's guess. Most Americans remain under stay-at-home orders, nearly all public Masses in the United States remain suspended, and it is unclear how willing people will be to attend gatherings before a vaccine or medication is available to treat Covid.
Father Rozier said church leaders should consider the answers to two questions as they weigh the risks and benefits of reopening parishes.
"The questions that we tend to ask ourselves in the public health community are, how necessary is the activity and how much risk does the activity bring?" he said. "So in my mind, that's also how we need to be thinking about activities within the church."
As for Catholics in Chicago who want to get back to church, Bishop Hicks counts himself among them. But he said even though he appreciates that there is "a longing" for the Eucharist and communal prayer, the health of vulnerable people must be taken into account.
There are many questions that just have not yet been answered: How should parishes manage Masses when only small groups are allowed to attend? Should all parishes be allowed to reopen or just those whose spaces are best suited to social distancing? Would holding Mass outdoors, with more room for people, be safer? But Bishop Hicks said one thing is certain: Parishes will reopen at some point.
"We're going to do so in a way that is sensible, that follows the science, the data and the best practices, so that at the end of the day, we're cooperating in keeping society safe, in keeping people safe," he said.
 
Infographic sources: "Religious Practices in the Time of Coronavirus," The University of Chicago Divinity School and The Associated Press-NORC Center for Public Affairs Research; map reproduced from Pew Research Center, based on state executive orders as of April 24.