With Masses cancelled, how can Catholics practice their faith from home?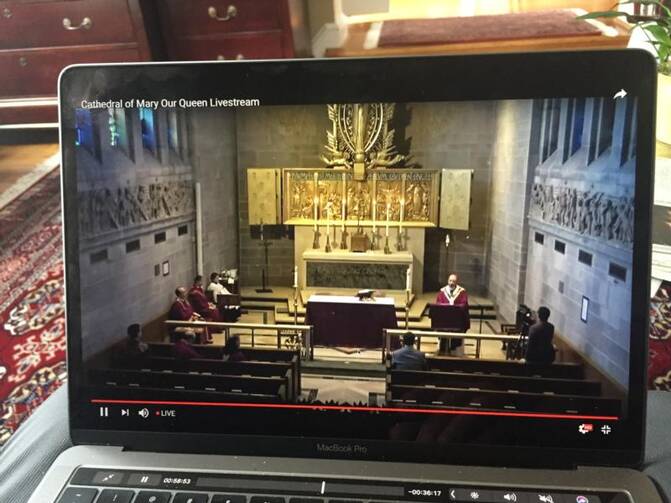 A viewer watches a livestream Mass from the Cathedral of Mary Our Queen in Baltimore celebrated by Baltimore Archbishop William E. Lori and a few concelebrants March 15, 2020. All Sunday Masses in the Archdiocese of Baltimore were canceled amid coronavirus pandemic concerns. (CNS photo/Ann M. Augherton, Arlington Herald)
While major cities across the U.S. continue to shutter schools, restaurants and theaters in response to quickly rising numbers of new coronavirus cases, scores of U.S. dioceses have suspended celebrations of the Mass and dispensed Catholics from their Sunday obligation. These precautionary measures present a challenge to the faithful: how to practice their faith and find spiritual nourishment away from church services and the Eucharist.
Many dioceses have encouraged Catholics to watch celebrations of the Mass at home via livestream. In New York, the Diocese of Albany, where Bishop Edward B. Scharfenberger has canceled all public Masses (not including weddings and funerals) "until further notice," offers some suggestions to Catholics for living out their faith at home. In addition to providing links to daily Scripture passages and information on the "saint of the day," the Diocese of Albany places specific emphasis on prayer during this era of national fear and uncertainty.
"Our Catholic faith is very practical: we know well how it can help us navigate through tough and anxious times," reads a document released by the diocese. "We know too how important it can be to help our children and young people pray and to [pray] with them, especially in the disruptive and worrying situation they are experiencing at the moment."
James Martin, S.J.: "You can meditate on the Sunday Gospel on your own, consult a Bible commentary about the readings, gather your family to talk about the Gospel. Remember too that the church is not a building. It is the community."
The diocese recommends establishing a prayer space in your home as well as praying the rosary or the Stations of the Cross. "If you do not have the books at home, these are easily accessed online or through a number of Catholic prayer apps," wrote the diocese. These mobile apps include the iBreviary and Laudate apps.
Thomas J. Reese, S.J., former editor in chief of America, encourages Christians to stay home as a witness of faith, thereby safeguarding the most vulnerable members of our population from serious illness or death. "We may not have church services and the Eucharist, but we still have the Scriptures. Catholics can find the daily Scripture readings at USCCB.org in both written and audio form. They are also available through podcasts and apps on your smartphone or Amazon Echo," Father Reese wrote in his most recent Religion News Service article.
At Holy Trinity Catholic Church in Washington, D.C, Kevin Gillespie, S.J., and his pastoral staff are helping to facilitate video conferences for multiple groups, including virtual faith sharing "by members of our Young Adult Community on Thursdays and Virtual Happy Hour on Friday." The parish is also organizing a "phone tree" to bring groceries and other items to parishioners in need. According to Father Gillespie, so far 104 parishioners have volunteered to help.
America editor at large James Martin, S.J., reflecting on ways to exercise one's Catholic faith during this pandemic, encourages the faithful to "be creative" and not lose its sense of community.
"You can meditate on the Sunday Gospel on your own, consult a Bible commentary about the readings, gather your family to talk about the Gospel or call friends and share your experiences of how God is present to you, even in the midst of a crisis," he wrote in America. "Remember too that the church is not a building. It is the community."
The Rev. Scott Holmer, pastor at St. Edward the Confessor in Bowie, Md., set up a "drive through confessional" as a creative solution to the shutdown of normal parish life in his diocese. Seated in the parking lot outside his church, Father Holmer administers the sacrament as the faithful pull up in their cars. For those hoping to make an anonymous confession, Father Holmer will blindfold himself.
In response to a question posted on America's Twitter account—"How are you practicing your faith without publicly available liturgies?"—Richard G. Malloy, S.J., said he was writing a prayer for students at the Cristo Rey Jesuit High School in Baltimore.
Susan Gemperline, who holds a master's degree in theology, responded that she was "[r]eading and reflecting on the daily Scripture texts sent out by [the] U.S.C.C.B., [and] daily silent prayer and reading."
Another Twitter respondent, Marion Grau, took to watching a livestreamed Taizé service.
"Meditation, Spiritual Reading, Rosary.... Serving God in the little things at home," writes Sister Joanne Suranni, describing her regime.
At Xavier University in Cincinnati, Eric Sundrup, S.J., pastor of Bellarmine Chapel, stressed the importance of prayer for Catholics distanced from the Mass and their parish communities. "I think the most important thing for people to know is that the church continues to pray with them," said Father Sundrup, a former associate editor at America.
The chapel has moved to livestreaming Sunday Mass, prayer services and daily Mass. Religious organizations have also continued to hold virtual meetings. "Our immigration team was meeting last night with 15 people on Google Hangouts," Father Sundrup said. "I know that the staff is having some group meetings. The R.C.I.A. team is praying the 'Scrutinies' together."