The Houston Astros: Clear eyes, full hearts, can't lose?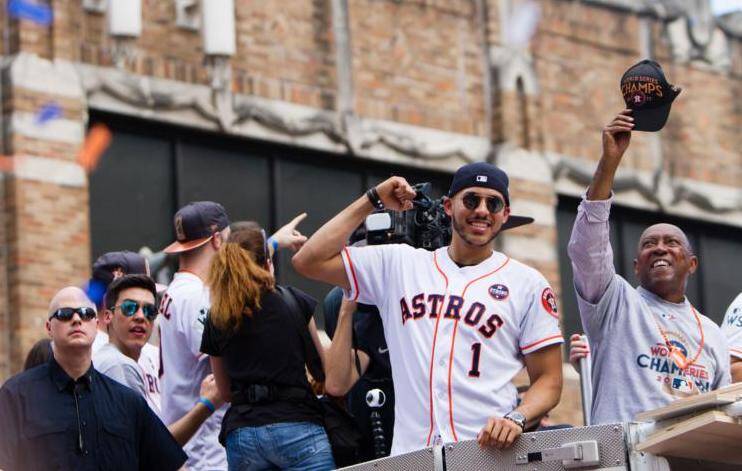 Houston Astros shortstop Carlos Correa cheers as Houston Mayor Sylvester Turner waves his hat at baseball fans during the 2017 Houston Astros World Series Parade in downtown Houston Nov. 3, 2017. At least 750,000 turned out to mark the team's first World Series win with a confetti-filled celebration. (CNS photo/James Ramos, Texas Catholic Herald.)
What do you do when it's October and everyone else is obsessed with autumn foliage and pumpkin spice lattes, but you're still obsessed with baseball? You find a way to make it your job.
When I pitched my idea to write about the Astros to my editor, I was over the moon. The Astros had pulled off an incredible series win, 4-2, against the New York Yankees a week earlier, highlighted by a walk-off home run in Game 6 by Jose Altuve, my little love. I mean, we had this in the bag. The Washington Nationals would have no idea what hit them. And then the unthinkable happened. The. Astros. Lost.
What.
Nothing crushes a little Texan heart faster than losing the first two games of the World Series at home. But I stand by my assertion that the Astros got where they are because they play for each other, they play for God and they play for the city of Houston. 
I stand by my assertion that the Astros got where they are because they play for each other, they play for God and they play for the city of Houston. 
But seriously. Let's talk about Houston. The last (and first!) time the Houston Astros were in the World Series was in 2017, a mere two months after Hurricane Harvey devastated my hometown with four and a half feet of rain, the largest amount of rainwater in a given period ever recorded in United States history. (My colleague JD Long-Garcia took a closer look at how Houston is recovering in this story from 2018.)
I was living in Toronto at the time but my heart broke for my city with each passing day that the rain did not stop. The roads that I knew like the back of my hand were underwater. My neighbors and fellow Texans were stripped of so much. But the Astros gave the city of Houston something special. They gave them hope.
In Hurricane Season: The Unforgettable Story of the 2017 Houston Astros and the Resilience of a City, Houston Chronicle writer Joe Holley writes in the intro about the Astros, "It's the story of a team of likeable, refreshingly good-natured guys who each wore a 'Houston Strong' patch on their jerseys and meant it. When Houston was down, they picked the city up and carried it. They brought hope during a dark time. It took a special mix of personality and panache to do what they did."
Astros shortstop Carlos Correa even kept a photo of in his locker of a woman walking to reach a rescue boat, trying to escape her flooded home. "That photo's at eye level," Correa told a reporter. "Whenever I have a bad day, whenever I thought about throwing my glove into my locker because of something that happened to me, I look at that photo and realize I have nothing to complain about."
The Astros gave Houston a reason to celebrate, a reason to be joyful. We needed the World Series win that year. And the team worked hard and played for each other to earn it. #EarnedHistory.
But this year is a chance to prove to the world that Houston has been reborn. That we are here and ready to keep fighting. We deserve a proper celebration, where the city and the team can be there for each other and bear the celebrations and disappointments together.
I have a confession to make. I grew up hating baseball. Soccer has always and will always be my first love. But when I discovered baseball during my time in Toronto, it changed my life. I love its slow pace, how it evens the playing field (anyone can be good or bad at any time) and how it mirrors the steady pace of day-to-day life. I was hooked during the Cleveland Indians-Chicago Cubs 2016 World Series, and I never looked back. It definitely helped that the Astros went all the way the following year. Supporting the Astros is a way to remain connected to my family and everything I love about Texas. (Which is mostly everything.)
This postseason, watching the Astros play has been a delight. This team knows how to have fun and they know they couldn't do this alone. It's evident in their interactions with each other on the field, in their celebrations, in their online presence and in their postgame interviews.
This year is a chance to prove to the world that Houston has been reborn.
Take a look at the interview with second baseman Jose Altuve following the ALCS win. Altuve says "We won the game not because I hit a homer. Yuli (Gurriel) hit a three-run homer, Michael Brantley made a really good play. [George] Springer just walked and put some pressure on [the Yankees] to get the momentum going. We are working as a team. We don't rely on one player."
Or a tweet by pitcher Justin Verlander following Altuve's incredible play. He tweeted "I literally love @JoseAltuve27!!!!" and the Internet jumped at the chance to celebrate their friendship and their camaraderie.
Or when Altuve and third baseman Alex Bregman crashed a postgame FOX interview with shortstop Carlos Correa. A reporter asks Bregman, "How fun is it to watch [Altuve] every day?" Bregman responds: "Both [Altuve and Correa] are unbelievable...I love being on their team and I'll go to war with them any day."
But the cherry on top is the team's knowledge that while this sport is their job, it can be fun, difficult and also a gift from God. In his interview, Altuve says, "First of all I want to thank God and all the fans for a beautiful game, for the beautiful playoffs. We really deserve to be in the World Series."
I agree the Astros deserve to be in the World Series. Are they playing like it? I am not sure. What I am certain of is that this is a team that continues to give their all to the city, to their fans, to each other. Only time will tell if that is enough.
To quote a classic Texas mantra, "Clear eyes, full hearts, can't lose"? The question mark is mine.