I was a boy when I first saw the Dodgers play. And I will be a boy again tonight.
The World Series will begin tonight in the second-oldest ballpark in the National League: Dodger Stadium, which has suddenly been around for a startling 55 years. It still looks and feels new, in part because the owners have always kept it up and in part because its classic look and feel has never really gone out of style. Even seeing it on television is a sight for sore eyes for Angelenos in exile.
My first visit to Dodger Stadium was on July 25, 1982, when the park was barely 20. Mother's Cookies had a promotion that year, half-price admission to reserved seating if you redeemed coupons from their 18 oz family-size bags of cookies. We took full advantage, and our dad took my brother Bobby and me for Bobby's 10th birthday. The family station wagon couldn't quite manage the freeway without overheating, so the three of us took public transit from Burbank. It was the much-maligned R.T.D. bus system, and we rode it all the way to Chavez Ravine for a 1 p.m. game against the Phillies.
The trip seemed to take forever, and the traffic going into Chavez Ravine was as murderous as it has always been. That might have been the reason the bus driver kicked out everyone going to the game at the base of Stadium Way, so he could turn his bus around; or maybe he was just having a bad Sunday. Either way, we walked up and over the hill to get to Dodger Stadium, which is a mile from downtown Los Angeles but a world away in terms of scenery and ambience.
The parking lots girdling the park were vast. I, being 8, fell halfway across the asphalt and cut my knee.
...the manicured grass outlined so starkly in that incomparable Southern California light...
Who cared? There it all was, when we found our seats: the manicured grass outlined so starkly in that incomparable Southern California light; the wedding-cake layers of seats slowly filling with 46,000 fans. And then the heroes took the field: Steve Garvey at first with those Popeye forearms, bookish Bill Russell at short and squat Ron Cey at third, dubbed "The Penguin" by manager Tommy Lasorda for his waddling gait (Lasorda's was worse). Longtime second-baseman Davey Lopes was gone, replaced by a wild-throwing Nervous Nellie by the name of Steve Sax. Young sluggers Mike Marshall and Pedro Guerrero had arrived and shared the outfield with a fella who has been in the news of late: Dusty Baker. I knew their names and stats by heart, of course, but knew nothing of the Phillies pitcher they faced that day.
Unfortunately for the Dodgers, it was lefty Hall-of-Famer Steve Carlton, he of the 329 career wins. He gave up only five hits that afternoon on his way to a 1-0 shutout. The game took barely more than two hours (seriously, look it up, umpires ran a tight ship in 1982). Our seats were so far from home that we heard the sound of pitches from Carlton and Jerry Reuss and Steve Howe (Steve Howe! Was there ever another fastball like that of Steve Howe? Of arms and the man I sing…) hitting the catcher's glove a full second after the fact. We ate our first Dodger Dogs. We looked for and spotted the legendary Vin Scully in the press box.
Was there ever another fastball like that of Steve Howe? Of arms and the man I sing…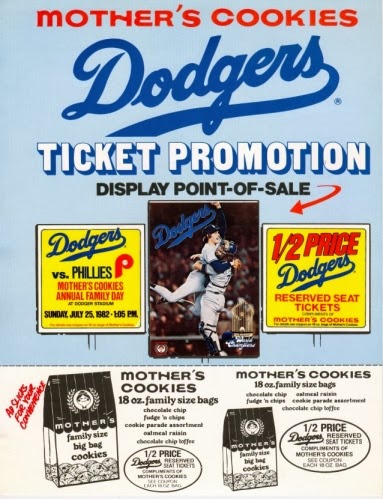 Soon enough, confused by the loss ("why can't the Dodgers win every day?"), we were back on the R.T.D. In the meantime, Bobby and I had scored autographs from a little-known reserve named Jorge Orta, who would become a baseball footnote three years later, when as a pinch-hitter for the Kansas City Royals in the 1985 World Series he hit a nubber to Cardinals' first baseman Jack Clark in the ninth inning; he was inexplicably called safe by umpire Don Denkinger, leading to the Royals' victory that night and the eventual crown. At the time we got his autograph he was a nobody (his batting average was an abysmal .217 in 1982), but it didn't matter: A Major League baseball player had shook our hands and signed our programs. The ride home seemed fast.
It was many years ago. And tonight when our beloved Dodgers take the field to begin Game One of the 2017 World Series, I will watch again, and wish I was seated with my family in Chavez Ravine. I will cheer for men half my age, cheer as one who has known gray hair along with the players of 1982. But when the mighty southpaw Clayton Kershaw, a legend already before his 30th year, burns that first high hard one past an Astros batter, I will once again be that 8-year-old with a bleeding knee. Watching his heroes.