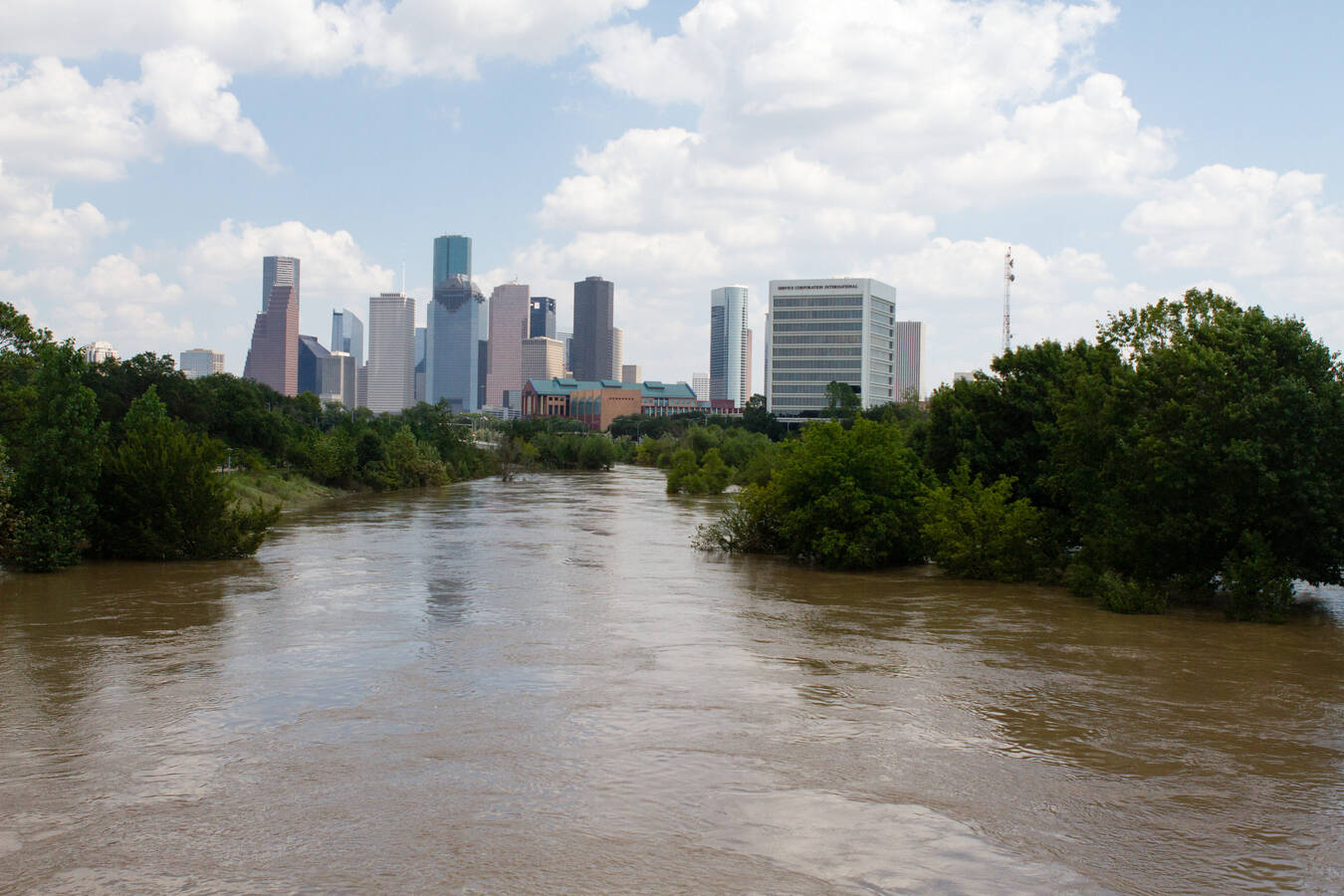 How a city and church in Texas are rebuilding one year after Hurricane Harvey
Next to the H-Mart in Houston's Chinatown, there is a seafood restaurant where most of the patrons speak Chinese. The busboy is from Central America. They serve Tsingtao, the most successful Chinese beer export. They also offer chicken wings and pepper shrimp served with lots of onions, garlic and two kinds of jalapeños.
It is not authentic Chinese food but a sort of Tex-Chinese. This food fusion is ubiquitous in the Houston area, which features not only Tex-Mex restaurants but a Latin-Asian food truck called Pho-jita Fusion and Korean spins on Southern comfort dishes like macaroni and cheese.
In 2016, Mayor Sylvester Turner tweeted that Houston is "the most #diverse city in #America."
Down the street at the Chevron gas station, Pete, a security guard from Nigeria, has just turned away a panhandler who asked for $5.
"Who in the world would give away $5 for free?" Pete asks Ali, a clerk who immigrated from Pakistan.
"Well, God," Ali says. They both laugh.
This is Houston.
Houston anchors the fifth-largest metropolitan area in the United States, and despite a recent slowdown in growth, it is projected to overtake Chicago as the nation's third largest city. Its many cultures make for a blend not found anywhere else in Texas. The city's website is available in English, Arabic, Chinese, French, Spanish and Vietnamese. According to 2011 data from the U.S. Census Bureau, just 54 percent of the city's residents speak only English at home (compared with 80 percent of all U.S. residents).
In 1970, Houston's population was 63 percent non-Hispanic white; now only 26 percent of its residents fit that category, with 44 percent Latino, 23 percent black and 6 percent Asian. In 2016, Mayor Sylvester Turner tweeted that Houston is "the most #diverse city in #America," a claim that is open to debate, depending on how you measure things, but that does convey the variety of traditions held by today's Houstonians.
In late August 2017, Hurricane Harvey took a toll on all of them—rich and poor, white and brown, city and suburb. The storm hit Texas with 4.5 feet of rain and winds of 130 miles per hour, leading to the largest disaster response in the state's history, according to the Federal Emergency Management Agency. Houston, nicknamed the Bayou City, was hit with the largest amount of rainwater ever recorded in the continental United States.
Houstonians are aware that less than a month later, Hurricane Maria devastated Puerto Rico. But they cannot forget those days in August when the rains would not stop.
Holding Together a Neighborhood
"My dog learned how to swim that day," Marta Vargas quips. Her family emigrated from Mexico when she was a child. She and her mother, also named Marta, had 27 people and seven dogs huddled on the second floor of their house in the Sagemont neighborhood of southeastern Houston during Harvey. The Vargases had family visiting, but neighbors who lived in single-story houses came, too. A man she had never met before was there and sat in a corner with his dog. He had been housesitting for his grandparents, who lived nearby.
When the rain began, Ms. Vargas's father tried to dig a ditch in the backyard to channel the water away from the house. But the water rose, flooding several feet on the first floor.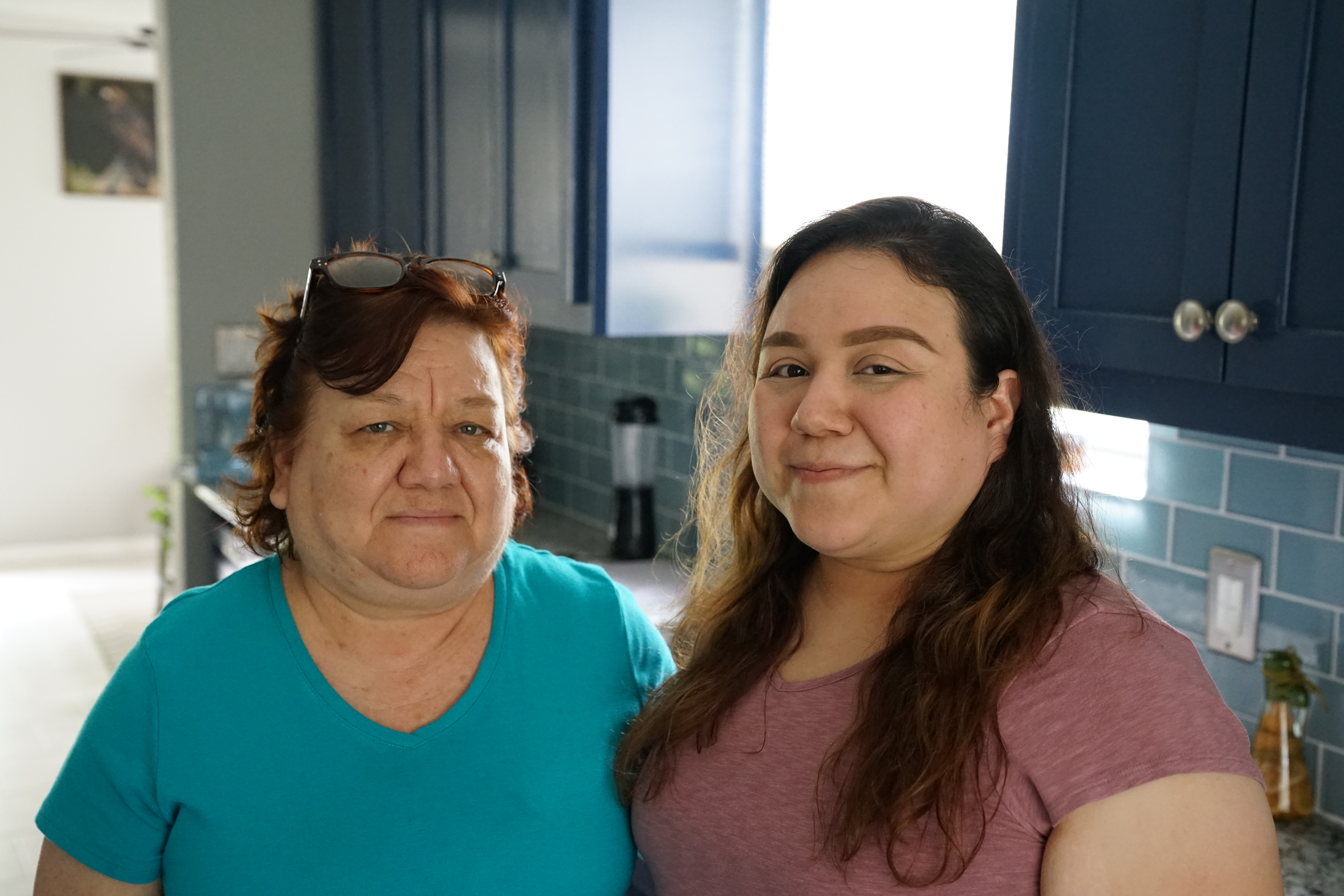 "We didn't know what to do," Ms. Vargas says. The house lost electricity, and once the rain stopped, many of the people trapped there waded through the water for a half a mile to a shelter set up at a gas station on higher ground.
It is dangerous to walk through floodwaters in urban areas. It is hard to see what you are stepping on, and the floodwater can be mixed with sewer water. After Harvey, authorities instructed people to stay at their homes and wait for boats, but thousands ignored the warning.
The Vargas family lost three cars to the flood; Ms. Vargas's father, a mechanic, fixed a fourth that was damaged. They lived in a hotel for seven months while their house was being repaired. The lack of affordable housing is an ongoing issue in Houston, and Harvey made it worse. When the Vargas family moved back home, Catholic Charities provided them with furniture, a washer and dryer, and mattresses.
Many neighbors do not know that assistance is available, she says. Some are undocumented immigrants and will not ask for help because they think they will get into trouble.
"It doesn't feel the same," Ms. Vargas says of life after Harvey. "My 5-year-old gets freaked out when it rains."
Thousands are still in long-term recovery, according to Matt Johns, the director of the disaster and recovery program for Catholic Charities in Houston.
"It doesn't feel the same. My 5-year-old gets freaked out when it rains."
"They don't know where they're going to end up," he says. "Especially the elderly, undocumented, people with health issues, they're trying to figure out what to do. We want to get people to their new normal."
Many neighbors have not returned, and Mr. Johns says he can smell mold in many of the houses he visits.
Catholic Charities turned its parking lot into a recovery zone in the weeks following Harvey. The Knights of Columbus grilled food there, and throughout the city, for displaced people.
"Churches were where people dropped stuff off and where people came for help," Mr. Johns says. Nearly 780,000 Texans evacuated their homes, and it could take more than 10 years for the area to recover fully. Catholic Charities reached out to everyone, Catholic or not, in many different languages.
Nearly 780,000 Texans evacuated their homes, and it could take more than 10 years for the area to fully recover.
Similarly, Vietnamese Martyrs Church, also in southeastern Houston, reached out to members of its parish, including many immigrants from Vietnam. Some still have nightmares about Hurricane Harvey, according to Bentley Huynh, a hospitality volunteer. Many have yet to have their homes fixed.
"Many people don't have flood insurance," he says. "I've lived here for 24 years, and I have never seen anything like this before. This time it was horrible."
In the northern part of Houston, Sharon Ettinoffe, a parishioner at St. Francis of Assisi Church in Kashmere Gardens, estimates that as few as 20 percent of her neighbors have moved back after Harvey. Her neighborhood, abutting an industrial area and rail yards, began as a Czech community but now has mostly black and Latino residents.
"We lost our church, we lost our school and we lost our parish office," Ms. Ettinoffe says.
The area was also flooded during Tropical Storm Allison in 2001, and the Federal Emergency Management Agency helped people rebuild their homes but said they would not receive aid again unless they maintained flood insurance policies. Ms. Ettinoffe explains how one elderly couple had to choose between paying for flood insurance or medication. They chose the medicine, so they had no recourse after Harvey.
Other residents are living in houses with missing walls.
"I don't care how much work is done, it's just going to flood again," Ms. Ettinoffe says, referring to a nearby bayou.
A Church Survives and Thrives
After the 9 a.m. Mass at St. Ignatius Loyola Church in Spring, an unincorporated area a few miles north of Houston, the Rev. Norbert Maduzia Jr. saw that the water had risen to the church's porch. When he returned later, he found altar linens floating in nearly four feet of water in the sanctuary.
"The parishioners need to see this, but they can't get in here," Father Maduzia, a native of the city, recalls thinking. So he went on Facebook Live, sharing a video that now has 575,000 views.
"Flooding has been a part of my life throughout my life, and we just have never been attacked by a hurricane," he says. "It's always been others. But this time it's us, it's me."
The parish began celebrating Mass at schools and auditoriums before erecting a temporary structure—a big white tent—in its parking lot. Nine months later, on May 31, they are welcoming parishioners into their restored church for the rededication.
"Everyone was worried about the building, but our pastor was worried about the people."
"You know what it's like to deal with insurance companies, and you know what it's like to deal with the government. You put the two together, and you get the chancery," Father Maduzia says to laughter, including from Cardinal Daniel DiNardo, the archbishop of Galveston-Houston, who was there for the rededication.
"You're back at home, and I want to congratulate you for your patience and perseverance," the cardinal says to the crowd as the rededication begins outside the church. He says it was "amazing" that the parish had restored the sanctuary in nine months.
"People have suffered greatly in this area, yet this church has moved forward," Cardinal DiNardo says. "It must be because it is built on the rock of Christ."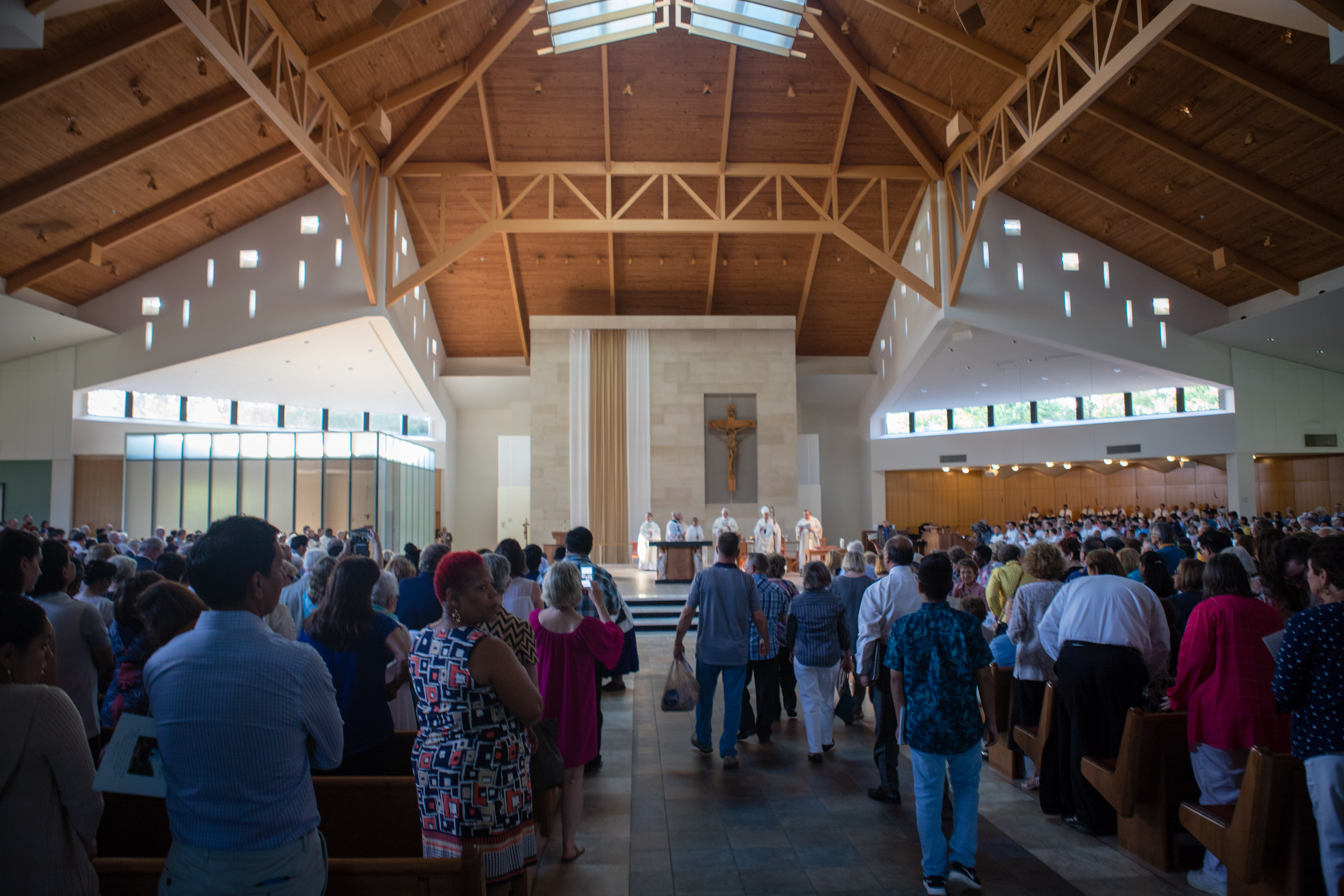 But some parishioners are still living on the second floors of their homes, says Father Maduzia. One parishioner told him recently she was excited not to have to do dishes in her bathtub anymore.
Gloria Aldridge, who sings in the choir, says people are still rebuilding their homes. Hurricane Harvey brought the third flood to hit the neighborhood situated along Cypress Creek in the last three years, she says, but this one was different.
"It was just complete devastation," Ms. Aldridge says. "You began to realize you had to trust people and reach out to them."
As the post-rededication cookie-and-lemonade reception thins out, Ms. Aldridge says the flood brought people together in a new way. "As these things happen, you have to get on your knees more," she says. "God needs to be a part of it."
Deacon Peter Olivier says the parish set up a volunteer effort immediately after the hurricane, even before addressing repairs to the church, to help people with "mucking out" hundreds of neighborhood homes before mold could set in. That meant removing all the damp parts of a home, including carpeting and drywall.
"People kept asking, 'Why are you not fixing the church?'," Deacon Olivier says, "and Father Maduzia would tell them, 'You are the church.' Everyone was worried about the building, but our pastor was worried about the people.
"We're a people for others," he says, adapting an expression popularized by Pedro Arrupe, S.J. "If anything, Harvey solidified that."
Protecting Houston's History
For four and half days, Melissa Kean could not leave her house near downtown Houston. She would wake up every morning to the pouring rain from Harvey.
"We were trapped. You couldn't restock food," she says, noting that while her house was not flooded, everything around it was.
A few days after the storm, Ms. Kean, the university historian at Rice University, got an urgent call from a colleague, Joshua Furman. (Ms. Kean is also on the board of directors of America Media.) The Brays Bayou had flooded homes and synagogues in the historical Jewish neighborhoods of Meyerland and Willow Meadows.
"Everything had become like Kleenex," Ms. Kean says of papers, photographs and books they found in United Orthodox Synagogues, a worship center in southwestern Houston.
"Everything had become like Kleenex," Ms. Kean said of papers they found in United Orthodox Synagogues. 
Before they could store the documents in a freezer to help stop mold, the immediate solution was to use a hair dryer on the cool setting. The historians also placed wet materials between dry pieces of paper to try to preserve them.
The flooding from Harvey led Rice University to create a historical archive for the Jewish community, which has a long history in the city. Word spread through social media that the university was interested in families' old belongings.
"For historians, the only way you get more data is for people to bring it to you," Ms. Kean says. "People think no one wants that old junk. Well, it's not junk to me and Josh [Furman]."
Dance cards, old ticket stubs, invitations for parties—they all capture what it was like to be alive at a given time, she says. They now have a Torah screen that was used on high holy days, made in 1927, along with scrapbooks, photographs going back to the 1890s, videotapes, yearbooks, pins and buttons.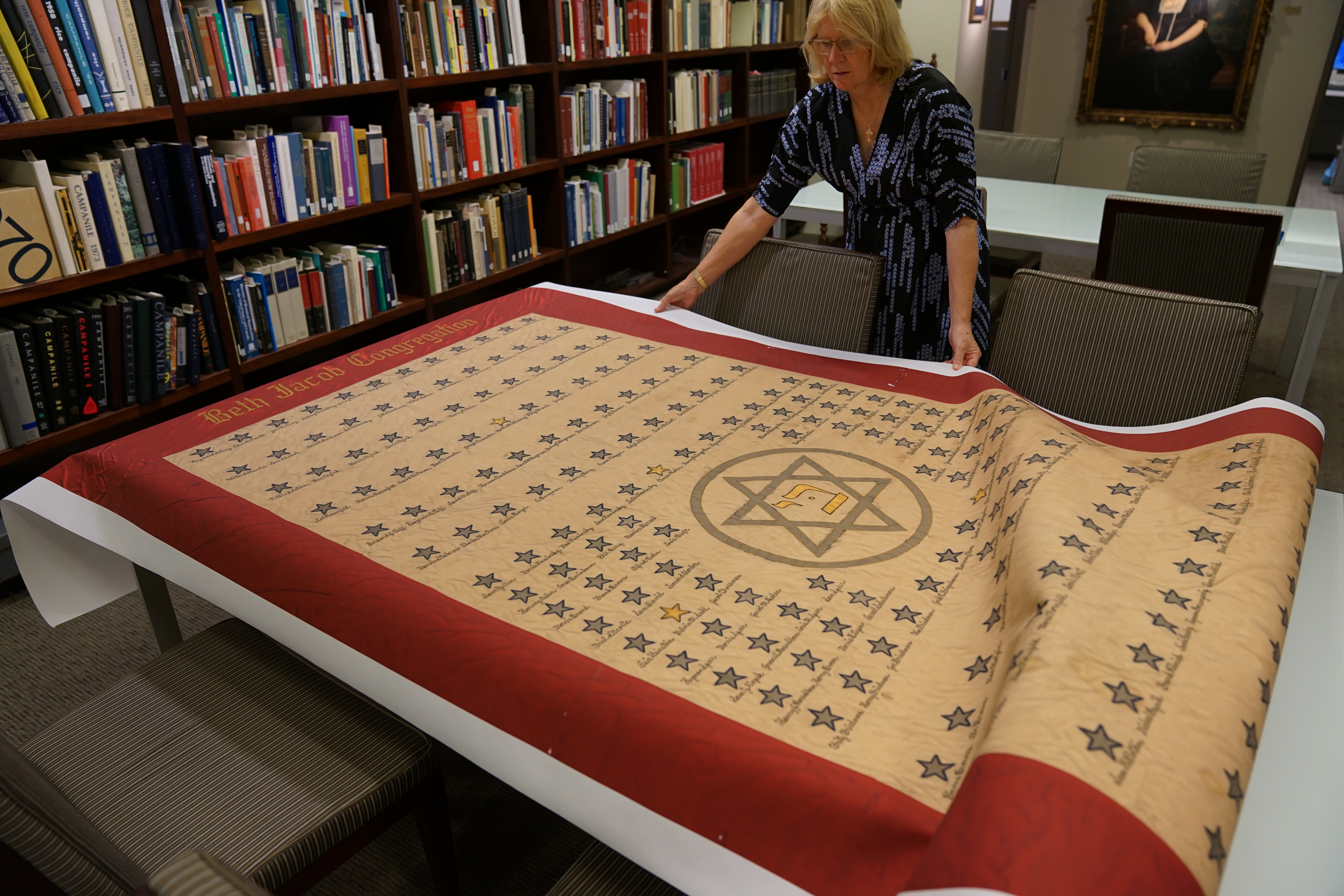 "These little things allow you to see what Jewish [residents] did for fun," she says. "Not official documents but what you stuck in your pocket, like a wallet full of membership cards."
"We launched this effort to make sure that the historical record and legacy of Houston's Jewish community and Jewish communities all over South Texas will never be washed away or destroyed or lost," Mr. Furman says. The night before he spoke to America, Mr. Furman had met with a man who had given the archive high school yearbooks, a record album of camp songs and his uncle's Purple Heart medal.
"We've been at it for nine months, and people have already turned in some amazing stuff," he says.
"It took a hurricane to start it, but once it did, it took on a life of its own," Ms. Kean says.
Rice University also maintains the Houston Asian American Archive. The African American Library at the Gregory School also has an archive, and the University of Houston has a well-respected department of Hispanic studies.
"Diversity is so powerful, several communities had already started preserving their histories," Ms. Kean says. "The hurricane renewed their appreciation for the need to collect. There is a bit of a boom in archiving in general in the city."
In the wake of Harvey, the forward-looking city realized it had to protect its past.
'No Boundaries' in a Storm
Valerie and David Calvillo, who moved to Houston from the Rio Grande Valley in South Texas, are forming new routines after Harvey. The couple, along with six of their eight kids—Ana, Teresita, Micah, Joaquin, Lázaro and Maris Stella—are gathered at St. Bartholomew in Katy, a city of about 16,000 just west of Houston, for confession. Mr. Calvillo is watching his younger children on the playground while Ms. Calvillo is with the teenagers in the confession line.
"You always think it's going to happen to someone else," Mr. Calvillo says. A lawyer, he had rushed home from an out-of-town trial to be with his family when Harvey hit.
"He made it back just in time to experience the storm with us!" Ms. Calvillo laughs. At first, the kids just played outside in the rain in their galoshes. But the rain did not stop. Inside, they played Monopoly, watched movies and did crafts for hours while it poured. Their cellphones would go off with tornado warnings every 15 to 30 minutes.
The flooding kept them from Sunday Mass, Mr. Calvillo says.
The family stored as many of their things as they could on the second floor. With four feet of water inside their home, they decided to wade through the chest-high flood to get to a relative's house on higher ground.
"The hurricane really brought out that there aren't any boundaries in Houston." 
They used air mattresses as rafts for their personal belongings, put important documents in Ziploc bags and placed their dog in a plastic kiddie pool. The older kids carried the younger ones on their backs and a neighbor came to help out. Nearly a year later, Mr. Calvillo still gets emotional telling the story.
The family lost their vehicles, so after a few nights, they rented a car and headed down to McAllen, Tex., where they had lived before moving to Houston. They stopped at Target for diapers, wipes and snacks.
"We're the kind of family that always volunteers," Ms. Calvillo says, noting they spent time assisting migrants at the border with Norma Pimentel, M.J., the executive director of Catholic Charities in the Rio Grande Valley. "Now it's us. We had nothing, and we were the ones reaching out for help, the ones that were displaced from our home."
"It's a punch in the gut," Mr. Calvillo chimes in.
Strake Jesuit College Preparatory, where their eldest son, Lázaro, is a student, stepped in to help.
The school had closed in anticipation of the storm; after it hit, the staff gathered to plan their response, according to John Fahy, the assistant principal for student affairs. They established a phone bank and called all the school families.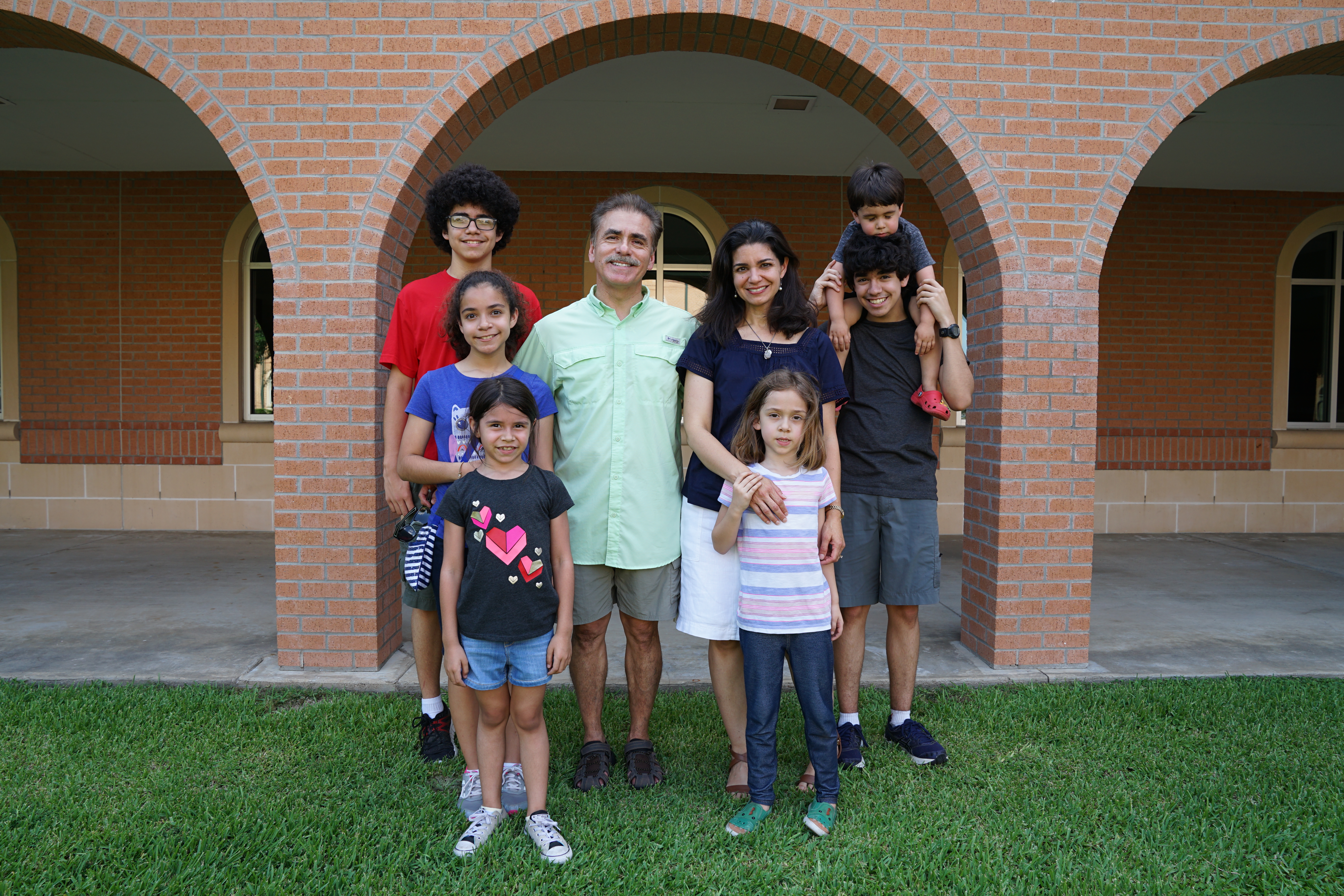 Students and staff were ready to act and started helping families muck out their homes, brought them food and helped them move, Mr. Fahy says. One family donated their second home for the remainder of the year, so the Calvillos had a place to stay. Once they were done helping a Strake family, the soccer team would just head to the next house over and ask if they needed a hand.
Mike and Sherry Bordelon, Strake parents, teamed up with the school and Mr. Bordelon's company to provide materials—like masks, goggles and claw hammers—to those who were cleaning out their homes after flooding.
"The hurricane really brought out that there aren't any boundaries in Houston," Mr. Bordelon says, referring to how it hit Houstonians of all socioeconomic statuses.
Those who live in West Houston, near major reservoirs, were hit hard after the rain stopped. That was the case with the Cassidys, another Strake Jesuit family.
"This house never got flooded before," Patrick Cassidy says as he walks through the first floor of his recently restored home. Once Harvey's rains had stopped, it appeared that his house had been spared. The waterline did not pass the Cassidys' doorstep, though it did flood the streets and homes of neighbors closer to the Buffalo Bayou. Once the rain had stopped, Mr. Cassidy saw the water receding.
But the Barker and Addicts reservoirs, built decades ago to protect Houston from flooding, were beyond capacity. The Army Corps of Engineers had to release water to prevent it from spilling. That led to flooding in more than 9,000 homes and business by the reservoirs, The Houston Chronicle reported, including the Cassidy home.
"This was a biohazard site," Mr. Cassidy says, noting that while many will remember the photographs of the Harvey aftermath, few could imagine the smell.
A volunteer with the Cajun Navy, a Louisiana group that helped Harvey victims in Houston, picked up Mr. Cassidy's wife, Beth, their youngest son and their dog in a rowboat. Mr. Cassidy and his older sons stayed behind, going back and forth to a friend's house with supplies. They wore their chest waders, which they had previously used for hunting. He had to show ID when he came back into his neighborhood. The National Guard had set up a station to protect against looting.
The floor creaks as Mr. Cassidy walks over to his fridge, sparingly stocked with grapes and water. The Cassidys replaced their floors and had work done on their walls. The fridge does not fit in its place quite as well as it used to.
"What am I going to complain about? That my refrigerator door only opens so far?" he says. "As difficult as it is for my neighbors, this would be the nicest neighborhood in Puerto Rico."
The family was not using some of the items they lost in the flood, Mr. Cassidy says. "It's a shame—these items could have benefited someone else," he says, adding that he has grown to appreciate both what was lost and what was unnecessary.
Mr. Cassidy points out houses abandoned or still under construction as he drives through his neighborhood in his S.U.V. But this has long been a city of constant change: Even before Harvey, 20 percent of Houston's residents had been living in their homes for less than a year (compared with 15 percent of all U.S. residents).
Some of the homes have been raised a few feet above the ground in preparation for the next flood. Others still have debris piled outside. Some, like half-eaten fish, are missing the entire first floor, the second story standing on a wooden skeleton. Others were leveled altogether, leaving empty lots.
"There's more people out of their houses than in them," Mr. Cassidy says of people in his neighborhood. "Some couldn't deal with it, so they sold their homes altogether."
Strake Jesuit families began bringing meals to displaced families, which were "delicious," he says. Mr. Cassidy had helped some neighbors evacuate, and Ms. Cassidy helped out in her role at St. Cecilia Church.
In their neighborhood, located in the "energy corridor" of Houston, most residents are professionals or retired, Mr. Cassidy says. The nearby Stratford High School is 24 percent Latino and 11 percent black.
"In Houston, there's no other side of the tracks. Kids go to the same school, so we've always had integration," Mr. Cassidy says. "But I do think there's a much greater sense of gratitude for family and friendship and community after Harvey."
[Sign up for Convivir, a new newsletter from America Media. Each week, it will highlight news, culture and trends related to Latino Catholics. To receive this important expert analysis in your inbox, sign up here.]