Arriving at the western extreme of the European continent, in the region of Brittany in France, one can descry, near the place where land and sea meet, rows of giant stones set in a perfectly straight line, running out toward the sea. These stones are the ancient monoliths that Brittany is so famous for—in Breton called menhir (meaning standing stones)—the origin of which is shrouded in mystery.
When the Celts migrated to this region in 500 B.C., the stones had already been here for 1,000 years, placed by a civilization that has long since vanished and of which we know very little. This is the same civilization that constructed the magnificent astronomical calculator known as Stonehenge in the plains of Salisbury, England, just across the channel of Brittany. The monolithic formations have intrigued and haunted the imagination of men and women for centuries and are an enduring tourist destination even today.
The idea to have an open-air homage to the Celtic saints of Europe was the brainchild of Philippe Abjean.
It is from these marvels of rock and human ingenuity that today one of France's most spectacular new sites of pilgrimage takes its inspiration. The Valley of the Saints (Vallée des Saints) is a project of prodigious scale, and in 2018, 10 years after the first five-ton statute chiseled entirely from rock was placed on a windy hill in the heart of Brittany, the valley witnessed the erection of its 100th statue, with plans for hundreds more.
The idea to have an open-air homage to the Celtic saints of Europe, free-of-charge and open 24 hours a day, 365 days a year, was the brainchild of Philippe Abjean and a small group of visionaries. Mr. Abjean states in the visitor's guide that what they intended was: "A sanctuary without walls. An open cathedral vaulted by the star-studded sky. And the giant statues now residing in this place, retelling Breton history, belong by right to the Breton themselves."
In this northwestern region of France, the Valley of the Saints interweaves Catholic faith with Breton history and culture. It is a place where anyone, Christian or not, will find a deeply moving testimony to the enduring richness of the local tradition and, more generally, of the Celtic peoples.
The March of the Celts
Although Celts once dominated much of Western Europe, with the fall of the Roman Empire and the invasion of Germanic tribes, Celtic culture and language was pushed to the western extremity of the continent. Having converted to Christianity toward the end of the Roman Empire, the surviving Celts jealously preserved their customs, language and artistic traditions, as is most splendidly evident in masterworks like the Book of Kells. The period between 400 A.D. and 1000 A.D. was a period of immense flowering and apostolic activity within the Celtic region of Europe. Celtic saints criss-crossed Europe spreading the Gospel and bringing with them many treasures of their own Christian traditions, like the sacrament of reconciliation and the monastic Rule of St. Columba.
Today, Celtic languages continue to survive in Ireland, Scotland, Wales, Cornwall, the Isle of Man and Brittany. This "zone" of Celtic culture is united by a common history, culture and language. These regions are represented in the Valley of the Saints, which as a general rule commissions only saints of Celtic origin or affiliation. The great "St. Patrick," for example, was the 12th sculpture to be commissioned for the valley and was installed in 2010. He was sculpted, using machine tools and old-fashioned chisels, by the sculptor Jacques Dumas, who resides in the town of Saint-Senoux, not far from the valley.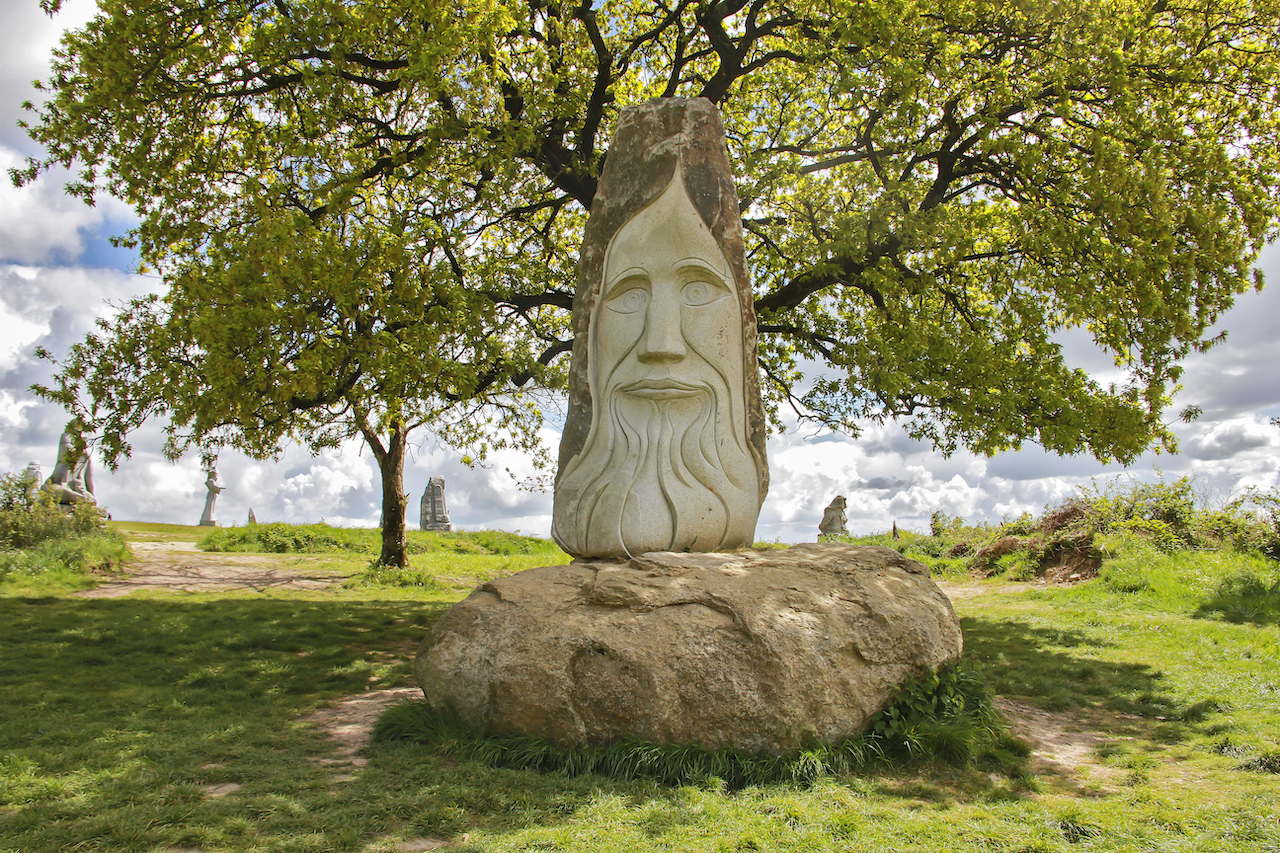 This talented sculptor also created 10 other saints for the valley over the past 10 years, including Saints Brigit, Samson and Caradec. He and his fellow sculptors are modern day versions of Michelangelo, Fra Angelico or the great medieval cathedral architects—artists who helped spread the Gospel through visual art. God who became man and took on flesh has irrevocably bound himself to the material world, and through our senses he takes up his spiritual home inside our souls.
"Our purpose in creating the Valley of the Saints is to transmit knowledge of our history and culture to the next generation." 
In the visitor's guide, Mr. Abjean states: "Our purpose in creating the Valley of the Saints is to transmit knowledge of our history and culture to the next generation. We are all aware of it: our new millennium is marked by a crisis of cultural continuity." The Valley of the Saints has done an admirable job in accomplishing this end.
The Valley is a response to a type of globalization that tries to impose uniformity upon diverse cultures and peoples throughout the world. It does not deny that we live in a more globally oriented word, but it does take into account the danger a blind acceptance of this type of globalization can pose. Mr. Abjean continues:
Make no mistake! We are not passing on a dead culture. We are opening the way for each generation to travel elsewhere, to a different world which will naturally not be the same as before. To remain alive, cultural heritage must be reworked, reinterpreted, extended.... The group of sculptors at the Valley of the Saints have perfectly understood that true liberty is not to deny a heritage. It is to reclaim it so as to be able to continue to entrust it to the following generations.
The committee in charge of commissions sets down a few rules that the sculptors are expected to follow: the size of the final sculpture must be between nine feet and 19 feet tall; the sculpture must not be abstract but actually depict the person of the saint; all sculptures must be in stone; and they must be affiliated with the Celtic heritage in some way. Beyond these rules, the artists are allowed great liberty to shape, chisel and design their works of art, imprinting upon them their personal thoughts and feelings, resulting sometimes solemn and splendid or quirky and playful, but always unique.
One of my favorite sculptures when I visited was the sculpture of St. Maudez, by Christophe Antoine. This popular Breton saint was born in Ireland in the fifth century and graduated from a school in Llancarfan, Wales. He made his way to Brittany where, after having wandered for some years, he settled with two companions on the island that now bears his name. This sculpture was installed in 2014 and measures 15 feet in height. Made from Bignan Granite taken from a nearby quarry, St. Maudez is depicted in a swivel position holding the Bible. Behind the turning body of the saint is, almost imperceptibly, a series of stone steps, large enough for an adult to scale. They ingeniously vanish as they approach the leaves of his book. My children had great fun ascending and descending these secret stairs.
From St. Brigit to St. Brendan
A list of granite marvels could go on and on. There are many Celtic saints that Americans, especially those of Irish ancestry, will recognize. There is St. Brigit of Ireland, founder of the monastery at Kildare. She is the patron saint of fertility, maternity and breastfeeding and is appropriately depicted with her maternal features accentuated. There is St. Brendan, who is depicted standing on a giant stone whale, a symbol of the numerous sea voyages that he took, and St. Columba, one of the most important saints of his time, who ended his days at the monastery in Bobbio, Italy, that he founded.
The Valley of Saints freely mixes history and legend. A childlike playfulness permeates what is also a sacred place.
The Valley of Saints freely mixes history and legend. A childlike playfulness permeates what is also a sacred place. We know that not all the stories depicted here are true, and yet we can still enjoy them, knowing that miracles can and do happen. What perhaps is more astonishing is that these saints who lived over 1,000 years ago are still invoked and venerated to this day. The men and women who stand on this hill, looking over the rolling fields and valleys of Brittany, have had a lasting impact on history.
For those who would like to visit the Valley of the Saints, I can offer a few practical tips. Yes, there is parking on site. When we visited, many people took their lunch beside their car before venturing to tour the site. But there is also a full-service restaurant and cafe on site, as well as a gift shop and restrooms. If you visit at certain times of the year, you may be able to watch some of the sculptors at work on their granite slabs—chiseling, sawing and hacking away at the stone. Small pieces of the leftover granite are in a small box for visitors to take home with them as a souvenir.
The site is not easily accessible except by car (or bus if you can charter one). The drive from Paris to the valley is about five and a half hours. There are several good-sized towns in this part of Brittany that have plenty of accommodations if booked early, like the beautiful cathedral city of Quimper. Do not be surprised when you see, as you drive farther west, more and more signs and tourist information in French and Breton. The local Celtic tradition is strong in this part of France, and many people still speak the ancient Celtic tongue.
For those who would like to be a part of this remarkable project, it is possible to commission or contribute to the creation of a sculpture, as long as there is some Celtic connection. The cost from start to finish for each sculpture is about $30,000, and many different individuals and associations have signed on.
After a day spent visiting this "forest of symbols," as Mr. Abjean puts it, one feels that the benevolent love of God shines forth most clearly on earth through his friends—the saints. And these saints, all different but united in their common faith, continue to inspire and watch over all of us.