Woody Guthrie sang the Gospel
In his 2011 article, "Woody Guthrie's Social Gospel Roots," Larry Guthrie (no relation) writes that "Christianity and Catholicism played significant roles in the entire tapestry of the life of Woody Guthrie." The article points to the legendary American folk singer and songwriter's first marriage in 1933 to Pampa, Tex., native Mary Esta Lee Jennings, who was Roman Catholic. There were nuns in Jennings' family, and her brother, Matt, may have introduced Guthrie to the Catholic periodical Our Sunday Visitor and its focus on social justice.
"Woody's words were a social gospel," Larry Guthrie writes. "Although Woody did not seem to like participating regularly in an organized religion, he did develop a great concern for social justice."
While Catholicism may have played a role in Guthrie's focus on social justice, it is likely that his support of workers and unions, empathy for migrant workers, fight against usury and all-out-war on Fascism—"This Machine Kills Fascists" was written on his guitar—came from a number of influences, including his own experience. To the original handwritten lyrics for the iconic Guthrie song, "This Land is Your Land" (originally and ironically titled "God Blessed America for Me"), Guthrie added a notation: "You can only write what you see."
"Although Woody did not seem to like participating regularly in an organized religion, he did develop a great concern for social justice."
At the recent Americana Music Association Conference and Festival in Nashville, a panel discussion was convened to discuss that focus. "Woody Guthrie & Songs for Social Change" brought together notable singer-songwriters and activists Billy Bragg and Mary Gauthier, along with Aengus Finnan from Folk Alliance International and Greg Vandy, host of "The Roadhouse," a radio show emphasizing the blues and other traditional styles of American music on KEXP, a public radio station based in Seattle. Deana McCloud from The Woody Guthrie Center moderated. Each chose a Guthrie song that illustrated his activism, along with a contemporary artist the panelist felt exemplified that same spirit. While Bragg had done a moving contemporary version of Guthrie's song for the migrant worker, "Ain't Got No Home," on his own 2014 release, "January Song," it was Finnan who chose it and sang it a cappella, bringing focus to every word, haunting in its contemporary resonance:
I ain't got no home, I'm just a-roamin' 'round
Just a wandrin' worker, I go from town to town
And the police make it hard wherever I may go
And I ain't got no home in this world anymore

My brothers and my sisters are stranded on this road 
A hot and dusty road that a million feet have trod
The occasion for the panel was the 50th Anniversary of Guthrie's death on Oct. 3, 1967, and the release of a new box set out now on Bear Family Records, "Woody Guthrie: The Tribute Concerts." It includes for the first time the entire tribute concerts performed in Guthrie's honor at Carnegie Hall in New York on Jan. 20, 1968 and the Hollywood Bowl in Los Angeles on Sept. 12, 1970. Along with material originally released in 1972, the new Bear Family box set features 20 unreleased songs from the Carnegie Hall shows, along with bonus interviews, essays and a treasure trove of concert stills, handwritten lyrics, concert programs, a Guthrie discography, a bibliography and more.
"Woody's younger devotees, who came of age amid the rising civil rights and peace movements of the 1950s and 1960s, heard him perform only on records," writes historian Sean Wilentz in the set's liner notes, "but his songs cut deep and made them think...so political themes rightly recurred at the concerts, as Guthrie songs of past labor struggles and union maids and vigilante men resounded in a time of fresh protests and rebellions in which all of the performers at the tributes had in one way or another participated, sometimes putting their popularity and personal safety at risk."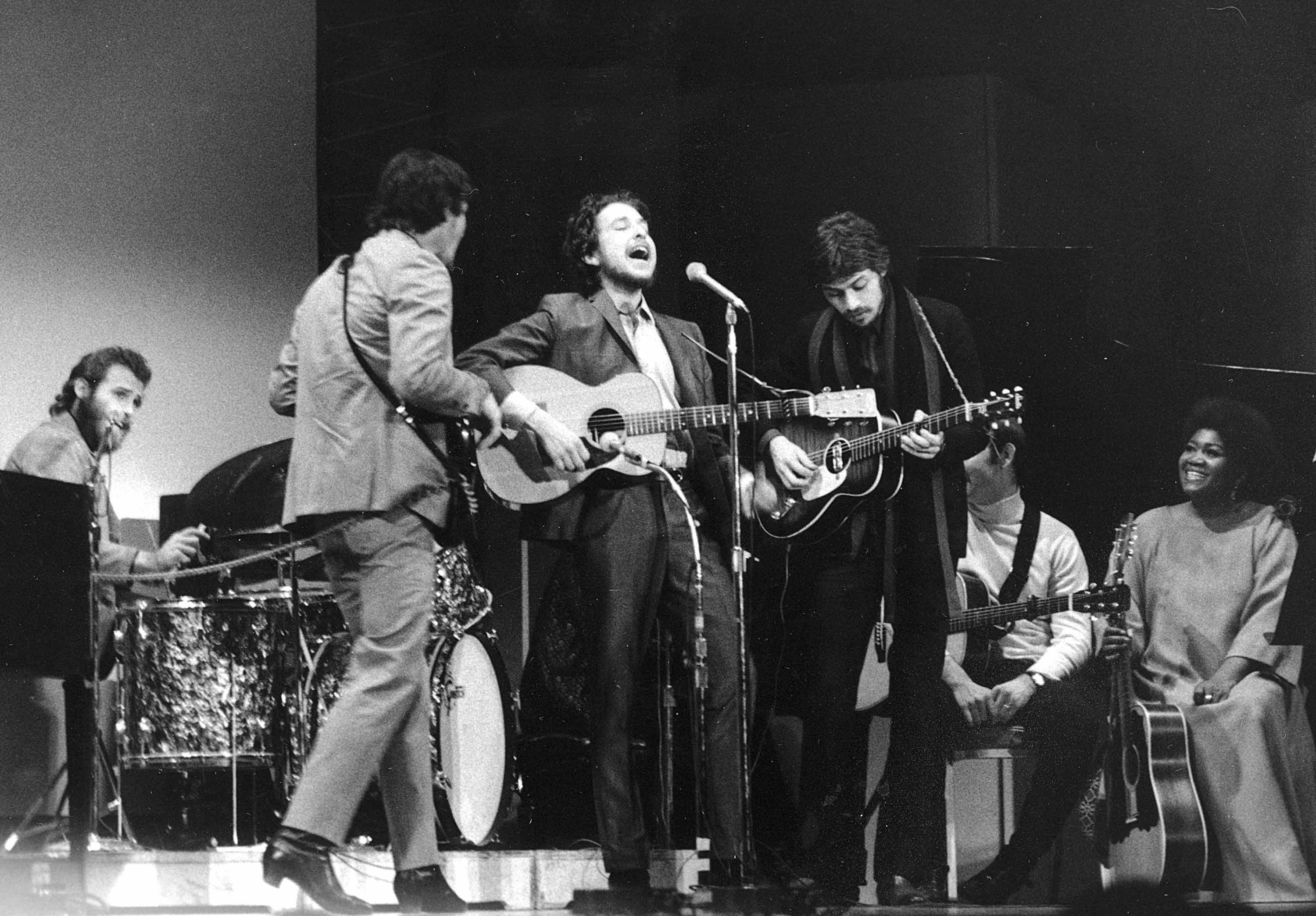 Among the younger devotees Wilentz mentions were some of the biggest folk and pop music stars of the day, including Bob Dylan with members of The Band, Judy Collins, Richie Havens, Odetta, Pete Seeger, Joan Baez, Tom Paxton, Arlo Guthrie, Ramblin' Jack Elliott, Country Joe McDonald and even Ry Cooder, performing as a member of the house band at the Hollywood Bowl concert.
While a wide range of Guthrie's catalog was revived in the concerts, songs that focused on social issues were often the most powerful, especially those involving migrant workers.
At the Carnegie Hall show, Judy Collins, who had shot to international stardom the year before with a cover of Joni Mitchell's "Both Sides, Now," performs a stirring and heartbreaking solo acoustic guitar version of the Guthrie/Martin Hoffman composition, "Deportee (Plane Wreck at Los Gatos). The song was inspired by a 1948 plane crash near Los Gatos Canyon in California, in which 28 migrant workers were killed while being deported back to Mexico. Collins sings: "Some of us are illegal/ And others not wanted/ Our work contract's up/ And we have to move on/ Six hundred miles to that Mexican border/ They chase us like outlaws/Like rustlers, like thieves."
When the plane crashes, Collins gives voice to Guthrie's lament of the faceless designation migrant workers are given: "Who are all these friends/ Who are scattered like dried leaves?/The radio said /They were just 'deportees.'"
Richie Havens, blessed with arguably the richest baritone of any singer of his era, gives us a grave version of "Vigilante Man." Havens has the voice you want your father to have when he comes into your room in the middle of the night to deliver serious news, and serious news he delivers here, recounting a Guthrie story of about the men hired to beat and scare the migrants fleeing the Dust Bowl for California. One of the people killed in the song is "Preacher Casey," a reference to the character Preacher Jim Casey in John Steinbeck's novel, The Grapes of Wrath. Casey is often considered to be a Christ figure, and not only because they share the same initials. Guthrie writes that Casey said "unite all you working men," before the vigilante man "killed him in the river." It is not surprising that Guthrie once said that although he seldom worshiped "in or around churches," he "always had a deep love for people who go there."
Dylan appears toward the end of the show, in his first public appearance since a devastating motorcycle accident two years earlier sent him woodshedding in Woodstock, N.Y, with members of The Band. Among his three songs is "Ain't Got No Home." It is a completely different version than the more traditional folk version that Seeger and Arlo Guthrie deliver in Los Angeles two years later. Dylan's rendition, as befits that period of his career, is loose and rambling, but also defiant and potentially anthemic. He never hid his deep admiration for Guthrie, but also made it clear when he went electric in 1965 that he was not going to be boxed in as a traditional folk singer.
Many of Guthrie's songs focused on on social issues, especially those involving migrant workers.
Dylan, Havens and Collins do not appear at the tribute concert nearly two years later in Los Angeles, but Joan Baez does, along with Odetta, Arlo Guthrie, Seeger and others. As Wilentz notes, plenty happened in the country in between the concerts. In just two years, it was a different world. "The nation seemed to suffer a nervous breakdown, punctuated first by the assassinations of King and presidential candidate Robert F. Kennedy," he writes, "followed by the police riot at the Chicago Democratic National Convention and the election of Richard M. Nixon, followed in turn by Nixon's further expansion of the war and still wider protests, on and off college campuses, culminating in the shootings of unarmed students at Kent State and Jackson State by National Guardsmen and police in May 1970 that, together, killed six and wounded twenty-one."
But the artists were not deterred. Both the New York and Los Angeles shows opened with the hopeful Guthrie composition, "This Train is Bound for Glory," and closed with "This Land is Your Land," probably the most misunderstood patriotic song in the American song canon after Bruce Springsteen's "Born in the U.S.A." Guthrie wrote the song in 1940 as a response to the popular Irving Berlin song, "God Bless America," which he found trite; hence the aforementioned original title, "God Blessed America." God may have blessed us, but we still needed to take care of each other.
Like many folk songs over time, the lyrics to the song are often changed and verses rearranged. Two of the original verses that are often omitted when the song is sung include a now-prescient reference to "a wall" and people being hungry:
Was a high wall there that tried to stop me
A sign was painted said: Private Property,
But on the back side it didn't say nothing—
This land was made for you and me.

One bright sunny morning in the shadow of the steeple
By the Relief Office I saw my people—
As they stood hungry, I stood there wondering if
This land was made for you and me.
At the Hollywood Bowl finale, Arlo Guthrie and Seeger bring variations of these verses back. First is Arlo Guthrie, and then Seeger, who says "I've got a verse" before singing:
As I went walking I saw a sign there
And on the sign it said no trespassing
But on the other side, it didn't say nothing
This Land was made for Me.

Maybe you been working just as hard as you're able
And you just got crumbs from the rich man's table
Maybe you've been wondering, is it truth or fable
That this land was made for you and me.
It was a powerful song when it was first recorded in 1944, and again when it was played at these concerts in 1968 and 1970, and again when it started showing up at anti-Trump rallies in 2016 and 2017.
Wilentz again puts it in perspective in his liner notes, writing that while the concerts revive the Dust Bowl dissent that first brought Guthrie to prominence, "they also affirm basic and lasting continuities with all that came after, in the compassion and irreverent wit and contempt for privilege in Woody's songs, as rousing today as they were in the 1930s or the 1960s."
Steve Rosenthal, who produced The Tribute Concerts box set along with Michael Kleff and Guthrie's daughter, Nora Guthrie, adds a symbolic coda in the liner notes:
As America turns inward and towards intolerance, these shows remind us that there have been times like this before. Woody and his family learned the hard lessons in the Dust Bowl years, about oppression and scapegoating. Fighting back, using the power of words, music and community became his life's work. These performances and songs are as meaningful today, as they were the night they were recorded some fifty years ago.
On the website of This Land Press, there is a store where you can buy a "This Machine Kills Fascists" sticker along with other items referencing Guthrie and other Oklahoman icons. One of those items is a Woody Guthrie candle that portrays Guthrie saint-like, in an homage to many of the saint candles we often see honoring The Virgin of Guadalupe or San Judas Tadeo. The Guthrie candle is symbolic, of course, but venerating him and what he stood for, like those artists did in 1968 and 1970, is not a bad idea. Of the many items on the site, it is currently the only one sold out.