Why are Hispanic Catholics pro-life? What politics can't explain.
Evangelical Christians stood side by side with Latino Catholics during pro-life rallies this summer at the State Capitol building in Providence, R.I. The two groups may not agree on every issue, including immigration, but they found a common foe in Rhode Island's Reproductive Health Care Act, which codified Roe v. Wade into state law.
"It was nice to see, but unfortunately we could not stop the bill," said Silvio Cuellar, the coordinator for Hispanic ministry in the Diocese of Providence. Gov. Gina Raimondo signed the bill into law in June.
This political alliance should not be surprising. A recent survey conducted by the Public Religion Research Institute found that most Hispanics who said they were affiliated with a religion were also pro-life, including 58 percent of Hispanic Protestants and 52 percent of Hispanic Catholics. Overall, Hispanics were the only race or ethnicity where a majority of respondents thought that abortion should be illegal in all or most cases. By contrast, 41 percent of non-Hispanic white Americans and 42 percent of white Catholics indicated mostly pro-life views.
Most Hispanics who said they were affiliated with a religion were also pro-life, including 58 percent of Hispanic Protestants and 52 percent of Hispanic Catholics.
Given this divide, Latino lawmakers may have a hard time representing their communities. Rhode Island Senator Sandra Cano, an immigrant from Colombia, is a Catholic who describes herself as a "pro-life Democrat." Yet she voted in favor of the Rhode Island abortion law. "My faith is very important to me. I believe that life is sacred," she said, according to The Providence Journal. "However, I also believe that Roe v. Wade is the law of the land and I can't impose my faith on others."
On the other side, a number of Latino Democrats in New Mexico joined Republicans in voting against a bill that would have repealed a 50-year-old anti-abortion law earlier this year. "The state of New Mexico must strive to protect and uphold the dignity of all people from conception to death," said one of them, State Senator Gabriel Ramos, according to The Las Cruces Sun News.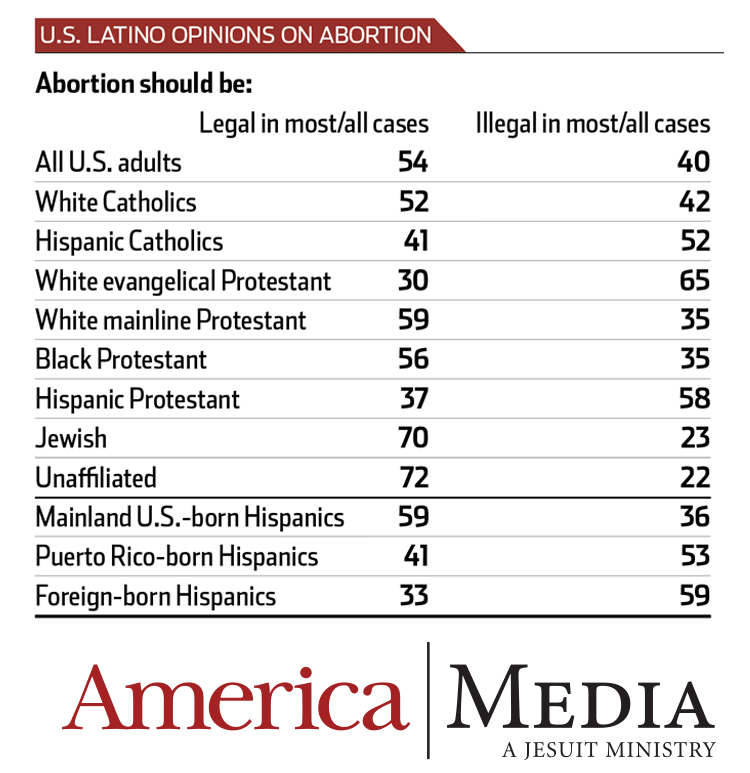 Drill down to subgroups, and the picture becomes more complicated. Among younger Hispanic Catholics in the P.R.R.I. study (ages 18 to 24), 55 percent said abortion should be legal in all or most cases. And while 59 percent of Hispanic immigrants took a pro-life position in the study, 57 percent of Hispanics born in the mainland United States supported legal abortion. (Fifty-three percent of Hispanics born in Puerto Rico said that abortion should be illegal in most or all cases.)
"The first-generation immigrants tend to be pro-life; but as our kids go to college, they become much more secularized," said Mr. Cuellar, who was born in Argentina and raised in Bolivia.
Immigration issues can add complications, he said, given that many pro-life Latinos are also supportive of immigrants' rights. "I feel like none of the parties represent us as Catholics," Mr. Cuellar said, explaining that Democrats tend to be more pro-immigrant while Republicans are more pro-life. "I feel like we don't have a place to go. I wish they would resolve the immigration issue so we can move on to other issues."
"The first-generation immigrants tend to be pro-life; but as our kids go to college, they become much more secularized."
Immigrants often lead different lives than U.S.-born Latinos, Mr. Cuellar said, which can complicate parish youth outreach.
First-generation young adults might be coming to the church after a long day on a construction site, he said, while second-generation young adults might come after a day of high school or college. First-generation immigrants are more likely to work two jobs, Mr. Cuellar said, and may be less available to pass along their faith to their children.
The Archdiocese of Los Angeles acknowledges the vital role of parents in its pro-life outreach. "It's not helpful to talk about abortion as a stand-alone topic," said Kathleen Domingo, the senior director of the archdiocesan Office of Life, Justice and Peace. Abortion needs to be addressed "within the context of the family. That's a totally different conversation."
Some parish-based groups may struggle to connect with young Latinos, Ms. Domingo said, noting that that pro-life ministry, like many church outreach groups across the United States, is still largely run by "elderly white ladies" from upper socioeconomic backgrounds. "They don't know how to involve young adults, much less young adult Latinos," she said.
"How do we not only get Latinos involved but let them lead with their values?" Ms. Domingo asked. V Encuentro, an initiative from the U.S. bishops to better serve the growing Latin American community, has emphasized that the church needs to create more leadership opportunities for young Latinos.
Parishes that are predominately Latino do not always engage in specific pro-life outreach, according to Gina De Los Santos, the parish engagement strategist for Ms. Domingo's office. Instead, there may be large prayer groups or Guadalupanos, groups dedicated to Our Lady of Guadalupe.
The Latino community's pro-family culture
Culturally, Latinos are more likely to identify as pro-family than as pro-life, Ms. De Los Santos said, explaining that the term "pro-life" has only really become known in the community in the last 10 years. "We grow up with our grandparents and take care of them until they die," she said. "And every grandmother understands the value of a child. Our families recognize that the baby in the womb has value, is a human being and is already part of the family."
At the same time, a number of studies have found many Latino parents are uncomfortable discussing certain topics with their children, like sex, pornography and abortion. Ms. Domingo said that she suspects, for example, that parents do not realize their children as young as 13 could get an abortion without their permission.
Generational challenges are part of the fight against Senate Bill 24, according to María José Fernández Flores, the California Catholic Conference's legislative advocate for life and immigration. That California bill would mandate that public colleges and universities make abortion-inducing drugs "accessible and cost effective" for their students.
A number of studies have found many Latino parents are uncomfortable discussing certain topics with their children, like sex, pornography and abortion.
"Oftentimes, it is the Latinos who cannot vote that are more pro-life," she said, referring to California residents who are not citizens. "Younger Latino Catholics are more likely to be pro-choice."
California Senator Connie Leyva, a Democrat from Chino who is a sponsor of S.B. 24, said the bill was "an important step toward ensuring that the right to abortion is available to all Californians, and that our college students don't face unnecessary barriers."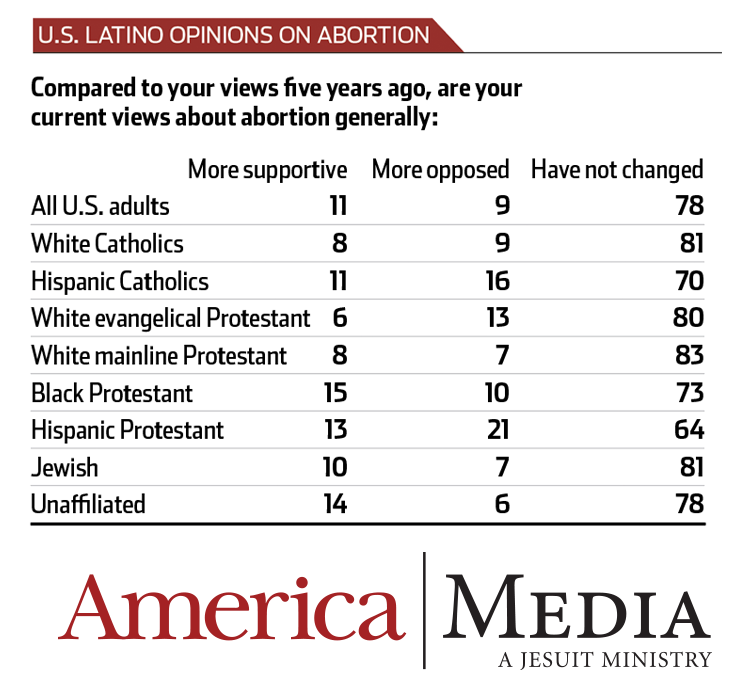 "Students should not have to travel off campus or miss class or work responsibilities in order to receive care that can easily be provided at a student health center," she said in a statement on her website. "This important legislation will help to improve the academic success of students and empower them to make decisions supportive of their own personal and professional futures."
Yet Ms. Domingo believes the push for abortion-inducing drugs makes the unwarranted presumption that most pregnancies among college students are unintended. "Being a mother is highly valued in Latino culture, and we don't want to impose our own perspective on people who want to have these children," she said.
"Women can go to school and be mothers at the same time," Ms. De Los Santos said. "If you want to empower women, tell them they can be both mothers and students. It's 2019."
During visits to parishes last year, she said young college women did share how difficult it was to be pregnant and a college student. But they also shared how, through the support of their parents and grandparents, they were able to make it. The family provided a supportive structure.
S.B. 24 is one of a number of legislative efforts that are complicating the political landscape in California, according to Andrew Rivas, the executive director of the California Catholic Conference. Parties often oversimplify the interests of Latino voters, he said, and fail to appreciate cultural influences.
Political parties often oversimplify the interests of Latino voters and fail to appreciate cultural influences.
"In my experience, the prevailing view of Republicans is that if [voters] are Hispanic, they're Democrats," he said. "Yet there are generations of people from other countries who have a disposition to not trust government and are attached to their faith. It's fertile ground for a conservative mindset."
Mr. Rivas noted that the political views of Latino voters vary considerably. A Pew Research Center poll found that while only 8 percent of black voters identified as Republican, 26 percent of Hispanics were affiliated with the G.O.P. Sometimes those variations can be understood by their country of origin. For many years, for example, those of Cuban heritage tended to be more Republican, though that advantage may be fading.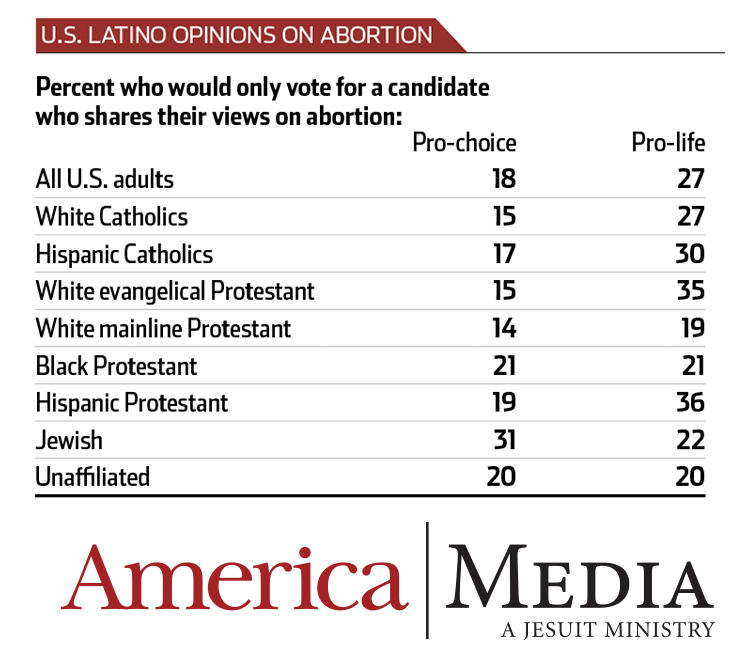 "We're not a monolithic group," said Raimundo Rojas, the director of Latino outreach for National Right to Life. He grew up in Miami's Hialeah neighborhood, known for being more than 90 percent Hispanic.
Mr. Rojas was not surprised by P.R.R.I.'s findings. Despite the study's finding that 45 percent of all Hispanic Americans support legal abortion, he said there is a stigma attached to it in the Hispanic community. "It's something that isn't done," he said. "You can't look at the Hispanic culture without dealing with telenovelas. Women who have abortions in telenovelas are the villains." "La Rosa de Guadalupe," a religiously themed Mexican television series that has aired since 2007, is an example of this. In one famous episode, a woman died after receiving an abortion.
This stigma notwithstanding, Hispanic women in the United States have abortions at a higher rate than do white, non-Hispanic women, according to the Guttmacher Institute, which supports abortion rights. But social media is changing things, Mr. Rojas said, and Latinos now share 3-D ultrasound images on Twitter, Instagram and Whatsapp. He believes these photos and viral videos are changing minds, particularly among millennials.
"It seems like every month science allows us to show babies in utero are human beings," he said. "In the end, this is a human rights issue, not a religious one. The single most dangerous place for a Hispanic in the United States isn't on the southern border, it isn't in a detention center, it is in her mother's womb. Today, 538 Latino babies will be aborted."
About two-thirds of the women who come to First Way Pregnancy Center in Phoenix are Latinas, according to Katie Wing, the center's executive director. The pro-life clinic offers free free pregnancy tests and ultrasounds as well as diapers, baby clothes and counseling.
"We feel strongly that God has asked us to counsel and educate," she said, adding that the center never pushes religion. "We give information, provide education and in-depth counseling. Otherwise people will continue to repeat the pattern."
Agustín Vizcarra, who runs First Way's men's program and outreach, was somewhat surprised by the P.R.R.I. study's finding of pro-life attitudes among Latinos. In the state of Arizona, more than a third of abortions are received by Latina women on an annual basis, he said, noting reports from the state.
That may be explained in part by a general reluctance within the Latino community to consider adoption, a trend noted by a number of workers at First Way. Mr. Vizcarra, who was born in Mexico City, believes "machismo" has a lot to do with it.
"The single most dangerous place for a Hispanic in the United States isn't on the southern border, it isn't in a detention center, it is in her mother's womb."
"At least in Mexican culture, a man doesn't want another family raising his child," he said, adding that men have a great influence on whether a woman choses abortion. "A lot of what we see is a guy that doesn't want to be committed."
If a couple does choose to have the baby, First Way supports them with a number of services, including classes and counseling in English and Spanish, as well as a men's group. If the ultrasound nurse does not speak Spanish, the center ensures there is a translator present.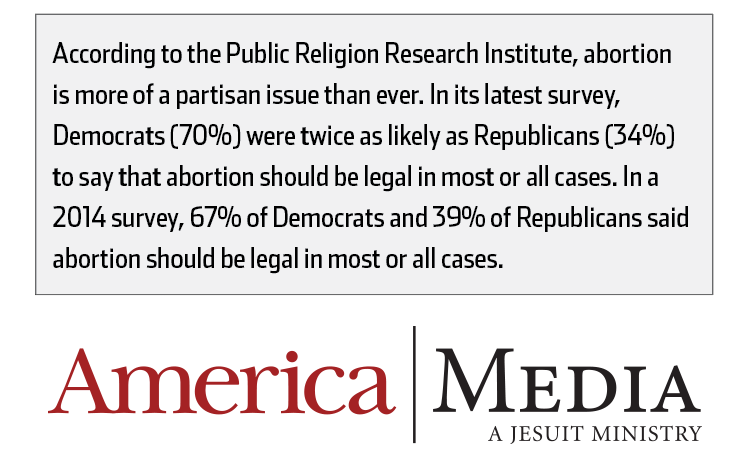 These on-the-ground realities help move the conversation beyond politics and focus on individuals, Ms. Domingo said.
"We talk about immigration and the unborn in the same sentence. We are talking about human dignity in both cases," she said. "The more we can put these together, the more we can overcome divisive partisanship. We need to focus on the common good. That brings us together."