As confrontations in Hong Kong escalate, anxieties grow over Beijing's response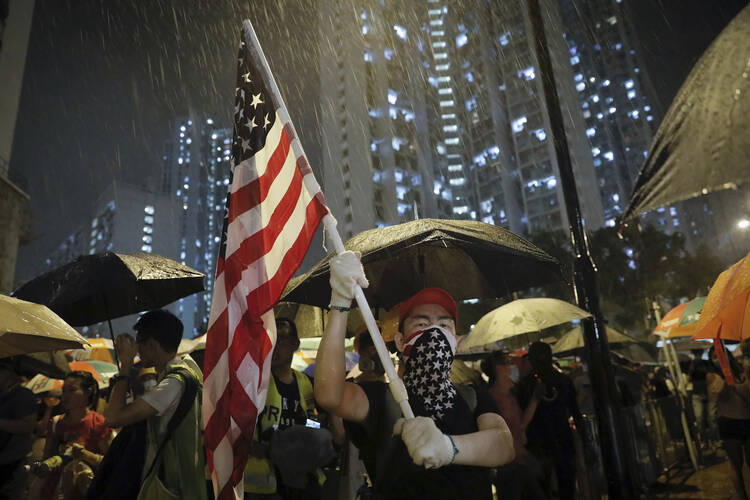 A protester waves a U.S. flag as hundreds of protesters gather outside Kwai Chung police station in Hong Kong on July 30. Protesters clashed with police again in Hong Kong on Tuesday night after reports that some of their detained colleagues would be charged with the relatively serious charge of rioting. (AP Photo/Vincent Yu)
Tear gas, rubber bullets and pepper spray were rare sights in Hong Kong—known as one of the safest cities in the world—until this summer. Images of protesters struggling with riot police on gas-filled streets have shocked the world, and the leading financial center of Asia has never looked more like a war zone.
Protests in Hong Kong have entered their eighth week and are showing no signs of abating. As the government has refused to acknowledge the protesters' demands, tensions and tactics have escalated. Over the past three weekends, peaceful assemblies morphed into hours-long stand-offs with police. They ended only after police used rounds of tear gas, pepper spray, rubber bullets and truncheons to disperse protesters. On July 30 protesters jostled with commuters during rush hour on the subway just a few days after protestors had swarmed the arrival hall at the Hong Kong airport. Later that evening they clashed again with police after reports that 44 of demonstrators detained in recent days would be charged with the relatively serious charge of rioting.
Hostility toward the police and Hong Kong authorities reached a new peak after a shocking incident on July 21 when large numbers of men dressed in white T-shirts rushed into a subway station and indiscriminately attacked commuters, leaving 45 people hospitalized. Among those beaten with wooden rods and canes in the attack were demonstrators returning home from a large anti-government rally, but caught up in the violence were ordinary people, including a pregnant woman.
Willy Lam, an adjunct professor at the Chinese University of Hong Kong, said that while Hong Kong's "political DNA" has been radicalized by the recent movement against a law that would allow extradition to mainland China, Beijing authorities may "double down on the psychological warfare" to counter the growing pro-democracy sentiment.
Political scientists say they do not believe China will need to mobilize the People's Army to clamp down on the protests in Hong Kong, but Beijing leadership could mobilize and support pro-Beijing figures and groups in Hong Kong to attack and undermine the pro-democracy cause. As the Hong Kong government loses legitimacy and credibility, Beijing may assume more power over Hong Kong affairs.
This could speed up Hong Kong's integration with China through infrastructure projects and change the special administration area's demographic make-up by admitting tens of thousands of mainland migrants to Hong Kong every year, analysts say. More resources will likely be dedicated to boosting patriotism for China among the young, they add.
Protests in Hong Kong have entered their eighth week and are showing no signs of abating. As the government has refused to acknowledge the protesters' demands, tensions and tactics have escalated.
Professor Kenneth Chan, a political scientist at the Hong Kong Baptist University, said the continuing protest is an expression of widespread anger against the Hong Kong and Beijing governments as "protesters clearly feel the city's autonomy has been systematically undermined by Beijing."
"It is sad… to remind ourselves that Hong Kong is under the control of a notorious anti-democratic one-party regime. Beijing's reactions are going to determine how this round of confrontation will come to an end," he said.
China's Hong Kong and Macau Affairs Office on July 29 pledged its full support for Hong Kong chief executive Carrie Lam and her government and praised the "fearless and outstanding" Hong Kong police for the way it has handled the recent protests.
"The Carrie Lam government is unable to resolve a political crisis of its own making. It has allowed itself to become increasingly dependent on the police and the pro-Beijing loyalists who are under the control of the [Chinese] Liaison Office," Mr. Chan said.
Mr. Chan said the resilience of the pro-democracy movement has begun to weaken the resolve of the Hong Kong political and economic establishment. Even people in the business community and civil servants have begun to urge the government to restore stability by meeting the protesters' political demands.
Joseph Cheng, a retired political science professor at the City University of Hong Kong, said Ms. Lam's lack of legitimacy in Hong Kong people's eyes, their lack of trust in the government and the authorities' continuous refusal to address their demands has plunged the political crisis "to a new level."
"I worry that Beijing will grow impatient," Mr. Cheng said. "There is no chance for negotiations and Beijing will further tighten the screws and crack down even harder on Hong Kong, ruling it in the style of Xinjiang or Tibet in stepping up control and infiltration." In Xinjiang, Chinese authorties have maintained a ruthless effort, including the use of vast indoctrination camps, to quash expressions of nationalistic sentiment or the Islamic faith. They have done much the same for decades in Tibet, where an independence movement and Tibetan Buddhism have been similarly targeted.
"I worry that Beijing will grow impatient. There is no chance for negotiations and Beijing will further tighten the screws and crack down even harder on Hong Kong."
The current wave of protests roiling Hong Kong started on June 9, when an estimated one million thronged the city center to urge authorities to scrap an amendment to an extradition bill that would have allowed criminal suspects to be sent for trial in China's Communist Party-controlled judiciary on the mainland. Many believed the new law would allow Chinese authorities to clamp down on democracy activists or religious and intellectual expression.
Three days later, tens of thousands of protesters occupied the thoroughfare outside the legislative council building and the government headquarters, forcing the legislative session to be adjourned. The use of tear gas, rubber bullets, pepper spray and batons by police to disperse protesters drew widespread condemnation.
Almost a week after the first mass protest, Ms. Lam announced the suspension of the bill. But that humiliating climbdown failed to quell discontent, as many people suspected it was a tactical retreat that might allow the bill to be resurrected later.
Crowds continued to demand the full withdrawal of the bill and the release of those arrested in past protests. Protesters have also asked for an independent investigation into the police's use of force against the largely peaceful demonstrators.
But in subsequent weeks, Hong Kong's leaders have made it plain they will not offer any more concessions. As the anger against the government grows, the anti-extradition movement has morphed into a wider campaign to address a range of grievances and has re-ignited the people's demand for universal suffrage.
Both protests and other forms of expression have begun to spring up across Hong Kong. These include several weekend demonstrations in different city districts, the occupation of several government buildings and the creation of "Lennon Walls." These colorful collages were inspired by the original graffiti-decorated wall in Prague dedicated to the late John Lennon, where political messages as murals or posters have accumulated since the early 1980s.
Shocked by the attack on demonstrators in the subway, many Hong Kongers accuse the police of turning a blind eye to the assaults. Many suspect that the men who launched the attack in the metro system are crime gang members hired by pro-Beijing forces. As soon as the attacks were over, a large number of white-clad men entered a nearby neighborhood, where police found metal rods. But many of the attackers left in full view of police officers who made no attempt to arrest them or check their identities.
"I think for most of the people who are at the front line, it is a revolution. And we would try to obtain our political demands at all cost."
Later, video footage circulated on social media that showed a police commander patting the shoulders of a man in white. Another widely circulated clip showed pro-Beijing lawmaker Junius Ho shaking hands with men in white shirts, but he later denied any links to the attack. Ms. Lam has vehemently denied that police used hired thugs to intimidate protesters, but many Hong Kong people remain unconvinced. Police have since made at least 12 arrests related to the subway assaults.
But dissatisfaction with the government has grown deeper. Thousands of civil servants, frontline medical workers, various professional groups and even former high-ranking officials have issued joint letters to urge the government to respond to people's demands and to set up an independent committee to investigate the police's use of force and the alleged police collusion in the subway attack.
Hong Kong's culture of protest has its roots in its political system. Ordinary people have traditionally had little say in how the city is run. Many say the frustrations that have been bottling up over the past 22 years have now been unleashed.
As a semi-autonomous city under Chinese rule, Hong Kong has retained most civil freedoms, including the freedom of speech and assembly under the One Country, Two System formula set up at the handover from British to Chinese rule in 1997. Many here believe that formula has been gradually breaking down.
Hong Kong's leader is elected by a largely pro-Beijing committee of 1,200 people, not by a straight vote among the electorate, and only half of the 70-seat legislature is directly elected, while the other 35 seats are occupied by mostly pro-establishment figures from corporate and special interest groups.
By ousting six pro-democracy lawmakers and rejecting candidates seen as pro-independent from running for elections, the Hong Kong government has crippled the pro-democracy camp's power to block unpopular policies in the legislature. With the legislature deprived of its checks-and-balances capacity, the only way for Hong Kong people to voice their opposition to unpopular decisions has been to take to the streets.
On July 1, the 22nd anniversary of Hong Kong's return to China, a group of young protesters stormed and vandalized the chamber of the Legislative Council in what they said was a symbolic act decrying a "dysfunctional" legislature that fails to represent ordinary people's voices.
Facing its hardline mainland master, a government with little tolerance of political liberalization and democracy, Hong Kongers risk being intimidated into submission. Those who have the ability to emigrate will go abroad, analysts say.
"People will emigrate or they become subservient," Mr. Cheng said. "They know they may be forced to emigrate or they'll have to keep quiet and bow before the authorities."
"One should ask whether Hong Kong will degenerate from a stable and prosperous financial hub into a police state which would mean the beginning of the end for the city," Mr. Chan said.
Many Hong Kongers refuse to accept that fate, believing their cause remains under the international spotlight, and they see the current opportunity as their last chance to fight back.
In the past couple of weeks, protesters began to shout the slogan: "Reclaim Hong Kong, the revolution of the era!"
"I think for most of the people who are at the front line, it is a revolution. And we would try to obtain our political demands at all cost," said a 32-year-old protester, a professional, who declined to give his name.
Meanwhile, Mr. Cheng hopes that Hong Kong will preserve its special identity.
"When the chances emerge, people will still be themselves. I hope the Hong Kong spirit won't die. In the right moments they will come out and show their true colors," he said.