Panel: Conditions in detention centers fail to treat asylum-seekers as human beings
"In this country, the deprivation of liberty is the punishment," said Valentina Morales, Senior Director of Justice Initiatives at The Fedcap Group, which provides job retraining and placement. "The conditions of confinement should not be an additional punishment."
Yet, in the United States, beyond losing their freedom, immigrant detainees and incarcerated individuals are often faced with harsh conditions and, as recent press reports have documented, denied adequate food, water and basic necessities like soap or toothbrushes.
Ms. Morales joined America on June 25 at St. Peter's University in Jersey City, N.J., for a panel discussion on the challenges facing Latino communities in the United States. The event was moderated by America Senior Editor J.D. Long-Garcia and live-streamed online. Ms. Morales spoke alongside Stephanie Macias-Arlington, executive director of the Joseph A. Unanue Latino Institute at Seton Hall University; and Michelle Mendez, director of the Defending Vulnerable Populations Program at the Catholic Legal Immigration Network, Inc.
The panel, titled "A Conversation on Immigration, Education and Incarceration" and sponsored by Saint Peter's University and Saint Aedan's University Church, was part of the "Church of America" initiative. The initiative focused on the future of the Catholic Church in the United States, aiming in particular to address the challenges facing Latino communities.
Hanging over the discussion were the recent reports of inhumane conditions facing children at a Border Patrol station in El Paso, Texas, and the testimony of a Justice Department lawyer claiming that detained children did not need to bathe with soap or brush their teeth in order to feel "safe and sanitary." According to press reports, children held at C.P.B. detention sites are malnourished and enduring overcrowded conditions. Many of the children are sick, and toddlers have no one to take care of them other than the other older children being detained.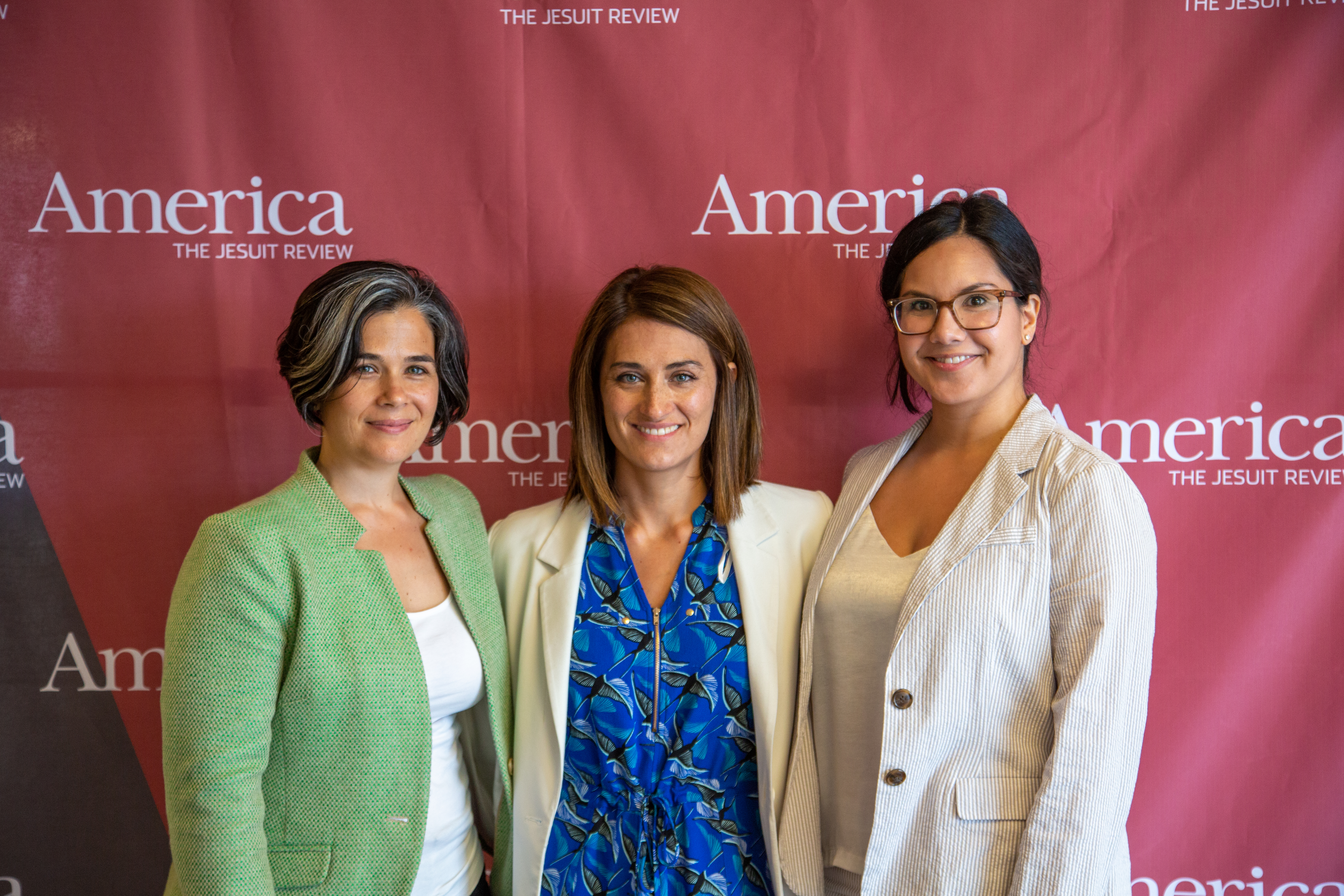 In the past, the Trump administration has defended policies such as family separation as a "deterrent" meant to stem the rising flow of migrants from Central America.
"First of all, it's not a deterrent," said Ms. Mendez. Deterrence-based policies fail to account for the conditions that asylum-seekers are fleeing, such as violence, poverty, and food insecurity in Central America, she said.
"To think that someone is going to be deterred by [harsh conditions for detainees] is to think that somebody is making a choice to come to the United States.
"I don't think this is a Republican or a Democrat issue. I think this is a very human issue."
"They're not making a choice" to come to the United States, Ms. Mendez said. "Yes, they're walking here, but they feel that they don't have a choice back home." She stressed that the conditions migrants are fleeing fit the description of "asylum-seeking conditions."
"To think that they would be deterred is to really not recognize these individuals as asylum seekers. And to give them the conditions that they are currently subjected to is to not see them as human beings."
"Detention brings with it negative collateral consequences, some of which are irreversible," Ms. Morales said. "Any form of detention negatively impacts not only the individual being detained, but certainly the community that that individual is coming from." They may lose their homes; they are unable to care for their children.
"You don't do this to people," she said. "That, I think, is at the very core and fabric of the faith that Catholics profess… The response should be one of love first." When it comes to standing up for human dignity and protecting children, "there has to be a point where we say: 'Whoever's doing this, it needs to stop.'"
"I don't think this is a Republican or a Democrat issue. I think this is a very human issue."
The conversation focused not just on the treatment of asylum-seekers, but on the status of the Latino community in the United States. Regarding education, Ms. Macias-Arlington weighed in on the burdens facing Latino students and immigrants in particular.
"Latinos have had an extraordinary surge recently with college enrollment, but there's still a long way to go with rising tuition costs." She explored other barriers to higher education, such as lack of capital and connections to internships, mentors, career counselors and other connections that come easily for many non-Latino families.
Similar barriers exist for immigrants navigating the criminal justice system. American legal language is complex even for native English-language speakers. Alongside the language barrier, panelists said, is a lack of experience with the common law legal system used in the United States.
Many attorneys "make the assumption that anyone who speaks Spanish can translate legal Spanish, which is just incorrect," Ms. Morales explained. Improperly translating and explaining legal language can have a significant impact on the result of a trial. "Folks aren't getting the same quality representation that their counterparts are receiving."
Ms. Mendez added that some individuals even exploit this language confusion to prey on immigrants, posing as attorneys and damaging their case and often resulting in deportation.
"If you're thinking about the power of the community of faith and the voice of that community, now's the time to raise your voice."
When it comes to practical advice for individual Catholics who want to get involved in justice for immigrants, the panelists offered a range of ideas. Organizing training to help citizens and non-citizens alike know their rights, breaking down the stigma for undocumented immigrants and calling out the label "illegal," contacting representatives, and voting are all direct actions that can make a difference.
Ms. Morales warned about the effects of standing by and doing nothing.
"If you're thinking about the power of the community of faith and the voice of that community, now's the time to raise your voice."
For a more in-depth exploration of immigration, education, and incarceration in Latino communities, watch the full event on America's YouTube channel.