Catholic leaders resist Trump's 'national emergency' plan to fund border wall
President Trump had been insinuating for weeks that a declaration of a national emergency would be the funding option of last resort for his long-promised border wall. On Feb. 15 he made good on that threat, arguing that his proposed wall was necessary to stop "an invasion of our country" by undocumented migrants and asylum seekers.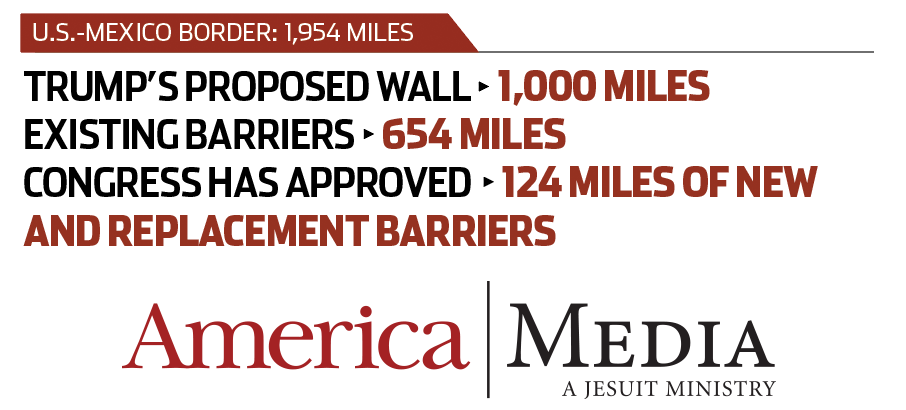 Bypassing Congress, Mr. Trump hopes to siphon billions of dollars from federal military construction and drug-interdiction efforts to finance a border wall he first proposed in 2015 during his campaign for president. The move drew immediate bipartisan objections on Capitol Hill and is expected to provoke multiple legal challenges.
In continuing resolutions to fund the government passed the same day, Congress had offered the administration $1.4 billion for additional border barriers, well below the $5.7 billion Mr. Trump insists he needs to add 350 miles to the nation's 654 miles of walls, fencing and other forms of physical barriers along its 1,950-mile border with Mexico.
As justification for his emergency declaration, the president has frequently spoken of a state of lawlessness along the southern border. He has warned of undocumented migrants, with many violent offenders among them, flooding border communities and has insinuated that terrorists were creeping across the nation's open deserts.
To Bishop Mark Seitz the real emergency is humanitarian—a matter of deciding how best to care for the people coming to the border. "That should concern us," he said. "This is a group of very vulnerable people."
Regarding the border from his perspective as leader of the Diocese of El Paso, Bishop Mark Seitz said, "I don't perceive an emergency in the sense that he means it at least...as an invasion of aliens." El Paso is a vibrant Texas city that shares the border with Juarez, Mexico. "We're at a low ebb in terms of the people who are crossing," he pointed out. To Bishop Seitz the real emergency is humanitarian—a matter of deciding how best to care for the people coming to the border. "That should concern us," he said. "This is a group of very vulnerable people."
Dylan Corbett is the director of the Hope Border Institute. Mr. Corbett spoke to America from a Guatemalan community near the border with Chiapas, Mexico. He was on a fact-finding tour of the region and visiting with the families of two children who died in December while in the custody of the El Paso border patrol. "The children died on our watch, while under our custody with our border patrol," he said. Those lost children reflect a changed reality about the nature of the migrants at the border, he said. "The people who are coming now are families," Mr. Corbett said, "dads or moms with children."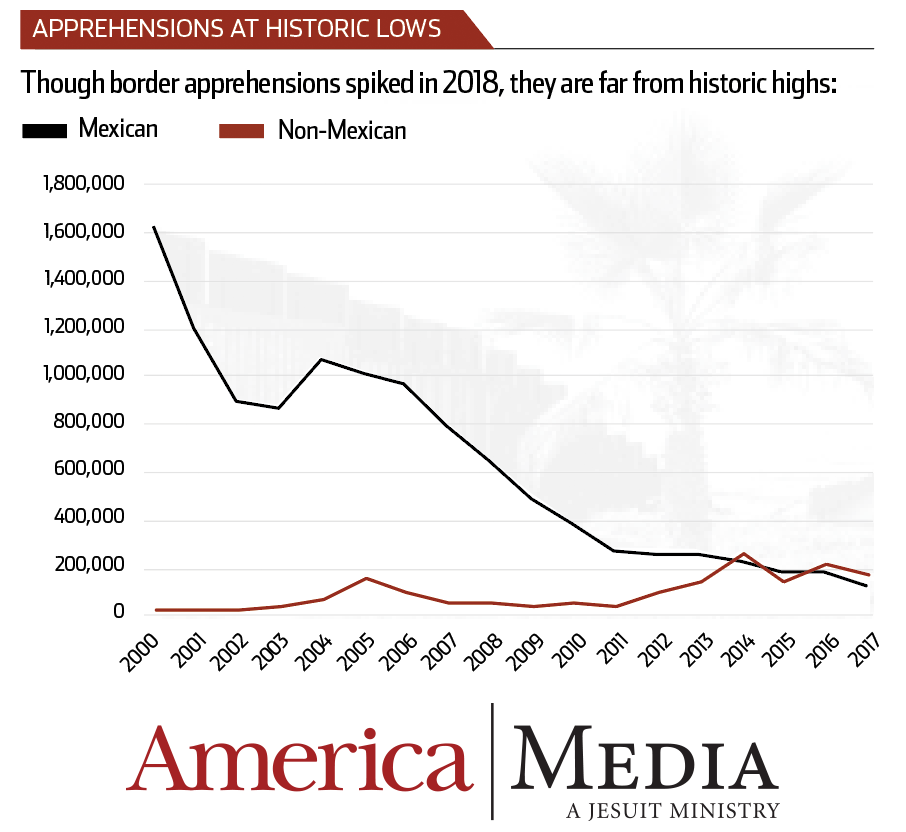 According to Bishop Seitz, past undocumented border crossers were primarily young single men and women from Mexico seeking job opportunities in the United States. "Now what we are seeing are families that are fleeing unbelievably difficult situations in their home countries," he said, "and looking for a place of security more than anything else, where their lives are not being threatened every day." Families represented just 3 percent of apprehension incidents with border agents in 2012. Last year they represented 35 percent of border patrol apprehensions.
Though the president speaks frequently of menacing caravans of migrants from Central America, estimates of the overall number of people reaching the border without legal status have diminished greatly in recent years judging from border apprehensions, a data point used to estimate overall migration flows. That is especially true of undocumented migrants from Mexico. Apprehensions of Mexican nationals collapsed from a recent high of more than 1.6 million in 2000 to as few as 128,000 in 2017. Though the numbers of migrants and asylum seekers from Central American states like Honduras and Guatemala have increased in recent years, culminating in a spike to 467,000 apprehensions in 2018, overall numbers of border apprehensions are far below previous peaks.
Members of the Trump administration in recent months have also frequently mentioned that "thousands" of suspected terrorists had been apprehended at the southern border. Vice President Mike Pence mentioned on Jan. 19 that he believed more than 10 each day, almost 4,000 a year, were apprehended by border agents. But according to a U.S. Customs and Border Protection report to Congress last May, border officials actually encountered only six immigrants whose names were on a federal list of known or suspected terrorists at ports of entry at the border in the first half of fiscal year 2018.
"We are seeing are families that are fleeing unbelievably difficult situations in their home countries."
The president has also suggested the wall will stem the flow of illicit drugs across the border, but drug interdiction experts say traffickers prefer to smuggle their product through busy ports of entry, not the open desert the proposed wall would bisect. "Yes, there are areas of criminal concern on the border," said Bishop Gerald Kicanas. "We have human trafficking, we have gun trafficking and we have drug trafficking, but most of these criminal acts are happening through ports of entry." According to U.S. Customs and Border Protection statistics, 90 percent of heroin, 88 percent of cocaine, 87 percent of methamphetamine and 80 percent of fentanyl in the first 11 months of the 2018 fiscal year was seized at legal crossing points.
The former leader of the Diocese of Tucson, Ariz., Bishop Kicanas has come out of retirement to temporarily serve the Diocese of Las Cruces, N.M. He worries that more miles of walls will do little to curtail crime or address complex migration issues. But he is sure they will mean more deaths in the southwestern deserts.
"Building more walls will just drive people into more dangerous areas," said Bishop Kicanas. "We experienced so many tragic deaths in the desert of people crossing in areas where it was nearly impossible to bring water to them."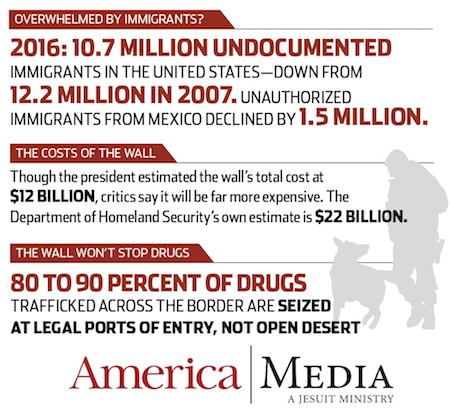 Pointing to the ongoing economic, political and social crises in Central American states that are driving migration north, Bishop Kicanas said, "We do agree with the president that there is a humanitarian crisis at the border, but the way to look at addressing that is through comprehensive immigration reform" and better assisting those nations where migration originates. "Most people don't want to leave their own countries, their own cultures, their communities," he said, but facing grave threats of violence and economic deprivation, "they have no choice."
Sean Carroll, S.J., the director of the Kino Border Initiative in Nogales, Ariz., suggests that as the region's most affluent nation, the United States has the responsibility to address the root causes of this hemispheric migration emergency. And "to be strategic about this, promote economic development especially for people who live on the margins, scale up successful programs, and devote resources to peace-building and programs that can offer young people alternatives to lives of violence," he said.
Though the president estimated the wall's cost at $12 billion, critics say it will be far more expensive, with some estimates as high as $60 billion. The Department of Homeland Security's own estimate is $22 billion.
"If some of this money could be used" to address the root causes of migration, "that would be great," said Bishop Kicanas. In 2017 Central America's Northern Triangle states—Guatemala, Honduras and El Salvador—received just $297 million in disbursements from the U.S. Agency for International Development to support programs in governance and economic development.
"Three hundred people a day are coming into El Paso and being assisted by its residents," he said. "That is not a crisis; that is a community dealing with a situation with generosity and compassion."
For Bishop Kicanas the failure to pass comprehensive immigration reform, moldering in Congress since 2003, is the real emergency at the border. "Everyone knows this system is broken and we know how it can be fixed. We just have to have the moral courage to do it," he said.
"We have to live the values we profess as a nation. We say that we prize diversity; we say that we prize people coming here hoping for a decent way of life. Our Statue of Liberty has welcomed generations of immigrants to our country," Bishop Kicanas said, "but right now it is hard for them to enter, and that is why there is such a great influx of people at our border."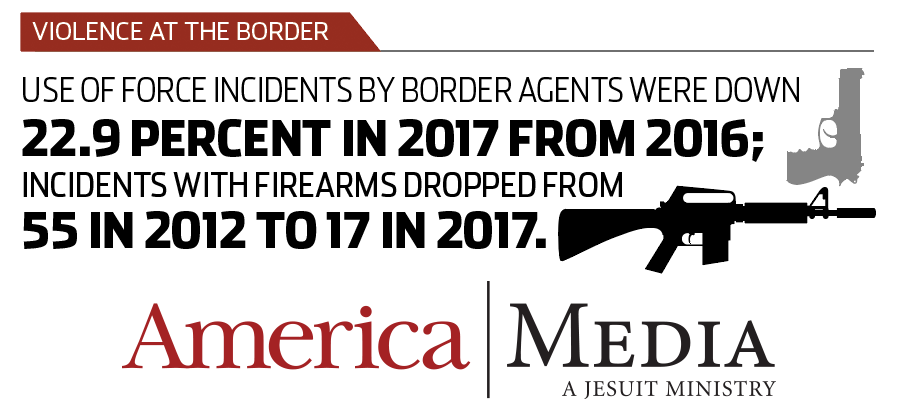 "There have been only two real emergencies [on the border] that I have experienced," Mr. Corbett said. In both instances, one during the 2018 midterm elections and the other around Christmas last year when the federal government's partial shutdown was dominating national headlines, scores of asylum seekers were dumped on El Paso streets by U.S. Immigration and Customs Enforcement agents. Mr. Corbett perceived that as a staged emergency. "That's how they want the border to appear," he said, "a crazy place, out of control.
"But it's not," said Mr. Corbett. "El Paso is a thriving, safe community."
With just a few hours warning about the impending dump of asylum seekers on the city's streets, the Hope Border Initiative and other humanitarian entities in El Paso were able to respond. Mr. Corbett described the experience as emblematic of the city's spirit and sense of solidarity with migrants. "Three hundred people a day are coming into El Paso and being assisted by its residents," he said. "That is not a crisis; that is a community dealing with a situation with generosity and compassion."
"When [the state of emergency] is framed as a threat to our country," said Bishop Seitz, "that could not be farther from the truth.
"The truth is, even if you just want to look at it in purely economic terms, we desperately need people to do the kind of work that they are willing to do." The so-called threat of migration, he suggests, could prove to be a great boon to the nation. Bishop Seitz argues that to keep the economy moving in the United States, "we need to bring in more people and the laws need to be adjusted to make that possible."
"Out of respect for a God-given human dignity, as Catholics our call is to respond to [a humanitarian crisis on the border] any way we can," said Father Carroll, "whether with our time or with our financial resources or with our prayers—these are all ways to be helpful."
Infographic sources: "The Border Wall: What Has Trump Built So Far?," Denise Lu, The New York Times, Feb. 12, 2019; "What We Know About Illegal Immigration From Mexico," Pew Research Center, Dec. 4, 2018; Use of Force Statistics, U.S. Customs and Border Protection, www.cbp.gov; "Immigrant Share in U.S. Nears Record High but Remains Below That of Many Other Countries," Pew Research Center, Jan. 30, 2019;  Fact-checking Trump Officials," Alan Gomez, USA Today, Jan. 16, 2019.