For centuries, walls have been used to divide people. The Great Wall of China was created to separate Chinese states and empires from the nomadic groups of the Eurasian Steppe. More recently, the Berlin Wall separated West and East Berlin for over 20 years, and the Belfast Peace Walls (expected to be fully torn down by 2023) were used in Northern Ireland to divide Catholic from Protestant neighborhoods. But we have learned that building walls is not the right approach to immigration reform.
Control of the border between the United States and Mexico calls for a unique approach, not another obsolete idea. Our country is built upon the foundation of freedom for all people, and this freedom includes pathways toward becoming U.S. citizens. We must preserve the free market and opportunities for all Americans. So while we need to improve border security, we must not punish families who are seeking a better life, families whom history has shown can be significant contributors to this great nation.
Advertisement
While we need to improve border security, we must not punish families who are seeking a better life.
There is a way forward, unexpectedly provided in the tax-cut package enacted in 2017 (the Tax Cuts and Jobs Act), and that is a designation that the law calls an "Opportunity Zone." An opportunity zone is an economically distressed community where new investments may be eligible for preferential tax treatment. (It is not to be confused with urban enterprise zones, which focus on tax incentives for employers who relocate to the area.) Sean Parker, the entrepreneur who co-founded Napster and was the first president of Facebook, introduced this idea during the Obama administration. Legislation to implement the idea was co-sponsored by Senator Tim Scott, a Republican from South Carolina, and Senator Cory Booker, a Democrat from New Jersey, and it was eventually included in the 2017 tax bill. As of the writing of this article, there are approximately 8,700 designated opportunity zones across the United States and the 16 territories. We propose to designate new opportunity zones on the U.S. side of the border with Mexico, not only to revitalize those communities (including Border Patrol agents and their families) but to help provide pathways to citizenship for new migrants.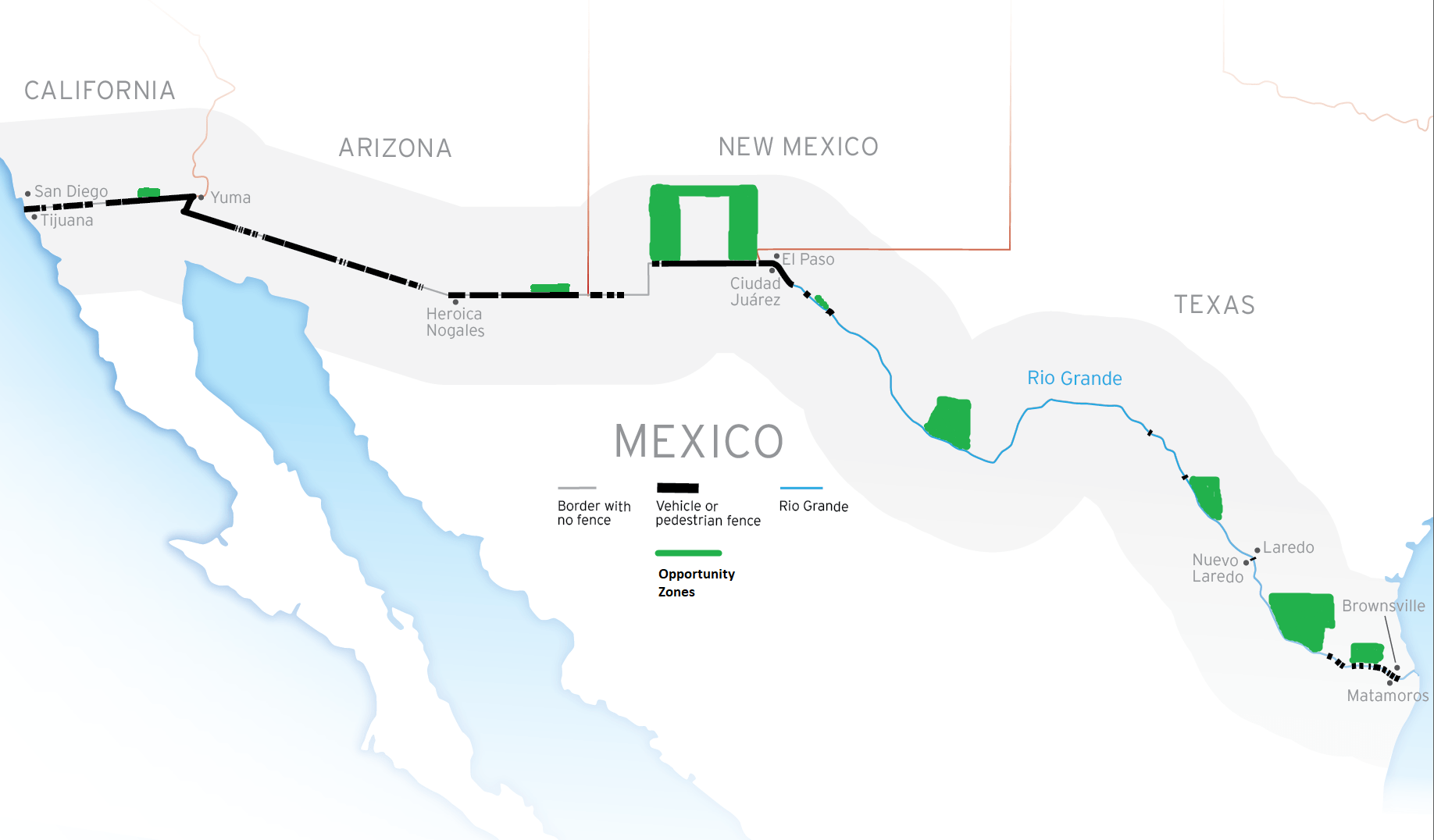 To date, the investment vehicles known as Opportunity Zone Funds have focused on traditional economic development activities and have been somewhat focused on real estate and construction. But we believe that opportunity zones can also leverage the new skills of those who are coming to the United States and who will be the workforce of the future. The future of the U.S. economy depends on it. We also need to ensure immigrants are welcomed into revitalized American communities.
With that in mind, we are proposing The Border Freedom Fund. Through "The Fund," we can create employment, educational and housing programs that will help newcomers to meet citizen eligibility requirements. We will acquire real-estate properties—both housing and mixed-use developments located in designated opportunity zones along the border—that have strong long-term growth potential. We will use those assets to help provide more families with the opportunity to achieve the American Dream.
Opportunity zones can leverage the new skills of those who are coming to the United States and who will be the workforce of the future. The future of the U.S. economy depends on it.
During a recent webcast, the accounting firm Ernst & Young surveyed more than 1,500 executives about how they plan to leverage proposed opportunity zones. A majority (52 percent) were unsure but said they were interested in exploring possible benefits. In addition, more than a quarter (26 percent) said they would develop property through a fund in which they invest with outsiders. We believe this shows there is a great opportunity to work in a collective approach to provide a cohesive immigration solution, but it also shows an opportunity to have those executives, and other investors, think differently about how to use the capital that is put into opportunity zones.
Ultimately, we are proposing public-private partnerships (PPPs) with bipartisan support to collaboratively tackle the challenges of the border with a humanitarian approach. The benefits of PPPs are clear: In creating a sustainable and reliable fund partnered with both the Democratic and Republican parties, we can offer a new economic paradigm to facilitate private investment in opportunity zones on the United States-Mexico border.
PPPs are complementary resources for governments to achieve goals in reducing the economic risks of infrastructure improvement. The Fund will work closely with public-sector leaders to make sure projects are investor-ready and to continuously develop innovative frameworks to meet the needs for U.S.-Mexico border services. Private investors can support capital expenditures and decrease the risk for developments on the United States-Mexico border. At the same time, the new opportunity zones can benefit all who live in border communities, including border security personnel, by providing more options for housing and more educational opportunities.
It is a win-win situation for everyone: The Fund helps to provide what we believe to be a comprehensive, economically intelligent policy with regard to immigration; border security improves over time; we avoid using taxpayer money and private investors receive a return; and we work together to design a balanced environment for efficient and sustainable border security implementation.
For more information, contact us at info@theborderfreedomfund.com.