The Editors: Catholics have a moral duty to fight anti-Semitism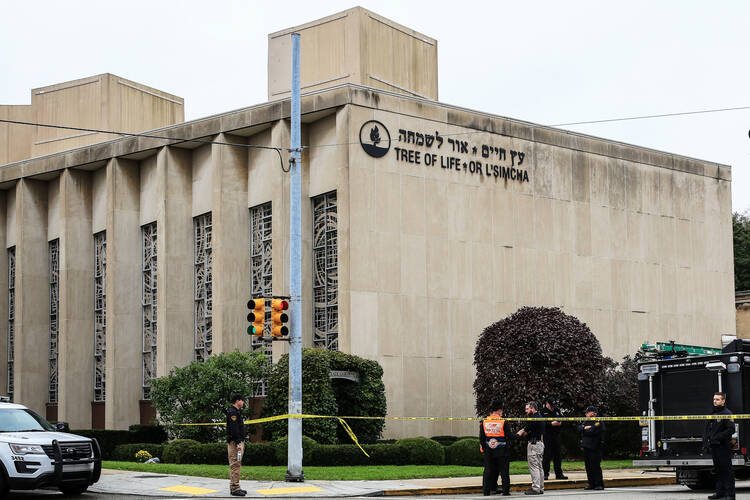 Police officers are seen after a gunman killed at least eleven people Oct. 27 at the Tree of Life Synagogue in Pittsburgh. Robert Bowers opened fire that morning during a service at the synagogue, also wounding at least six others, including four police officers, authorities said. (CNS photo/John Altdorfer, Reuters) 
"Stop the words of hate," pleaded Rabbi Jeffrey Myers of Tree of Life synagogue, the day after a gunman killed 11 people worshipping there in Pittsburgh. The shooter reportedly shouted "All Jews must die" before he opened fire.
The shooter reportedly also made anti-Semitic comments to law enforcement after his arrest, including that "they [Jews] were committing genocide to his people." He was also a frequent user of Gab, a social-media platform that places few restrictions on the content that can be shared. His posts there were at turns anti-Semitic, nativist and nationalistic.
Pope Francis condemned the attack, saying, "We are all, in reality, wounded by this inhuman act of violence." His words were a reminder that Catholics have a special responsibility to stand with our Jewish brothers and sisters and denounce these acts of evil—especially given the church's own painful history of anti-Semitism. The church has taught since "Nostra Aetate" in 1965 that there is a "spiritual patrimony common to Christians and Jews," and reproves "any discrimination against men or harassment of them because of their race, color, condition of life, or religion."
On Saturday, President Donald J. Trump called for unity and condemned "the historic evil of anti-Semitism and every other form of evil." Unfortunately, his incendiary rhetoric both before and after the attack has helped to foster an environment in which such evils can fester. Leaders of a Jewish group in Pittsburgh have written an open letter telling President Trump that "your words and your policies have emboldened a growing white nationalist movement" and have called on him to explicitly denounce white nationalism and cease his alarmist rhetoric about immigrants, refugees and minorities. Mr. Trump must recognize that his strong rejection of this specific episode of anti-Semitic violence cannot be fully credible if he continues to stoke fear and sow division for political advantage on other fronts. His call for unity needs to start with a clear break with his own patterns of accusatory and violent rhetoric.
We must reject violence. But this is the least that we should do. We must also directly challenge the deranged ideologies that spawn such acts and the toxic political culture in which they find a fertile soil. This means challenging the villainization and marginalization of Jews and other minority groups, which give encouragement, even if unintentionally, to these acts of violent depravity. The recent rhetoric directed against these groups is inhumane, un-Christian and un-American. In heeding Rabbi Myers' call to end hateful words, we must also move past empty gestures. Now is the time to stand in peaceful solidarity with our brothers and sisters, with our whole minds, our hearts and our willing hands.
If the church has learned anything from its own history of anti-Semitism, it is that looking the other way is never justified. All people, but above all Christians, have a moral duty to support our Jewish neighbors; to call out anti-Semitism whenever and wherever it rears its odious head.