Infographic: Revisiting R.F.K.'s poverty tour
Robert F. Kennedy's assassination 50 years ago this June still reverberates in American life. One reason his standing as a political leaders endures is the genuineness of his concern for the most disadvantaged Americans. A child of privilege, Bobby Kennedy was a perhaps unexpected champion of the poor and the marginalized. But living out his strong Catholic faith, he was determined to go to the margins of society—and was always empathetic with the people he met there.
Through 1967 and 1968, in the runup and course of his campaign for president, Robert Kennedy traveled to some of the places in the United States hardest hit by poverty and racism. In the midst of the civil rights movement and the war on poverty, the U.S. senator from New York wanted to see how change was playing out and what still remained to be done.
Over the course of what became known as his "poverty tour," Kennedy visited the Appalachian region of eastern Kentucky and western Pennsylvania, California's Central Valley and the Mississippi Delta. Among whites, blacks and Latinos alike, Kennedy found a nation within our nation in need of aid and wrongs that needed righting.
In this issue's infographic, we highlight the places that so moved Robert Kennedy and sparked his determination to act. Much has changed in 50 years, but extreme poverty is still entrenched in many of the places he visited in the last year of his life.
As for racial differences, in 1974, 30 percent of African-Americans and 23 percent of Latinos lived in poverty, compared with 8 percent of whites. This gap persists, according to 2014 data from the Pew Research Center, with 26 percent of African-Americans, 24 percent of Latinos and 10 percent of whites living in poverty.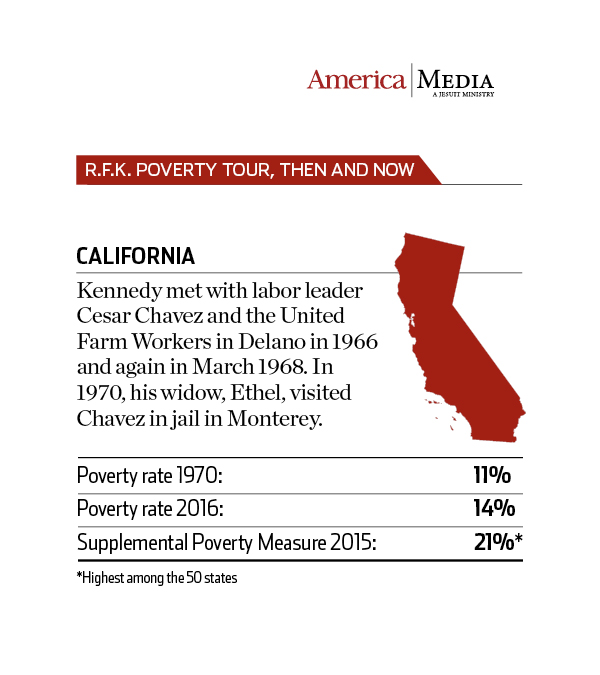 CALIFORNIA. Under the old formula for measuring poverty, California has improved significantly, but it now places first under the Supplemental Poverty Measure, which takes into account geographic differences in housing and other household costs. In the city of Salinas, a major agricultural center, 66 percent of farmworkers were "food insecure" in 2015, according to the California Institute for Rural Studies. A U.S. Department of Labor survey of crop workers nationwide in 2013-14 found that 30 percent had family incomes below the poverty line and only 35 percent had health insurance. Seventy-three percent were born outside the United States, and 80 percent were Hispanic.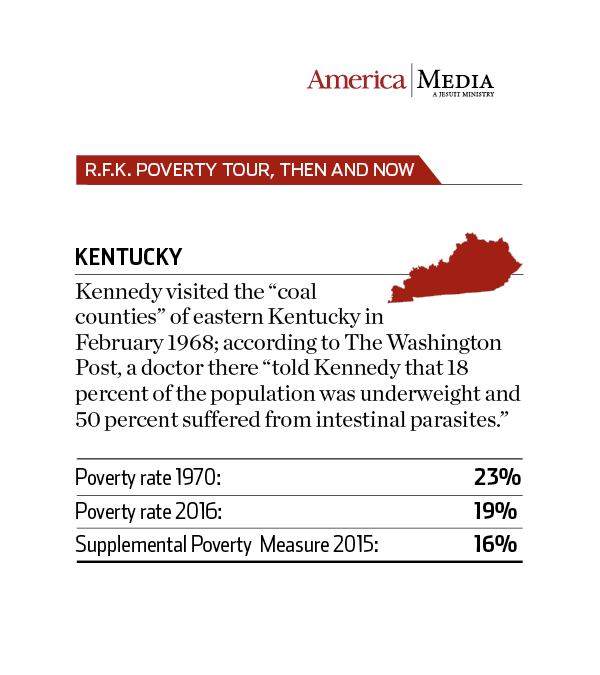 KENTUCKY. According to the Appalachian Regional Commission, the number of high-poverty counties in the region, which includes parts of Kentucky and 12 other states, declined from 295 in 1960 to 107 in 2008–2012. However, many residents are now dependent on government programs (which account for one-fourth of all personal income, 41 percent higher than the national average). Health outcomes and mortality rates are also poor here compared with the United States as a whole, in part because of high rates of obesity, diabetes and opioid addiction.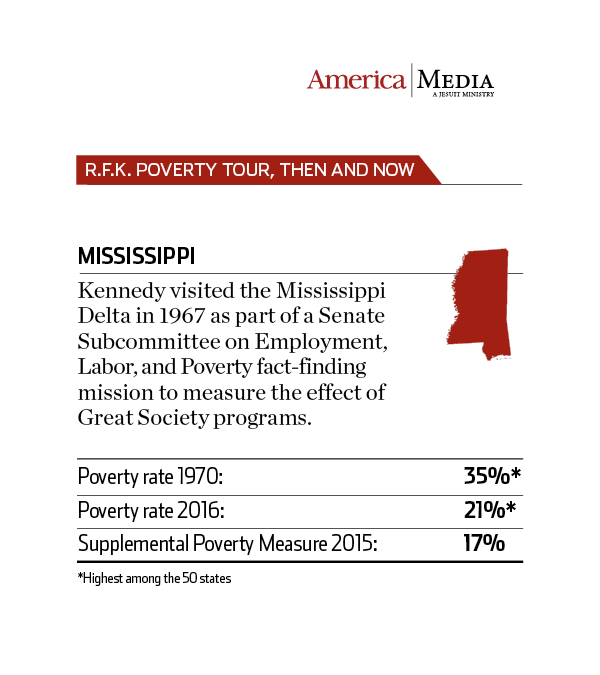 MISSISSIPPI. In 1967, Mississippi elected its first black state legislator since 1896. It now has more black elected officials than any other state in the nation but has still not elected a black candidate to statewide office. While the state's overall poverty rate has fallen, it remains above 30 percent in most Delta counties, which now also face sustained population loss.
Note: If counted as a state, Puerto Rico would have the highest poverty rate in 2016, at 44 percent. The District of Columbia, at 19 percent, has a higher poverty rate than all but three states. Under the Supplemental Poverty Measure, the District of Columbia, at 22 percent, has a higher poverty rate than any of the 50 states.
Sources: 1970 U.S. Census (data collected in 1969) and Census Historical Poverty Tables; American Community Survey (2016); Pew Research Center. The Supplemental Poverty Measure, developed in 2010, takes into account geographic differences in housing and other household costs.