Why I helped plan my Catholic school's walkout against gun violence
Ite, Inflammate Omnia: "Go Forth and Set the World on Fire." St. Ignatius often ended letters to Jesuits on missions with this phrase. Xavier High School in New York City, like other Jesuit schools, has the primary objective of creating men and women prepared to illuminate a world often lost in darkness. But what exactly does it mean to "set the world on fire"? It is easy to think about the changes needed in our world, but it is much more difficult to transform those thoughts into action.
When the National School Walkout movement slowly began to ignite following the school shooting in Parkland, Fla., I did not know whether this flame would reach the halls of Xavier. Curious, I reached out to students at other schools who were preparing to rally and protest; their emotions fluctuated between passion and trepidation. I felt much of the same—but mostly fear. I hoped to organize a similar event at Xavier, but I was worried about how our student body would approach a topic that we did not all agree on. Like at most schools, there are conservative and liberal students at Xavier, but a majority of the student body leans conservative.
I was part of a group of student leaders who worked to decide how our school should respond, and this fear of division gave us much to think about. We went back and forth, trying to decide what was best for our school environment and what the administration would allow us to do.
The horror that struck Marjory Stoneman Douglas High School on Feb. 14 resonated deeply with me because students my age were murdered. I felt that the Xavier community needed to respond. Student leaders felt strongly that we had to find a way to memorialize those gunned down, to remind ourselves that even though sometimes it feels like our world has been swallowed by a coal-black cloud of horrific events, we must stand against evil. We hoped that the men of Xavier could shine a ray of light through the darkness.
After a great deal of discussion among student leaders and the administration, we settled on a plan that not only satisfied our needs and the school's but emphasized a key component to a Jesuit education: a commitment to justice. We knew that we wanted the event to be largely silent, and for students to have a chance to express themselves. We wanted to offer orange ribbons as armbands as well as various posters that displayed anti-violence messages and gun violence statistics. We wanted to honor the victims and conclude with a prayer and a sign of unity.
Student leaders felt strongly that we had to find a way to memorialize those gunned down.
The days leading up to the walkout required a lot of preparation—from purchasing materials to hanging flyers around the school with the word "ENOUGH." I had permission from the school to make an announcement on the P.A. system that students who wanted to participate could walk out of the building in silence, and those who chose not to could use the time to gather in designated areas. The response was mixed, and some students remarked, "The school is probably making us do this." Although the school did not make anyone participate, the word was getting out, and students were beginning to discern whether or not they wanted to be a part of this event.
I woke up Wednesday morning anxious about how the day would unfold. My father, a retired lieutenant from the New York Police Department, saw how distressed I was and assured me, "There is always going to be division in the world, but today, no matter who shows up, Xavier will stand united." He had faith that regardless of how divisive some issues may be, the friendships within the student body would hold the community together rather than tear them apart.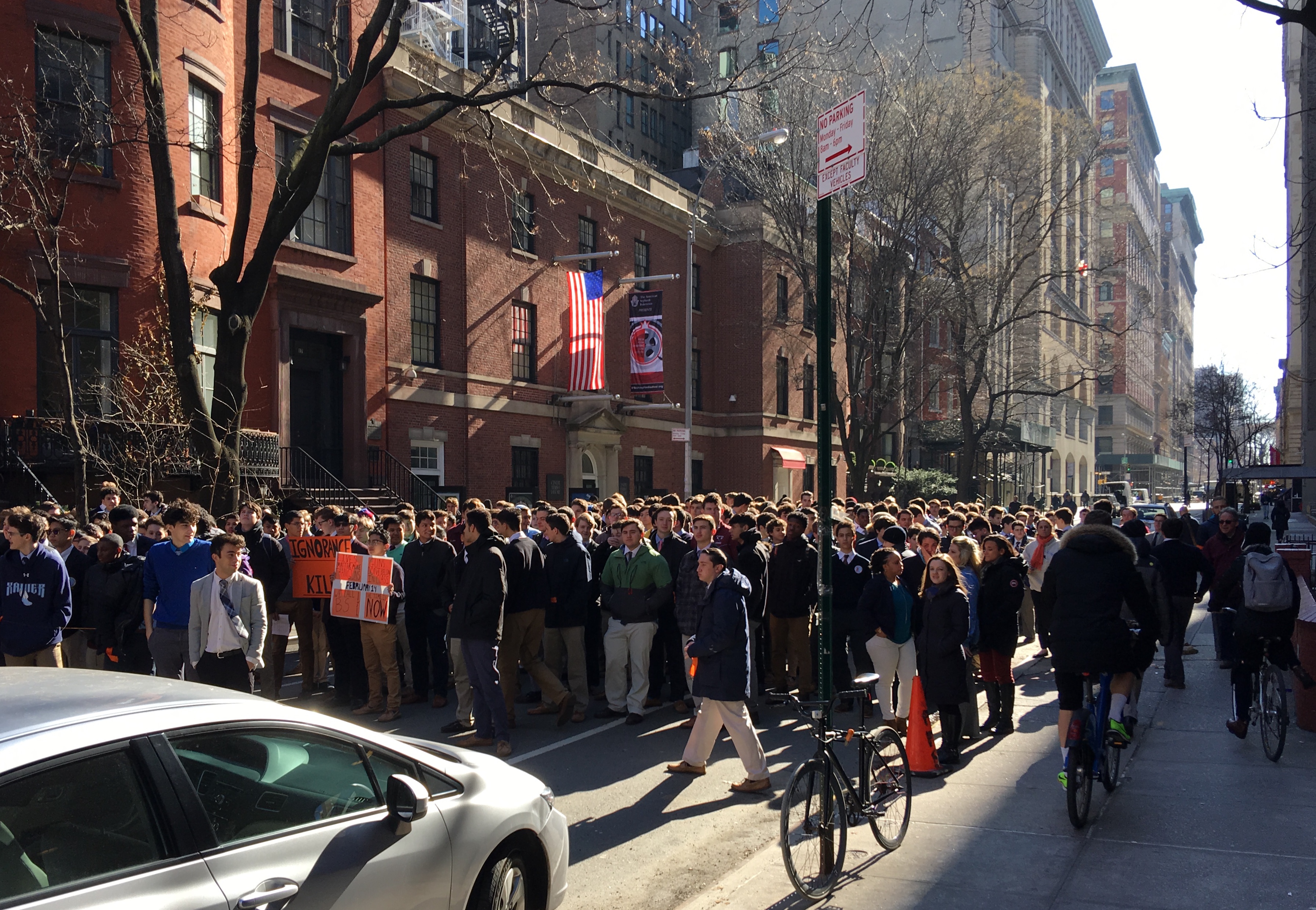 On March 14, the sun made 16th Street glow in the crisp cold of morning. When the clock struck 10 a.m., student leaders grabbed the posters we had created with phrases like "The Time Is Now" and megaphones to lead the event. Time slowed down, and my mind starting racing. I felt a lead weight forming in my stomach, and I could hear my heart thumping. I was unsure about how many students would walk out.
But students slowly started coming out of the building, and within minutes a wave of navy blue sweaters flooded out the door. My fears began to dissipate, and I thought of my father's words, "Xavier will stand united." Faculty, staff and students gathered on the street in front of the school, and the victims' names resounded through the neighborhood. This was followed by 17 minutes of silence, transforming the moment into something truly powerful.
When the clock struck 10 a.m., student leaders grabbed the posters we had created with phrases like "The Time Is Now."
As a community, when we then locked arms to pray the Lord's Prayer, pedestrians walking by stopped to stand with us. I felt a sense of power and grace. Although we did not do a head count, by our estimates 500 kids walked out and about the same number stayed inside.
Conversations about what happened continued throughout the day. Students praised the decision to reflect as a community and memorialize the victims rather than take a political stance. Students who did not attend were grateful that the emphasis was on remembrance and community.
The students and faculty who chose to stand together emphasized our desire to stand with other students around the country, including those from other Jesuit schools. To accomplish the mission proposed by St. Ignatius, we must find strength in unity in order to "set the world on fire."