Catholic groups join protest against gun violence at March for Our Lives
Hundreds of thousands of protesters, including many Catholic groups, flooded Pennsylvania Avenue in Washington, D.C., on Saturday to show solidarity with those working for gun control. The March for Our Lives turned into more of a rally here because of the large number of participants. People of all ages came to listen to victims of gun violence call for a ban on assault weapons, among other measures. Parishes in Washington, D.C., Maryland and Virginia sent large contingents to the rally. The Associated Press has reported that the crowd in Washington "rivaled the women's march last year that drew far more than the predicted 300,000." There were other March for Our Lives events on Saturday across the United States.
Renewed support for gun control has been driven by students across the country, inspired by survivors of the mass shooting at Marjory Stoneman Douglas High School in Parkland, Fla., that claimed 17 lives. While the March for Our Lives was spearheaded those survivors, many participants had their own stories to tell about how gun violence had affected their lives.
The night before the march, the Social Justice Committee of Holy Trinity Catholic Church, in the Northwest section of Washington, hosted a poster-making session for those planning to attend. Parishioner Annie Hisle explained why she thought so many Holy Trinity parishioners were participating in the rally. "It's not what you're against, but what you value," she said. "We value children."
Ten-year-old Maria Cristina Restrepo* made a sign for her 13-year-old sister that read, "Arms are meant for hugging."
"I think it's bad killing anyone, but especially kids," she said. "A lot of the Catholic religion is about being peaceful and helping others, and this is a way of helping others, making sure that [the Parkland school shooting] doesn't happen again, that more people don't die."
"Life is sacred, and that means that our kids' lives need to be fought for."
Lisa Bolejack, who planned to march with her 10- and 12-year-old children, struggled to find the right words for her sign. She chose the word "Enough" in bold red letters. "Life is sacred, and that means that our kids' lives need to be fought for," she said. "I have two kids, but I'm marching for them all." Ms. Bolejack said she was glad to march with a group from her church. "I felt that that would be a good way to tie my faith and what I believe about being a good Christian and just a good person [together]," she said. "It's a commandment: Thou shalt not kill."
High school seniors Penelope Nicoli-Drossos and Clara Puente planned to attend the march together. On her poster, Ms. Puente wrote, "1 child is worth more than all the guns on earth."
"I chose it because I think it's what the issue is about…. It's an issue about people and an undeniable right that is their right to live," she said.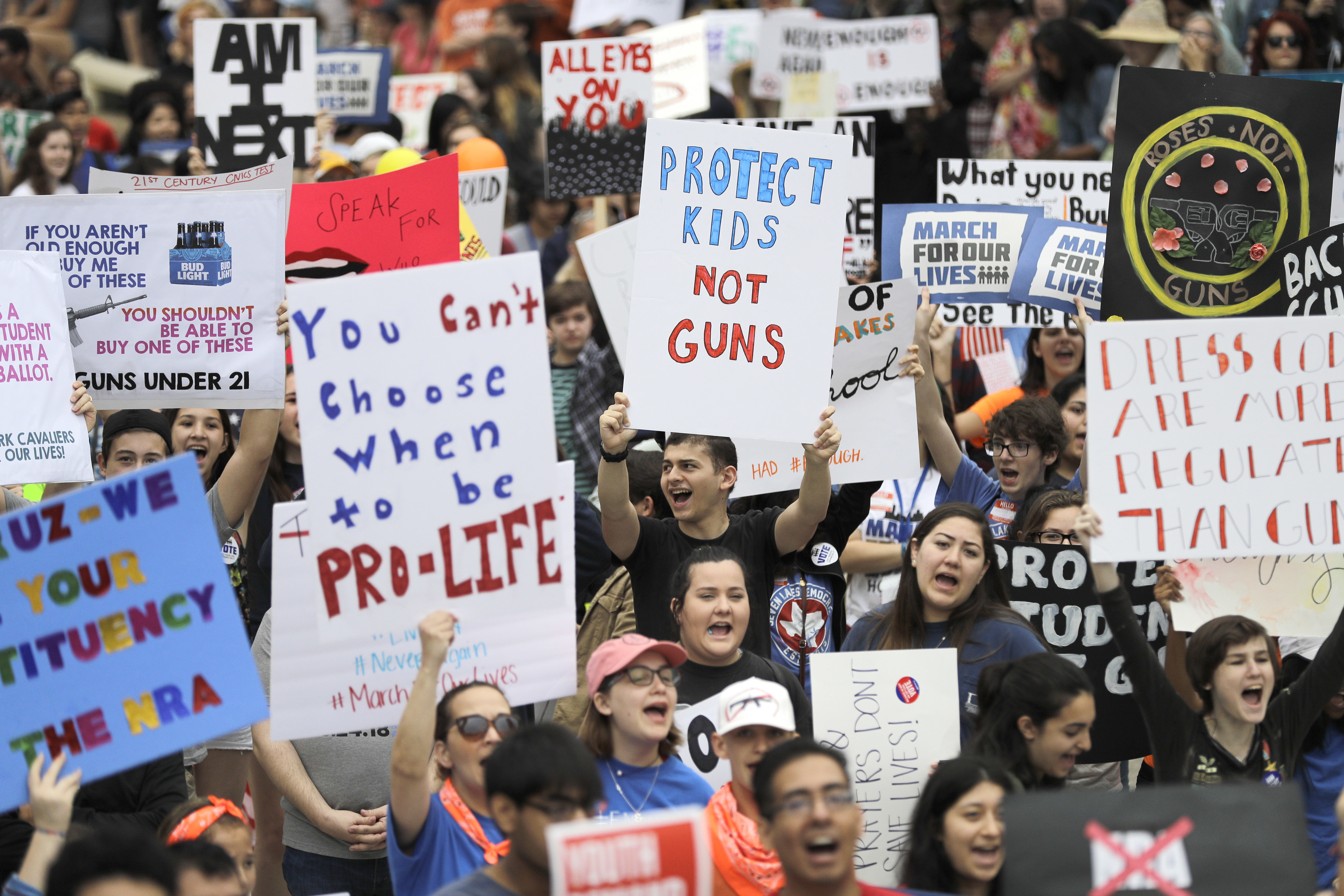 Meg, a military spouse, told the story of her son's first birthday. When an active shooter came onto the base where her son's daycare center was, she was prevented from getting to her infant for four hours. "I don't need to have that happen ever again," she said, adding, "wanting to protect lives is a very Catholic issue…. Sometimes we get fixated on the life of an unborn child versus the lives of all these children who are born and out there in the world. I think it's crazy to focus on one and not the other."
The sign-making event was organized by Kate Tromble, Holy Trinity's pastoral associate for social justice. "Even before Parkland," Ms. Tromble said, "there were definitely conversations in this parish about what we were doing about gun violence every time there was some new incident. Then Parkland happened. It was clear that there was a lot of energy that needed to be expressed. People really wanted to pray. And we've prayed and continue to pray, but...they felt like they were required to make a statement of witness in addition to offering prayers to other folks.
"The core teaching of Catholic Social Teaching is the dignity of life," Mrs. Tromble said. "We're created in the image and likeness of God, and I think at this moment, with everything that's going on, standing up and saying that the dignity of life means protecting our children, our families through the entirety of life—through their whole life, including protecting them from gun violence—is something that we have to say."
Sharing stories of gun violence
On the morning of the rally, two blocks from Pennsylvania Avenue at St. Patrick's Catholic Church, student representatives from seven Catholic schools in the area shared the ways gun violence has affected their lives before attending a Mass celebrated by Father Jacek Orzechowski.
"As a student, an American and a Catholic, I am tired of 'thoughts and prayers' in response to preventable tragedies," said Eileen Dinn, a senior at Holy Cross High School. "I feel excited, honored and ready to be a part of this movement." Her classmate, Mary Muldoon, pointed out that the U.S. Conference of Catholic Bishops has supported a ban on assault weapons since 1994.
"Many of us are here today because we see a failure in our society and in our country," said Connor Cerezo-Allen, a student at DeMatha High School. "As Catholics...we cannot be passive bystanders without taking action."
"We have a problem with a certain idolatry of guns if we put that higher than respect for human life."
A junior at Stone Ridge School of the Sacred Heart, Caroline Barry helped organize a walkout at her school as well as lunchtime conversations about gun violence in the United States and the Second Amendment. Saturday was her 17th birthday, and she said she chose to spend it "asking for more birthdays, for myself, for my friends and for my teachers."
Speakers also included Stephon Wheaton, a junior from Don Bosco Cristo Rey High School, who lost his brother to gun violence in January 2017. "Talking about having [guns] in schools is tragic and hurtful," he said.
Eleanor Miskovsky, a junior from Georgetown Visitation, told her peers, "Today, we have the opportunity to enact change. Today, we as students stand here, refusing to forget."
During his homily, Father Orzechowski told the story of his cousin, whose son survived the Sandy Hook Elementary School shooting in Connecticut in 2012. Father Orzechowski pointed out that more than 30,000 Americans die annually from gun violence.
"There is no excuse for that," he said. "We have a problem with a certain idolatry of guns if we put that higher than respect for human life." He encouraged the congregation to listen to the words of Jesus, who also lived in a violent time and said: Be not afraid. Father Orzechowski said he had been inspired by the Parkland students as well as by those coming together on Saturday, saying they demonstrated a "witness, a passion [and] a determination to do great things."
"God believes in you," he said.
[Want to discuss politics with other America readers? Join our Facebook discussion group, moderated by America's writers and editors.]

Correction, March 26: An earlier version of this article misidentified Maria Cristina Restrepo.