Catholic colleges say peaceful gun control protests won't impact admission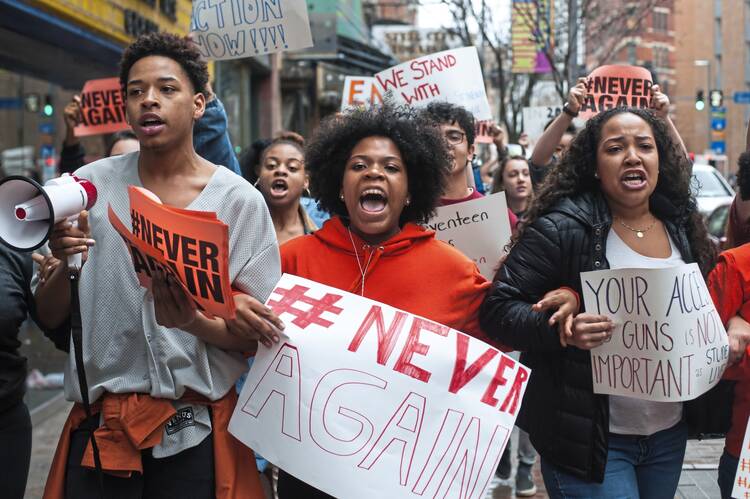 High school students Mia Arrington, center, 18, of West End, and Cheyenne Springette, right, 17, of Mt. Oliver, lead chants as they march down Liberty Avenue during a walk-out in solidarity with other high schools across the country to show support for Parkland, Fla, students in downtown Pittsburgh. (Stephanie Strasburg/Pittsburgh Post-Gazette via AP)
After a gunman killed 17 students at Marjory Stoneman Douglas High School on Feb. 14, the survivors of the shooting quickly mobilized to speak out against gun violence, inspiring a number of protests at high schools across the country.
Students in Arizona, Colorado, the District of Columbia, Maryland, Minnesota, Montana, New Jersey and Washington state staged "walk out" protests as students left class at predetermined times and gathered elsewhere for a rally or demonstration. Some also participated in a "die in" protest, lying on the ground outside the White House.
Still, some high school students may worry that participating in protests could lead to a suspension or other disciplinary action, which could jeopardize their college prospects.
In response, a wave of colleges and universities around the country have issued statements of support for the students, saying that suspensions for peaceful protests will not affect admission decisions—a relief in particular for high school seniors who have already been admitted or wait-listed but have not yet committed to a school. They may have worried that college administrators could still reject their applications.
On Monday, 12 of the 28 Jesuit colleges and universities in the United States had issued such statements, and Deanna Howes Spiro, spokeswoman for the Association of Jesuit Colleges and Universities, said more were likely on the way. On Tuesday morning, more than half of the Jesuit institutions had published statements, and by Wednesday morning, 22 of the 28 had joined in.
Many of the Jesuit schools have cited Jesuit ideals including social responsibility and being "men and women for and with others" in their statements. Spring Hill College tweeted on Feb. 26, "Spring Hill College believes in empowering students to become men and women in service for others. In this Jesuit tradition, we support and applaud those wishing to exercise their freedom of expression through thoughtful participation in peaceful, lawful protests and activism."
Some schools, like Fordham University and Loyola University New Orleans, have stated more specifically that they stand with students against gun violence.
The Jesuit schools that have published statements online are:
Saint Joseph's University gave Ms. Howes Spiro the following statement which has not been published on the school's website or social media: "Engaged citizenship, along with care and concern for the global community, are values central to a Saint Joseph's University education. To that end, acceptance to SJU will not be withheld from students who exercise their right to peaceful protest."
Other Catholic universities including DePaul University, the University of Notre Dame, University of St. Thomas, Providence College and Salve Regina University have issued similar statements saying that peaceful protests will not affect admissions. A Catholic University of America spokesman tweeted that the university "supports students who stand up for their beliefs" but did not state whether punishments for peaceful protests would affect admission decisions.
Women's March Youth EMPOWER is planning a national walk-out protest on March 14 that will last 17 minutes, one for each student killed last month in Parkland, Fla., and another protest is set for April 20, the 19th anniversary of the shootings at Columbine High School in Colorado.
The survivors of the Marjory Stoneman Douglas High School shooting are also planning the "March for Our Lives," which will be held in Washington on March 24 concurrent with smaller marches in various other cities.
This article was updated Feb. 27 and 28 as additional universities made statements.