How the Catholic Church could help lead a gun control movement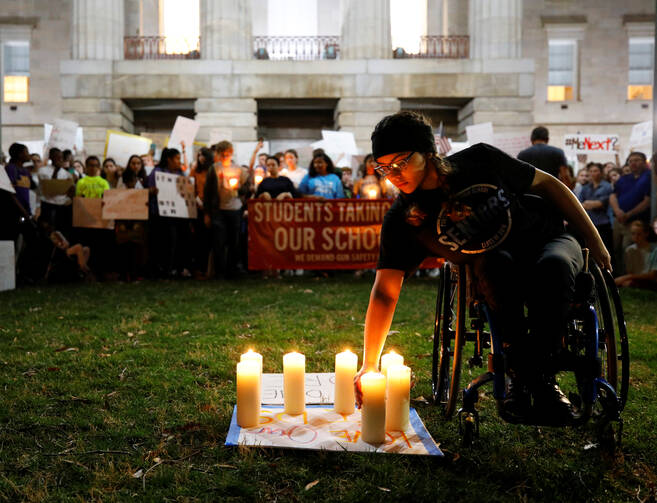 A student lights a candle in front of the North Carolina Capitol in Raleigh on Feb. 20 in memory of the victims of the shooting at Marjory Stoneman Douglas High School in Parkland, Fla. The students were calling for safer gun laws after 17 people were killed when 19-year-old former student Nikolas Cruz stormed the Parkland school on Feb. 14 with an AR-15 semi-automatic style weapon. (CNS photo/Jonathan Drake, Reuters)
Following the most recent spate of mass shootings, in which 22 people were killed in El Paso, Tex., allegedly by a white supremacist targeting Hispanics, and in a separate incident in Dayton, Ohio, where nine more people were killed, Catholics are being urged by church leaders "to pray and raise their voices for needed changes to our national policy and national culture." That is from an Aug. 4 statement from Cardinal Daniel DiNardo, president of the U.S. Conference of Catholic Bishops, and Bishop Frank Dewane, who heads the U.S.C.C.B. committee on domestic justice. 
Many other Catholic leaders have also urged Catholics to pray and to act, by pushing for new restrictions on gun ownership. 
"Mass shootings are not an inevitability. All human beings have the right to live without violence. To behave otherwise is to advance a lie," said Cardinal Blase Cupich, the archbishop of Chicago, who has spoken frequently about gun violence, in an Aug. 4 statement. "Stopping this lie begins with holding accountable our elected officials who have done nothing to address gun violence. Inaction only cements the idea that these tragedies are acceptable and that the weapons that enable them are simply common features of American life today."
The article below, originally published in February 2018, shortly after a gunman killed 17 people at Marjory Stoneman Douglas High School in Parkland, Fla., explores how Catholics might contribute to a push for gun control.
After a gunman killed 17 people at a Florida high school last week, calls for prayers and action were again issued by Catholic leaders, with church leaders who are sometimes at odds on other controversial issues releasing strikingly similar statements.
Cardinal Blase Cupich of Chicago wrote, "Let us make it clear to our elected officials that the weapons and ammunition that facilitate this carnage have no place in our culture." Archbishop Charles Chaput of Philadelphia seemed to agree, writing that Americans should be "angry at our lawmakers for doing so little to prevent these catastrophes." Cardinal Seán O'Malley, the archbishop of Boston, perhaps put it most clearly when he tweeted a day after the shooting in Parkland, "Our thoughts and prayers must be joined with action, we can and must do more to prevent such attacks."
That got me thinking: If Catholic leaders seriously want to push gun control legislation, what might a concerted campaign look like? Over the years, I have reported on a number of public efforts by church leaders on a range of hot-button issues, and there are some lessons to be drawn from those experiences.
When people speak about "the church" in the United States, they almost always mean the church hierarchy, comprising the several hundred bishops who lead and run dioceses. Many of these men regularly issue statements about gun violence and the need for greater gun control.
If Catholic leaders seriously want to push gun control legislation, what might a concerted campaign look like?
The U.S. Conference of Catholic Bishops released its last comprehensive pastoral statement addressing gun violence in 1994, titled "Confronting a Culture of Violence: A Catholic Framework for Action," and its leaders have followed up many times with statements supporting tighter gun restrictions (including, interestingly, given the current debate about military-style weapons, a call in 2000 to ban most handguns except for law enforcement and the military). But following a tragedy, statements are plentiful, and few break through the cultural noise.
Oftentimes quiet, symbolic actions are more powerful.
On immigration, for example, one of the most enduring "statements" about the church's advocacy for more humane immigration laws came during a Mass along the U.S.-Mexico border that several bishops attended in 2014. The photograph of a Catholic bishop distributing Communion to fellow Catholics on the other side of a border fence, their faces unseen and only their hands visible, showed in ways words cannot how the U.S. immigration system is broken, how it separates family and why immigration is a moral issue.
When it comes to guns, there have been some examples of powerful actions that say more than words. I am thinking of a 2016 anti-violence march co-led by the Rev. Michael Pfleger, a Chicago priest and activist from the city's South Side. I covered the event, in the heart of Chicago's Magnificent Mile shopping district, as hundreds of people marched with wooden crosses bearing the names of victims of the city's gun violence. The images were powerful and they were seared into the minds of many Chicagoans who saw them in newspapers and on TV.
Bishops could consider holding a similar event, perhaps asking Catholic families who have been affected by gun violence to gather with them for Mass, reserving empty spaces for those whose lives were cut short by guns. In many cities, when bishops speak, the media pays attention. Using that pulpit to highlight gun violence in a visually powerful way—and asking pastors to consider preaching about the issue—could show Catholics that legislative action is needed to help curb gun violence. A coordinated preaching campaign has precedent. Later this month, for example, Catholic priests throughout Missouri are expected to preach against racism, in response to a request from the archbishop of St. Louis.
On another front, one of the major impediments to stemming U.S. gun violence is the lack of available research about it.
The number of fatalities from automobile accidents has declined steadily since the 1970s, thanks in part to treating them like a public health threat and devoting the necessary resources to understanding car accidents and then implementing measures to reduce them or mitigate their effects. The same with tobacco use.
But with gun violence, as a recent article in The Atlantic explains, a 1996 law backed by the National Rifle Association severely limits federal funding for research about guns, hampering efforts to understand the role they play in homicides, suicides and accidental shootings.
Catholic health care networks could help in this area.
There are more than 600 Catholic hospitals in the United States, including many in locations disproportionately affected by gun violence. The Catholic Health Association, which represents these institutions, has been vocal in its support for addressing gun violence. Perhaps some of these hospital networks could devote funding to lead their own research, answering questions about where gun violence clusters, who is affected and what causes conflicts to escalate.
Providing answers to some of these public health questions could be a valuable contribution from Catholic hospitals, which serve one in six hospital patients in the United States every day.
When it comes to rallying the faithful to lobby legislators around certain issues, it is true that affecting change in state capitals is difficult, and in Washington it feels downright impossible. And in fact, on some high-profile issues, the church's efforts have failed. But the efforts themselves are still important because they help educate Catholics about the values the church teaches.
Catholic leaders have done this on abortion, marriage, health care and, most recently, immigration. (In fact, Catholic bishops announced an initiative encouraging Catholics across the country to contact lawmakers on Feb. 26 to urge congressional action on DACA, Deferred Action for Childhood Arrivals, before the program expires next month.)
Perhaps parishes could organize action days, asking volunteers from social justice committees to recruit parishioners to visit state capitals, write and call lawmakers, and highlight how gun violence affects their local communities. With more than 17,000 parishes in the United States, even a fraction of them participating in a program like this could help advance the goals laid out by many Catholic bishops.
Agree with its tactics or not, the March for Life is one of the most visible displays of Catholic activism in the United States. And this is not by accident. Many Catholic high schools and colleges not only give students the day off to attend the event, they provide transportation and lodging to make sure the numbers at the march surge into the tens of thousands each year. The participants draw in lawmakers and activists who share their goals and want their votes. Even the president addressed the marchers this year.
Would the schools that participate in the March for Life each year consider supporting a march against gun violence? There is one already being planned—March for Our Lives on March 24—and it is led in part by some of the students who have survived school shootings. Will bishops and large delegations from Catholic institutions be part of this event?
Finally, the phrase "thoughts and prayers" has become something of a lightning rod in recent years because of its use by gun-rights activists following shootings. Critics say the phrase is employed to muzzle conversation about gun control soon after a tragedy. But for Catholics and other believers, this phrase can be sincere. After all, people of faith do believe prayers make a difference.
Christians are marking the season of Lent, a time of asking God for forgiveness and pledging to turn away from sin. What better time for church leaders to highlight the plague of gun violence, fueled as it is in no small part by the drive for money?
In recent years, U.S. bishops and other church leaders have devoted time and resources to a number of political issues. The U.S. Conference of Catholic Bishops recently voted to create a permanent committee about religious liberty. During the fight over same-sex marriage, individual bishops and the conference spent vast sums of money advocating against the change.
On immigration and poverty, many programs and campaigns spread the church's message, making the church's case to lawmakers and their staffs as well as to everyday Catholics. If U.S. church leaders seek to make gun control a top priority, a look at the church's other public policy campaigns could provide a wealth of ideas.
[Want to discuss politics with other America readers? Join our Facebook discussion group, moderated by America's writers and editors.]