While volunteers rebuild Mexican towns, a bishop accuses the government of stealing credit
Few inhabitants of San Antonio Alpanocan, a town of 2,500 in Central Mexico on the slopes of the Popocatéptl, remember ever having seen a traffic jam in their village. But during the last few days, the main road into this town in Puebla State, some 80 miles southeast of Mexico City, has been incessantly clogged with cars, pick-up trucks and buses.
The few paved streets have been abuzz with men and women, many of them barely in their 20s, wearing orange jackets and helmets, carrying pickaxes and shovels, and pushing wheelbarrows. They move swiftly between the ruined remains of the hundreds of buildings, mostly one-story homes with adobe walls and corrugated sheet roofs, that collapsed during last week's catastrophic earthquake.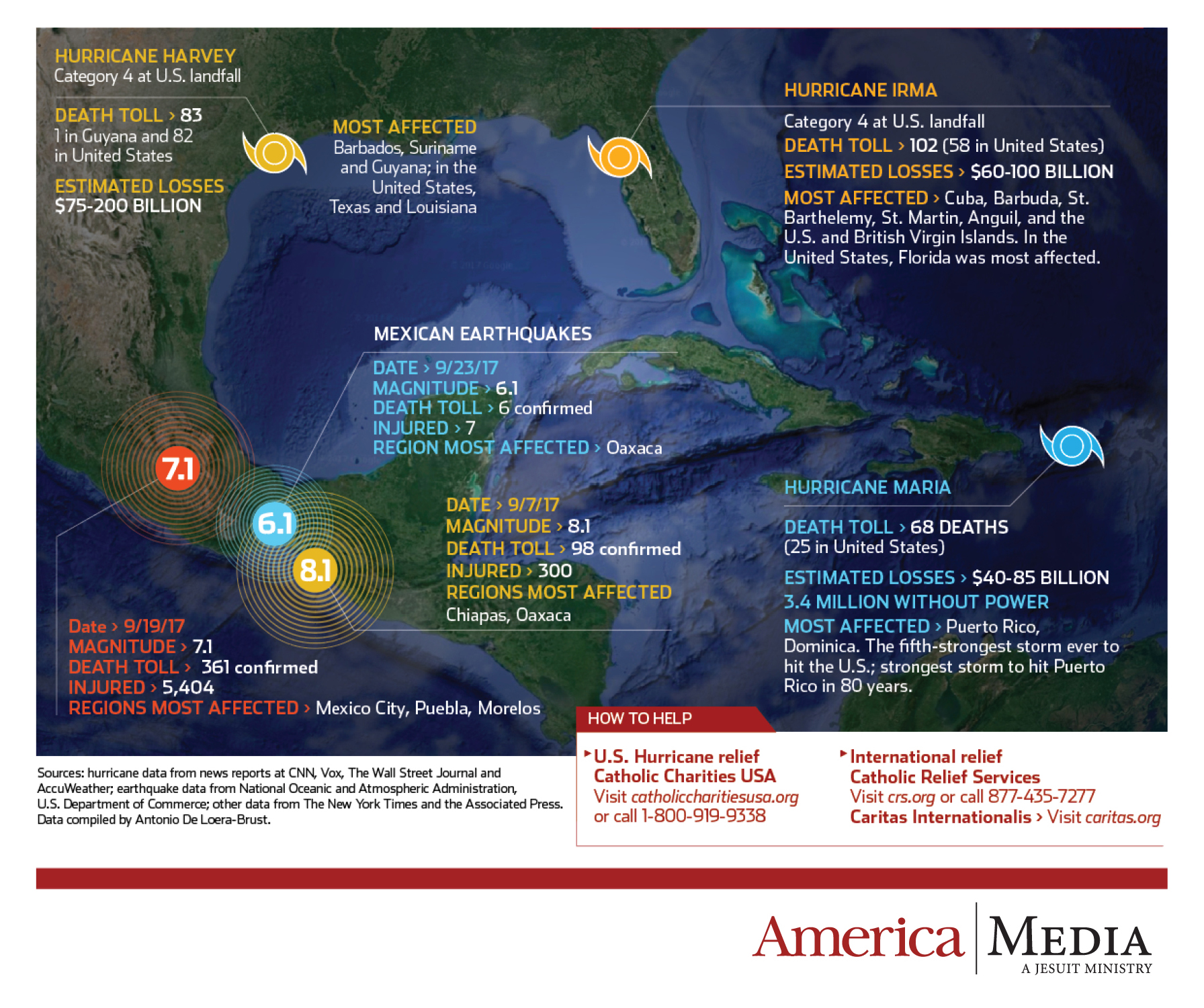 The epicenter of the 7.1-magnitude tremor was only about 30 miles to the south of this poor farming community. More than half of all homes here either collapsed or were so badly damaged as to be uninhabitable.
The quake may not have been as deadly as the one in 1985 that killed thousands of people in Mexico City alone, but it ravaged many towns in the lush green mountains surrounding the capital. In Puebla State alone, approximately 1,700 homes have been badly damaged by the quake, according to state authorities.
"It's all gone, we'll have to start over," Salomón Calderón, a farmer in his 60s who lost his home during the quake, told America. His hands and clothes were covered in dust; he spent the last few days salvaging what he can from the rubble: a piece of furniture, some corrugated sheets, pieces of wood. Mr. Calderón's family still has a place to sleep, but others are less fortunate. Just a few dozen feet up the road, another family made do in tents and beds covered by a loose piece of canvas.
"We live off the land, we plant corn, avocado and beans. We won't be able to get through this without help."
"Most of us don't have a lot of money," Mr. Calderón said. "We live off the land, we plant corn, avocado and beans. We won't be able to get through this without help."
Fortunately, help has arrived. Thousands of volunteers from across the country have poured into the states that surround Mexico City—Morelos, Puebla and Estado de México—with both the tools and the expertise to rebuild the dozens of communities that sustained heavy damage.
Students are clearing the rubble and removing cars crushed by fallen walls. Civil engineers are assessing the damage and deciding which buildings need to be demolished. Others have taken to San Antonio Alpanocan's main plaza to hand out water, food, blankets and cooking oil to hundreds patiently waiting in line.
Such solidarity in the wake of natural disasters is not a new phenomenon in Mexico. After the capital was ravaged by the 1985 earthquake, the government response was famously slow or sometimes nonexistent, driving inhabitants to take matters into their own hands. Uncounted lives were saved by a civilian rescue group known as Los Topos ("The Moles"), which for weeks searched the rubble for victims. The same group, now a well-respected institution with decades of experience in disaster relief, was in the vanguard of rescue workers racing to find survivors in the ruins of the almost 50 buildings that collapsed in the capital last week. This time the government was far swifter in its response to the disaster in Mexico City, where it deployed hundreds of soldiers and police in the areas where buildings collapsed. Power was restored quickly and shelters were set up for survivors who had lost their homes, while the Civil Protection Agency began checking buildings for structural damage.
Away from the capital, in places like San Antonio Alpanocan, the response has been different. When America visited the town several days ago, not a single soldier or government official could be seen aiding the populace in its rebuilding efforts.
In the nearby town of Tetela del Volcán, dozens of homes had been destroyed. At a makeshift crisis center near a church that looked ready to collapse, some 50 volunteers were inspecting buildings, clearing rubble and gathering emergency aid for homeless citizens. Their work has been hampered, however, by a lack of tools and manpower.
"It's been very difficult for us. We need to check the damaged homes here as soon as possible, because there's a significant danger of collapse," Ana Granados, a civil engineer from Mexico City leading the volunteer effort in Tetela del Volcán, told America. She and her team had been working around the clock since they first arrived in the village shortly after the quake hit, and fatigue was beginning to take its toll.
"We only have enough tools for about half of our people here. Many people don't want to leave their homes even while they're in danger of collapsing," she said. "They're afraid their belongings will be stolen."
To make matters worse, Ms. Granados said, regional aid centers refused to supply her team with the tools they need to demolish damaged buildings. There was only one bulldozer in the town last weekend, and even simple tools such as pickaxes and shovels were in short supply.
"We went to a regional aid center and asked for tools, but we only got a few shovels, even though the situation here is critical," she said.
Volunteers and inhabitants in the worst-hit towns blame local and federal politics for the slow response. Graco Ramírez, the governor of Morelos, has been widely criticized after trucks full of emergency aid gathered by civilians were, according to videos circulating on social media, diverted to crisis centers operated by a state government agency and subsequently labeled as state government aid.
Bishop Castro: "The Morelos state government determined that all aid has to go through them. It was their decision, but that can't happen."
On Sunday, Bishop Ramón Castro of Cuernavaca, Morelos' state capital, sharply criticized the governor for politicizing relief efforts. The Diocese of Cuernavaca has been actively involved in relief efforts through Caritas Mexico. It has set up three collection centers for emergency aid and devised a system for monitoring the arrival of trucks carrying relief from across the country. It said, however, that several had been denied entrance to the disaster zones.
"The Morelos state government determined that all aid has to go through them. It was their decision, but that can't happen," Bishop Castro said on Sunday. "They also want to control church aid, labeling it as coming from the state government. But it isn't aid coming from the government of Morelos, it's coming from many other people. It's dishonest."
Federal authorities have picked up on these irregularities; the office of the Special Prosecutor for Electoral Crimes announced on Monday that it would investigate the Morelos state government for trying to take political advantage of the aid efforts. Governor Ramírez denied any wrongdoing, stating Sunday on Twitter that "no one is blocking the arrival of help to no one here."
Meanwhile, inhabitants of the disaster zone say they are desperately waiting for government help to rebuild their lives.
"It's heartwarming to see so many volunteers helping us in the days after the earthquake, but what's going to happen in a few weeks?" Mr. Calderón told America in San Antonio Alpanocan. "We need the authorities to rebuild our homes, rebuild our lives."