The U.S. Catholic experience is increasingly Hispanic and Southwestern
A new survey of the religious composition of the United States shows that white Christians are increasingly less dominant in American society, with fewer than half of U.S. states having white Christian majorities, down from 39 states in 2007. "This report provides solid evidence of a new, second wave of white Christian decline that is occurring among white evangelical Protestants just over the last decade in the U.S.," Robert P. Jones, head of the Public Religion Research Institute, which published the report, said in a press release.
For the Catholic Church here, there has been a shift from a predominantly white church clustered in the Northeast and Midwest to a church influenced by Latin American immigration and located in the South and West. About 20 percent of all Americans identify as Catholic, the report found.
"There is a major demographic shift that is tilting the cultural understanding of Catholic life in the United States," Hosffman Ospino, an associate professor of Hispanic ministry and religious education at Boston College, told America. "These migrations are remapping the entire American Catholic experience. That's very significant because in many ways we are venturing into a world or a way of being Catholic in this country that we have not experienced as a whole."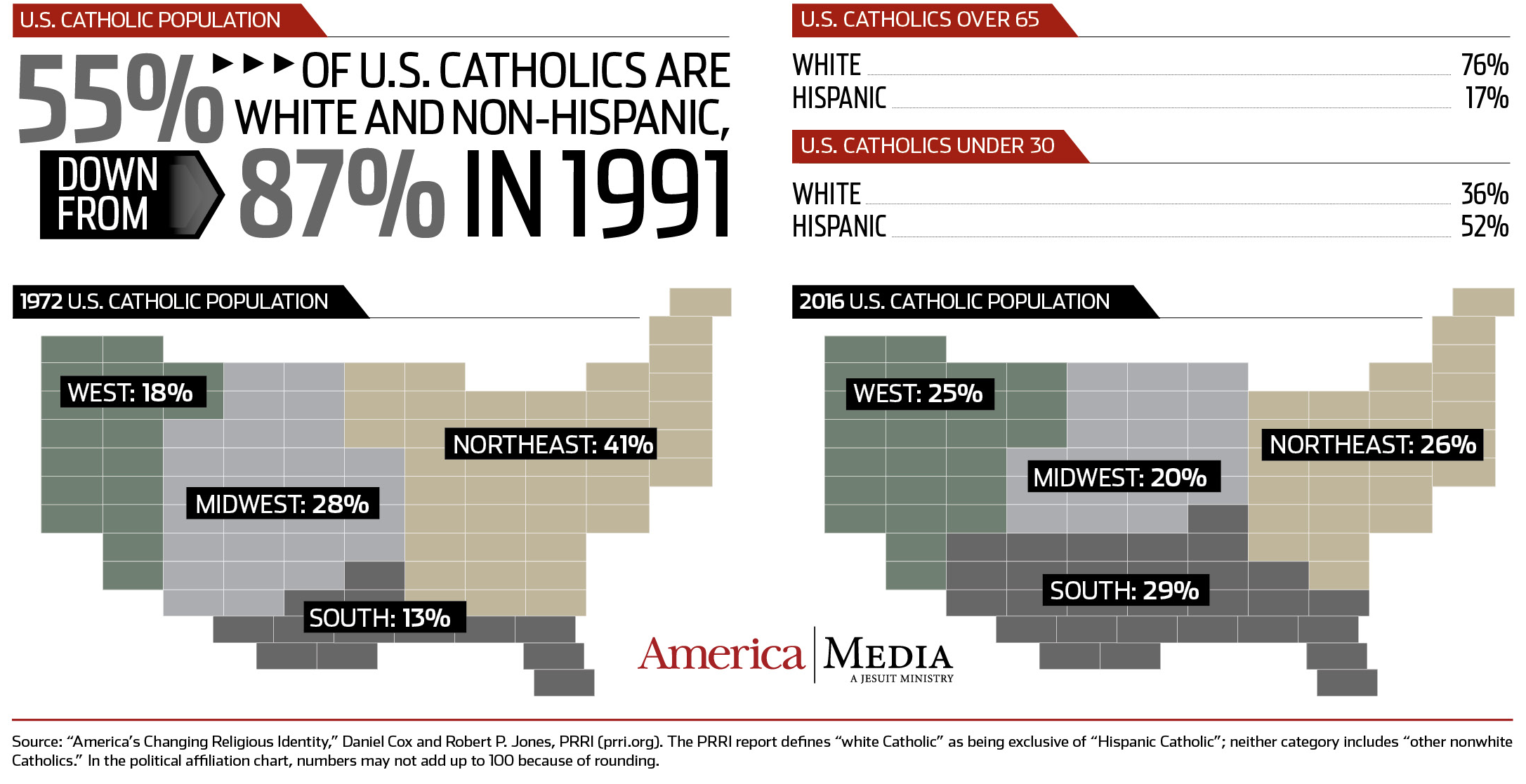 Also among the report's findings: In 20 states, the largest religious group is comprised of those with no affiliation, clustered mostly in the West and in New England. But that does not mean those states have no use for God. About 16 percent of unaffiliated Americans say they are "religious."
"The unprecedented growth of the religiously unaffiliated has made this group much more complex," said Dan Cox, PRRI's research director. "For example, atheists and agnostics, two of the most known subgroups among the unaffiliated, account for just a sliver of the entire group."While white Christians make up a smaller percentage of the overall population compared to previous decades, members of non-Christian faiths remain a relatively small percentage of all Americans. Just two percent of all Americans identify as Jewish. Buddhism, Hinduism and Islam each are represented by one percent of the U.S. population.
The report, with a sample of 101,000 Americans from all 50 states, contains several takeaways about the state of Catholicism in the United States, which is seeing a radical transformation from the historical European enclaves in the Northeast and Midwest toward a church heavily influenced by immigration from Mexico and Latin America.
Among the findings:
1. The Catholic Church here is increasingly diverse.
"Immigration from predominantly Catholic countries in Latin America means new Catholic populations are settling in the Southwest," the report says. And that means the U.S. church is increasingly less white.
Back in 1991, close to nine in 10 Catholics in the United States were white. Today, that number is down to 55 percent—and that percentage will continue to drop. A majority of Catholics under 30, or 52 percent, are Hispanic. Plus, Hispanic Catholics have larger families with younger children than their white counterparts.
This change is in line with wider demographic trends in the report. Just four in 10 Americans today identify as white and Christian, compared to eight in 10 in 1976. Since 2006, the percentage of Americans who identify as white and Catholic dropped from 16 percent to 11 percent.
Yet when it comes to church leadership, Hispanics are underrepresented. According to the U.S. Conference of Catholic Bishops, there are 284 active bishops in the United States, about 10 percent of whom are Hispanic. And among the six cardinals leading U.S. archdioceses, all but one live in the Northeast or Midwest.
Mr. Ospino said increasing vocations among Hispanic, Asian and African immigrant Catholics in the United States will eventually help alleviate this disparity.
Noting the differences in educational opportunities and even Catholic schools, he said, "We don't yet have the traditional pathways that American Catholics [of European descent] had to get to leadership positions."
2. The geographic center of U.S. Catholicism has shifted.
Waves of Italian, Irish and German immigrants to the Northeast and Midwest in the 19th and 20th centuries led to large Catholic communities in those areas. While those regions continue to be heavily Catholic, with Rhode Island the most Catholic state, the report found that a majority of U.S. Catholics, 54 percent, now live in the South and West. Compare that to 1972, when nearly seven in 10 U.S. Catholics lived in the Northeast and Midwest.
This trend is set to continue as well, with Catholics in the South and West younger than their counterparts in the Northeast and Midwest.
Mr. Ospino said one of the challenges with this geographic shift is the need to build more infrastructure, which he said is "very exciting because that requires new strategies of evangelization, new ways of understanding Catholic education, new ways of understanding Catholic higher education."
"Most of the Catholic universities, schools, hospitals, seminaries, parishes—these were all were built in the Northeast and Midwest," he said. "We are at a point in which we are ready to enter a process of building a new set of structures in the South and the West to serve the new population."
3. There is a big educational gap between white and Hispanic Catholics.
White Catholics have attained some of the highest levels of education among religious groups in the United States, with 63 percent having at least some college education. On the other hand, just 28 percent of Hispanic Catholics have some college education, the lowest number for a religious group in the United States. (The most educated group is comprised of Unitarian Universalists, with 85 percent having some college education.)
4. About one in 10 L.G.B.T. Americans identifies as Catholic.
Members of the L.G.B.T. community are far less likely to identify as religious compared to the general public, with 46 percent of them reporting no religious affiliation. When it comes to Catholics, just six percent of L.G.B.T. Americans are white and Catholic, compared to 11 percent of the general population. Hispanic Catholics are more evenly distributed, with five percent of the L.G.B.T. community identifying as Hispanic Catholic, compared to 7 percent overall.
(Buddhists and Unitarian Universalists have an outsize presence of L.G.B.T. Americans compared to their overall population.)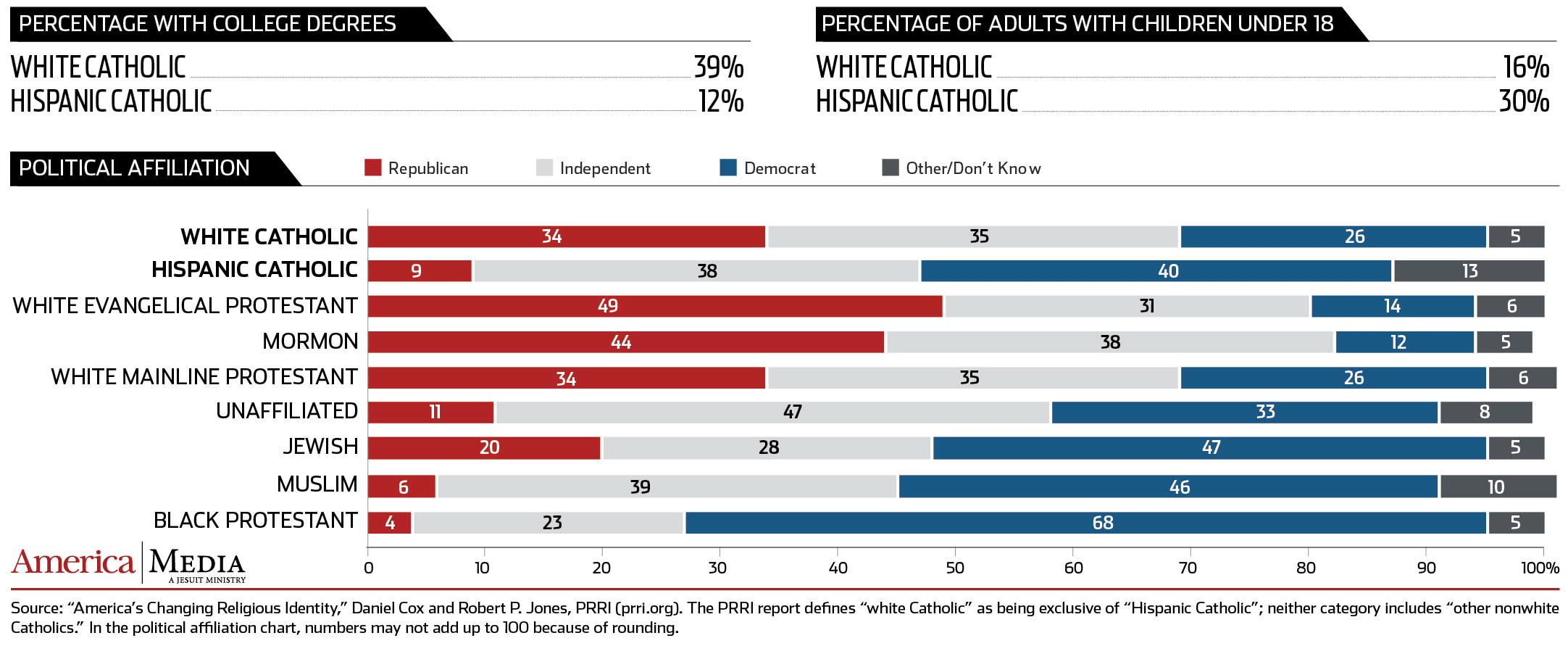 5. White Catholics go for Republicans, Hispanic Catholics for Democrats.
Among white Catholics, 34 percent identify as Republican and 26 percent as Democrat. But Democrats have a problem on their hands when it comes to young white Catholics, with just 21 percent of them identifying with the party.
Among Hispanic Catholics, 40 percent identify as Democrats and just nine percent as Republicans. But here, too, there is a generational gap that spells trouble for Democrats. More than half of Hispanic Catholic senior citizens, 56 percent, identify as Democrats, but only 35 percent of young Hispanic Catholics identify with the party.
Note: This article has been updated since it was first published online on Sept. 6. PRRI's estimate of the percentage of the U.S. population identifying as Catholic has also been corrected, from 18 percent to 20 percent.