After Harvey, Texas towns try to pick up the pieces
Barb Bartholomew wipes the sweat off her brow as she inspects what is left of her barber shop on one of the main roads in Rockport, Tex. The afternoon heat is merciless, but Bartholomew won't stop moving the piles of broken wood and glass and twisted metal. She asks me to tread lightly; there are small turtle figurines and other treasured objects on the floor.
"It's all gone," she says. "I'll be able to salvage what I can, with luck. You do the best you can; you help your neighbors. You just have to move on."
Of all the towns on Texas' southern Coastal Bend, Rockport was hit hardest by Hurricane Harvey. When the storm made landfall on Aug. 25, its center barely missed Corpus Christi, some 40 miles to the south, sparing 300,000 inhabitants and one of the country's most important ports and petrochemical hubs. Instead, Harvey's eye swooped directly over smaller communities like Rockport, Aransas Pass, Port Aransas and Ingleside, bringing widespread destruction along its path.
You do the best you can; you help your neighbors. You just have to move on."
Now, 10 days after the storm subsided, the waters have receded and the roads have been cleared, and the almost 9,000 citizens of Rockport have begun to return to what was once their home. Many came back to utter ruin and now face the task of rebuilding what was once one of the Gulf Coast's most popular tourist destinations.
Inhabitants of these towns told me that at least half of the homes and small businesses in the area have been reduced to rubble, though it is expected to take weeks until any official estimate of the damage can be made. The 45-minute drive from Corpus Christi to Rockport is like entering the remains of a war zone. The large city has little to repair but broken windows, but venturing closer toward Rockport reveals trailer parks with toppled RV's, convenience stores without roofs and furniture scattered over the road.
At Cove Harbor, one of Rockport's marinas, the storm blew away the corrugated metal of the northern side of a storage facility for yachts and speedboats and twisted the metal beams of the building such that dozens of boats fell on top of each other. On the other side of the street, Lin Barton slowly clears the debris of a small wooden building.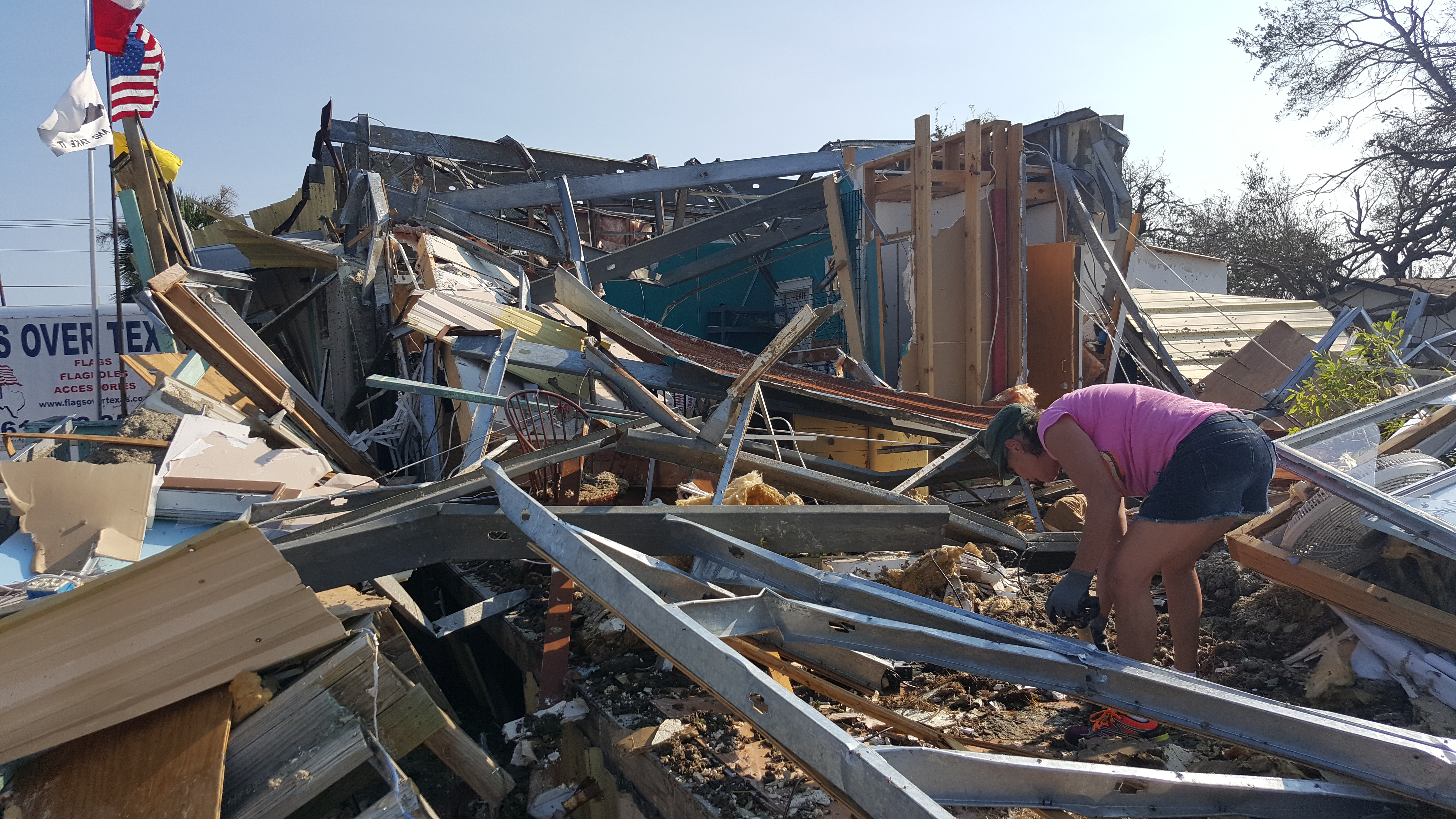 Mr. Barton, 72 and retired, lives with his wife, who is disabled and needs permanent attention, on a small yacht. He says that his pension is not enough to cover his wife's medical expenses, so he has run a small workshop in the marina for repair and maintenance on the woodwork of other boats. The workshop is now gone, destroyed by the storm, and though his boat has not sunk like three others in the marina, it has been damaged enough to be uninhabitable.
"The strength of the storm was unbelievable," he says. "You see videos of storms and hurricanes, but it's nothing like experiencing the real thing. It's humbling. This is my third hurricane but definitely the worst."
Mr. Barton has no insurance, as is the case with many people in the area who have lost their homes and livelihood to Harvey. Premiums for storm and flood damage insurance can cost up to $4,000 per year, which many here cannot afford.
"I survived, but I'm not sure how to get back from this," Mr. Barton says. "I have a minimal pension, but my wife needs permanent medical attention. I won't be able to afford that with the workshop gone and the damage to my boat."
Besides the permanent inhabitants of the area, there are many seasonal residents who have yet to return and assess the damage to their properties. The population of Rockport, as a popular beachside destination, swells to 30,000 people in November, when many retired Midwesterners come to Texas to spend winter in a warmer climate. Many of these "winter Texans" reside in trailer parks, and many of them are not insured.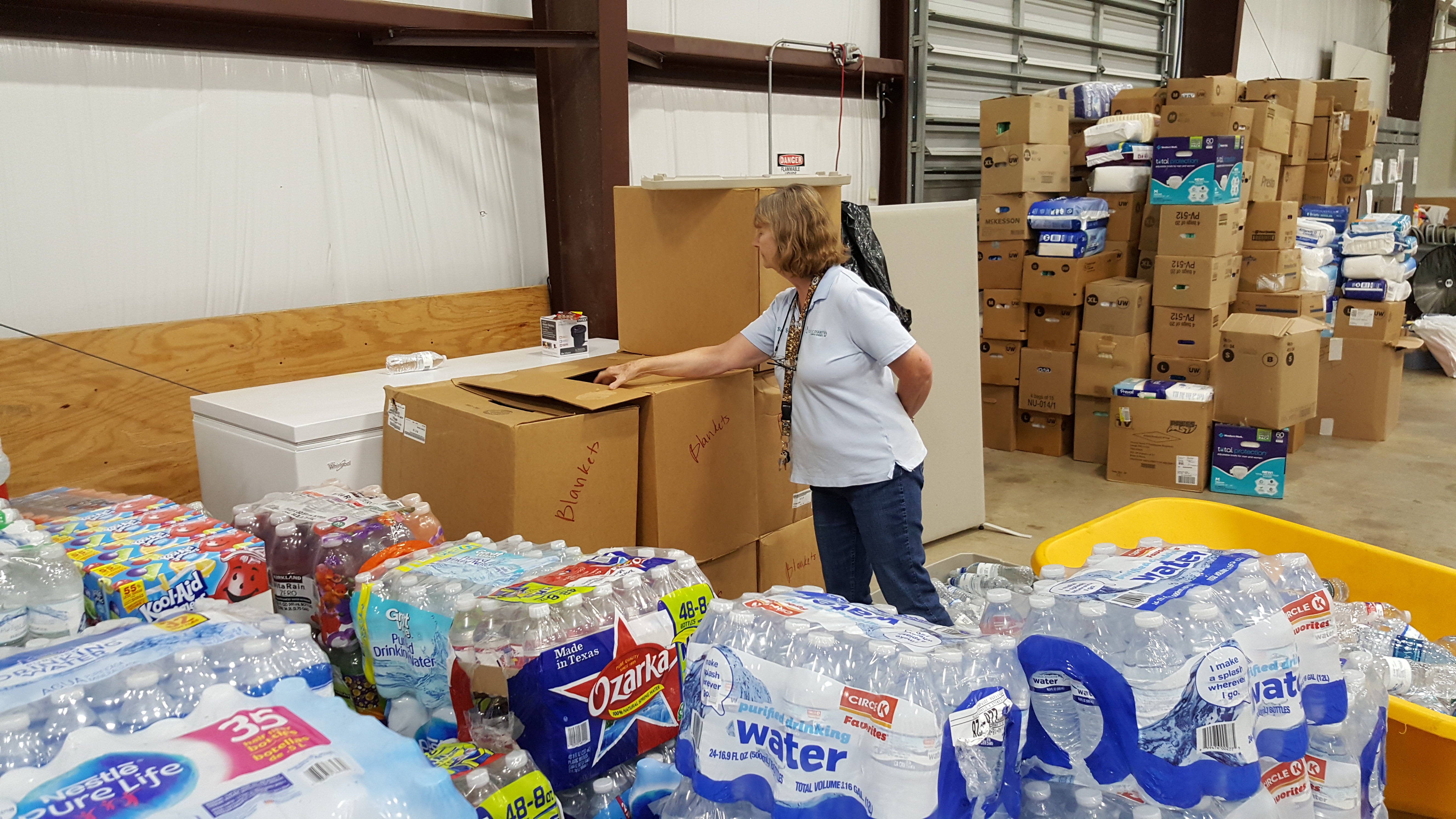 In the immediate aftermath of the disaster, living by the hour is common in Rockport. Although government relief workers labor around the clock to clear the streets, it will be at least a few more weeks before electrical power can be restored. Most smaller businesses in the area remain closed, and convenience stores cannot keep up with the demand for necessities like water and diapers. They are supported by volunteers and charities supplying emergency relief.
One of the groups is Catholic Charities, which has a storage area in Corpus Christi. When America visited their offices several days ago, the warehouse was packed with food and water. The provisions are brought to the storm-affected areas multiple times per day.
"We've had five trucks coming in with emergency goods from Brownsville alone last week," Betty Berry of Catholic Charities says. "There has been an outpouring of support, from anybody who has anything to give."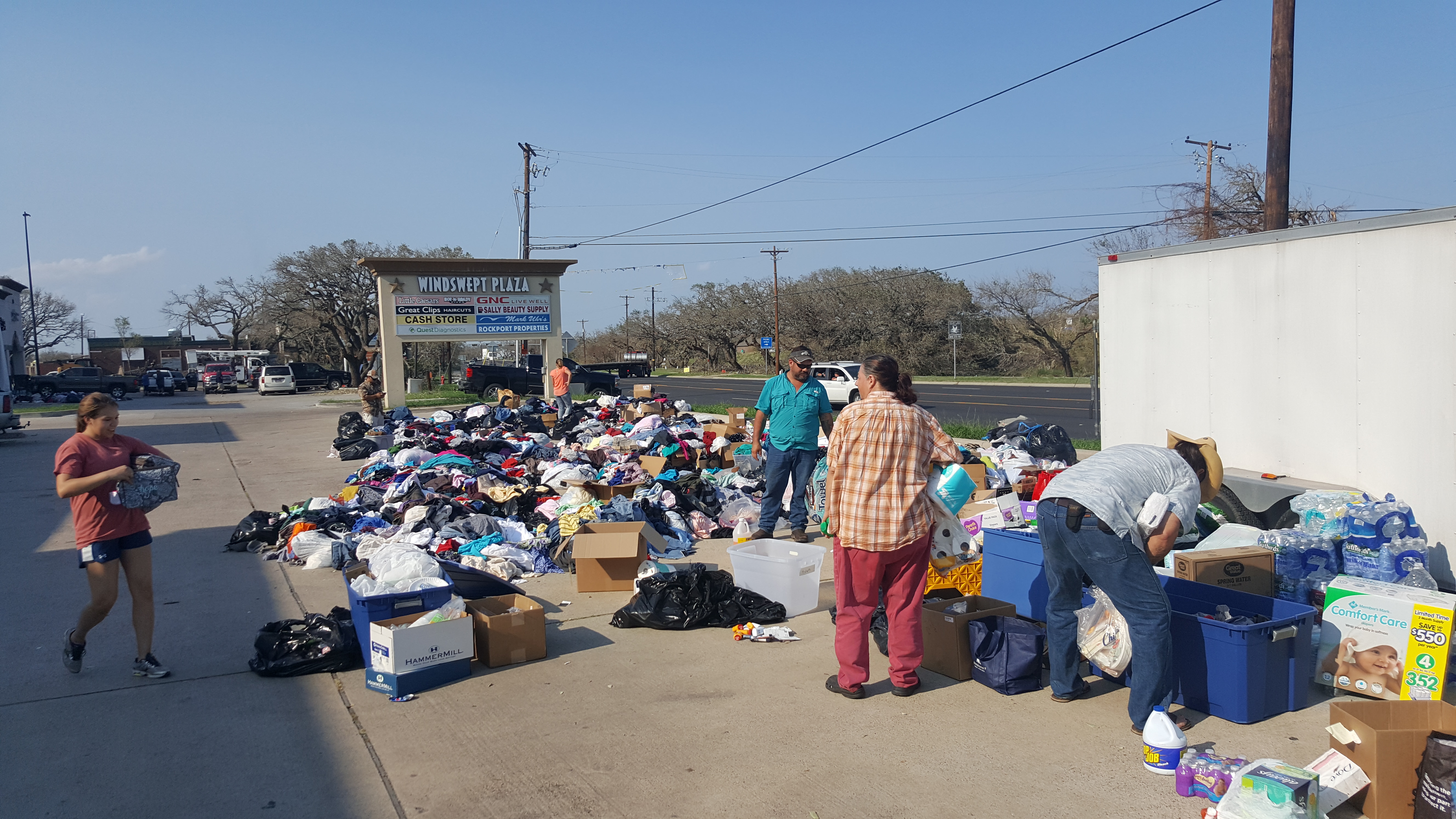 Ms. Berry saysthat her organization does more than provide immediate emergency relief; it also employs three experts who travel to towns like Rockport to assess the damage to homes and businesses. Such information is then provided to the Federal Emergency Management Agency, which provides low-interest loans to help the victims of the storm. Still, residents believe it will take at least a year for towns like Rockport to get back to normal. It will take weeks just to demolish the homes and other buildings that are beyond repair and restore basic services to the area. Then come even more difficult tasks. In Rockport's case, this includes rebuilding a town that has a vibrant cultural scene and is dependent on fishing and tourism.
Some believe the town will never be the same, but others are more optimistic. In the Heritage District, a small area lined with art galleries, stores and restaurants, most buildings are still standing.
"Things will change. People without insurance will have to sell their land, and you'll have investors coming, buying up land," says Diane Lloyd, a wildlife photographer who runs a store and an art gallery. "But these little towns will get bigger and better than ever."