Meet the Strake Jesuit students who rescued 50 people after Hurricane Harvey
When Declan and Liam Conner's Houston neighborhood flooded because of Hurricane Harvey, the boys, 15 and 18, respectively, did not think twice before grabbing their family's fishing boat to start rescuing their trapped neighbors.
"Our parents and I have been through a flood twice already, so we know how it works, and we know how it's just, you have to help people because they've all helped us when we needed help," Declan said.The Conners lost their home in a flood two years ago and rebuilt an elevated home on the same lot, the boys' mother, Tracy Conner, said. This time, the waters from Hurricane Harvey reached their front steps but did not get inside.
"You have to help people because they've all helped us when we needed help."
Declan and Liam, along with their friend and classmate at Strake Jesuit High School, Thomas Edwards, 17, have spent the last week and a half making rescues in the flooded areas around Houston. One of their earliest missions was rescuing two workmen whose dump truck had begun to fill with floodwater. The men held onto tree limbs to avoid being washed away in the strong current that had formed as water from the street rushed toward the bayou. One of the men could not swim.
Declan, Thomas and Liam pulled up in their 14-foot boat and let the stranded men jump in.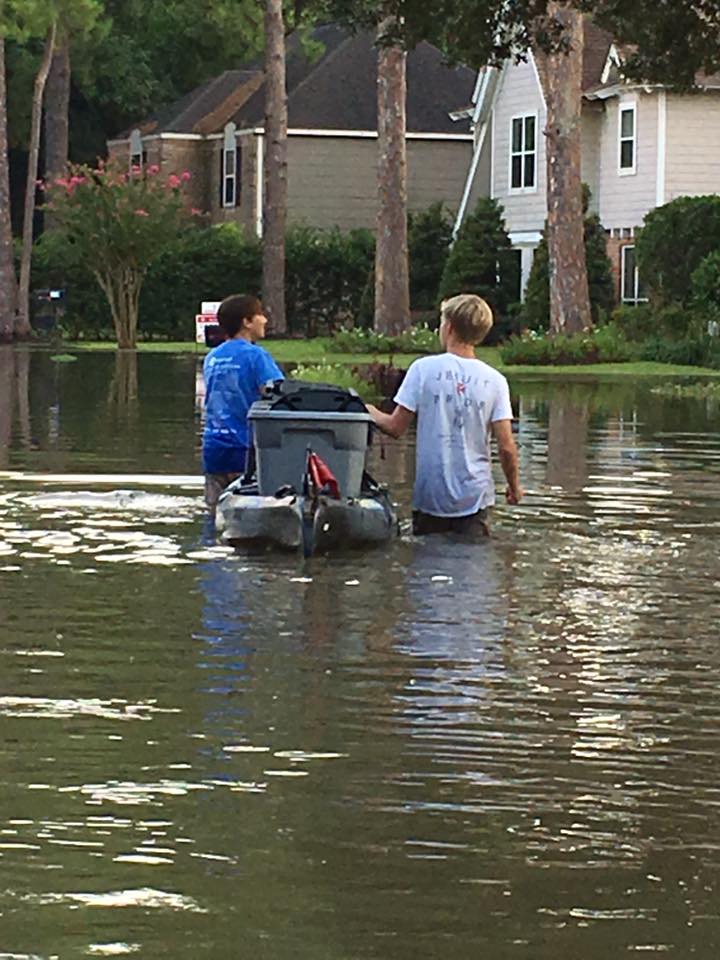 "They were ever so grateful that we helped them," Declan said.
The boys' rescue team may look ragtag at first: They take turns driving the boat or riding behind it on wakeboards in the bacteria- and feces-infested water to make room for more passengers. (When asked if he was worried about what might be in the water, Liam said that people's homes being underwater was much more concerning at the moment than any possible disease.) Thomas said another one of their classmates, Richard, rides on the front of the boat or in the water, hanging onto the side. At times, Liam said, they squeezed eight people into the boat, which is only meant to hold four.
15 yr old Declan and friends have been picking people up in Meyerland since late morning @HoustonChron#houstonfloodpic.twitter.com/fOh8lwXBzm

— Mark Mulligan (@mrkmully) August 27, 2017
"There were times...because it's a flat-bottom boat, and people would be sitting on the front, it would just nose-dive into the water," Thomas said.
Even with limited resources, though, the boys estimate they have rescued at least 50 people out of attics and off of roofs, along with many pets. At one point, the police and fire department started asking the boys for instructions on how to help.
Thomas believes the school's call to be "men for others" inspired his classmates to help others in the wake of the storm.
"It was funny because I'm 18, and they're looking at us, and they're asking for directions, like, 'What should we do?'... It's just weird giving a firefighter or a police officer orders," Liam said. "I mean, it was a good feeling, but, you know, it just showed me the gravity of the situation."
The boys take the people they rescue to a Kroger grocery store on high ground, where a shuttle picks people up to take them to the George R. Brown Convention Center, where 10,000 people have found shelter.
Strake Jesuit suspended classes until Sept. 11, and the boys have decided to continue rescuing people for as long as they need to.
The school has set up a Facebook group where members of the Strake community can ask for or offer help. The page is full of photos of students and alumni gutting houses and cooking meals at the convention center. Thomas said he believes the school's call to be "men for others" has inspired him and his classmates to help others in the wake of the storm.
"I think that whole ideology that our school instills in us, it's resonated with all of my peers, because, you know, they're all out there helping families rebuild their homes and move all their stuff," Thomas said. "For the most part, I would say it does play a big role, but at the same time it's just how our parents have always taught us to help others out in their time of need."