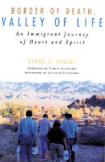 Several years ago, when I visited the shrine and retreat house of the Valley Missionary Program in Coachella Valley, Calif., I knew that something exceedingly unusual had happened. Out in the Mojave Desert, economically disadvantaged Mexican immigrants had built a stunningly beautiful spirituality center. That day I saw a mission-style building with neat little rooms, cactus gardens, an ample dining hall and chapel, together with an awesome Aztec pyramid in a spacious plaza. What struck me the most, however, were the people there: farm workers, men, women, young people and children. As they scurried around performing the myriad tasks necessary to maintain a place like that, I felt such pride for them. This was their center; they were empowered—how, I did not know—to create such a marvelous place.
From my work with Hispanic immigrants over the years, I knew that this experience was unfortunately quite rare. Daniel G. Groody, a Holy Cross priest, assistant professor of theology, associate director of the Institute for Latino Studies at the University of Notre Dame and a former student at the Graduate Theological Union, where he earned the doctorate in spirituality, has written a richly researched explanation of this rare achievement. In the course of doing so, Groody draws the contours of the spirituality of the campesinos in greater detail and depth than this reviewer has ever seen.
Border of Death, Valley of Life is an unusually dense analysis and interpretation of a phenomenon that has been unfolding in the deserts of southern California for the last 35 years. Informed by a contextual theological method, Groody weaves together strands of ethnographical, historical and theological sources to create a cogent, if at times overwhelming, synthesis. This book is obviously a labor of love rooted in the author's scholarly interests, but even more in hands-on experience and an abiding love of the Hispanic people, especially the farm laborer and the undocumented immigrant. Following the lead of his model, the Rev. Virgilio P. Elizondo, Groody shows how Hispanic popular religion constitutes a brilliant form of Christian spirituality that deserves more respect than it usually gets. He shows, however, how that way of life needs to undergo conversion.
Groody dissects the Valley Missionary Program pioneered by the late Joseph Pawlicki, C.S.C., and skillfully uses the framework of Bernard Lonergan, S.J., and Donald Gelpi, S.J., for understanding the nature of Christian conversion to provide the backbone for the analysis. Groody integrates material from the pre-Columbian heritage that helps explain the originality and depth of Mexican popular Catholicism. He outlines and critiques a weekend retreat program and movement that has been spearheaded by Father Pawlicki for almost 30 years.
Into four chapters the author packs a great deal of data. The first chapter is a fine essay on the concrete reality of undocumented immigration and its political, social, economic, psychological and spiritual impact upon immigrants. Chapter Two tackles the issues of healing and empowerment in terms of the carefully designed Valley Missionary Program. Here and especially in Chapter Three, Groody pays attention to cultural analysis, inculturation and contextual theological insights. He outlines, for example, using clear, specific examples, how the conversion process unfolds in the Mexican. The fourth chapter integrates the concept of discernment—action flowing from a person's and community's relationship to one another and God—with the entire process of conversion. This chapter is a call to missionary action in both church and society as naturally flowing from loving, discerning hearts. In this regard the Guadalupan narrative, as found in the Nican Mopohua, an ancient Aztec-language manuscript, provides engaging expressions and prototypes of faith doing justice that reinforce the church's contemporary vision of evangelization as liberation and commitment to social, political and economic change.
Groody takes Elizondo's concept of mestizo spirituality quite seriously. The implication is that the promotion of spiritual development among Hispanics demands close attention to the deep cultural currents that continue to affect their already rooted way of being Christian. Those familiar with the language and style of middle-class Euro-American discourse on spirituality—with its praiseworthy but inadequate emphasis on individual spiritual journeys, individual prayer, spiritual direction and discernment—will discover a sea change here. The contrast is sharp, indeed, and Groody has made a contribution to the emerging field of Hispanic spirituality by shedding light on its strong collective thrust, cultural orientation to communal faith sharing and discernment, Marianism and powerful symbolism and ritual sense. Spirituality cannot truly be understood apart from insight into culture. That means, as Paul VI reminded us in Evangelii Nuntiandi, not layering either religion or spirituality onto people from outside, as one would a varnish, but sinking deep into their roots and finding the Spirit in the distinct humanity of each and every person. Culture is about that distinct humanity and is the key for grasping and promoting spiritual growth.
Overall, this is a splendid work that suffers from wanting to include too much. The bibliography is quite extensive and the interdisciplinary method takes the reader in many directions. In the interests of unity, emphasis and coherence, perhaps it could have benefited from better editing. Nevertheless, it is a remarkable study that requires follow-up by other scholars of spirituality, practical theology, community development and social ethics.
One final point. Many years ago I was struck by St. Augustine's observation in De Doctrina Christiana to the effect that one cannot preach to people if you do not love them. You cannot love them if you do not know them. Daniel Groody shows, more than anything else in this stimulating book, that he knows and loves these immigrants. He demonstrates that one can combine passion for scholarship, ministry and a people in most felicitous ways.
This article also appeared in print, under the headline "Spirito Mexicano," in the July 21, 2003, issue.