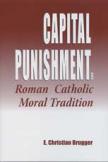 About 10 years ago, the U.S. circuit court Judge John T. Noonan published an article in Theological Studies on the problem of development in moral theology. He focused on four issues on which it seems the Catholic Church had changed the content of its moral teaching. These were usury, slavery, religious freedom and capital punishment. Noonan's analysis had a high degree of credibility because of his deep knowledge of the Catholic moral tradition and his extensive writing on some of its most contentious issues.
What are we to make out of this acknowledgement of change, an acknowledgment that seems to raise very serious questions about the magisterium of the church on moral questions? Briefly, the liberal response is to welcome open acknowledgment of significant changes within the tradition and to use this as a step toward advocating a broadly revisionist program in moral theology. The conservative response is essentially to deny that the historical record requires us to make any significant changes in the way that the magisterium has been understood and exercised. The changes, while undeniable as matters of historical fact, will on closer inspection turn out not to involve a change in magisterial teaching properly understood and will not support the case for change in those contested areas in which liberals and many lay observers hope for significant modification of church teaching.
Of the four issues that Noonan discussed, capital punishment is of particular interest, because Pope John Paul II has been a persuasive and vigorous opponent of capital punishment, even though he is clearly no friend of revisionism in moral theology. Capital punishment also figures prominently as a test for consistency on sanctity of life issues, especially for social conservatives; it provokes interestingly different responses from Catholic politicians and judges. It is also an issue on which public opinion, law and practice in the United States seem to be both deeply divided and at odds with the rest of the Western world.
Christian Brugger's book does not deal with these matters; rather, it is best understood as a contribution to a second-order debate about the moral teaching of the magisterium. It is a revision of an Oxford dissertation prepared under the supervision of John Finnis, whose ideas on moral reasoning and magisterial teaching it follows closely. There is no sign that Brugger has visited a death row anywhere in the United States, that he has dealt with the victims of violent crime or that he pays any particular attention to the social and psychological factors that influence people's opinions on the death penalty, though he has read Sister Helen Prejean's Dead Man Walking. These remarks are not made to discredit the book, which is a superior example of disciplined scholarly reflection, but to prevent disappointment on the part of those readers who might expect to learn much about the first-order issues.
Brugger, assistant professor of ethics at Loyola University, New Orleans, states his main contention about capital punishment in the following terms: "refraining from deliberately killing serious offenders is an expression of commitment to the fundamental dignity of the human person, an expression which in a significant sense is required by reason." This fits well with the Grisez-Finnis insistence that a morally justifiable act not involve a turning against any of the basic goods, especially the good of life itself. It also clearly commits him to abolition of the death penalty on grounds of principle rather than as a prudential judgment that the penalty is not enforceable in our society in a nondiscriminatory and practicable way. The latter is the underlying strategy in those criticisms of capital punishment that focus on the inadequacies of the American criminal justice system or on racist attitudes in American society, as well as in the somewhat different approach taken by the U.S. bishops in their 1980 statement. The author also acknowledges that his position is not what the Catholic bishops have taught down through the centuries, though he affirms that it is what the Catechism of the Catholic Church teaches.
Has there been a failure or reversal in the ordinary magisterium of the church? Has the church contradicted itself and its earlier moral teaching? Brugger's answer is no, since in his view there is no conclusive evidence that the bishops taught the legitimacy of capital punishment as "a matter of faith to be definitively held." Since there is no infallible teaching on this topic, there is room for development, even if it involves overturning the widely held and widely received teaching of the church and its leaders for many centuries. Something like this seems to be required if real changes in moral teaching in certain areas are not to lead to a reconsideration of Catholic moral teaching in general.
In reviewing the past relevant statements of the hierarchy, Brugger looks for those situations in which the teaching on a particular point was formulated against an explicit challenge and with an explicit intention to teach in a binding fashion. These requirements have two consequences. They take out of consideration all those statements in which the hierarchy simply presupposes or endorses a practice or a kind of action in passing, so to speak, or in which it takes for granted the affirmations of previous generations. They also reduce the range of what the church teaches authoritatively and effectively eliminate the notion of an ordinary magisterium. It is worth raising the question: what, if anything, taught prior to 1870 would meet a comprehensive application of Brugger's requirements? Even so, Brugger is driven to some tortured exegesis of the explicit teaching of Pius XII.
The dominant consideration in this work seems to be the interpretation and defense of a very restricted view of infallible moral teaching, rather than the careful and faithful examination of complex moral problems. The book is skillfully and carefully written, and the historical scholarship and the assessment of arguments are impressive, but one is left with a deep uncertainty about whether this type of apologetics is worthwhile. The kind of authoritarian rationalism that Brugger exemplifies constructs a defensive bunker that is supposed to be immune to criticism and change, when what is needed is more like a greenhouse in which the church is able to learn, to minister and to grow.
This article also appeared in print, under the headline "Right or Wrong?," in the November 10, 2003, issue.