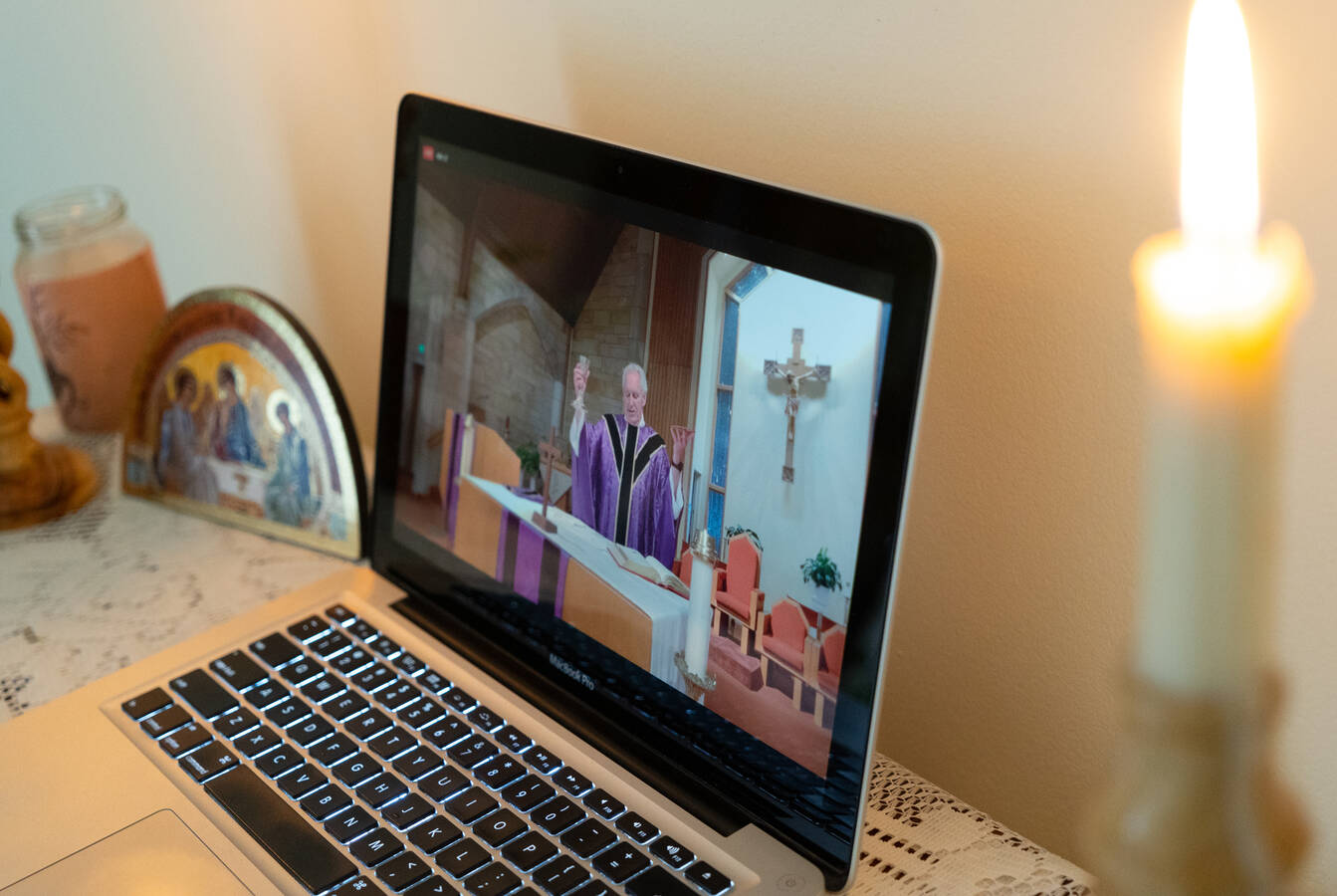 Coronavirus has cancelled public Masses. How can we participate in our own homes?
The first Sunday the doors of my parish remained locked all day, I needed to go to Mass. As a New Yorker, my Sunday obligation, like that of most American Catholics at that point, had been lifted. But I needed to feel, in a moment when my body had to remain distant from the bodies of others, the paradoxical unity of the Body of Christ.
Unable to talk my way into a nearby Jesuit community's Mass (a wise decision on their part), I turned to a live-streamed Mass from the Vatican, as half a million Italians and tens of thousands of Catholics around the world have done daily since the cancellation of public Masses in Rome. Yet watching the Mass on my laptop, feet stretched out on my bed, I scarcely felt any sense of participation in the Body of Christ. In fact, I scarcely felt I had participated in anything.
There is a vast gulf, I discovered that day, between going to Mass and simply watching Mass the way one watches Netflix. One is a foretaste of heaven; the other is, well, not. In many dioceses around the world, public celebration of the Mass is already suspended through Easter. In response, parishes have attempted to bring both the church and the parish hall online through live-streamed Masses, online Scripture reflection groups, phone trees and virtual happy hours.
While this physical separation from our parish communities is only temporary, it has real spiritual implications. And the shift to virtual Masses, especially, has left many to face the same question I did: How do we make the prayers of the liturgy incarnate in our own homes?
---
The answer, according to Bernadette Reis, F.S.P., begins with our bodies. Sister Reis is the nun whose voice I now hear daily as she translates the pope's Masses into English. But she has found herself on the other end of the broadcast as well, following TV Masses with her religious community. In addition to incarnating the gestures of the Mass by sitting, standing and kneeling and making a spiritual communion, she recommends creating a church-like atmosphere in one's own home by lighting candles, displaying icons or crucifixes and displaying a Bible.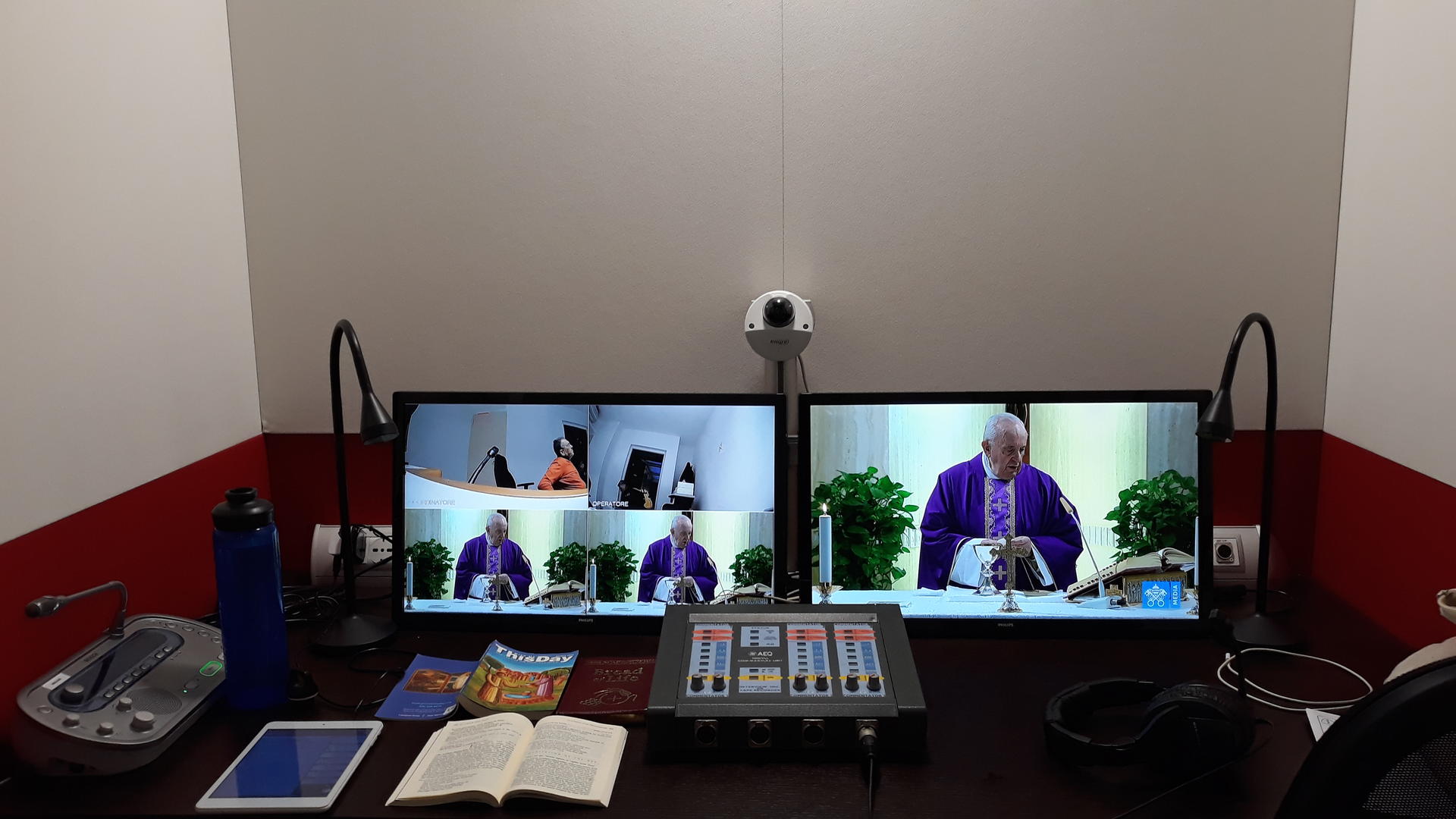 In doing this, she believes, she is mimicking the way that Christ bridged the gap between heaven and earth. "You need your body," she said. "And it's been a tremendous privilege for me, because that's the incarnation. That's what Jesus did by becoming man. He did it with a body."
"The fathers of the church actually taught that Christ's presence in the Blessed Sacrament is just as real in his Word," she explained. "And I think we need to bring that practice back, especially in this time when people may not, not only be able to get to Mass, but may not be able to get to a church to experience the Real Presence."
A similar approach has worked for Catherine Addington, a Catholic in her 20s who now watches Pope Francis' Masses on YouTube daily. She faced the same challenge I did when watching her first televised liturgy: how to differentiate it from the experience of watching Netflix. "I think it does have something to do with the fact that we don't know how to watch anything in a holy way," Ms. Addington said over Skype.
She has developed a few ways of differentiating the experiences physically, and she has found that her spiritual disposition follows. Whereas she would ordinarily watch TV or movies sitting on her floor and multitasking, for Mass, she sits on her couch, silences her cell phone and stands and kneels along with the on-screen congregation. Making the same physical gestures of prayer as other Catholics around the world has given her a sense of unity with them.
She has also picked up the practice of making a spiritual communion, a tradition that dates to the Middle Ages of praying with one's desire for the Eucharist. The teaching attributed to St. Thomas Aquinas goes that there are two ways to receive Communion: spiritually and physically. In past centuries, when it was common for Catholics to receive the Eucharist only a few times a year, the faithful would make a "spiritual communion" most Sundays, asking Christ to be with them spiritually as they looked at the host at the moment of elevation.
Pope Francis has invited Catholics to make a spiritual communion, too, during his live-streamed Masses, even placing a monstrance on the altar to allow people the chance for a virtual Eucharistic adoration.
---
The second Sunday of lockdown, I received a text from a priest friend in Montreal inviting me to join a Mass he would be broadcasting using the video-conference platform Zoom. With Sister Reis' and Ms. Addington's advice in mind, I silenced my phone, lit two candles near my laptop, displayed an icon of the Holy Family—the only icon I own—and took a moment to recollect myself before the liturgy began.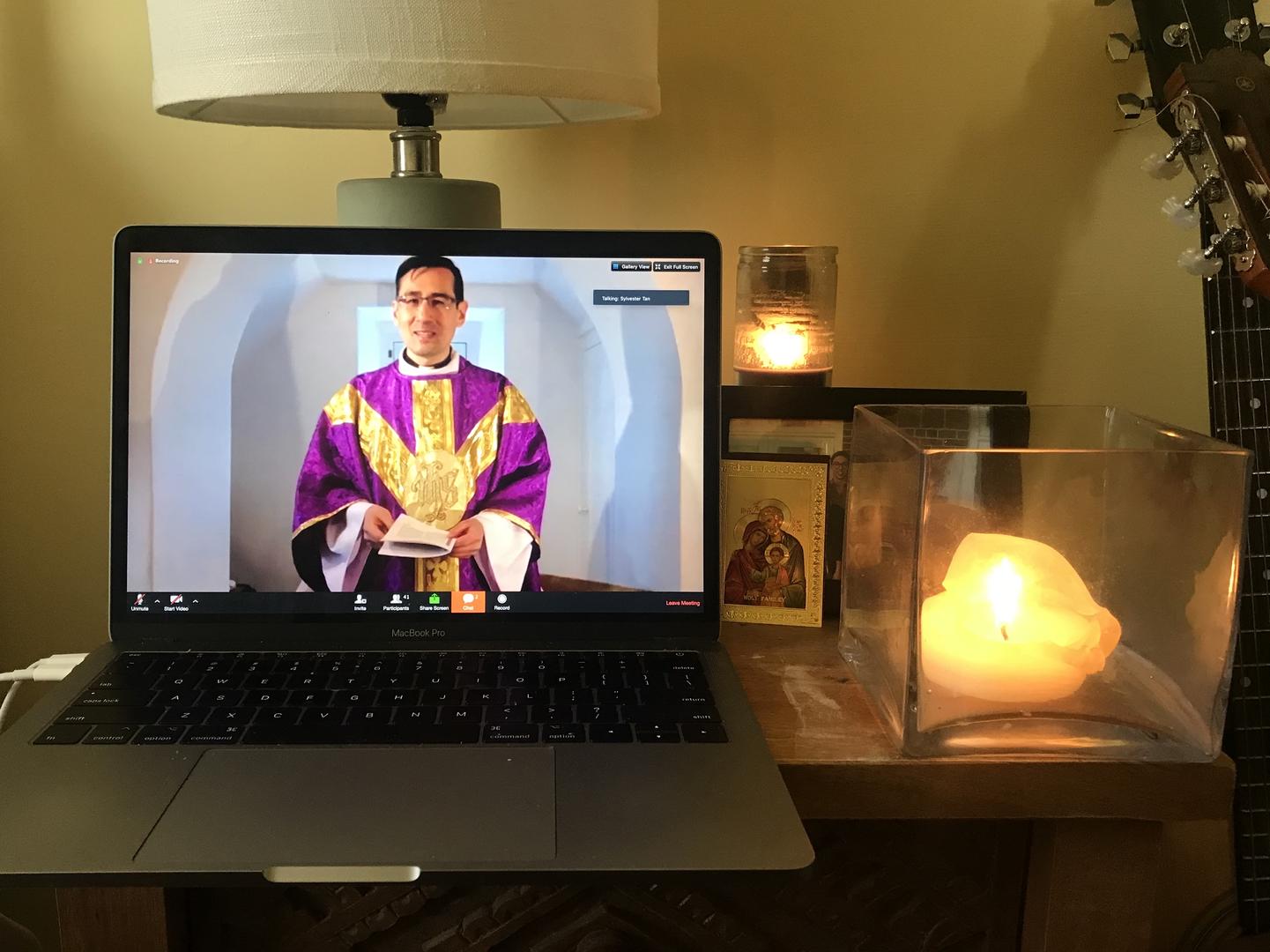 I had assumed the Mass would be small and simple, just a few friends, no music; it would be too difficult, I thought, to say the Mass responses in sync given the usual delay on video calls, much less to sing together. But when I joined the call, more than 50 people had also called in, some of them gathered with their families or roommates in little boxes on the screen. Many in the virtual congregation were members of a young adult group my friend is involved with in Montreal; they took turns reading and cantoring; a deacon even proclaimed the Gospel from his living room with his wife standing beside him.
I stood, too, in my tiny Bronx apartment, and said, "Praise to you, Lord Jesus Christ," in chorus with dozens of people hundreds of miles away, and I felt the connection I'd been longing for that first week: a union of word, gesture, prayer and time.
I stood, too, in my tiny Bronx apartment, and said, "Praise to you, Lord Jesus Christ," in chorus with dozens of people hundreds of miles away, and I felt the connection I'd been longing for that first week: a union of word, gesture, prayer and time.
---
As Italy's total lockdown continued through the month of March, Vatican officials faced the reality that the most important liturgies of the year—those of Holy Week—would need to be celebrated without a congregation present. In mid-March the Vatican announced that no tickets would be distributed for any of the Holy Week liturgies, and the Congregation for Divine Worship drew up guidelines for celebrating the liturgies without the physical presence of the faithful.
On Holy Thursday, the guidelines state, if the faithful are not present, there will be no washing of the feet or Eucharistic procession at the end of Mass; the Eucharist will instead be placed directly in the tabernacle. On Good Friday, there should be an intention added for those who are sick, the dead and "those who feel lost or dismayed." For the Easter Vigil, the Paschal candle will still be lit and the Exsultet sung, but there will be no fire at the beginning of the Mass.
The guidelines stressed the importance of worshipers praying at the same time: If the liturgies are broadcast, the Vatican's worship office wrote, "live—not recorded—televisual or internet broadcasts are helpful." If the liturgies are not broadcast, the guidelines said, the faithful should be advised of what time the private liturgies would be held so that they could pray at the same time.
Why this preference for simultaneous prayer? John O'Brien, S.J., a priest who has studied the intersection of theology and media theory and has celebrated televised Masses for Salt and Light, a Catholic television station in Toronto, explained that while there is a distinction between kairos—God's time, or eternity—and chronos, measurable time, the two intersect at the point of the incarnation, when the eternal God chose to be subject to the passage of time in the life of a person.
The church prioritizes simultaneous prayer in practices that are linked to time, like the noon angelus, the Easter Vigil and the liturgy of the hours. Although the prayers are staggered across time zones, "there is an in-breaking of eternity into human life when people come together for prayer, especially in a liturgical manner" at the same time, Father O'Brien said. In other words, our gathering for worship at the same time is yet another way of mirroring the Incarnation in our own prayer at home.
Kairos and chronos intersect at the point of the incarnation, when the eternal God chose to be subject to the passage of time in the life of a person.
---
In the midst of the challenges surrounding these virtual Masses, Katherine G. Schmidt also sees great opportunity. The author of the forthcoming book Virtual Communion: Theology of the Internet and Catholic Sacramental Imaginationhopes the church will recognize this moment as a chance to think about online liturgies from both theological and logistical perspectives. She believes the church should issue guidelines not only for the celebration of liturgies sine populo ("without the people"), but more specifically for those broadcast live online.
Ms. Schmidt said that Catholic tradition already contains a rich appreciation for a kind of virtual reality. Practices like the Stations of the Cross, for example, grew in popularity in the Middle Ages as Catholics sought to replicate in their home churches the experience of walking the Via Dolorosa in Jerusalem.
"There is something in the Catholic imagination that says we can connect to that in a way that's not just a picture. It's more than that," Ms. Schmidt said, in the same way that icons and statues are more than simply images to Catholics.
A still more pressing issue, Ms. Schmidt believes, is for church leadership to issue standards for both broadcasting and participating in online Masses. "It really starts to get back to the question from the Second Vatican Council" of full and active participation in the liturgy, Ms. Schmidt said. "What does that look like in a digital context?" For example, what camera angles best help viewers to participate in the liturgy?
On the viewer's end, Ms. Schmidt agrees with others I have spoken with that it is important to eliminate distractions, but also understands why this medium of the Mass might raise additional practical questions. "On the one hand, I want to say yes, there does need to be a sense of carving out a space that's different, making sure there are no tabs open, putting my phone on silent—things that are analogous to me walking into church and putting my phone on silent. But on the other hand, I don't want to deny that this is a different medium, and so is it okay that I have my coffee?"
She hopes to see standards issued before Holy Week, though there is no sign that the bishops or Vatican are working on such guidelines. Standardizing digital liturgies, Ms. Schmidt said, would help to provide a sense of universality to television or online broadcasts of the Mass. More importantly, she believes, thinking systematically about lay participation in online Masses would help break down the potential for a duality in which the priest or parish leaders become content producers and lay participants serve only as passive consumers.
This duality, she said, is neither proper to the liturgy—in-person or not—nor is it proper to our digital landscape, in which everyone is both a producer and consumer. So how to prevent this? One way might be by involving lay people in liturgical roles digitally, like at the Zoom Mass I attended from home.
The producer-consumer dichotomy is neither proper to the liturgy—in-person or not—nor is it proper to our digital landscape, in which everyone is both a producer and consumer.
This admittedly requires more work than simply broadcasting on Facebook Live from an iPhone, but, as I experienced, it can provide a much deeper sense of universal connection to the church in a time of isolation. And, in my experience, the technical execution of this is not particularly complicated. In the digital Mass I attended on Zoom, everyone's microphone was automatically disabled when they joined the call, and one person, serving as a sort of emcee, would unmute the cantor, lector, or deacon when it was his or her turn to speak or sing. One lay person remained unmuted during the liturgy of the Eucharist to recite the congregation's parts in the dialogues ("The Lord be with you," "And with your spirit," and so on), which prevented the camera from jumping chaotically as we all spoke the responses at home. At the sign of peace, I clicked over to gallery view, which showed everyone in the online congregation giving a smile and a wave from their homes.
---
Planning the visual and technical aspects of a liturgy is not the only consideration for priests who find themselves broadcasting a Mass for the first time. The question also arises of how to connect spiritually with parishioners who are not physically present, or perhaps even visible.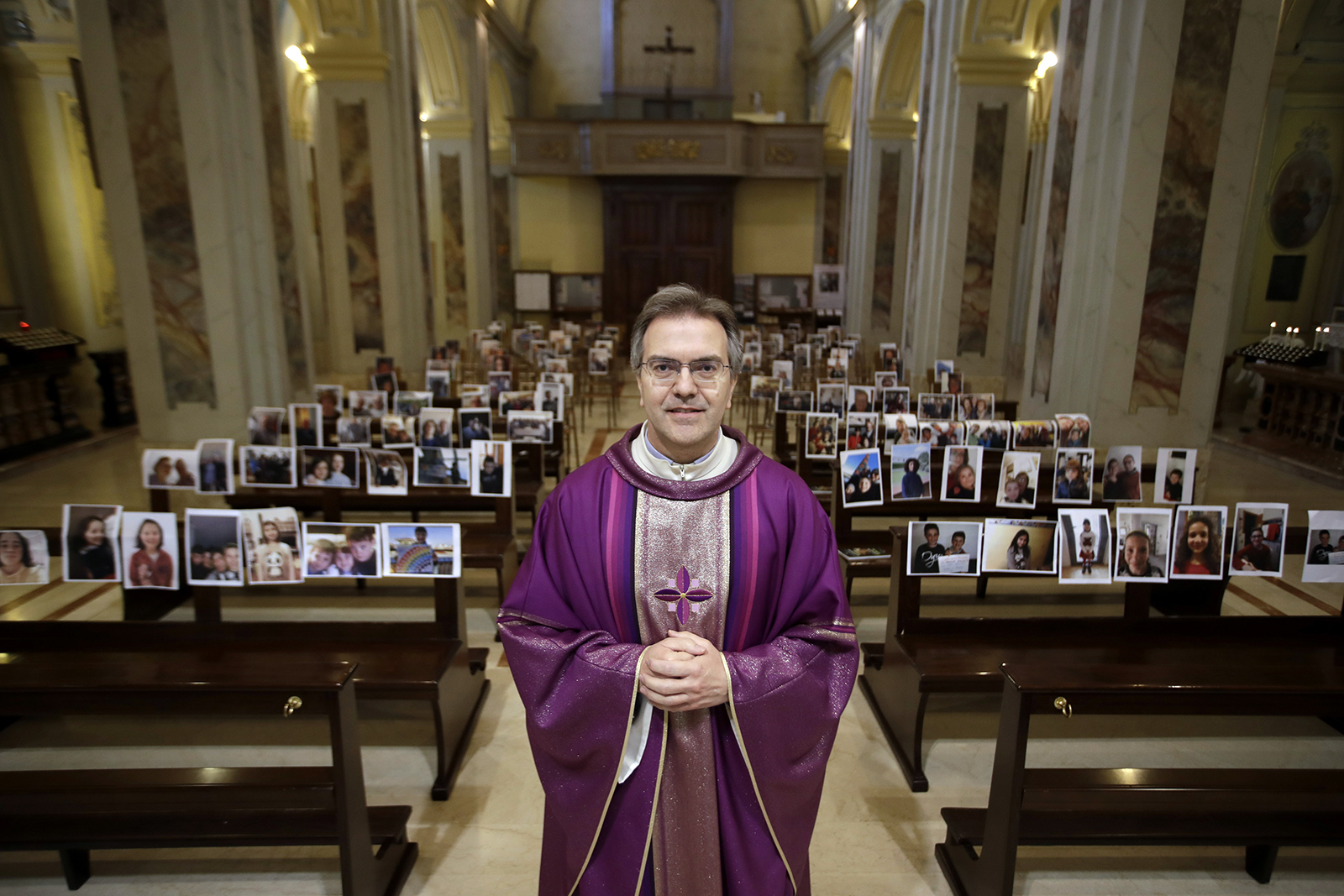 When he celebrates Mass for Salt and Light TV, Father O'Brien said he finds it helpful to imagine those praying along with him—not just his parishioners, like several priests recently did in a visible way by taping photos of their parishioners to the pews—but also the entire communion of saints, who the church teaches are always spiritually present at Mass.
"St. Ignatius believed strongly in the faculty of imagination, not as something imaginary in the sense of something being made up, but rather as a powerful means of connecting in the spiritual realm, and in this way the priest is in a very real way in union with God's people," Father O'Brien said.
---
The experts I spoke to said that the current moment also offers a chance for the lay faithful to become confident in leading liturgies and communal prayer in their own homes. 
"I believe at this time, the Lord is showing us how we need to live the way the primitive church lived," Sister Reis said. Early Christians, she explained, did not have churches to go to; they gathered in their homes for communal worship, which Catholics living with their families or roommates during the coronavirus lockdown can do.
"What we need to remember now is that whenever two or three are gathered in his name, Jesus is in our midst and begin experiencing that presence," Sister Reis said.
"What we need to remember now is that whenever two or three are gathered in his name, Jesus is in our midst and begin experiencing that presence," Sister Reis said. Gathering for prayer in the home "does not take the place of the Eucharist—I'm not trying to say that—but I think this is an opportunity for us to be able to experience, in very real ways, other manifestations of Christ's presence that the church has always believed are real," Sister Reis said.
One of these ways is by reading and reflecting on Scripture together, either informally or by having a liturgy of the word at home.
Father O'Brien also sees the current moment as an opportunity for the church to learn the power of reflection on Scripture in small groups, facilitating the encounter with Scripture that, he pointed out, Vatican II focused on strongly. "It's a profoundly theological activity," he said. "I cannot emphasize that enough. Now that we're all disconnected from going to church and all the church activities, this may in fact be the opportunity to, with those God has given us to be around, even if it is only two or three people, to sit in that circle, break open the word, read it out loud together, and share the fruit."
"It can be a real game-changer in people's spiritual lives," Father O'Brien said. "It really can. Lives, communities, families are transformed by it."
As Holy Week approaches, Father O'Brien and Sister Reis hope Catholics will think about how to incorporate the symbols and actions of that week's liturgies into their worship at home.
Although live-streamed Masses will not include the washing of the feet on Holy Thursday, for example, Father O'Brien suggests that families praying together wash one another's feet. "That would be an unforgettable, powerful experience," he said. "Not everyone at Mass gets to wash feet or have their feet washed; now they can." Likewise, he recommends venerating a crucifix (disinfecting it afterwards, of course) on Good Friday, and even lighting a fire or holding candles in a room to incorporate the symbols of the Easter Vigil.
Sister Reis suggested that if families have a unity candle from their wedding, they could light that when the paschal candle is lit at the vigil. "I think this is an opportunity for us to become the domestic church again, to have symbols around us," she said. "Make sure there's a crucifix nearby, a candle, holy water, all of these things that allow us to bring our religious experience from church into the home."
---
Ms. Addington, the woman who has followed Pope Francis' Masses from her apartment, is not yet certain how she will participate in the liturgies of Holy Week, but she believes that the coronavirus outbreak may cause people to contemplate the mystery of Jesus' death and resurrection in a new way.
"By the time we get to Easter, I think a lot of us will be confronting, 'How is my life the liturgy right now? How am I living Holy Saturday?'"
"By the time we get to Easter, I think a lot of us will be confronting, 'How do I deal with the fact that my grandparents are sick? How am I going to deal with the fact that older people in my community may be dying?' I have no idea if the stakes will be that high by Easter, and God willing, they won't be, but I certainly think that in Italy, where we're watching the pope's Mass, and they're already living the reality that this is not the life where the resurrection happens," Ms. Addington reflected.
Rather than wondering how to participate in a faraway liturgy, Ms. Addington said, she believes the liturgies of Jesus' passion may feel very near. She thinks it will be important to pray with, "How is my life the liturgy right now? How am I living Holy Saturday?" and inviting God to help us look forward to the resurrection.
---
Like Ms. Addington, I now live alone in a small apartment; my roommate returned home when her university suspended in-person classes. For us, and for Catholics who have no one in their homes willing to worship with them, participating in the liturgy during the church's most important liturgical season involves the additional challenge of trying to incarnate a communal experience alone. Whose feet will we wash, and who will wash ours?
"It's really tough because the whole underlying principle of liturgy is that it's two or three gathered in his name," Father O'Brien said. "When it comes to solitary prayer, we already have our structure: 'When you pray, go to your room, close the door, and pray to your Father in secret, and your Father who sees in secret will reward you.' But liturgy is different; it's supposed to be a communal activity. So then, I think that all that's left to you is really to unite your heart and mind to the communion of saints in heaven and on earth as you follow along by yourself."
Without the physical communion of the Eucharist or an immediate community, the holy communion that remains to us is the communion of saints: our spiritual bond with not only the saints in heaven, but the profound spiritual connection we share when we pray at the same time as others across great distances, or for the same intentions across time, or even the profound bond we share with others who pray to the same God.
So, we will light our candles, incarnate the gestures of the liturgy, and pray with our desires for Communion and communion, trusting that God will give us both spiritually, until and even after we receive them physically again.