Podcast: What is it like living in Rome during the coronavirus lockdown?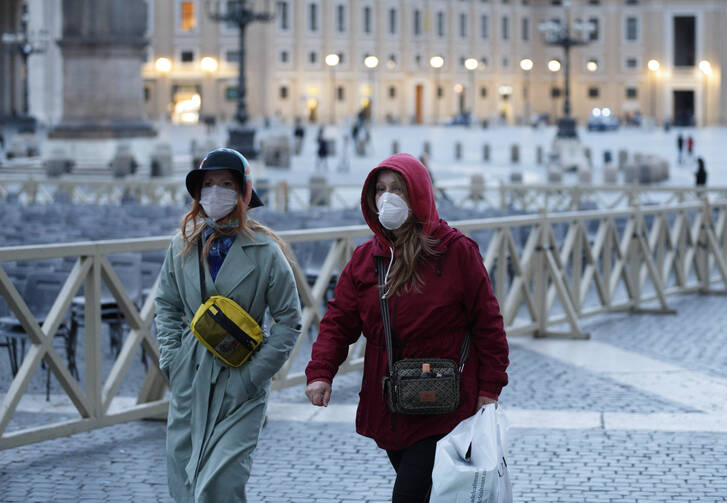 Women wearing masks for protection from the coronavirus cross St. Peter's Square at the Vatican March 9, 2020. St. Peter's Basilica is still open, but the Vatican has closed the Vatican Museums, the necropolis under St. Peter's Basilica, museums at the pontifical villa at Castel Gandolfo, and the museums of the papal basilicas until April 3 as measures to contain the coronavirus. (CNS photo/Paul Haring)
Vatican City reported its first case of coronavirus last week after a non-Vatican resident passed through its medical center for a routine medical evaluation. Over the weekend, the Italian government announced a total lockdown and a ban on public gatherings, advising residents not to leave their homes. On "Inside the Vatican" this week, America's Vatican correspondent Gerard O'Connell details what it's like living in Rome under the lockdown and how the Holy See and the pope are handling the crisis.
Listen and subscribe on Spotify and Apple Podcasts.
The Vatican has also announced that the 2022 synod of bishops will focus on the theme of "synodality." Gerry and I explain what synodality is, where the idea came from, and why Pope Francis is choosing to hold what some have jokingly called a "meta-synod."
We also give an update on Cardinal George Pell's final appeal, which will be brought to Australia's High Court this week.
Links from the show: