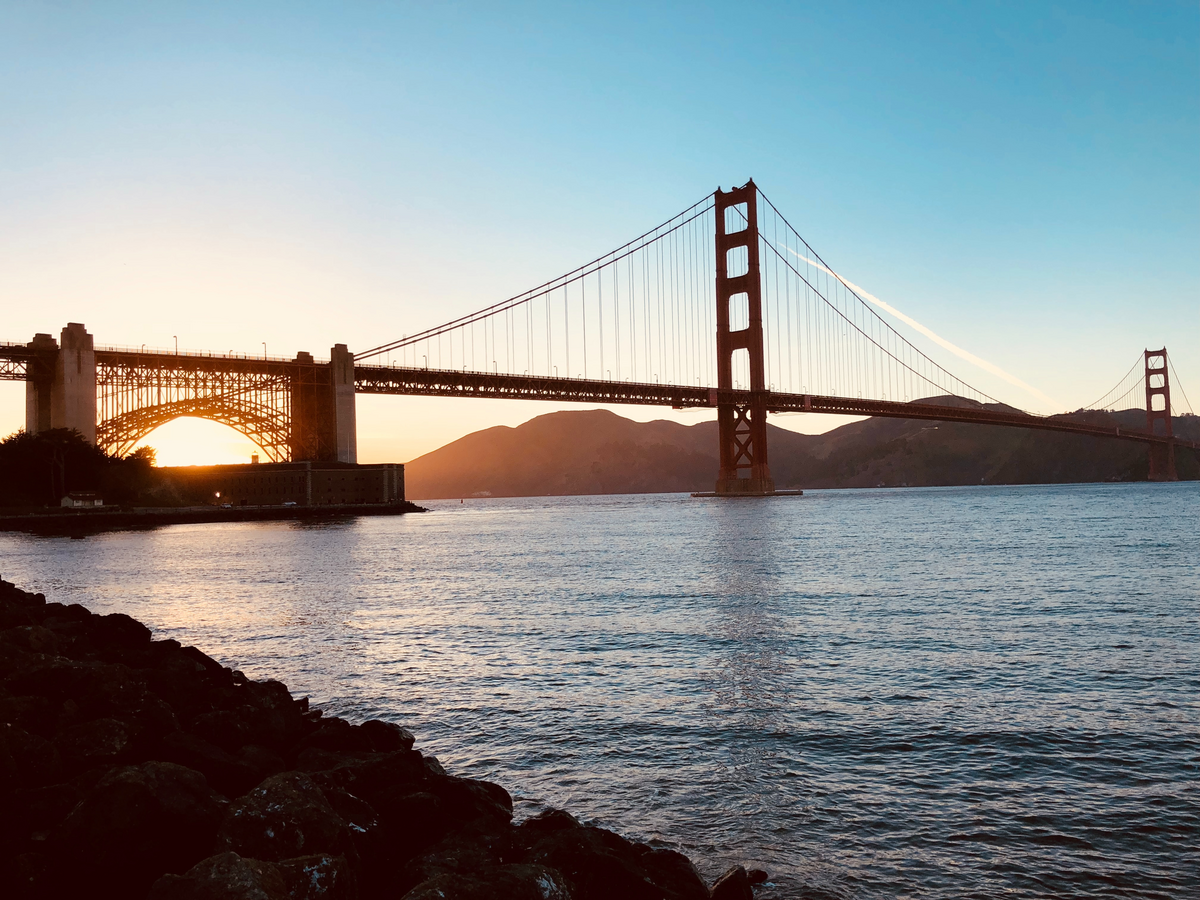 A Jesuit's guide to finding God in California
California is nowhere near as homogenous politically as it is usually represented. Yes, they have elected Jerry Brown as governor four times. But in the last 50 years, Californians have also elected Ronald Reagan and Arnold Schwarzenegger. Of the roughly 20 million registered voters in California as of earlier this year, only 43 percent are registered Democrats. Up and down the coast, once you get away from the Pacific Ocean, our state votes a pretty solid block of red.
It is also not a state free of significant problems: the concentration of wealth, the lack of affordable housing, the gentrification of poor and diverse neighborhoods, the recent passage of laws allowing euthanasia, the overcrowding of prisons, the traffic.
But when it comes to both the state government and that of the city of Los Angeles, in which I live, one finds in general a concern for groups and issues for which other states and our nation's current administration seem to have little time. Environmental regulations are common sense here. So are protections for the undocumented, for minorities and for transgender youth.
My work for America has taken me all over the state, from its northern border to its southern and from the Pacific coast to the state's eastern borders. And again and again I have watched Californians find a way beyond the categories they are supposed to occupy, the divisions they are told lie between them.
Forward movement can be halting or it can completely stall. But in a world that keeps insisting we all have to hunker down and hold our own close because we are all so polarized, California has continued to offer glimpses of the kingdom that Jesus imagined, a feast of friendship where all have a seat at the table.
Where Everybody Knows Your Name
The first time I met Ron Pacheco in the basement of Most Holy Redeemer Church in San Francisco, he was in a simple blue sweater and gray sweatpants. His brown eyes had a wry, seen-it-all quality. Whether that was from a lifetime of work in human resources or almost two decades spent running the parish's Wednesday night suppers for people living on the streets, it seemed like there was little that might surprise him.
A graduate of the University of San Francisco, Mr. Pacheco had been away from the Catholic Church for 40 years when the terrorist attacks of Sept. 11, 2001, happened. Two weeks later, without really understanding why, he started going back to Mass.
The Wednesday night supper was in its infancy at that point. The parish had had a tradition of prayer and a simple meal on the Wednesdays of Lent. On the way to one such event a parishioner found himself almost walking over some people who were clearly living on the street. So he invited them along. And a new parish tradition began.
Mr. Pacheco recalled there was initially a fair bit of controversy about the suppers. "This is a great parish, except for the Wednesday radicals," he remembered someone telling him. "We don't want them messing up our church"—a beautiful space with lots of wood, cream-colored walls and a simple altar surrounded by pews.
"We used to talk about 'those' homeless," Mr. Pacheco recalls. "Now they're 'our' homeless."
The parish sits in the heart of the city's Castro District, which in the 1960s and '70s was the most famous gay neighborhood in the world. At the time, most parishioners wanted nothing to do with their L.G.B.T.Q. neighbors; the hostility could be palpable, even violent. Then the dual factors of the aging of the parish and the AIDS crisis together shook loose the possibility of something new. What emerged was a community of welcome and friendship that Father Anthony McGuire would come to call "the gays and the grays." Today the parish commemorates this history with a scroll listing all the parishioners who have died of AIDS.
The idea of the Wednesday suppers followed a similar path from animosity to embrace. "We used to talk about 'those' homeless," Mr. Pacheco recalls. "Now they're 'our' homeless."
The suppers have received widespread recognition, including praise from Archbishop Salvatore Cordileone, the U.S. Conference of Catholic Bishops and The National Catholic Reporter, and have been lauded for the way the structure of the meal continues to inspire that same sense of community and acceptance of people on the margins that the parish built in the '70s and '80s. Each of the event's 100 diners sits with the same group of people every week. They learn one another's habits and encounter one another with the familiarity of friends. At one table when one of their party shows up, the others give a happy cheer.
Likewise, rather than the standard single-file serving line, which tends to put those in line in the position of beggars asking for food, the format for the Wednesday suppers is a four-course sit-down meal. Each course goes out to all the tables at the same time, so that no table feels of lesser value. The volunteer servers are laser-focused on helping the diners feel welcome and at home. One night the volunteer Bill Jordan, a middle-aged man with the kind of easy graciousness that makes everyone feel important, described for me my table's food preferences and what issues I should be aware of among those seated there. "We wanted it to feel like they're going to grandma's for dinner," Mr. Pacheco explained. And it does.
Everyone here, servers and served, wears a nametag; it is another way of creating that sense of community.
I went in thinking I would spend my time mostly talking to the diners, but that proved intrusive. The whole point of the evening is to give the diners some space of their own. So I stayed with the volunteers, who between courses sit facing the room, eating together while they scan their tables for needs.
Many of these people have been working at the supper for years; they are lawyers and chief executive officers, grandmothers and nuns, former priests and deacons in training. And it is clear that being a part of this is important for them, too. "Doing this keeps me sober," one young man confided to me. Another, a tall figure with a gray beard who told me jokes about the likelihood of Jesuits getting into heaven, explained to me what this is all really about.
"[Catholicism] is about how you live. This," he said, gesturing to the diverse crowd in front of us, giving and receiving grace, "this is how we live."
At various times throughout the night people at the table I was serving called for me by name. Everyone here, servers and served, wears a nametag; it is another way of creating that sense of community.
It stayed with me for days, that experience of a stranger at a table calling me by my name. He said it with such familiarity, like we were friends. And somehow in this parish to which I had never been before, whose roots have been fed over and over both by pain and welcome, conflict and liberation, it felt like we were. I felt as if I, too, was known.
Blessings of the Past
Like many things in Northern California, the origins of Big Basin Redwoods State Park find their foundation in the California Gold Rush. Just one year after gold was discovered in 1848, San Francisco had exploded in population from roughly 1,000 residents to 25,000. The city that emerged was built from the area's forests, where two men on platforms six feet above the base would saw for days at individual Sequoia sempervirens trees, more commonly known as redwoods. Some of these trees were 50 feet across and as tall as the Statue of Liberty. The men would then section each tree into pieces so that they could be drawn by oxen to wagons, which took the wood to boats waiting below.
It is hard to imagine such an arduous process posing any real threat to the tens of thousands of acres of redwoods in the mountains of Northern California. And yet within 40 years the area had 28 sawmills processing between 11 million and 17 million redwoods yearly to accommodate the city's now 230,000-plus people.
Many of the California redwood trees range from 1,000 to 2,500 years old, making them among the oldest life forms on our planet. And the stillness of a redwood forest is unique, profound. Walking through Big Basin, you occasionally hear the crack of something happening in a tree, the whicker of a bird taking flight. A breeze plays among the leaves high above, while tiny russet-colored chipmunks, blending in with the shade-dappled paths, dash past occasionally. But the presence of the trees absorbs it all into silence.
Many of the California redwood trees range from 1,000 to 2,500 years old, making them among the oldest life forms on our planet.
The loggers did not see any of that. For them and others the focus was growth, prosperity and opportunity. In just 50 years they cut down 75 percent of the old-growth redwoods.
Then in 1899 a photographer from San Jose, Andrew P. Hill, got an assignment to cover the site of a recent forest fire. One of the redwoods he photographed was on the property of an obnoxious dairy farmer who told Mr. Hill he planned to raze his forest for wooden railroad ties. Mr. Hill later wrote, "[t]he thought flashed through my mind that these trees, because of their size and antiquity, were among the natural wonders of the world, and should be saved for posterity."
When he returned to San Jose, Mr. Hill gathered prominent citizens, including scientists, lawyers, the president of Stanford University and members of the San Jose Women's Club. A group of them traveled into what is now the national park to survey the situation. While there they formed the Sempervirens Club, a reference to the redwood's scientific classification, the "ever-living" Sequoia.
Passing the hat among themselves, the group generated $32; it would become the state's first land trust. And in 1901, the state legislature approved what is today California's oldest state park.
Many times when I have come north for work I have taken a day to visit Big Basin. When you live in a place as barren of leafy trees and shade as Los Angeles, just standing in an actual forest is akin to stumbling upon a lake in the desert. You cannot quite believe it is real, or how desperately thirsty for it you have been. I can feel it in my skin somehow when I am there, every pore soaking up the quiet and life of this place while the leaves above soak up the light.
There is also something deeply reassuring about being in the presence of life that is so ancient. To be around these trees is like sitting in prayer with a group of old monks; no matter how serious the cares you bring, in their presence it all falls away. You follow their gaze into the simplicity of eternity.
To be around these trees is like sitting in prayer with a group of old monks.
"The redwoods, once seen, leave a mark or create a vision that stays with you always," wrote John Steinbeck in Travels With Charley: In Search of America. "They are not like any trees we know, they are ambassadors from another time." They have a kind of consciousness of their own, one that contemplates the world in units of centuries. We rise and vanish before them like mayflies.
And yet in 1901, this forest's survival was in doubt to the very last minute. The day before the final vote in the state capital of Sacramento, which reports were suggesting was doomed to fail, Robert E. Kenna, S.J., president of Santa Clara College and a future commissioner of the park, asked his nephew, Mayor James D. Phelan of San Francisco, to meet with Mr. Hill. That night Mr. Phelan agreed to guarantee $50,000 to the lumber owners if the state legislature agreed to spend $250,000 for the purchase of the land.
At midnight, Mr. Hill walked three miles from the meeting at Santa Clara to the San Jose newspaper offices, where the editor in chief agreed to print immediately a special edition of the paper headlining the guarantee. Mr. Hill then took the 4:30 a.m. train to Sacramento and had copies of that edition placed on each legislator's desk. It made all the difference; the bill passed unanimously. Had it failed, the old-growth redwoods of the Big Basin State Park would have been wiped out within six months.
Redwoods often occur in a ring, new trees sprouting from the roots of a fallen one in a circular, almost familial pattern. It is a potent image for the community these trees have inspired. About his campaign, Mr. Hill later said he had believed "there was a latent force, which, when awakened to a noble cause, would immediately respond, and perhaps arouse the press of the whole country." Those forces, once roused, continued to ripple out. U.S. President Theodore Roosevelt visited the redwoods a year later. He was so taken with them that he threw out most of the content of his two addresses simply to talk about the trees.
President Theodore Roosevelt was so taken with the redwoods that he threw out most of the content of his two addresses simply to talk about the trees.
"We should see to it that no man for speculative purposes or for mere temporary use exploits the groves of great trees," he said in Santa Cruz. "Where the individuals and associations of individuals cannot preserve them, the state, and, if necessary, the nation, should step in and see to their preservation." Roosevelt, a Republican, would go on to establish 230 million acres of public lands during the course of his presidency, including 150 million for national forests.
"We should keep the trees as we should keep great stretches of the wildernesses," he said, "as a heritage for our children and our children's children. Our aim should be to preserve them for use, to preserve them for beauty, for the sake of the nation hereafter."
Small Stories Writ Large
In the very back of the massive exhibition hall of the San Diego Convention Center, which during the week of Comic-Con International each year is overwhelmed by both vendors and attendees, some wearing costumes that take up much of the space in the paths leading up and down the floor, there is a young woman with her head down at a little table drawing tiny cartoon figures in watercolors and ink for anyone who wants one. The only thing that might make you notice her as you dodge around slow walkers and people with strollers and/or swords is the fact that such a long line of people queues for hours just behind her booth, waiting for their chance to ask her to draw their favorite pop culture character.
Katie Cook is well known in the comic book world for her webcomics and her work for the "My Little Pony" and "Star Wars" franchises. Her paintings at Comic-Con are sometimes child versions of adult characters. Princess Leia has a Chewbacca doll; Hulk has a boy's grin and a speech balloon that is just a heart. But even when drawing adults, Ms. Cook's art exudes the humor and wide-eyed innocence of a child. It clearly speaks to people.
It also captures much of what is going on here. When you hear people talk about Comic-Con, usually it is about what big shiny new Hollywood thing was revealed and what everybody was wearing. Television reports tend to fixate on the crazy cosplay (costume play) and the lines of thousands waiting hours (or days) to get into a room to hear the cast and creators of "Game of Thrones" or "Doctor Who" talk for an hour. It's a pop culture version of Willy Wonka's chocolate factory, complete with a lottery to buy tickets months beforehand that by some estimates rewards a badge of entrance to fewer than one in 10.
When Comic-Con began 50 years ago in the musty basement of a San Diego hotel, it seemed like a completely different phenomenon.
When the event began 50 years ago in the musty basement of a San Diego hotel, it seemed like a completely different phenomenon. "The very first one we had 300 people," the comic book and television writer Mark Evanier told me. He has been to every Comic-Con and run panels at most of them. "We thought, 'Oh my God, 300 people together who all love comics, that's incredible and that's impossible.'"
And yet through the decades Mr. Evanier has seen a unifying thread. "We are all there because we share common interests," he said. "[To be] in a room filled with people with some common love, that's very comforting."
As I walk around the convention center, I see on so many faces exactly that kind of wonder and delight that comes from suddenly being with so many others like yourself, people who love not just the same tentpole franchises but the same niché stories that spoke to you as a child or that speak to you now.
In some ways Comic-Con is always an act of reclamation, a moment where attendees discover or acknowledge anew the debt they owe to certain stories and creators, the ways a show or character freed them to think about life in a new way, even showed them there was a place for them in this crazy world. I attend the Los Angeles Religious Education Congress in Anaheim most years, and, though the stories that have spoken to people are different, the sense of gratitude is very much the same.
And despite the great size of the convention, when you have been here a few times the real magic and beauty are found not so much in the big splashy panels but in the small ones.
When you have been here a few times the real magic and beauty are found not so much in the big splashy panels but in the small ones.
Mr. Evanier recalled a recent convention at which he got to host a panel for Joy Murchison Kelly, who ghostwrote Wonder Woman comics in the 1940s and was never credited for them. "The people who got into comics in the 1940s and '50s never thought they'd become famous or wealthy. It was just a job they thought they'd enjoy," he told me.
"Then to find out there are generations of artists or writers that said [to them], 'You inspired me to become an artist.' ...I've seen people reduced to tears, happy tears," he said.
"The nice thing about Comic-Con for me is, there is all these little human stories around."
As I was packing up to leave at the end of another convention weekend this July, it hit me that the following week these 130,000 people will all be back at home. At some point soon thereafter news stories will cross their screens having to do with politics, religion (or even pop culture), and many times they will be on opposite sides from one another, perhaps vehemently so.
And yet for those few days each year in July we all have that same happy experience, where we discover our divisions meant nothing at all.
Upon This Western Shore
One of my favorite sessions at Comic-Con is a panel run by a cartoonist named Terry Moore. Mr. Moore has been writing comic books for decades, and he is well known in the industry for the complexity and variety of his female protagonists. They are veterans, office workers, mechanics, photographers and assassins—and endlessly layered.
The other unique quality about Mr. Moore is that his stories so clearly walk in worlds that cut across blue state/red state lines. He loves a good small town setting, and features both characters who love their firearms and have never left the communities they were born in, and some who can talk for hours about artisanal food trucks and which farm in Honduras has the most ethically harvested coffee beans.
I wrote Mr. Moore to ask him how he keeps alive that spirit of welcome and curiosity to all walks of life, especially in these difficult times.
"You have to be interested in life beyond your own. The people you meet any given day."
In response he wrote: "You have to be interested in life beyond your own. The people you meet any given day, the people you read about halfway around the world, the ones you can relate to in a foreign land, the ones you can't.... It's all so fascinating and the stories are endless.
"If I told you a boy lost his school lunch to bullies yesterday, you might complain about bullies. If I told you the boy's mom is dying of cancer and used her waning energy to make his lunches with little notes of love and encouragement and yesterday's lunch was the last one, you very well may ask to know more about the mother and her son. That's not me being a good storyteller, that's you being a good human being. The more you know about someone, the more you care. It's the writer's job to give you that opportunity."
Recently a Jesuit friend who just started his theology studies was telling me he had to write a paper answering the question "What is faith?" As we talked I found myself realizing I wasn't sure where I would start to answer that question myself. "So what do you say?" I asked him.
"Faith," he told me, "is a response to an experience of God's revelation. And that response inevitably involves action that builds community."
"Faith," he told me, "is a response to an experience of God's revelation. And that response inevitably involves action that builds community."
A few years after she helped Mr. Hill and others to create the Big Basin park, the local poet Carrie Stevens Walker published a poem titled "California." In it she imagined different parts of the state looking out at one another with admiration and sharing common experiences or the fruit of their labors. San Diego benefits from the Sierras' gold, and the ocean breezes kiss both northern pine and southern palm.
"The rose entwines the orange-tree," Ms. Walker wrote, "the sea-winds rock the pines,/ And wheat-sheaves lift their golden heads amid the grapes' green vines;/ the latest glow of sunset still enfolds it ever-more,/ While Strength and Beauty stand hand-clasped upon this Western shore."
Some of the people that I have met during my travels through California have been religious; others have not. Yet it is clear to me they have all experienced something at some point that turned their heads and caused them to clasp hands in solidarity.
Maybe it was just a glimpse of grace out of a corner of their eye. But to paraphrase Mr. Moore: Life in California has given them an opportunity. And they have responded.