V Encuentro national gathering focuses on young Latino Catholics
Young Latino Catholics were a focal point at the V Encuentro gathering, which took place Sept. 20 to 23 in Grapevine, Tex., and hosted a special dinner for bishops and young adults. A majority of Catholics under 30 are Hispanic,according to the Public Religion Research Institute.
"It was a beautiful experience to be with the young people in dialogue," said Archbishop Gustavo García-Siller of San Antonio. "Sometimes we think the youth are self-centered or in their own little world. But they are connected. They want to do something for the next generation."
Encuentro, which means "Encounter," is a four-year initiative from the U.S. bishops, intended to better serve the growing Latin American community. The process began in 2016 and has involved consultation at the parish, diocesan, regional and now national level. It will continue through 2020.
"For 15 years, we have seen the numbers in the Hispanic community here grow rapidly. But we've been overlooked and not seen as a cornerstone of the church," Laura Ramirez, a youth coordinator in Brooklyn, N.Y., told America. "There are a lot of young people, and we're willing to do great things."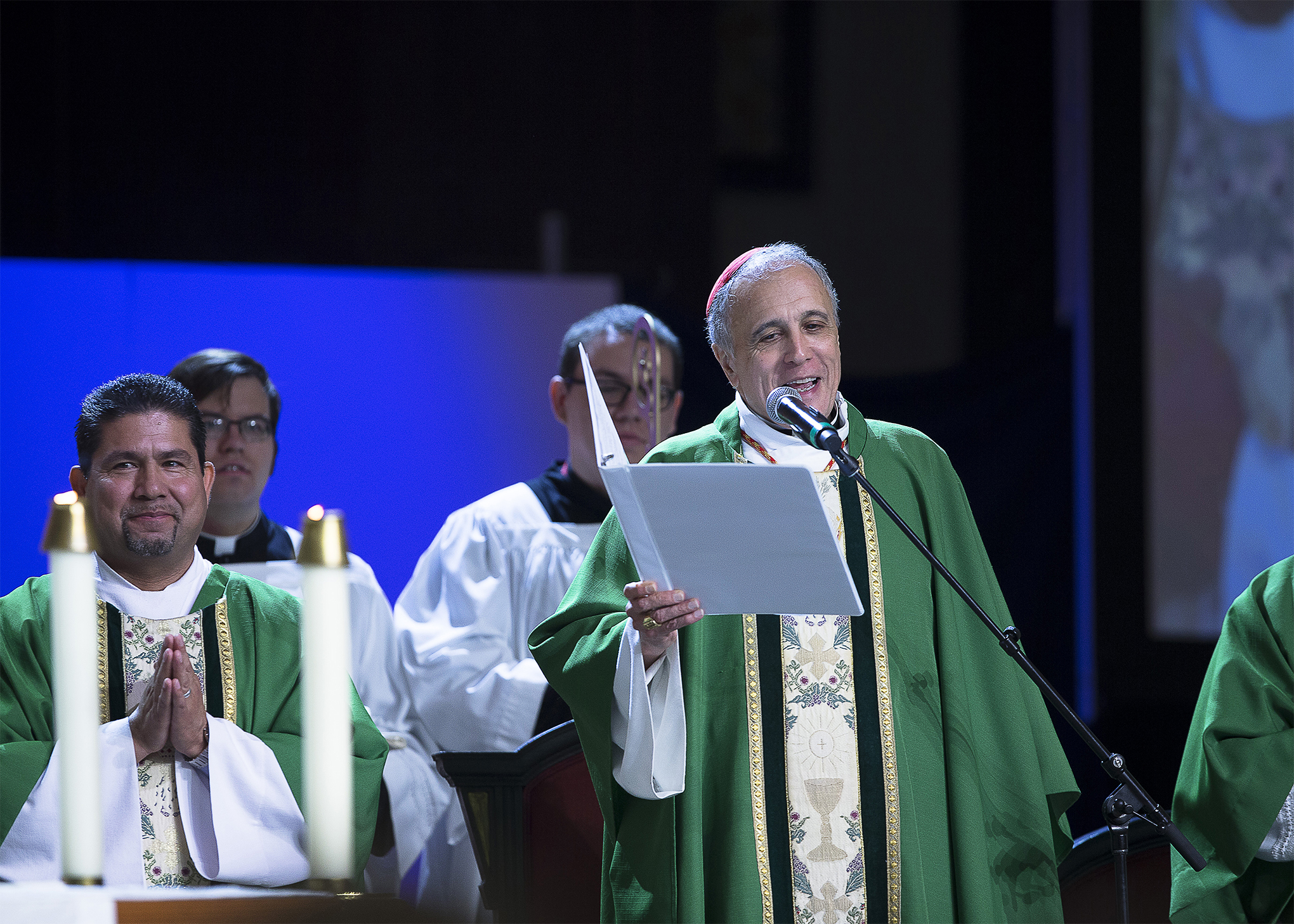 The gathering itself was mostly bilingual, with speakers and panelists often switching between English and Spanish to make different points. The Encuentro process has identified bilingual outreach—in terms of Masses, social media and other educational tools—as a key for the future church in the United States. Spanish is less often spoken among second- and third-generation immigrants,according to the Pew Research Center.
"God transcends languages," Rigoberto Gómez of the Diocese of Brooklyn told America. His heritage is Dominican and Puerto Rican, but he said he is more comfortable speaking English. "Your actions are going to be understood no matter what language you speak."
Georgina Romero coordinates religious education and Hispanic outreach at Holy Family Church in Missouri City, Tex. For catechism classes, she has the whole family attend together. Evenings include religious education and dinners that also serve as fundraisers.
"Catechism is for your entire life, not just for when you need a sacrament," she told America. "And learning as a family helps parents model lifelong learning for their children."
A bilingual textbook helps bridge language preferences between parents and children, Ms. Romero said. The food and the community dimension of the evenings help Latinos feel like they belong in the parish, she said.
Young Latinos are engaged. They are open to giving of themselves.
"I understand Spanish. I'm Hispanic, but for me to fully understand, it's helpful if it's bilingual," said Mary Elizabeth Paguay, who is involved in the charismatic movement in Queens, N.Y. "I hope the youth get recognized more and are helped to grow. That way we won't feel like we're alone. We want to work together with the adults."
Archbishop José Gomez of Los Angeles, vice president of the U.S. Conference of Catholic Bishops, said more had to be done for young Catholics and to encourage vocations.
"Young Latinos are engaged. They are open to giving of themselves," he said during a press conference. "We need to be more conscious of ministries for young Catholics."
Young Catholic Latinos want ministry to be in their culture, which may come in either English or Spanish, according to Oscar Godinez, who coordinates Young Adults for Christ in the Diocese of San Jose, Calif.
"We have to learn how to speak in the way they understand," he said. "There is a fusion of cultures that is happening. And it's very important that they take leadership roles, both in spiritual and educational dimensions."
Young adults may operate from within two cultures and may know two languages. Having them involved, Mr. Godinez said, can bridge age gaps in Hispanic ministry. But a number of young adults at V Encuentro expressed frustrations that their pastors did not trust them with ministerial responsibilities.
Reaching out to the margins
Dreamers were not forgotten at V Encuentro. Young adults from the Diocese of San Bernardino, Calif., put on a brief play about undocumented immigrants who came to the United States as children. In the play, two young women play Dreamers advocating for immigrants. The characters express having not felt welcomed by the church or in youth ministry programs, but they decide to give the church another chance.
The play modeled an encounter that was familiar to the more than 3,200 that gathered at the Gaylord Convention Center. These delegates, who hailed from dioceses across the United States, represented countless others who are taking part in the V Encuentro process. They have answered Pope Francis' call to go to the peripheries and listen to those who are on the margins of society.
While it was not a key point of the conference, Mr. Godinez mentioned outreach to Latinos who are part of the L.G.B.T. community, since those who have been marginalized include L.G.B.T. Latinos.
"In a way, it's a taboo topic. Our culture sometimes treats them as if they were lepers," Mr. Godinez said. "But we are all children of God. We have to reach communion among ourselves. We have to be present to them to learn what their needs are. It's something we should be talking about."
Archbishop García-Siller told America the church is still learning how to accompany the Latino L.G.B.T. community. But the church needs to accompany everyone, he said.
"It's a challenge because each person has a different journey. The Lord wants to be present to every person," the archbishop said. "The way I know how Jesus wants to be present to them is to walk with them."
Latinos still fail to recognize the leadership role of women in our church.
Hosffman Ospino, associate professor of Hispanic ministry and religious education at Boston College, also noted a gender gap. "Latinos still fail to recognize the leadership role of women in our church," he said. The national gathering itself is an example, as there were a far greater number of men who served as keynote speakers and panelists.
Cecilia Gonzalez-Andrieu, associate professor of theology at Loyola Marymount University in Los Angeles, said the gender disparity did not go unnoticed by delegates.
"For those of us accustomed to a vibrant and integrated experience of church, the very structure of the Encuentro days, with no laity invited to give plenary addresses and with women completely excluded from serving in any liturgical ministries, was shocking," she said in an email to America. "I encountered multiple women of all ages who confided their disappointment at the 'machismo' that was evident, and pointed out how in their faith communities it is always the women who do the hard work, but continue to be stymied in terms of leadership."
(CNS photo/Tyler Orsburn)
Ms. Gonzalez-Andrieu said the national gathering demonstrated that the laity are ready to take on leadership roles, but need education, formation and resources. She said the event "revealed a church in transition, with the laity ready to go into the streets to live out the Gospel of joy and of mercy, and an institution resistant to allow the transfer of power and agency this requires."
Mr. Ospino also noted the low number of people involved in Hispanic ministry in dioceses across the country. "Sometimes we have one person to serve half the diocese and 60 to serve the other half," he said, adding that hiring young adult Latinos could help with that.
Cardinal Joseph Tobin of Newark, N.J., said the conversations during the national gathering could help attendees discern where God is calling the church.
"Our failures might be the way of the Holy Spirit telling us we need to go in a different direction," the cardinal said. "Sometimes the Holy Spirit is like a gentle breeze…. Sometimes it's like a hurricane that knocks down things that need to be knocked down."
The first Encuentro was in 1972 and the most recent was in 2000, before the advent of social media. At V Encuentro, delegates identified the way the church communicates using new media as another challenge.
Perhaps in an effort to counteract anti-immigrant demonstrations, security guards checked participants' badges to the large gatherings. The national gathering was not a public event. Aspreviously reported, some undocumented immigrants did not travel to Encuentro events because they feared immigration enforcement.
Sexual abuse and the laity
The bishops did not ignore this summer's revelations about sexual abuse. Both Archbishop García-Siller and Cardinal Daniel DiNardo, the archbishop of Galveston-Houston and president of the U.S. Conference of Catholic Bishops, addressed it on the opening night.
"As bishops, we have fallen short of what has been expected of us," Cardinal DiNardo said. "Amid this darkness, the Encuentro is a light. May it be a means of grace, a gift to us as we renew the church."
Archbishop Gomez said the church needs to focus on healing for sexual abuse survivors. He noted the steps the U.S. bishopsput in place earlier this month, which call for a greater oversight role by the laity and for a third-party reporting system.
The archbishop also called for a greater role for lay Catholics in his homily during the closing Mass. "Like St. Juan Diego, the laity need to go and confront the bishops," he said, noting that Latinos need to be among the present and future leaders of the church. "This can be the beginning of the end of clericalism…. The laity will rebuild the church."
Before the national gathering began, Carlos Salguero, a lay volunteer at St. Bede in Hayward, Calif., stood in the hourlong hotel check-in line. When more than 3,000 are checking in, it takes a while. But he and most of the other delegates were joyful.
How am I going to love something I do not know? We have to help others come to know what we know. 
"Through this process, we have learned how to know our community," he told America. "We have found our brothers and sisters who are on the margins and we have tried to comfort them, especially those who are facing immigration challenges. We have 'gone to the peripheries,' like Pope Francis says."
Mr. Salguero does not know what to make of the recent sexual abuse crisis and he is unsure how it will impact the V Encuentro process, which did not end at the national gathering. Instead, he said delegates are focused on being missionary disciples.
"Our hope is that this Encuentro will help us take more ownership of the church. But that begins with an encounter with Jesus Christ," he said. "How am I going to love something I do not know? We have to help others come to know what we know. We have to find ways to evangelize."
As he spoke, Bishop Gerald Barnes of San Bernardino walked by. "Oh hi, bishop!" Mr. Salgado patted the bishop on the shoulder. He had met Bishop Barnes during his regional Encuentro in California.
"They are humans like us," he said. "And they care about what we have to say."