U.S. sisters demand action on sexual abuse crisis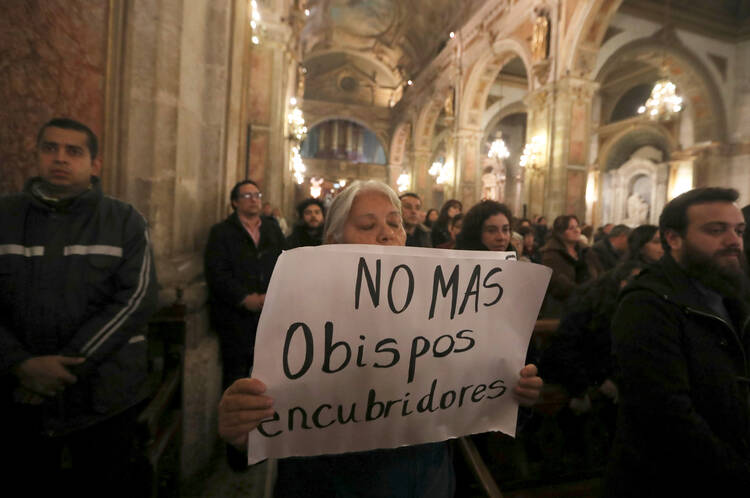 A woman holds a sign in protest while praying as Cardinal Ricardo Ezzati of Santiago, Chile, celebrates Mass on July 25 at the cathedral in Santiago. The Chilean prosecutor's office has issued a subpoena to Cardinal Ezzati regarding his role in the alleged cover-up of sexual abuse by clergy members. (CNS photo/Ivan Alvarado, Reuters) 
A group representing 80 percent of Catholic sisters in the United States is adding its support to other sisters around the world who are calling for an end to sexual abuse and harassment of women religious, an issue brought to light most recently by a story written by The Associated Press.
"We join with all those demanding the end of a culture that ignores or tolerates sexual abuse of Catholic sisters or any other adult or minor perpetrated by those in positions of trust in the church community," the Leadership Conference of Women Religious said in a statement. "Church authorities must take action to end a culture of silence, hold abusers accountable and provide support to those abused. We thank all those Catholic sisters throughout the world who, at great risk, have spoken publicly about their abuse."
The A.P. report found that cases of abused nuns have emerged all over the world, including in Europe, Africa, South America and Asia. It cites recent cases of assault in Chile, India and Italy, added to the well-documented reports by religious sisters during the 1990s about clergy abuse in Africa. At that time, sisters were targeted because they were considered "safe" sexual partners during the height of the AIDS epidemic on the continent.
"We join with all those demanding the end of a culture that ignores or tolerates sexual abuse of Catholic sisters or any other adult or minor."
In an email to America, the head of L.C.W.R., Teresa Maya, C.C.V.I., elaborated on the statement, saying, "Only by making these incidents public will the abuse stop."
The group, she added, "also wanted to acknowledge the courage displayed by the Catholic sisters in other countries who had spoken out about their abuse, knowing that doing so could be very dangerous for them."
Sister Maya said that through conversations with sisters from around the world, the L.C.W.R. found "that in many countries, clergy exercise great power and authority over sisters and can control their ability to work and serve the needs of the people."
"From what we have heard, sisters who are sexually abused are very fearful about speaking out or reporting the abuse to civil and church authorities because of the possible consequences they might face," she said.
As allegations of mishandling sexual misconduct involving cardinals, bishops, priests and other members of the clergy continue to rock the church, Sister Maya said, "the Vatican and local churches have to make stronger efforts to put an end to sexual abuse."
"While orders of Catholic sisters can raise their voices about the prevalence of sexual abuse, the reality is that in many countries, sisters do not have the power or authority to impact the culture that exists of silence about, and tolerance of, abuse by clergy," she said.
"The Vatican has to demand accountability from the local churches and clergy and must hold them accountable for any abuse committed, and the local churches have to take this situation seriously and act with urgency and forcefulness to put an end to this culture of sexual abuse."
[Explore America's in-depth coverage of Sexual Abuse and the Catholic Church.]
Material from The Associated Press was used in this report.