A Catholic Facebook group posted an anti-Semitic meme. What can we learn from this?
On Sunday, June 10, the Facebook page Catholic Memes posted this image: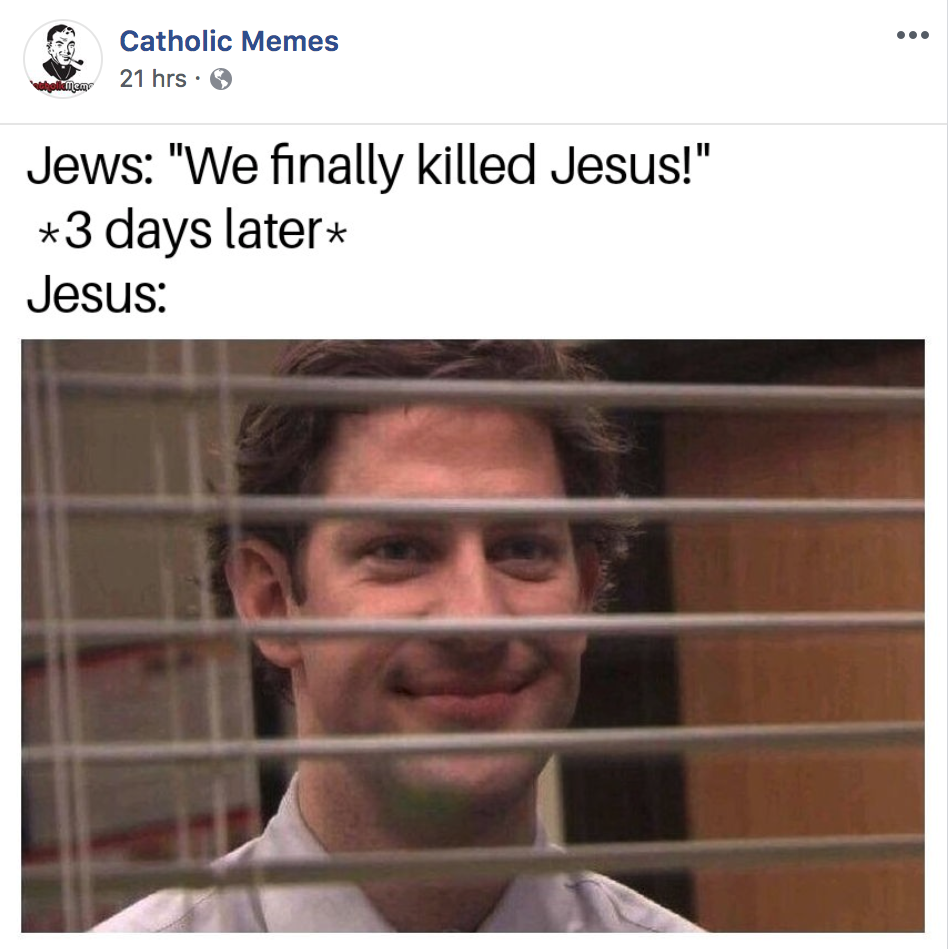 Before it was deleted from the page on Tuesday morning, more than 7,000 Facebook users reacted to the image with likes, laughs and hearts. Some commenters, however, accused the page of purposefully posting an anti-Semitic meme and spreading misinformation about the role Jews played in Christ's death.

After I posted a screenshot of the tweet to Twitter, the popular account @JesusofNaz316 retweeted it saying, "This is blatantly racist," and called on U.S. bishops to talk with "those among your flocks who promote vile social media content."
Rather than removing the post right away, the page's official response was to double down and defend the meme, followed by posting another meme about Jews killing Jesus.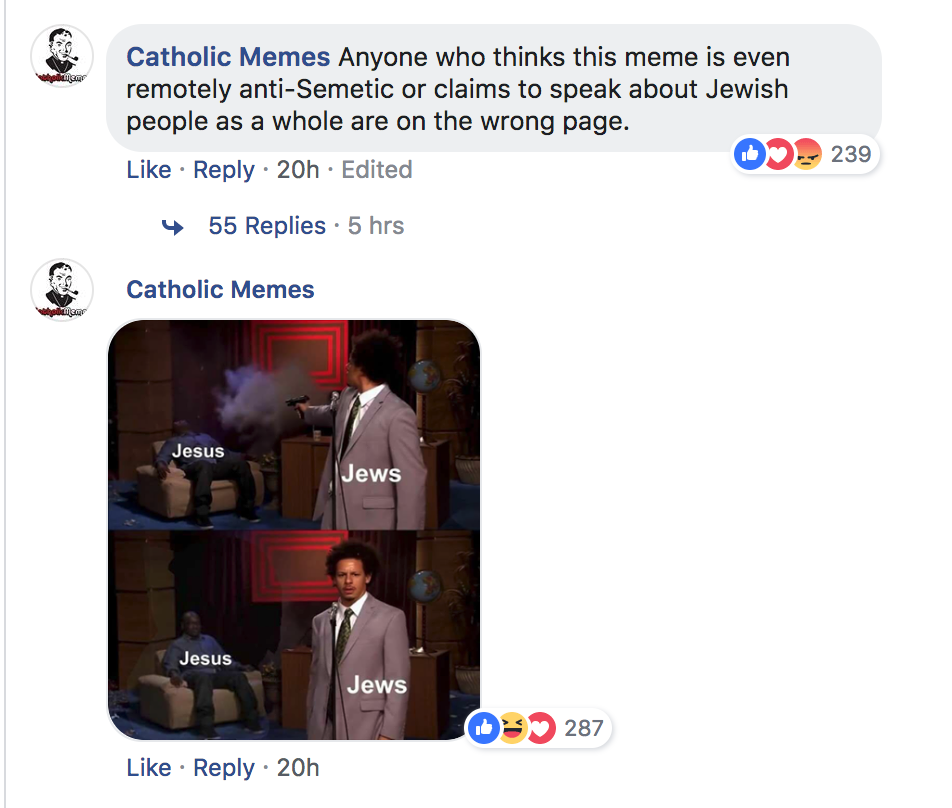 After speaking in the comments and in private messages with page administrator and founder Ryan Scheel, I learned that he did not create the meme but found it among memes "floating around" the internet. Mr. Scheel maintained that the meme is not anti-Semitic or racist. "Would you level the same charge against St. Paul?" Mr. Scheel asked, referring to the passage from 1 Thess. 2:14-16, in which Paul seems to blame Christ's death on the Jews.
Certainly, isolated from the rest of the letter and from the body of Paul's works, the line from Thessalonians seems problematic. Michael Peppard, a New Testament scholar and associate professor at Fordham University, told America that the word Paul uses, Ioudaios, refers to both '"Judean" as a geographical identifier and "Jew" as a religious identifier. According to Mr. Peppard, Paul was most likely referring to Judeans because he referred to Judea in the same sentence. Plus, almost all of Jesus' followers were Jewish, so Paul would not indiscriminately blame them for Christ's death. 
More importantly, when Paul talks about "Jews," the word did not carry with it the same associations of trauma and dehumanization as it does today. He did not live in a time when Christianity was associated with imperial power and years of Catholic bigotry, hatred and violence against Jewish people.
The issue at the heart of this debacle is the trauma caused by slurs like "Christ-killer" that Catholics hurled at Jews for centuries. Belief in Jewish deicide was so serious that it needed to be repudiated multiple times by popes. In "Nostra Aetate," the Second Vatican Council said outright that "what happened in His passion cannot be charged against all the Jews, without distinction, then alive, nor against the Jews of today." More recently, Pope Emeritus Benedict XVI exonerated the Jewish people from all blame associated with the crucifixion and death of Jesus.
The key is the phrase "without distinction." Indeed the meme in question does not technically implicate "all Jews," but it does leave the interpretation ambiguous and does not specify which Jewish people are held accountable.
In a statement to America regarding this meme, Amy-Jill Levine, New Testament scholar and author of The Misunderstood Jew: The Church and the Scandal of the Jewish Jesus, said: "For Jews, who have not only a long history of persecution prompted by charges of being 'Christ killers,' and for Jews who to this day face this charge from Catholics … such comments may well be taken as anti-Jewish." She also added, "To tell someone who is pained by a meme, or a joke, or a cartoon, 'hey, lighten up,' is to be at best insensitive."
Despite official church teaching repudiating supersessionism, the belief that Christ's sacrifice replaces or nullifies the original covenant God made with the Jews, Mark Oppenheimer, the Tablet's editor-at-large and co-host of Unorthodox, told America that a lot of Christians still hold supersessionist views regarding Jews. "I'm not surprised when arguments between Christians online reflect that," Mr. Oppenheimer stated.
After a few days of both criticism and support from the page's community of users, Mr. Scheel decided to take down the meme and replace it with this one: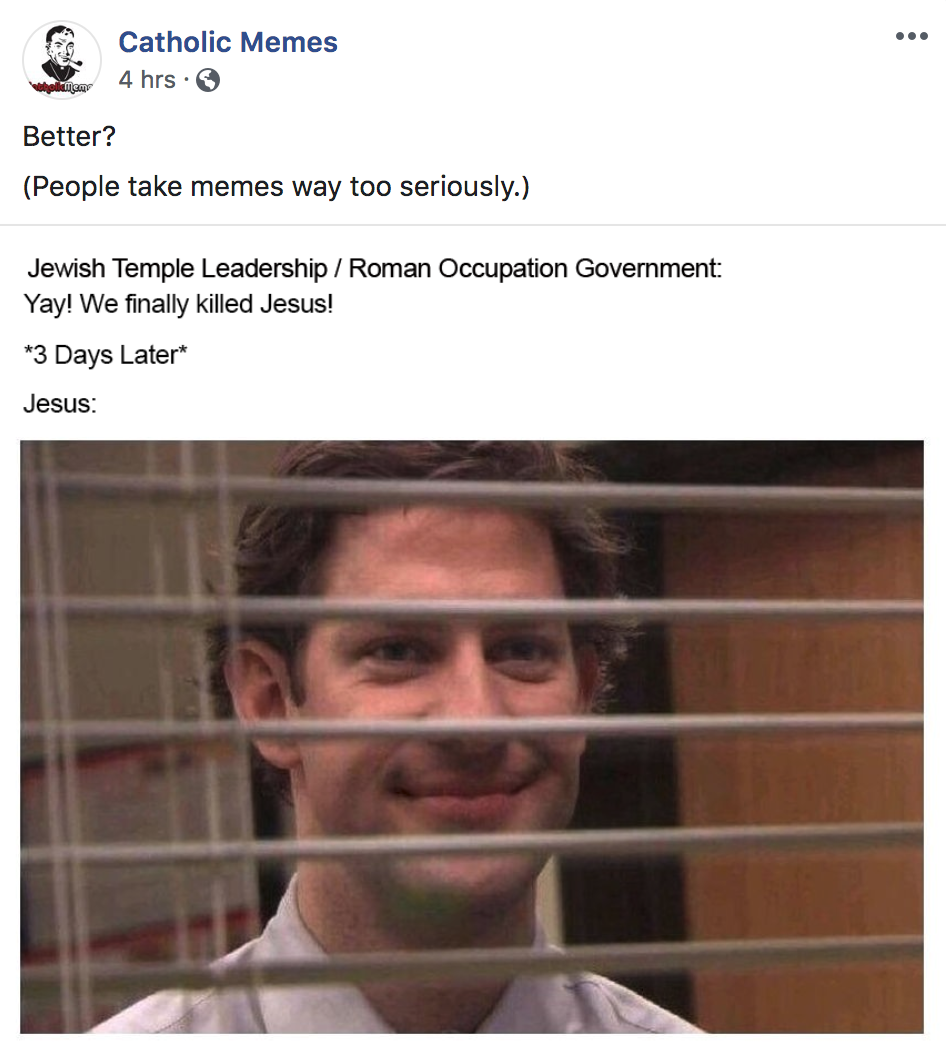 The page's official comment on the new image reads: "The other meme was not meant to be Anti-Semitic. We were shocked it was taken as such, and rather than allow that conversation to go on, you get this meme instead."
As Catholics struggle with parish closings and the lack of physical community, online groups serve as real communities, and page administrators like Mr. Scheel are de facto leaders. With just under 400,000 followers, the Catholic Memes page has the population of a small metropolitan diocese. Its influence is wide-reaching, and thus its leaders should also be held accountable for its content. At a time when anti-Semitic incidents are startlingly high and when more and more people are misinformed about the Holocaust, Catholics should know about the ways we historically contributed to Jewish persecution and be vigilant to correct any misinformation.
When I interviewed Mr. Scheel for another story a few months ago, he said evangelization is at the heart of Catholic Memes's mission. "We're not converting anyone," Mr. Scheel said, "but we are planting seeds that may be watered later on in these people's lives." If the seeds planted are tainted with ambiguous anti-Semitism, the fruit will also be tainted.
Ultimately, while this is about more than just jokes, one should also note the quality of the meme's original joke. "I gave the benefit of the doubt to the author in its original post," said Ben Soussan, creator of a Jewish Memes Facebook page, to America. He admits that he has laughed at memes directed at Jewish people if the level of humor transcends the level of offensiveness. "This one is also just not that funny in the first place," Mr. Soussan said.
Correction: June 14, 2018
A previous version of this article incorrectly referred to "Nostra Aetate" as a papal encyclical. The document is an official declaration of the Second Vatican Council.