Catholics are sharing memes online. Is this the New Evangelization?
An image of St. Ignatius Loyola wearing clear Wayfarer-style glasses has the superimposed text HIPSTER ST IGNATIUS/ CANNONIZED BEFORE BECOMING A SAINT. To get the joke, first you need to know that hipsters irritatingly tend to do things "before they are cool"; second, you must know that St. Ignatius was shot in the leg by cannonfire before his conversion. Hence: "cannon-ized."
Welcome to the world of Catholic memes.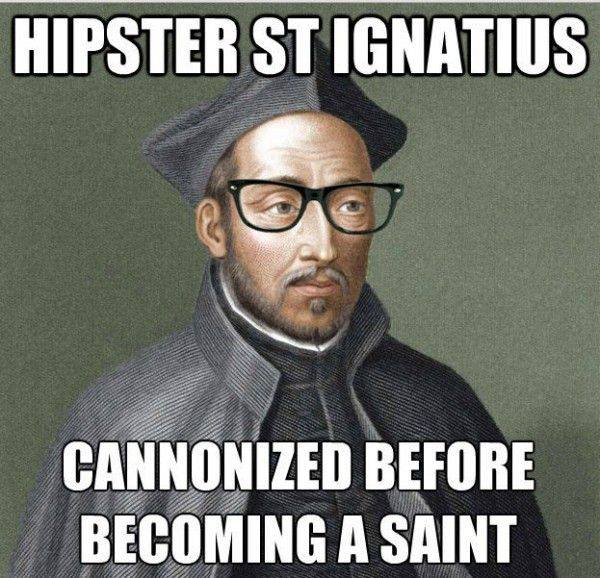 Richard Dawkins coined the term "meme" in his 1976 book The Selfish Gene as a shortened form of the word mimeme (drawn from the Greek for "imitated thing"). Memes transmit cultural ideas, behaviors and attitudes from person to person through imitation and variation. An internet meme, at its basic level, is anything that can be spread from person to person on the internet. This includes videos, catchphrases, links and, most popularly, images with overlaid text.
While almost anything shared on the internet can be considered a meme, the term is mostly used for particularly successful and long-lasting examples. It is difficult to predict what will catch on, but the memes that go viral tend to exhibit a perfect balance between absurd humor and replicability. Viral memes work insofar as they can be understood as jokes and can also be customized to apply to different situations or audiences. Most popular memes can be repurposed for inside jokes among groups of friends.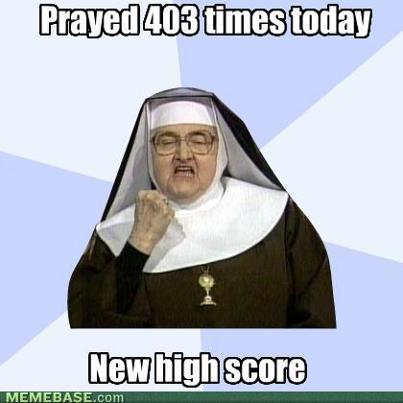 That's where Catholic Memes begins. Brandon Ocampo, a campus minister for the Archdiocese of Newark, recalled the birth of Catholic Memes on Tumblr in an interview with America. It began eight or nine years ago with a group of Catholic friends applying faith-related jokes to popular memes like All the Things or Success Kid. When the memes shared among friends grew more popular, Mr. Ocampo, 22, thought: "It would be awesome to have our own page. This is actually a good way to evangelize people."
He began with the Tumblr blog, then created a Facebook page and Twitter account. "Our faith is not something we always have to be serious about," explains Mr. Ocampo, and memes allow us "provoke questions and create conversations."
"Something that makes someone laugh, that's what's going to provoke their hearts to seek out Christ in a more authentic way."
The original Catholic Memes Facebook page has over 38,000 followers. Mr. Ocampo notes that it has become more difficult to create new content after going to college and now working full-time. Instead, his page often shares posts from another Catholic Memes Facebook page run by uCatholic.
"uCatholic's goal is to reach people where they are," Ryan Scheel told America, "Catholic Memes is one particular charism of that mission." Mr. Scheel, 37, founded both uCatholic and a Catholic Memes page with over 359,000 followers. Based in Cleveland, Mr. Scheel and his nephew, Billy Ryan, a 20-year-old student at the University of Akron, act as administrators on the page, and they say their content reaches over 1 million Facebook users each week.
"We're using the same language that the internet uses,"explains Mr. Scheel, but with the goal of promoting the ministry of the church.
Indeed, for both uCatholic and Catholic Memes, evangelization is a hallmark of their mission. Mr. Ocampo's page touts the tagline: "To Evangelize Through Memes." "Something that makes someone laugh," he says, "that's what's going to provoke their hearts to seek out Christ in a more authentic way."
Similarly, Mr. Scheel and Mr. Ryan see their page as part of the new evangelization, bringing the message of the church to an increasingly secular world. They say that 62 percent of their audience are between the ages of 18 and 24. According to Mr. Scheel, the Facebook page allows young people "to have conversations about things they might not have talked about otherwise."
Young people are "interested in relics, the saints, liturgies, beautiful churches [and] abstinence."
"The church is forgetting what St. Paul says: You have to feed them on milk first before solid food," argues Mr. Scheel. Referring to the First Letter to the Corinthians and the Letter to the Hebrews, he says that Catholic Memes allow young Catholics to get to the basics of their faith. Rather than discussing "inside church baseball" topics like liturgical translations, young people on the Facebook comment threads are "interested in relics, the saints, liturgies, beautiful churches [and] abstinence," claims Mr. Scheel.
Though evangelization is at the heart of Catholic Memes, Mr. Scheel does not have unrealistic expectations of creating a perfect meme to bring young people to Catholicism. "We're not converting anyone," Mr. Scheel says, "but we are planting seeds that may be watered later on in these people's lives."
According to Bishop Richard Umbers, an auxiliary bishop of the Archdiocese of Sydney, Australia, Catholic memes are "quirky, have an immediate appeal, but also have a bit of mystery." Bishop Umbers, 46, recently wrote "I'm a Roman Catholic bishop. And I make memes for Jesus" in The Washington Post. He tells America that memes are like parables in the Gospel, which were devised for an oral culture. It is easy to remember the details of a parable and apply different meanings based on different contexts. Similarly, memes work for our visually oriented culture, Bishop Umbers explains, "because you can keep applying different meanings to the same picture."
For Bishop Umbers, memes are about "winning people rather than arguments." He believes that people are drawn to Catholic content online because of Pope Francis' explanation in "Laudato Si'" that "everything is connected." In his view, Catholic memes can present an "offbeat" but otherwise rational worldview.
Bishop Richard Umbers: Memes are about winning people rather than arguments.
Posting memes on Twitter and Facebook is an extension of Bishop Umbers's episcopal office. "What you see on Twitter is my true personality," he says. Drawing on his own penchant for quirkiness, Bishop Umbers interacts with both Catholics and non-Catholics on the internet in a new kind of apostolate. "It is an overflowing of the inner spiritual life," he says.
While some memes may cause viewers to consider Catholicism, creators say the real work of evangelization happens in the comments. "It's beautiful to see a joke that then turns into real questions and answers in the comment threads," says Mr. Ocampo. Mr. Scheel echoes that sentiment, saying he is constantly surprised by how "traditional and orthodox" his core audience is. Comment threads give people "both the opportunity to attack the church and the opportunity to stretch their apologetic legs and defend the church."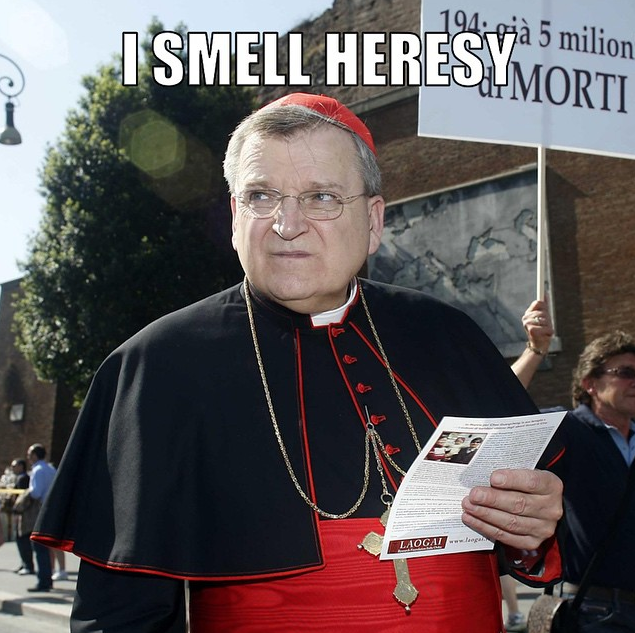 As often happens on the internet, however, healthy conversations among respectful people can quickly devolve. Page administrators on both sites do go through the memes and comments and delete the most offensive. Mr. Ryan, who goes by the unusual title memeologist, also reviews all the memes submitted to the page by the Catholic Meme community. He says that he "filters out anything that seeks to blatantly cause controversy," like memes with explicit blasphemy. And when he sees particularly unproductive encounters in the comments, he will try to defuse the situation by posting a funny animated GIF.
"We take a real line of respect on the page," echoes Mr. Scheel, "but it doesn't mean we aren't smartasses." While they filter out any vulgarity and outright blasphemy, the administrators say they do not shy away from memes that will stir up discussion. Memes about non-Catholics, for example, are meant to be lighthearted jokes that look directly at the differences in worldviews. "It's the same way you would tease a friend if you were out to drinks with them," he said.
While the absence of civil conversation is not a problem unique to Catholic Meme pages, there is a heightened tension in these comment sections. The salvation of souls seems to hang on every comment and link to an apologetics page. However earnest commenters are, comment threads under controversial memes about Protestants or the Latin Mass look less like spirited debates between equals and more like frustrated shouting into a void.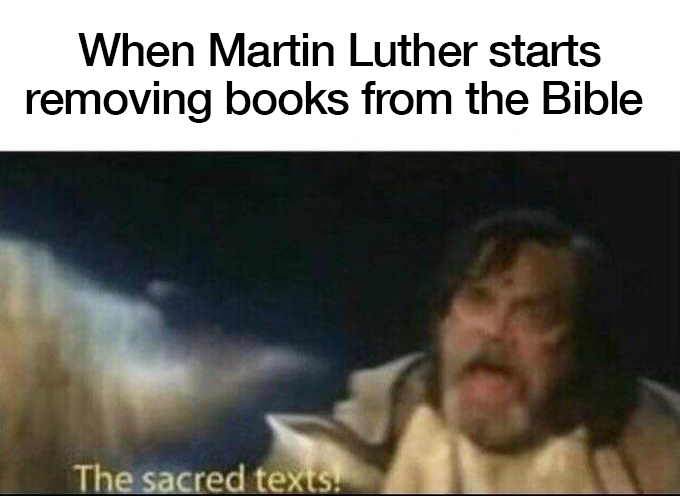 This meme relating a scene in the newest Star Wars film to the differences between mainline Protestant and Roman Catholic Bibles stirred up a discussion that made it past page administrators. A Lutheran commenter tried to argue that saying "Martin Luther removed books from the Bible" was a reductionist reading of history. Catholic commenters flocked to the comment to engage and correct.
In the end, ecumenical discussion devolved into a competition to write the ultimate takedown of the others' argument, leaving both sides frustrated. Accusations of heresy (albeit with varying levels of irony) were lobbed by both sides in an attempt to shut down the conversation. Even the most faithful and orthodox fall victim to comment-thread cage matches.
Yet, for meme creators, trolls and disparaging comments are outliers. "Maybe in the Final Judgment, you'll look at the memes I didn't make," Bishop Umbers jokes, saying that it is important not to fall into internet trench warfare. "Like [giving] a sermon, you want to be impactful, but not hit them over the head with it."
Instead, Bishop Umbers, who is also a parish priest, focuses on the sense of community that exists online. "These are living, real people with living, real debates," he says. He has seen people change their minds on issues based on the relationships they developed online. But he also says the online communities are no substitute for the parish, but are instead "complementary experiences" of Catholic fellowship.
One cannot help but feel charmed by the idealism to be found in Catholic meme communities. These memes are a new kind of language, Bishop Umbers claims, and the church needs to be speaking that language. As the Catholic Church in the United States continues to grapple with the dwindling numbers of young people in the pews, do online communities like Catholic Memes sufficiently bridge the gap between the church and the world? Can inside jokes among those who already speak the language of the church appeal to the outside world? Meme creators and their avid followers certainly think so.