Canadian Catholic TV network relies on young adults to evangelize the world
The space that would normally house the prime corner office inside a concrete-and-glass Toronto office building instead is home to a small chapel, which serves as something of a shrine to the late Pope John Paul II. A stained glass image of the saint hangs from a window just behind the lectern. A chair he used during a weeklong visit to Canada sits near the altar, which is constructed of wood taken from a larger altar he used at a papal Mass.
On a stormy day earlier this month, with rain pounding against the floor-to-ceiling windows and much of the city without power, the chapel was nonetheless the center of a celebration.
Two cardinals, Gérald Lacroix of Quebec City and Donald Wuerl of Washington, D.C., plus the former Vatican spokesman, Federico Lombardi, S.J., were on hand to pray for the dedication of the Father Michael McGivney Television Studio, the new home to Salt + Light Media, Canada's first and only Catholic television station. Thomas Rosica, C.S.B., a Basilian priest who leads the organization, welcomed the cardinals and other guests to an event that he has, in some ways, spent the better part of a decade and a half willing into fruition.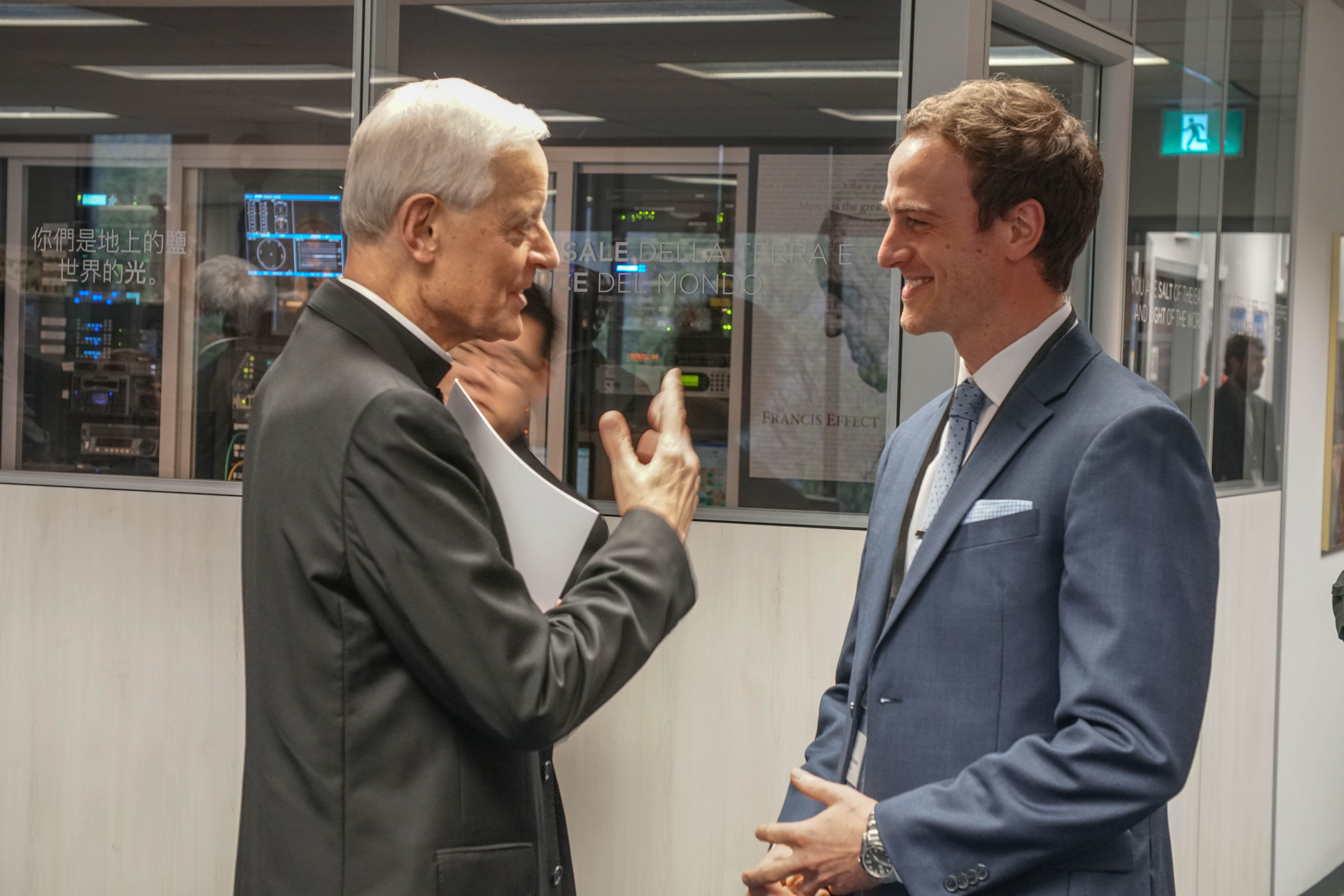 "We are trying to offer the world and the church a message of hope through the lenses of young people who have been the core and the backbone of our network from the beginning," Father Rosica told America, explaining that younger people bring fresh ideas on presenting the Gospel. "Our young people are the protagonists. It's a whole new way of telling the old story."
"Our young people are the protagonists. It's a whole new way of telling the old story."
Launched in 2003, the station, which reaches three million homes in Canada and broadcasts in the country's two official languages, English and French—as well as Chinese and Italian—owes its existence in many ways to both young people and St. John Paul II.
Father Rosica headed the 2002 World Youth Day in Toronto, which would be part of the final visit to North America by the ailing pope. Hundreds of thousands of young Catholics took over the city to pray, and a wealthy Canadian media and communications entrepreneur, Gaetano Gagliano, wanted to harness that energy for something more permanent. Already in his mid-80s at that point, Mr. Gagliano nonetheless acquired a broadcasting license from the Canadian government and, together with the pope, convinced Father Rosica to spearhead the effort to launch a Catholic TV station in Canada, a fiercely secular country where religious groups of all stripes are facing challenges.
The first office for Salt + Light, whose name comes from the theme of the 2002 World Youth Day, was a single room, and the cable channel broadcasted a stream from the Vatican's television network. As the station grew it would move twice more. Its most recent studio space, which I visited in 2015 to be interviewed on the station's flagship program, Witness, was a converted candy factory with a ceiling so thin that taping was frequently delayed until the occupants of the floor above had finished walking, the tap-tap-taps of the shoes no longer interfering with audio. It was far from the state-of-the-art studio Father Rosica envisioned.
Father Rosica raised about $3 million from private donors, religious congregations and the Knights of Columbus to renovate an old school inside the office building where Salt + Light now resides. The former gymnasium was converted into a modern television studio, cubicles and conference rooms were finished, large squares of stained glass were hung around the new chapel and Salt + Light finally moved into its new space last December. The studio is now so well equipped that at least one major U.S. news network has expressed interest in renting space when the news takes it to Toronto.
The studio is now so well equipped that at least one major U.S. news network has expressed interest in renting space when the news takes it to Toronto.
One of Father Rosica's first hires was Gita Hosek, a filmmaker by trade who fled the former Czechoslovakia for Canada in 1988 with her husband and children so that they could practice their faith freely. She and Father Rosica met in 1995, when she was filming a documentary, and she reached out when she read that he was heading up a new Catholic media venture in 2003.
"He hired me to lead, nurture, support and train young people who don't have formal education in television and film," she recalled. "It's more important that they love the church, they understand church history, they understand what the church is teaching these days."
The rest, she said, can be taught.
"I strongly believe what makes us different from other television stations, even though we have very good relationships and partnerships with them, is the fact that we are working with young people," she said. "Most of our producers going on air are bringing new, fresh and very beautiful views of the Catholic Church—and that's what we would like to continue doing."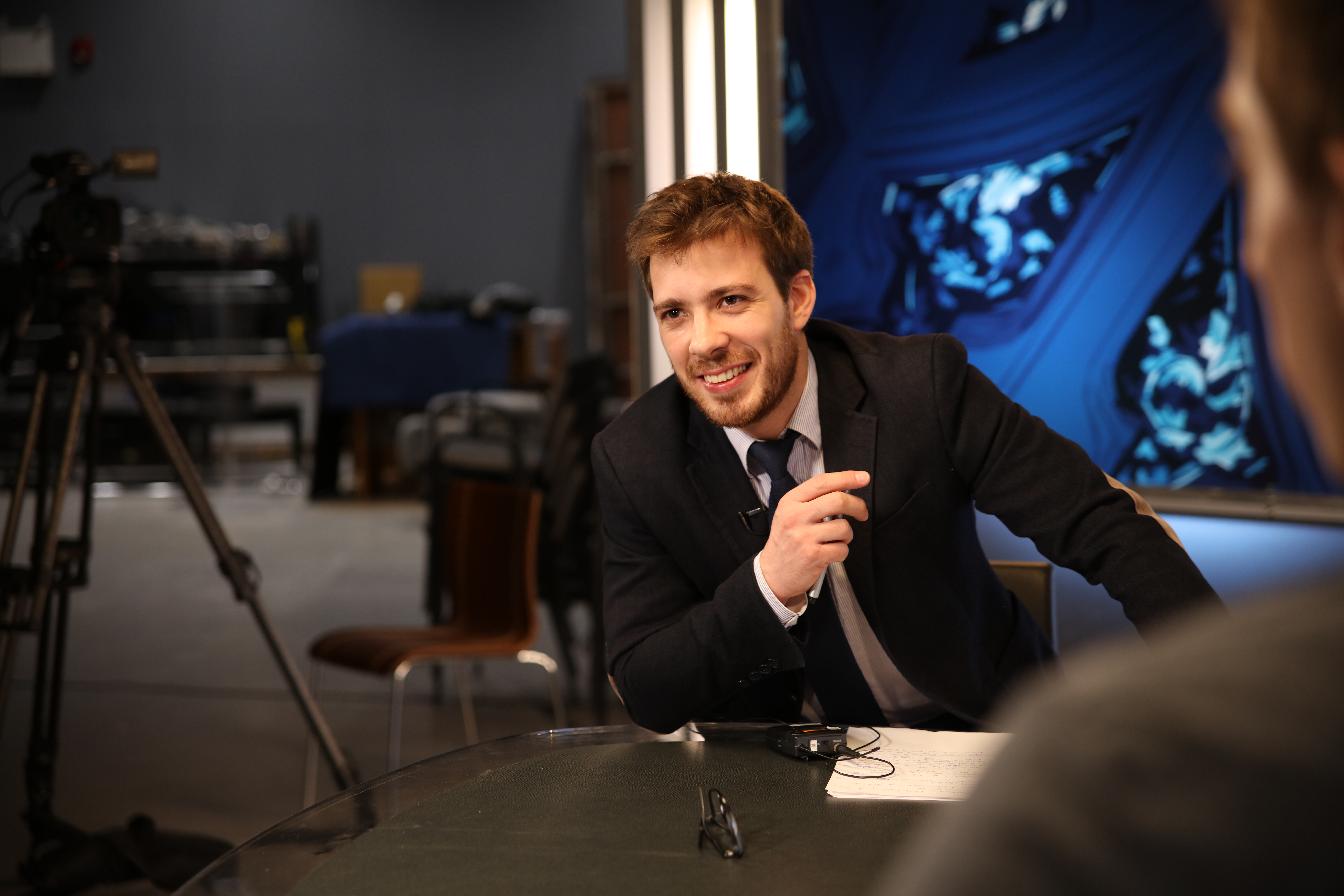 A walk through the new headquarters shows that Salt + Light has kept true to its commitment to hiring young people. The staff of about 35, spread across the main Toronto office as well as a satellite office in Montreal, is noticeably young, many in their 20s and 30s and eager to talk about the shows they produce and host.
One example isSebastian Gomes, who at just 32 has already worked at the station for five years. He currently hosts a book review show, "Subject Matters," and he has collaborated on several other series as well. Never far from Father Rosica during important church events that Salt + Light covers, such as the election of Pope Francis and the synod of bishops about family life, Mr. Gomes said he is most proud of a 2014 documentary he helped produce, "The Francis Effect."
"We decided to try to interpret from what the pope had said and done in his first year, the direction he wants to take the church," Mr. Gomes recalled. He said the biggest such change was perhaps in the media narrative surrounding the church, and the documentary features insights from Anderson Cooper, Scott Pelley and Diane Sawyer. Mr. Gomes is now working on a follow-up, "The Francis Impact," which will take the better part of a year to create.
In addition to highlighting Father Rosica's commitment to supporting young Catholic journalists (which I benefited from in 2015 when he invited me to join him and his crew to meet Pope Francis at the Vatican), Mr. Gomes said Salt + Light's independence from the institutional church is what sets it apart from other Catholic media.
"It gives us credibility in a way that we kind of walk a fine line, being very closely associated with the institutional church but not run by it or edited by it," he said. "We're doing this because it's what we think it means to be Catholic."
"We're doing this because it's what we think it means to be Catholic."
To that end, he said, Salt + Light makes it a point to have a range of voices on staff, who over the years have come from more than 20 countries and have represented various traditions and understandings of the church in the world today.
"I don't tend to be very pious and devotional, but there are people here who tend to be very pious and devotional and who create pious and devotional programming," he offered by way of example. "It doesn't particularly nourish me all the time, but I recognize there are Catholics out there who are nourished by that and I respect it because they are part of my church."
Much of Mr. Gomes's work focuses on the Second Vatican Council, a subject that might not hold the same fascination for some of his colleagues.
That spirit of being open to different views in the church, and always in conversation with the world, is partly what drew Cardinal Lacroix to support the media venture.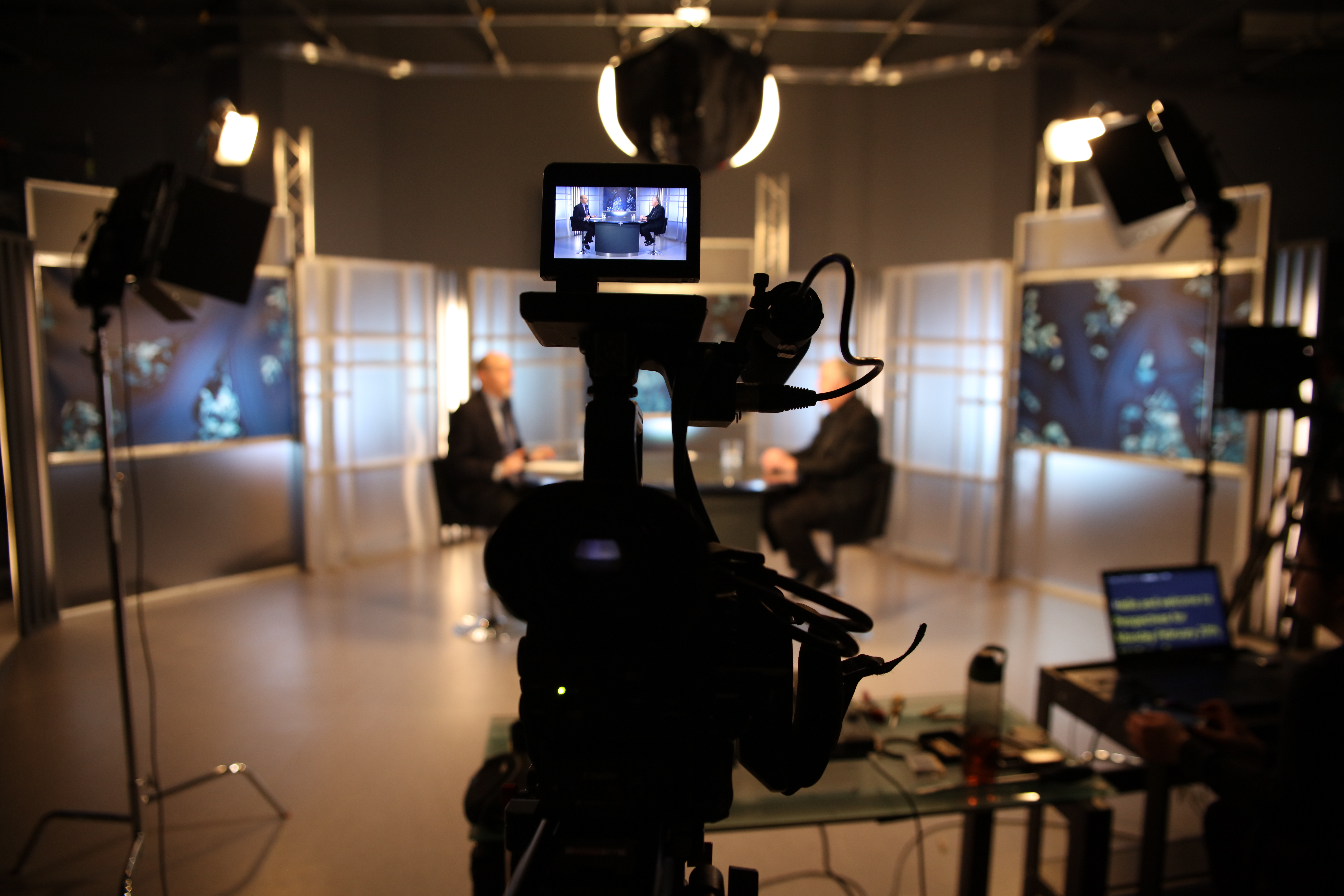 "There are a lot of communications organizations in the world, and some who say that they are Catholic," the cardinal told America. "But some of them sometimes lack integration. Some communicate in a very orthodox fashion. They're very orthodox and in tune with the doctrine of the church and that's what is most important [for them], but they fail to be in dialogue.
"What they preach sometimes feels like it's imposed," he said. "It's moralizing. That doesn't turn people on; it turns them off.
"What I like about this here is that it's integrated, it's respectful; it proposes, it never imposes," Cardinal Lacroix said. "They are giving space to young people to learn how to communicate and become good Catholic communicators. That's awesome. It's not a closed thing, a little clique of people who think they know it all."
The reach of Salt + Light Media, which also includes a magazine, daily web updates and a radio show, is driven in part by Father Rosica's commitment to serving as a resource for the press, both Catholic and mainstream, a habit formed during World Youth Day. He is awake before 6 a.m. each day so that he can collate the news from Rome and distribute it to more than 1,500 journalists.
"Collaboration is key," he said. He is a regular in Rome during major events, helping facilitate media requests from English-language reporters trying to navigate the Vatican bureaucracy. He was the English-language press attaché during the high-profile meetings on families in 2014 and 2015 and behind the scenes, he helped more than a few prominent U.S. journalists report on the pope's 2015 visit to the United States.
The fruits of that collaboration were on display at the May 25 ceremony dedicating the new studio. During the May 25 celebration, CNN correspondent Rosa Flores was on hand to thank Father Rosica for his assistance during the pope's 2015 visit to the United States and Scott Pelley of CBS News filmed a video offering his congratulations to the staff.
Collaboration with secular media, Father Rosica said, is part of Salt + Light's broader mission to engage the wider world. "We're not here to preach only to the Catholic household," he said.
"We're not here to preach only to the Catholic household," [Father Rosica] said.
The Knights of Columbus sponsor the unabashedly pro-Pope Francis venture, though Father Rosica said they have never tried to influence editorial decisions. Cardinals and bishops from across the ecclesial spectrum have praised the network's programs.
But support from individuals and organizations representing a range of Catholic viewpoints does not mean the venture is free from controversy.
Writers at some conservative websites, including Breitbart, Church Militant and the Toronto-based LifeSiteNews, have attacked Father Rosica for what they say is his liberal attitude toward hot-button social issues such as homosexuality, which they charge influenced how he reported news during the Synod on the Family.
For his part, Father Rosica said those critics are really reacting against the pope, suggesting social media gives those voices outsize influence.
"There are legitimate critics and crazy critics," he said. "You have an echo chamber of critics who use social media for the wrong reasons—those who really dislike the pope and transfer that criticism.
"We're here for unity and not for divisiveness," he continued. "We present the whole story of the church whether people like it or not."
"We're here for unity and not for divisiveness," he continued. "We present the whole story of the church whether people like it or not."
He does not dwell on the negativity, preferring instead to talk about what is on tap for Salt + Light as it gears up to celebrate its 15th anniversary next year.
The new studio, with its huge lighting grid and green-screen wall, will allow for more visually compelling shows. On Pentecost Sunday, Salt + Light will begin broadcasting in high definition, and two new programs about women in the church are set to premiere this spring: "A Woman's Place," which profiles 12 women contributing to various church ministries, and "Sisterhood," which interviews Catholic sisters in seven countries about their work.
This fall, Salt + Light will take advantage of the new technology at its disposal by hosting its first live television event, a town hall style program with young Catholics in Toronto and four other Canadian cities and towns talking about their interactions with the church. Cardinal Kevin Farrell, the former bishop of Dallas who now heads the Vatican's Dicastery for Laity, Family and Life, will fly in to participate. The goal of the event is to help the Vatican prepare for its 2018 Synod of Bishops, which will explore how the church meets the needs of young adults.
As for plans to expand beyond Canada, several people on the staff note that the station is already global thanks to the internet. But they concede that making inroads into the United States is too great a growth opportunity to pass up. They are planning to open an office in New York in the coming months.
Mr. Gomes, who was born in Ontario but who attended college and graduate school in the states, thinks U.S. Catholics stand to benefit from this particular Canadian export.
"I think we can bring something unique to the United States because we're not American," he said.
"Think about how when you see comedians on late night TV joking about Canada, it's always kind of lighthearted and fraternal," he said, a slight smirk coming over his face. "The American church, which can be very polarizing and caught up in culture wars, might benefit from us polite Canadian Catholics coming into the country, coming into the church down there, and saying, 'Let's just get along.'"