Catholic Charities across the U.S. could face huge cuts if Trump's budget is passed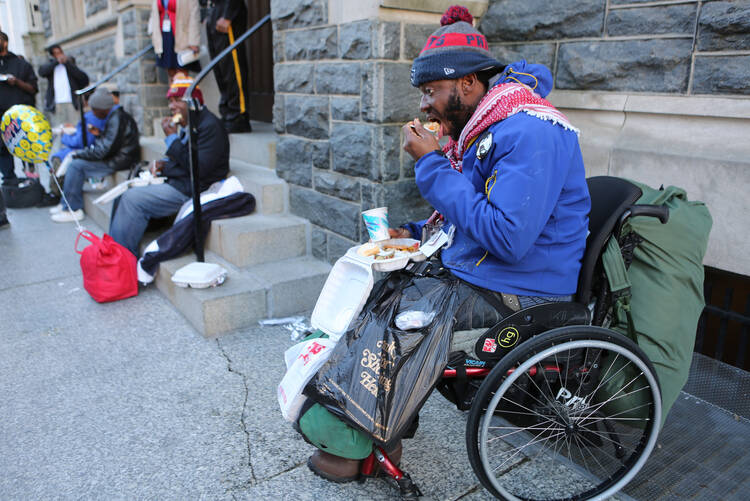 Able Putu, a homeless man in a wheelchair, eats a meal on a Washington street March 8 prepared by volunteers of the St. Maria's meals program run by Catholic Charities. Catholic Charities agencies across the United States could face huge budget holes in other areas should Congress approve the president's proposed budget. (CNS photo/Chaz Muth)
If President Donald J. Trump gets his way, federal support for popular foster grandparent programs will be a thing of the past.
The programs, in which low-income senior citizens receive a small stipend to spend time with vulnerable students in public schools, is just one of several domestic programs that would lose funding under the president's proposed budget.
Tiffany D. Page, who administers the program for Catholic Charities of West Michigan, told America the cuts could be "devastating" to both the seniors and the students they serve.
"The foster grandparent program provides low income seniors an opportunity to receive a small stipend and a chance to give back to the community," she said.
Schools with high-risk students, including some in the poorest counties in Michigan, reach out to the foster grandparent program for tutors in reading and math, Ms. Page explained, leading to "mutually beneficial relationships that provide a meaningful volunteer experience for low income seniors while providing a great benefit to the school systems."
She worries that the roughly 100 volunteers would fall further into poverty should the program lose funding.
"Taking away that little bit of income we provide them could be devastating," she said. Should that happen, she said she would appeal to the community in order to raise funds to keep the program going.
"I just wonder what the government's response would be in the utilization of social services that will be required" should the seniors who utilize the program lose their modest income, she said.
In Buffalo, N.Y., about 100 senior citizens spend time with special-needs students in the public schools through a program run by Catholic Charities. Tish Brady, the C.O.O. of the Catholic Charities of Buffalo, told America that cuts to the program would harm both the seniors and the students they serve.
"Children wouldn't have access to seasoned adults who are totally dedicated to their success," she said. "This program really not only fills a really big void for the school system, but it gives them a chance to be engaged in the community in a meaningful way."
The programs in Michigan and Buffalo each received several hundred thousand dollars in 2016 from the Corporation for National and Community Service, an office created by former President George H. W. Bush and expanded by President Bill Clinton to foster volunteerism in the United States. Under Mr. Trump's budget, the office would be eliminated altogether.
Catholic Charities agencies across the United States could face huge budget holes in other areas should Congress approve the president's approved budget.
In 2016, various Catholic Charities agencies received nearly $14 million directly from the office, primarily for programs aimed at keeping the elderly plugged into local communities.
Aside from losing federal funding for the foster grandparent program, Catholic Charities agencies across the United States could face huge budget holes in other areas should Congress approve the president's proposed budget, which calls for eliminating nearly 20 independent agencies and more than 60 federal programs, all while increasing defense spending by nearly $30 billion.
Last year, Catholic Charities agencies received more than $400 million directly from the federal government to carry out a range of programs, from refugee resettlement to housing homeless veterans, according to a search on usaspending.gov. The total amount of government support for Catholic Charities, dispersed through the states and other agencies, is much higher.
A 2014 study conducted by Catholic Charities USA found that total income for their 177 member agencies was about $4.5 billion, with about $2.8 billion coming from government sources. This would include federal, state and local government support.
The total number of dollars flowing from Washington to local Catholic Charities agencies may be far greater, as money is often given to states that then disburse grants and contracts to Catholic Charities.
Catholic Charities of Chicago, for example, had a total budget of $180 million in 2016, with $155 million coming from government sources. Of that, about $105 million came from the state of Illinois, though the state gets a portion of that funding from the federal government before passing it on to Catholic Charities. It is known as "federal pass through money."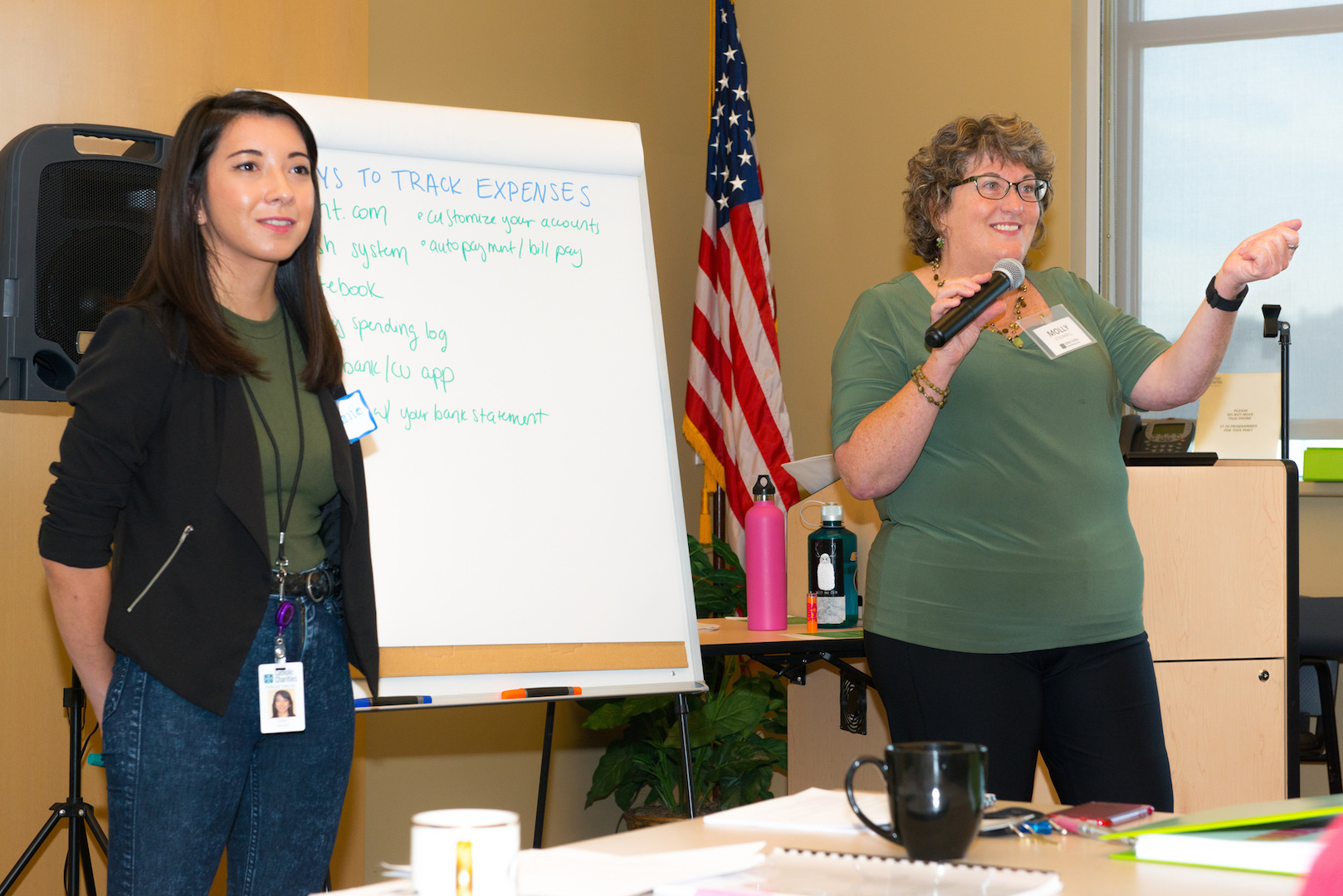 While specifics of the federal budget will not be worked out for several months, Mr. Trump is proposing to slash the budget of the Department of Health and Human Services by 18 percent, or $15 billion, while the Department of Housing and Urban Development could see cuts of about 13 percent, or about $6 billion.
Both of those federal agencies are big funders of local Catholic Charities agencies. Catholic Charities of the Archdiocese of Houston-Galveston, for example, reported on tax forms that it received close to $8 million from H.H.S. and nearly $1 million from H.U.D. in 2015.
Brian Corbin, executive vice president of Catholic Charities USA, said while specifics of the budget are not yet known, any big federal cuts would undoubtedly impact local services at Catholic Charities agencies.
"Any cuts to housing, Health and Human Services, or even to refugee resettlement all impacts us," he told America.
Aside from impacts to Catholic Charities, some Catholic leaders worry that the proposed budget could be devastating to the social safety net.
"The social service system right now is already fragile, and to do what is being proposed in the budget is starting to dismantle it," the Rev. Larry Snyder, who led Catholic Charities from 2004 until 2014, told America. "There's a belief in Washington that someone else will make up this money, but local governments don't have it, churches certainly can't make up that money and neither can private philanthropists."
Other Catholic leaders worry that Catholic charitable organizations should be so reliant on government funding.
But other Catholic leaders worry that Catholic charitable organizations, including Catholic Charities, should be so reliant on government funding. They point to the current uncertainty as one symptom of operating with government money.
"The reason we're confronting a crisis in this political season is because they've become so dependent on it," the Rev. Robert Sirico, who leads the Acton Institute, a free-market advocacy group, told America.
"Within the church, we've really got to take subsidiarity very seriously and say we're really going to work diligently to make sure needs are met at the most local level and really understand that any intervention, whether city, state or federal, should be seen as temporary."
"We need to be more innovative. If we think there is this resource we can appeal to first, that's where our thinking is going to go. How can I get them to give us this money?" he said.
Though he thinks the government has some role to play in social services, Father Sirico said that by relying on government funding, Catholic charitable groups allow the government to set the agenda.
But Mr. Corbin said public-private partnerships have allowed agencies like Catholic Charities to make a difference in their communities. He said agencies with large housing programs, like those in Chicago, New York and Los Angeles, are outliers when it comes to reliance on government support. Nationally, the median is 37 percent of an agency's budget coming from government sources, with private fundraising playing a big role in covering the remaining costs.
Still, he said government support is crucial to Catholic Charities' operation.
For example, "we can't do a low-income housing tax-credit project without some public money," he said.
"We see that as promoting the common good and giving some local flexibility for private institutions, for faith-based institutions, to respond to their local communities to the best of their ability," he continued.
As various lawmakers of both parties have pushed back on the president's budget, suggesting that such drastic cuts to domestic programs are a non-starter, Mr. Corbin said Catholic Charities is taking a wait and see approach to how the president's budget proposal will fare on Capitol Hill.
That's where Mr. Corbin was on Wednesday, meeting with lawmakers and their aides to make the case about the importance of funding programs that benefit the poor.
As for what he's hearing, "It sounds like people are saying, like with any presidential budget, it's just the beginning of the conversation."