The Jesuit Guide to March Madness. Ep: 4
Is your bracket busted? Did you pick an upset, just the wrong one? Take a break from the madness of March and listen in as we talk with Paddy Gilger, S.J., about the top Jesuit moments in the NCAA tournament's history, the good things sports can do for us and when they become a religion of their own. 
In our review of this week's Catholic news, we look at where you can eat corned beef this St. Patrick's Day Friday, mark Pope Francis' four years as pope and return to last week's debate about ouija boards (I get some vindication, here, I'm not proud to admit).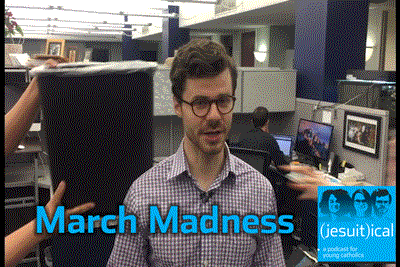 And finally, in Consolations and Desolations we fess up to not being experts in Ignatian spirituality. But we believe that God loves us when we try, as do our Jesuit colleagues. 
As usual, please subscribe and download jesuitical on iTunes, and be sure to tell your friends and family about us if you're enjoying the podcast. And please write us! Leave us a review, post a comment here and send us your questions, feedback, cocktail recipes and tell us where you found God this week at jesuitical@americamedia.org or @jesuiticalshow.
Links from the show: 
St. Patrick's Day, where you can eat corned beef 
Pope Francis "I too know moments of emptiness"
Catholic showdown in Congress over healthcare: Kennedy vs. Ryan